Are you irritated by repeating emails issue in Microsoft Outlook 2016 after recent update ? Lets' see how to resolve and prevent duplicate emails in the Outlook 2016 using some simple techniques.
Microsoft Outlook is the most used e-mail client compared to other email clients. Outlook has countless features, ranging from e-mail gathering to calendaring, to-do list creation, contact tracking, and more. In fact, it is the foremost preference of any corporation over other email clients. Besides numerous advantages, its tendency toward bloatware, slowness, and unreliability can make it infuriating to use. However, in this article, we are not going to discuss its drawbacks, but learn about how to stop repeating email issue with Microsoft Outlook 2016 in a simple way.
Sometimes, you may find yourself receiving copies of the same email message in Outlook 2016 when downloaded using POP3. This issue may occur if you have Outlook 2016 (version
16.0.6568.2025
) configured to use POP3, and if you Leave a copy of messages on the Server option enabled. If you have the option "Remove from server after x days enabled", you may get the issue of email messages being permanently deleted from the server. Now, if you have the option "Remove from server after x days disabled", you may get the issue of email messages being repeated in Outlook. Apart from this, there are several other reasons that can lead to duplicate email issue in Outlook 2016.
If any message on the mail server is corrupt, it may generate duplicates when Outlook starts its Send/Receive process. The problem can be easily fixed by you or your IT administrator after login to the email server and delete the problem causing corrupt/damaged email.
When you synchronize your Outlook profile with your phone/tablet and something went wrong in the process that may result in creation of the last batch of emails twice on your PC. This problem can't be fixed but you need to manually delete those duplicates.
This type of duplication of mails usually happens when you import emails from different Outlook data files (PST or OST) in your current Outlook. There could be emails that are both in the current file and in the one you import will be displayed. You will see duplicates, if the same emails are present in both data files. The only way to go about this problem is by searching and manually deleting each duplicate.
If the mail server stops responding during a Send/Receive process, then the next sync will download your previous emails again. In such case, manually deleting those duplicates is the only solution.
If you have defined more than one alias for the same email account, then you will receive the same email on each alias as duplicates. To fix this, use only one alias/email account and delete those duplicate emails.
If you subscribe multiple times to a mailing list, then that can cause duplicate emails. To overcome this problem, you will need to just contact the persons that send you the mails and inform them of your issue.
Performance Issues with Outlook 2016
Having duplicate copies of your emails can slow down your Outlook performance as it is one of the most complex and resource-hungry applications of the Microsoft Office. It requires quite a lot of resources for its smooth performance, and the more items you have, the more RAM, disk space and CPU usage it consumes. Finally, at some point, resources do not suffice and the Outlook will start to slow down in performance. Fully occupied Outlook can slow down every process of Outlook and you won't be able to even search for particular mail or the processing will become intolerable slow.
For most of the PC usually with average specs that you find in office and school, Outlook starts to slow down, freezing and not responding when the mailbox occupies 2-3 GB space.
On an average PC, Outlook starts to slow down when the mailbox reaches 2-3 GB, and if you don't reduce the size of your mailbox and Outlook data file (.pst), your Outlook may start hanging, freezing and not responding.
Steps to Resolve Duplicate Emails in Outlook 2016
With the latest update of Outlook 2016 to version
16.0.6568.2025
, the problem of mail duplication has become quite often. Microsoft hasn't out any patch for the problem rather providing a workaround, to delete duplicates manually. You can try the solution yourself by simply following steps given below.
Note:
Perform this steps if Outlook version is
16.0.6568.2036
or later and don't forget to take backup your Outlook data to a .pst file.
Open Outlook 2016, select the folder for which you want to remove the duplicate items.
On the View tab in the menu, click Change view and then select Preview and also disable "Show as Conversations" in the same tab.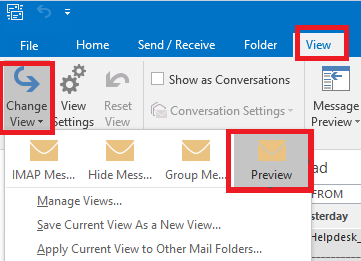 Again, go to the View tab in the menu bar and click View Settings.
In the Select available columns field, select Date/Time.
Then, in "Available" columns select Modified, and click Add.
Click the Modified column header which has been now added to the Outlook view to sort by this column.
Verify that the repeat items have a unique date compared to the original set of items. Continue with the next steps only if it is unique.
Click the very first item that you want to delete and scroll to the last item in the set, then click the last item while holding down the Shift key.
Press the Delete to permanently delete all selected items.
Conclusion
We have learned how to stop repeating email issue with Microsoft Outlook 2016. Besides, repeating mail problem there are much more to appreciate about Outlook as it widely used email client.