I've been an avid user and supporter of Malwarebytes Premium Version 2.x for years. It's an excellent product that runs alongside just about any Anti-Virus application without issues. It seems to have an uncanny ability to pick up many things that Anti-Virus applications occasionally miss.
I've been an avid user and supporter of
Malwarebytes
Premium Version 2.x for years. It's always been an excellent product that runs alongside just about any Anti-Virus application without issues and has saved my (and many of my clients) hide many times from Malware and Virus infections. It seems to have an uncanny ability to pick up many things that Anti-Virus applications occasionally miss.
That said, when I got an email from them that suggested I upgrade to their latest version, i jumped on the chance, especially since I've owned a life-time license for a couple of years now that I purchased during a promotion.
It claimed a lot of improvements with regards to real time protection, including;
Protection from Advanced Threats: Detects and removes malware in real-time with advanced anti-malware, anti-spyware, and anti-rootkit technology. Scans for the newest and most dangerous threats automatically, so you're protected without having to even think about it.
Protection from Ransomware: Stops unknown and known ransomware with proprietary next-gen technology that works proactively to shield your files. This is a powerful, complete defense that blocks ransomware, and not a simple decryption tool. So you're protected from tomorrow's "Ransomware Attack!" headlines today.
Prevents your programs from being used against you: Wraps your browser and software programs in four layers of defense, stopping attacks that use vulnerabilities in those programs to infect your computer.
Protects you from fake and infected websites: Detects and prevents contact with fake websites and malicious links. You are proactively protected from downloading malware, hacking attempts, and infected advertising. Worried about wandering into a "bad" Internet neighborhood? Now you don't have to be.
Scans faster, scans smarter: Lightning-fast Hyper Scan mode targets only the threats that are currently active. Faster analysis. Still gets results. Run a scan in the background while you boot up your favorite game. It's done by the time you're ready to play.
All this and more and whether or not the extra protection it offers over it's previous version is yet to be seen, however upgrading to newest version comes at at a somewhat annoying price..
Since upgrading to the latest version, I've had an annoying Pop-Up that seems to pop up every 30 to 60 minutes claiming that "Real Time Protection Layers are turned off" The Pop-Up looks like this..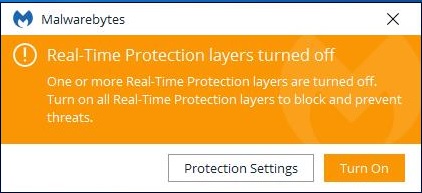 Checking the Protection Settings button shows that all protection layers are indeed ON.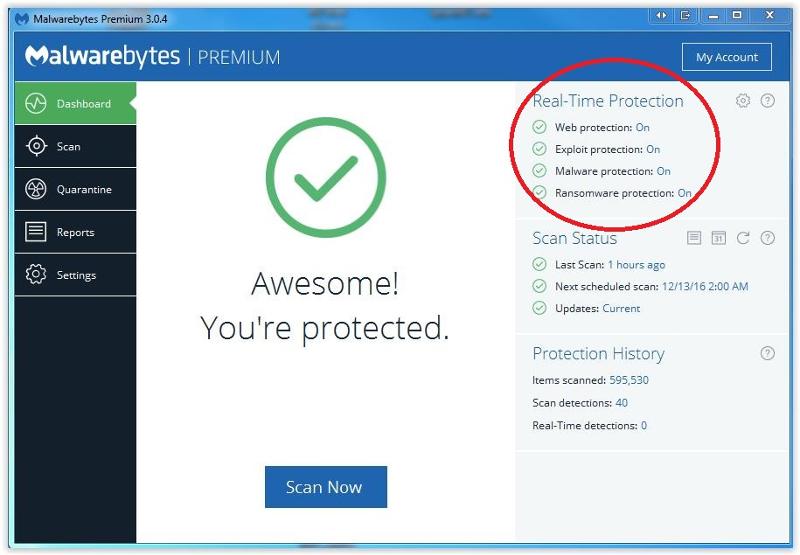 As does Right Clicking the Malwarebytes icon in the Task Bar show ticks that all protection layers are on. This seems to be the case with all versions of Windows 7, 8 and 10.
The web is full of complaints from users all over the world about the same issue and nary a solution to be found.
I contacted Malwarebytes Support and to their credit, they replied promptly, advising me to uninstall the product, run a clean-up tool which they provided, reboot my computer and re-install it. I followed their instruction to the letter, but withing 15 minutes, the dreaded pop-up appeared again and continues to do so. After a while it becomes distracting and annoying.
I still consider Malwarebytes Premium to be an excellent anti-malware tool and the fact that it claims to offer protection to
prevent Ransomware infecting your computer is a huge bonus
, but this annoying issue must be addressed and fixed.
I'm still in contact with Support and am currently waiting for any other suggestions they might have to fix this bug in their latest version. I'll update this article when and if they are able to finally figure out how to fix it.
Until then, if you're a Malwarebytes Premium Version 2.xxxx user, I'd suggest you stick with that version for the time being.
I hope this article saves folks go through the same type of frustration I'm now experiencing by upgrading too soon.
UPDATE - 14th December 2016 - ISSUE RESOLVED
The POP-UP issue appears to be resolved, though it's mysterious as to how it happened to resolve itself. (?)
Further contact with Malwarebytes support offered no suggestions other than a question.. Below are the exchanged emails - Names and email addresses have been x'd out for Privacy reasons.
__________________________
__________ __________ __________ __________
From: Malwarebytes Support <xxxxxxx@malwarebytes.com>
In order to address this error I want you to first uninstall the version of Malwarebytes that you have installed now
Then I want you to run our cleanup tool – [i]http://downloads.malwarebytes.org/file/mbam_clean[/i]
Once you have run the clean-up tool I want you to restart of the computer <— This is very important!
Now I would like you to reinstall it once more please
https://downloads.malwarebytes.com/file/mbam
Then let me know how things are working for you
Regards,
xxxxxxx xxxxxxx – "xxxxxx xx" Customer Success Specialist & Malware Removal Specialist
__________________________ __________ __________ __________ __________
From Me to Malwarebytes Support
Hi xxxxxxxx,
Thank you for your support, however the problem persists. (See pic below and the attachment)
I followed your instructions to the letter in the following order;
1. I uninstalled Malwarebytes using the Program and Features tool in Windows Control Panel – It asked me to reboot my computer so I did.
2. After logging back in, I then ran "mbam-clean-2.3.0.1001.exe" which I had downloaded from your link. It suggested I restart my computer again so I did a reboot.
3. I installed "mb3-setup-consumer-3.0.4.1269.exe" after downloading it from the link you provided, allowed it to update its definitions, and did an initial Malwarebytes scan.
4. I then entered my License Details which were accepted and it then turned from a Trial to a full version of Malwarebytes Premium 3.0.4 with a Green Tick on the Dashboard screen and the words "Awesome! You're protected"
5. I closed Malwarebytes Premium and restarted my computer once again just to be sure.
6. All was well for approximately 20 minutes and the the above Pop-Up appeared just like it had been doing before uninstalling and reinstalling the product.
7. While the Pop-Up was still there, I right clicked the Malwarebytes icon in the System Tray and noted that;
- Web Protection: On was ticked
- Exploit Protection: On was ticked
- Malware Protection: On was ticked
- Ransomware Protection: On was ticked
8. I then opened Malwarebytes Premium and noted that Real Time Protection was also On for all the four items listed above on the Dashboard screen.
Your suggested solution to the problem did not seem to work and the problem with the Pop-Ups persists.
My computer is a;
Windows Edition: Windows 7 Professional – Service Pack 1 – Fully Patched with all available Important Microsoft Window Updates
Model: Intel Corp DH67CL AAG10212-208
Processor: Intel(R) Core(TM) i7-2600 CPU @ 3.40 GHz
Installed (RAM): 20.0 GB
System Type: 64 - bit Operating System
I have no other issues with the computer and had none before upgrading to Malwarebytes 3.0.4 Premium
Could you please suggest what else I can do to resolve this annoying problem?
My thanks and I look forward and hope to hear back from you soon.
Regards,
__________________________ __________ __________ __________ __________

From: Malwarebytes Support <xxxxxxx@malwarebytes.com>
Hello Andrew

Does it keep happening all the time or when you first start the computer?

Regards

xxxxxxx xxxxxxx – "xxxxxx xx" Customer Success Specialist & Malware Removal Specialist


__________________________ __________ __________ __________ __________


From Me to Malwarebytes Support

Hi Xxxxxxx,

To answer your question, the Pop-Up appeared on at least 4 occasions throughout the day (no reboots) after following your instructions of uninstalling and reinstalling the product.


That said however, the issue seems to have now resolved itself and I've yet to see the Pop-Up appear "unless" I reboot the computer, where it pops up once immediately after a restart. I dismiss the Pop-Up by clicking the "Turn on Now" button and now it doesn't seem to re-occur during normal system use throughout the day anymore.


I have no idea why the behavior stopped as I've not installed or uninstalled anything else since re-installing Malwarebytes 3.0.4 per your instructions, nor done any other type of system maintenance or adjustments.


Curious.


Did you guys happen to send an update through that may have addressed the issue?


Anyway, all appears well now and I'll continue to monitor the situation.


Thanks very much for your assistance.


Regards,

__________________________ __________ __________ __________ __________

From: Malwarebytes Support <xxxxxxx@malwarebytes.com>


Hello Andrew
Thank you for letting us know!
If there anything else that I can assist you with then just let me know and I'll be happy to look into it for you. If not, then this ticket will close in a couple of days and at that time, you will be receiving a survey from us so you will be able to rate our service to you and to leave a comment about the service you have received from me.
.
Thank you for choosing Malwarebytes!
Have a nice day and goodbye.

.

xxxxxxx xxxxxxx – "xxxxxx xx" Customer Success Specialist & Malware Removal Specialist

__________________________ __________ __________ __________ __________


So there you have it. It's been two days now and apart from Definition Updates, nothing seems to have been sent down as the version number is identical to when the problem began. Yet now it's suddenly stopped on its own. (?)


A mystery for sure. The above solution "eventually" seemed to work for me, but I've no idea why.

Upgrading to Malwarebytes 3.x Premium is recommended, especially for the new Anti-Exploit and Anti-Ransomware modules included.

If you experience the Pop-Up issue you can try the solution above, though I'd suggest taking a note of your Subscription License information, uninstalling your current v2.x version and doing a clean install to lessen the chances of your striking the same problem I did.


In a worst case scenario, at least if you do strike a problem, I've found Malwarebytes support to be genuinely helpful and prompt in their replies. For that they deserve my congratulations.


Hope this helps and all the best..


Andrew


FURTHER UPDATE
I've just been made aware of a post in the Malwarebytes 3 user forums titled Malwarebytes 3.0 - Known Issues that was written by a Malwarebytes Staff Member "pbust"
Click the image above to go to the official page, or read it's current contents below..
If you see updates stuck on "Checking" please reboot. This should resolve the issue.
If you are running an earlier Alpha or Beta, and your upgrade to Malwarebytes 3.0 fails for any reason, simply uninstall the earlier version and then reinstall new version.
Occasionally, after installing or after during an update, you will see a "protection layer is off" warning while the protection is being or has already been automatically turned on. (We have a fix for this coming soon!)
Occasionally, after installing, the user could see a "failure to connect to service" error, usually a reboot or rerunning the installer will correct the failure.
Microsoft Security Essentials running alongside Malwarebytes 3.0 might cause system lockdowns under Windows 7 due to a buggy Microsoft update.
Some translated strings may still appear in English.
Clicking some of the help "?"s throughout Malwarebytes currently does not do anything.
Some Windows Insider Preview builds blue-screen at Malwarebytes 3.0's Web Protection.
Custom Scan options are not persisted for subsequent scans.
If Malwarebytes 3.0 is closed, a context menu scan does not open up to scan page.
New scans don't reset "Threats Quarantined" counter on Scan Summary page.
The correct date and time format is not enforced when adding or editing a scheduled scan.
Web protection can take a long time to start in Windows XP after upgrade from 2.x.
Custom anti-exploit shields are not enabled by default.
Website block notification appears multiple times on Windows XP.
Windows Vista: Post Expiration Notification for manual renewal appears after each reboot.
On Windows XP selecting a folder in Exclusions does not actually allow selecting a folder.
Currently allowed to add a Domain Exclusion on Windows XP but since this is not supported it will be ignored.
There may be some quirky behavior when resizing the user interface.
Some dialogs are improperly formatted with high DPI settings.
Any User Access Policy created in MBAM 2.x is not migrated when upgrading from MBAM 2.x to Malwarebytes 3.0; a new policy will have to be created.
Malwarebytes 3.0 Installation can fail if installed from an imdisk virtual disk.
Cheers..
Andrew
ShareShare "RESOLVED&quo t; - Think before Upgrading your Malwarebytes Premium to Version 3 - See bottom of Article for an update..