Finding original email is quite difficult due to their duplicates. From this article, you will come to know why multiple duplicates of same emails appear and how to delete duplicate emails from Outlook securely and instantly while vital emails remain intact.
MS Outlook is an easy-to-use email application that helps users manage, receive, and share multiple emails. If you've been utilizing MS Outlook for some time and have a few dozen or even a couple of hundred messages in your inbox, then you're well on the way to have never confronted the issue of duplicate messages and this will scarcely transpire soon. Fortunate you are! : )
Yet, to be honest, I've never met an individual that way. It's evaluated that a normal Outlook client gets around 50 - 100 messages per day. Along these lines, we ordinarily have a huge number of email messages stuck in different folders and you may not have an ambiguous thought of a number of copied emails really are in your Outlook.
What are duplicate files?
A duplicate product may be anything, like an
email message
, note, calendar,
contact
,
task,
or may be an
attachment
and occupies the equal amount of storage space like original email has after duplication. Such files saved in the inbox or archive folders in Outlook are called duplicate data files. Some emails also created by the ads, newsletters, press release, or offers for new items etc. Other reasons of
Duplicate Outlook Emails
are discussed below.

Common Reasons of Increment in Duplicate Emails in Outlook:
Receiving Same Emails: You may receive numerous duplicate emails either from your co-employees, friend, or client. Sometimes, advertising companies or associations revert you the similar email, newsletter or press release multiple times to gain your attention for their scheme.
Incorrect Synchronization: Another reason is an interrupted or wrong management with a laptop/mobile device. For example: if you read some emails on your Smartphone and others on your computer system, then the location of emails shifts to a different folder on every device.
Mail Server hiccups: Sometimes, duplicate Outlook emails get created by the Mail server hiccups, specifically, if you enable the "Leave Messages on the Server" settings option. Wrongly organized MS Outlook rules, when two or more "move a copy to" rules used to particular receiving email also result in duplicate emails in Outlook.
​
PST Merge and Improper Mailbox Settings: When you try to merge various Outlook PST files into a single file may lead to email duplication. If the mailbox setting is not correct creating an Outlook account, then you may receive the similar emails and other items multiple times.
Duplicates created by Antivirus Software: Also, even your antivirus software may generate duplicate emails. Obviously, it won't do this purposely, it may be only an irregular reaction, particularly on the off chance that you tap the "Send/Receive" button very frequently meddling in the planned send/receive/save procedure.
Whatever the reason is, numerous duplicates of a similar Outlook emails may bring about bewilderment and confusion in your MS Outlook account, making your work more unpleasant and less profitable.
Issues that Appears by Duplicate Outlook Emails:
As you likely know, Outlook is an awesome application mostly used by the small and large organizations to enhance business productivity. The problems that cause duplicate Outlook emails are as follows:
Lack of Memory Space: Duplicate emails of Outlook occupies the same amount of space like original emails. This result in maximum usage of memory space only by the same emails. Due to insufficient storage space, the upcoming emails get delayed.
Poor System Performance: If the load increases on the Outlook account, then the Outlook process speed performance starts reducing and your system may start hanging or freezing.
Email Corruption Increases: Once the emails duplication increases, then the saved emails may get damaged, formatted or corrupted due to mishandling of Outlook emails.
Slow Email Send /Receive/Open Process: If space is less, due to duplicate Outlook emails then it easily affects the open/send/receive process of emails and takes too much time to get processed.
How to remove Outlook duplicate emails?
To get rid of duplicate emails, try below mentioned manual methods to
delete duplicate emails from Outlook
by two different methods to
delete Outlook duplicates.
a. Account Setting Option.
b. Import and Export Option
Method 1. Try Account Setting:
Step 1:
In
MS Outlook 2007:
Click on
Tools
menu -> Select
Account Setting
option.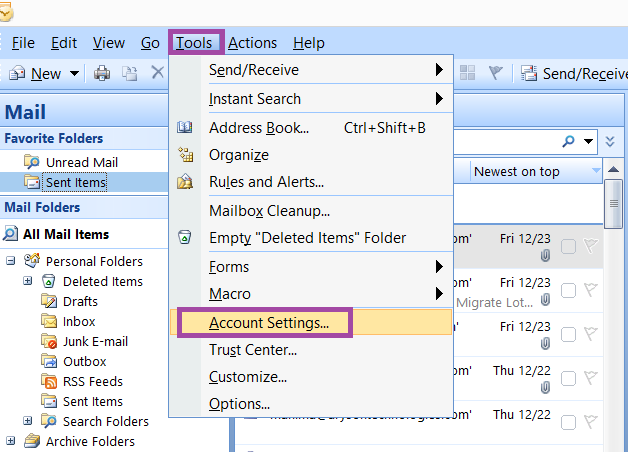 Step 2:
In the Account Setting window, Click on
Remove
option -> and then Press
Close
button.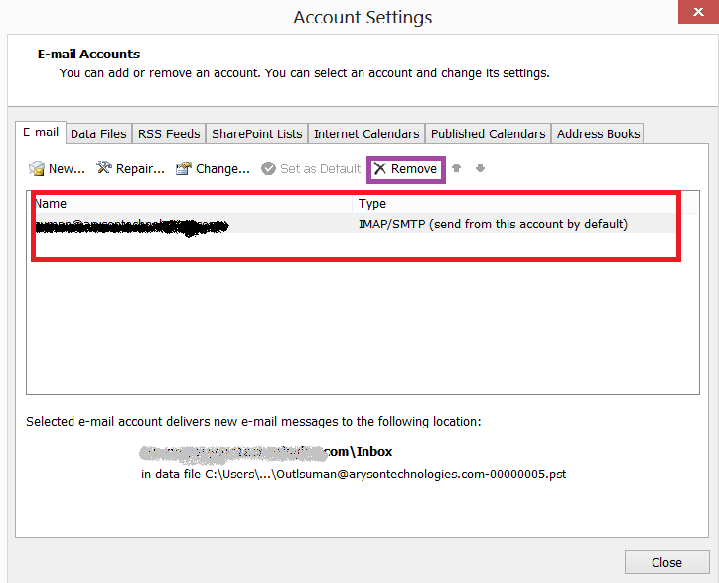 Method 2. Use Import and Export Option:
Step 1:
Click on
File
tab -> Choose
Import and Export
option.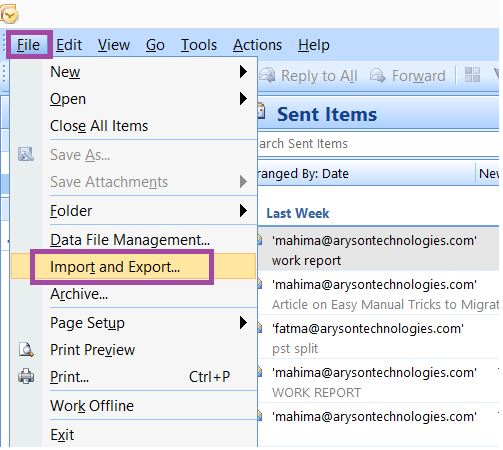 Step 2: In
I
mport
and Export Wizard
, Choose
Import from another Program or file option ->
and then Click on
Next
button.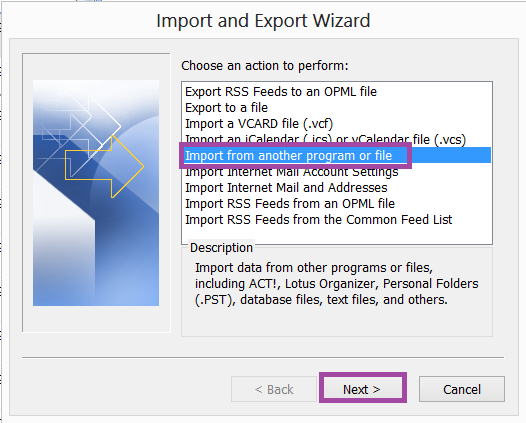 Step 3:
Now, in the
Import a file
wizard, Click on
Outlook Data File(.pst)
option-> Tap on
Next
button.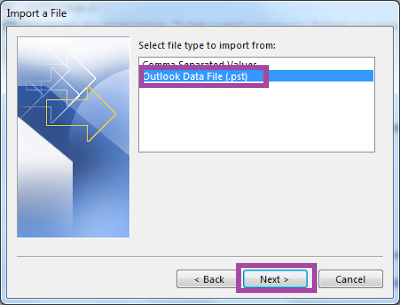 Step 4:
In the Import Outlook Data File, Click on Browse button and choose the file you want to import-> Select
Do not import duplicates
option -> Click on
Next
button.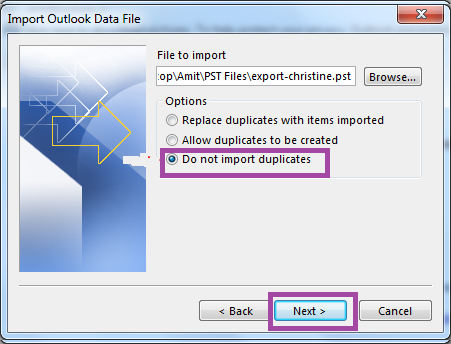 Step 5:
In this step, Choose Outlook Data File to export the entire data or you can also select the specific folders of '
Outlook Data File'
-> Click on
Finish button
.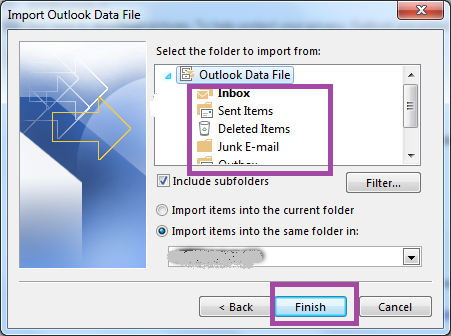 Advantages of Duplicate Outlook Emails Deletion:
Flexibility: - After deletion, you can easily view the specific email message without any interruption in your Outlook account.
Fast: - The processing speed of the Outlook application becomes faster and then users can easily access emails.
Space free: - Once the duplicate emails get eliminated, the occupied space gets free up for storage of other upcoming emails as well as reduce file size.
Virus free: - Once you remove duplicate emails in Outlook, Outlook mailbox will be free from various bugs and viruses.
Easy email management: After unnecessary Outlook duplicate email removal, you can easily manage and save your useful files without lots of hassle.