How To Recover Data From SD Card???
Travelling all over the world and capturing it with your lenses is an awesome feeling. Working day and night and saving your work, to show it to your seniors or for later use can be motivating. But what will happen, if all the data you saved becomes inaccessible? Or the images you clicked or the videos you took during your travel become corrupt? It can be the worst nightmare you will ever face. As in this situation, you cannot do anything. And if there is a situation which is so much worse and it's not in our control. Believe me you can get frustrated or you might get depressed.
Same thing happened to me when I was travelling in Australia and my Camera SD Card became inaccessible. Every picture that I clicked, all the memories were gone. Even after so many amazing moments during my travel, I was not happy inside. Then only after I started searching about memory card recovery recovering data from your corrupted memory card and so on…. That time, I have gone through so many blogs and posts regarding recovery and repair process of my memory card.
So now, I will be sharing you the details which I came to know after all this blogs, expert's do's and don'ts.
S
o if you want to recover your lost data. Follow these steps:
Dusting: Dusting can be a big issue. It might happen, that dust particles have settled down on the gold connectors of your memory card. Which might have been effecting, the smooth transfer of data process. So, try to clean the gold connectors first.
Plugging in another device: If you cannot access your memory card than it doesn't always mean that you have a corrupt memory card. It might happen that your camera or the device is not working properly. So first plug your memory card in any other device.
Reinstalling your driver: Reinstalling your driver might sounds technical but it is not.
You can reinstall your driver by following these simple and easy steps:
Go to Start menu and click on My Computer -> Select Manage option.
Press on Device Manager that is available on the left side.
Now, Double-Click on Disk Drives option -> and then Right-click on your removable drive name.
Hit on Uninstall -> Select OK button.
Before restarting you device, disconnect your storage media.
At last, Again connect your memory. Your computer will recognize it.
"Chkdsk" CMD Method: In layman terms,"chkdsk" means Check-Disk option.
It is a simple method, where your computer will help you to fix errors or bugs in your memory card without any data loss. For that
First you have to connect your memory card with your computer / laptop, with the help of a memory card reader.
Now, lick on Start menu and write "cmd" in the search box. Now press on "Enter". As soon as you will press enter, a new window will pop up in your screen named "cmd.exe"
Now, Type "chkdsk m: /r" and hit "Enter:" button, to start memory card repair process.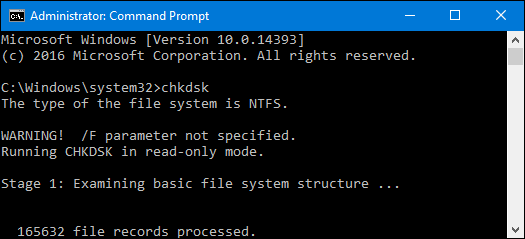 After completing all these steps, Windows will start detecting and fixing the photos along with other saved data of the memory card. After few minutes, if you see "Windows has made corrections to the file system" in the cmd.exe window, then congratulations! Your corrupted memory card issue has been fixed successfully and now you can freely access your data.After finishing the given steps, your computer will automatically start detecting and fixing those errors and bugs from your memory card. After some time, if you can see that your windows had fixed all the errors from your memory card then Congratulations, you can access your data.
Using Third Party Tool: If nothing works than the only solution you have, is to use a third party tool or software to access your lost or corrupted data. There are so many tools in the market that you can choose.
But before choosing, always check the product reviews and the features. As every tool has its own features. So this is the end of my article about "How To Recover Data From SD Card?" Hope you liked it. And for any questions.. you can ping me or reply on the below given thread.