Email is way too noisy, prone to hiding the important stuff, and really becoming unreliable for critical/timely communications. There are better ways to communicate.
Note: This is the third blog post in a
series on email clearinghouses
.
We've been talking about how email is way too noisy, prone to hiding the important stuff, and really becoming unreliable for critical/timely communications. But what's the alternative to email? We certainly have other channels that we can use. On my iPhone right now, here are all the different communication channels on which I could sent a directed message:

When I receive a message notification in my personal life, the channel helps me determine the probable sender and content, and the likely urgency – which determines the order in which I am likely to pay attention:
Phone:
The sky must be falling, it's a
conference call
that I'm being pulled into, or it's my mom (to be fair, she has been using iMessage a lot recently).
Don't ask me about voicemail
.
SMS + iMessage:
I'll take a quick peek because it's interruption-driven.
xMatters app + Slack:
Definitely work related, a customer demo, or a DM that I probably should pay attention to.
Email apps:
There's always stuff going on. I punch email in the face in 15-minute bursts about six times a day.
Everything else:
I'll take a quick peek, but only if I have time. I'm not going to interrupt my flow for it.
These rules are not static though. They change based on time of day (working, or pseudo-after work), where I'm traveling in the world, weekends, long weekends, date night, family reunions, events I'm attending, conferences where I'm speaking, etc. There's a system in my brain that switches gears between these modes pretty seamlessly. And I'd like to think the result is pretty effective. When I'm needed, I can be reached. And I tend not to miss important stuff and respond in an appropriately timely manner.
I've talked before about the fact that one of the most fun parts of my role at xMatters is spending time with clients and learning about how they communicate in context of different business processes and workflows. What I've learned is that the vast majority of them rely exclusively on email, especially when it comes to communications generated by automated systems (IT products, HCM tools, ERP systems, SCM, etc.) and group communications. They do use collaboration (WebEx, GoToMeeting) and messaging systems (Slack, Yammer, Lync), but those are almost exclusively the domain of people-initiated communications. But what about some other core channels, like SMS and Phone? Ad hoc and initiated by people. And business specific mobile apps? Virtually no business process/function specific applications. And the larger the company, the more heavily it appears to rely on email.
So from a communication standpoint, in most enterprises people walk around with smartphones and use them as tip calculators (h/t
Seinfeld
). I am definitely seeing a move toward utilizing alternate communication channels on an ad hoc basis, but when it comes to automated systems and business process communications, it's not really happening. And there's a good reason – if we just took the current stream of emails that fall into this category and redirected them to the alternate communication channels (phone and SMS as an example), there would be rash of smashed smartphones as we all went completely mad from the incessant vibrations, alert sounds, and disruptions.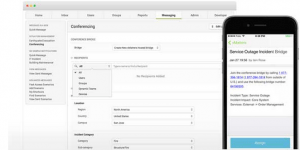 What's we're missing is an intelligent way of taking advantage of the myriad communication channels that we take for granted in our personal lives. Sticking with the bastardized Seinfeld-isms – anyone can use a communication channel, how you use it is the most important part.
---
Free Demo
To see a new way to communicate time sensitive or critical info,
request a free demo of xMatters
.