In this blog, I will share you some basic tips for content marketing and to rank your website on Google.
Tips And Tricks To Rank Your Website On Google
If you want to rank your website on Google, first you have to understand the life cycle of SEO or Search Engine Optimization.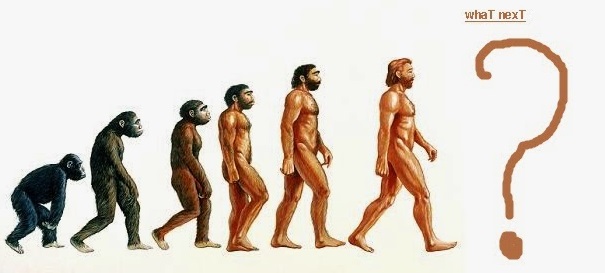 In this modern world everyone is getting more social and digitized. We as human beings are more social than our ancestors. From the ancient caveman, to the tribes, our society is growing and evolving day by day. Earlier these tribes has a closed group economy, used to speak the same language, live in clusters and followed the same practices with no connection from the outer world.
Their main purpose of life was to safeguard their community / tribe. Money, socializing and innovation was a distant feature for them. But with time, everything has changed. Right now, acquiring money, socializing and innovating new products to simplify others life is the ultimate goal of our life.
And with this paradigm shift in our society and innovation, there comes a product called Google. In a short period of time, it has gained a mass following from all over the world. With the help of Google, you can search anything and that too by just typing in some keywords. Be it a repair shop, a plumber, a restaurant, destination knowledge, products to buy, reviews, songs, up-coming games, movies, study materials, technical knowledge and so on.
You say it.. and Google would show it!
As per my opinion, it is one of the greatest entrepreneurial inventions, I have ever seen in my life.
Now Google is
$52
billion dollar company and also the market leader in search engines.
Be it a small corporation or a shark in the market, no one can ignore Google and its effectiveness in this modern scenario.
So now you know how Google has so much significance in our daily life. So now, let's see
How Google Works?
In Google, when you search for a Keyword it gives you certain answers / solutions in form of links. Like this in the below image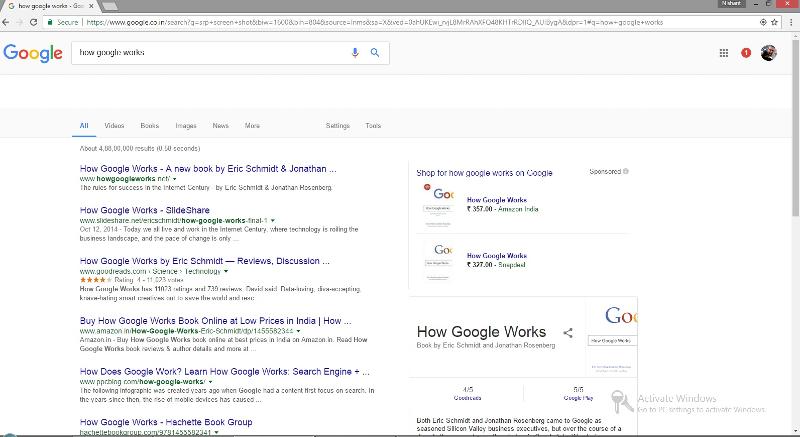 For example: You are searching for a travel blog or want to know about some destination.
Let's say, you are searching for Paris and some sightseeing places in and around Paris.
And the keyword that you have searched were "Paris Sightseeing Places"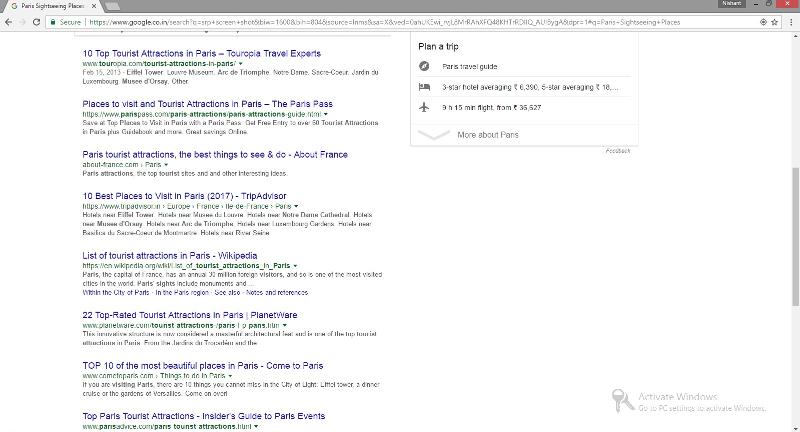 Or Sightseeing places in Paris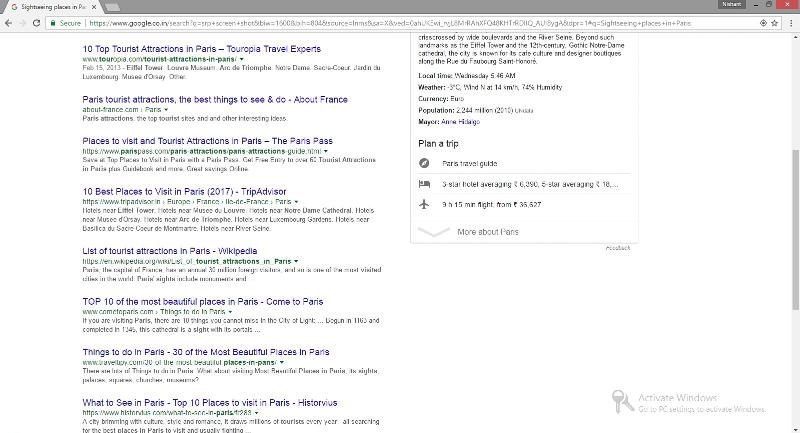 If you compare both these images, you would notice that Google is providing you with different links and sites. But if you check, then the meaning of both these keywords is exactly the same.
But still you would be wandering why it is so? Why Google is suggesting us different sites when the meaning of both of your keywords is kind-of same?
The reason for this is simple and that is:
What words / keywords you are using?
How you are using?
And when you are using?
See Google, is kind of a robot which works on keywords. She has no feeling, no emotions and no brain. It runs on algorithms with no human interface.
So even a small deter in your keyword selection may give you a very different solution from Google.
As a blogger or a travel agent or a Tour company everyone use these keywords in their pages, just to rank their page on the first page of Google. The basic idea for everyone is to get more views and footfalls in their websites and Google helps them to do that by ranking their webpage in its first page for a mentioned keyword.
So, if I have written a blog and I want my blog post to rank on Google's first page of a mentioned keyword than I have to include that keyword in that blog post. So that Google could understand in which keyword you want to rank your webpage.
This whole process is called SEO or Search Engine Optimization.
SEO is a huge term and a lengthy process. And there is a team, which works day and night for every firm who wants to rank on Google.
So now you know it is better to use different keywords. And remember always try to juggle your keywords like
Paris sightseeing places
Sightseeing places in Paris
Paris sightseeing
10 best places to visit in Paris and so on
Google's Parameters To Rank a Website: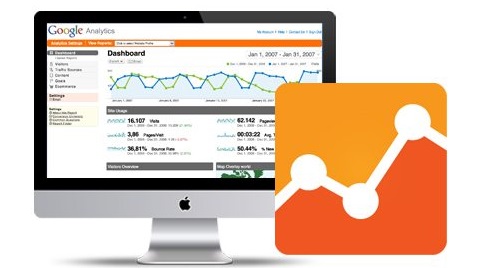 You must be wandering than why only some can rank their website and others can't.
What are the Google's parameters to rank a website?
Yes, you can't just write a blog and think that Google would rank it. There are billions of webpages to choose from and you have to be best to rank your webpage on Google. There is a lot of competition to get more views on Google. So first you have to mug through Google's parameters to rank a website.
But trust me it's hard to keep in mind all the considerations that Google keep in mind to rank a website.
So let me tell you that Google has around 200 parameters to rank a website. Yes, you heard it right.
It's 200 parameters.
So do you really think that it's possible to consider every parameter that Google has?
And the answer is "No". I hope.
So let's discuss about some of the Google's parameters to rank a website:
Content: Content is the King. Yes in SEO, with a good content you can do wonders. If your content is engaging, no plagiarism and informative it can help you in getting more views which in turn help Google to understand that your page have cleared his criteria of content. Not only that you have to write for your readers.
Keyword Optimization: Keywords are an essential part of content and blog. As without this, how come Google would understand that on which keyword you want to rank your blog? For example: If you want to rank your blog on "10 best places to visit in Paris" than you have to mention this full keyword in your blog.
Back Linking: It is an important criterion in ranking your webpage on Google.
In Layman terms back-linking means how many other websites are showing your webpage's link in their webpages.
For example: If you are searching for the best tuition teacher in your area, than what will you do?
Where will you get the best reviews from?
Answer is parents.
If most of the teachers are telling you that Mr. XYZ is a good teacher then the chances are good that he is a good teacher. And the same way Google try to figure out which website is good, whose content is informative and engaging.
Still didn't understand?
Then just swap yourself with Google
Parents with other authoritative websites
And Mr. XYZ as the pages (Google's suggestions)
These are the three basic ideas on
How to Rank your website on Google?
Conclusion:
This blog is just a brief and a small idea on how to rank you website on Google. Apart from these there are various other ranking factors that you have to understand and implement.
This blog is for those guys who are new to SEO and have no idea How SEO works??
Hope you liked this blog and if anything needed to be changed kindly message me or put a comment in the reply section.