This problem is more common than not and I will show you some things to check to solve this problem.
First thing you want to do is see if you have email notifications setup.


Most emails from Experts Exchange are system emails and the sender is noreply@experts-exchange.com
Obvious first things to check would be your Spam folder. If that checks out, and EE is not in your spam folder, then try going to your Settings.
Steps:
Click your avatar in the upper right section of the header
Select Settings
Select Communications tab
In the Communications Settings, you need to verify that you are receiving Immediate Emails. For example, click Question and Answer 'Edit'.
This is what you should see: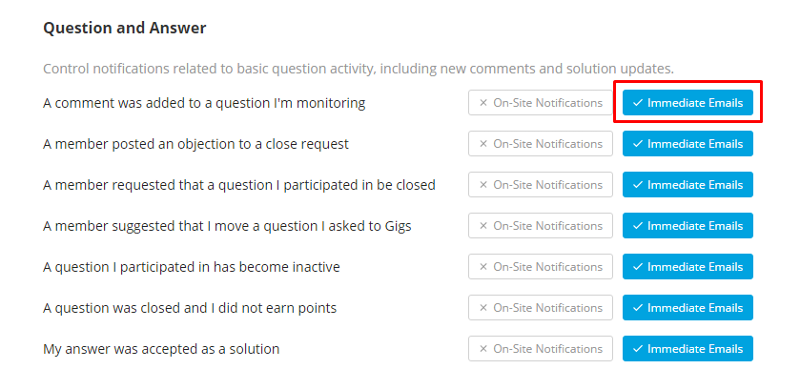 Are you still not receiving communications from Experts Exchange?
1) In most cases, private emails, workplace networks and/or firewalls are prohibiting noreply@experts-exchange.com as a sender. You will need to white list this email address and/or the experts exchange domain to receive email notifications in your inbox. If you aren't sure if its a blocked sender, then contact your network administrator and find out. They should be able to fix this issue for you.
2) If you purchased an email domain from a company there is the possibility that the company that hosts your domain is blocking the www.experts-exchange.com domain. Contact them to find out if this is true or not.
3) Try a public email address. For example gmail, yahoo, outlook, Apple, etc.
Is this problem still happening?
If you're still unable to get email notifications, then I recommend contacting Experts Exchange Customer Service.
Call +1-877-211-8911 or email us at customer_service@experts-exchange.com
Support Hours
Monday-Friday 8:00AM-5:00PM PT (UTC-8).