Top Three Free Exchange EDB File Viewer Software

Entrepreneur, Creative, Problem solver, Reader, Thinker, Interested in learning and sharing. I enjoy traveling, music and watching movies.
Published:
Browse All Articles
> Top Three Free Exchange EDB File Viewer Software
A list of top three free exchange EDB viewers that helps the user to extract a mailbox from an unmounted .edb file and get a clear preview of all emails & other items with just a single click on mailboxes.
There are circumstances when simple practices such as shutting down the system inappropriately or even improper withdrawal from Exchange Server can create serious issues. In fact, this sort of negligence might result in an unwanted disturbance as it increases a possibility of the corruption of EDB files and MS Exchange mailbox database can turn out to be inaccessible. Moreover, the situation might get even worse where you may find difficulty to mount data on Exchange Server. In order to properly deal with such circumstances, it gets essential for you to establish a healthy Exchange setup, which could further facilitate mounting of data on Server. But the key question – "how to open unmounted EDB files?" always remains the reason for turmoil. Fortunately, free EDB Viewer facilitates you to open and access unmounted EDB files on your system without any hassle.   
Here is a list top three free exchange EDB viewers that provides its user with the functionality to extract a mailbox from an unmounted .edb file and get a clear preview of all emails & other items with just a single click on mailboxes. We have picked the top and some of the best EDB Viewer software in the business that are widely used by many users all across the world.
Kernel Exchange EDB Viewer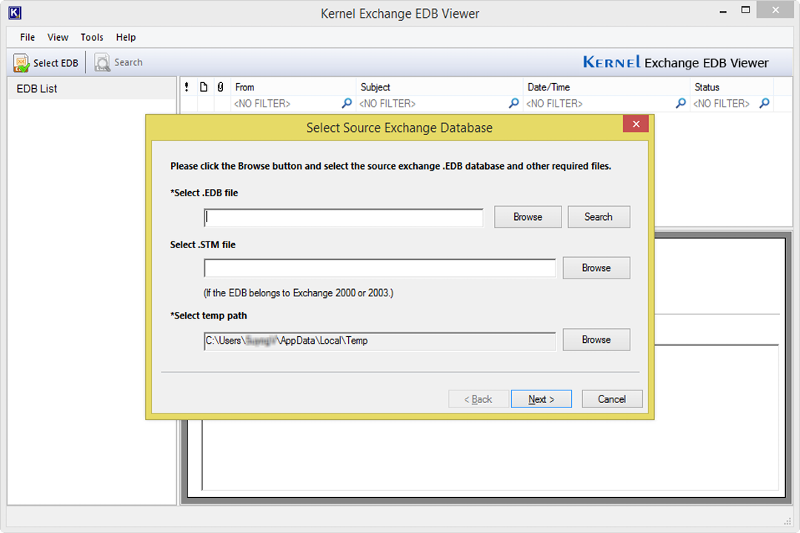 The software is intuitively programmed, and gives its user the benefit of easy access to EDB files without any requirement of performing any installation of MS Exchange Server. Adding to that, the software also has got some of the best features that make it count among the best free exchange edb viewer software, such as:
Search Option:  Just in case, you are facing difficulty in finding out the desired EDB files that you desire to view, then with a simple click at the Search button, you may trigger the search operation and allow the tool to search out the required file on the selected hard disk drive.
Advance Scanning Modes: As a user, you could easily select either Standard Scan or Advanced Scan option based upon the severity of EDB file corruption, and proceed further to recover files and view the data contained in the file.
Accurate EDB File Viewing Experience: While operating the software, one just require to make the selection of the appropriate EDB file version, and the tool robustly generates an intuitive display of EDB data files. Entire data enclosed in the file gets listed in hierarchical format. One can click individual email to obtain the preview of content.
Apart from all these, the software offers an intelligent Search functionality which when clicked invokes the
Search in Source
wizard as shown in the screenshot given below.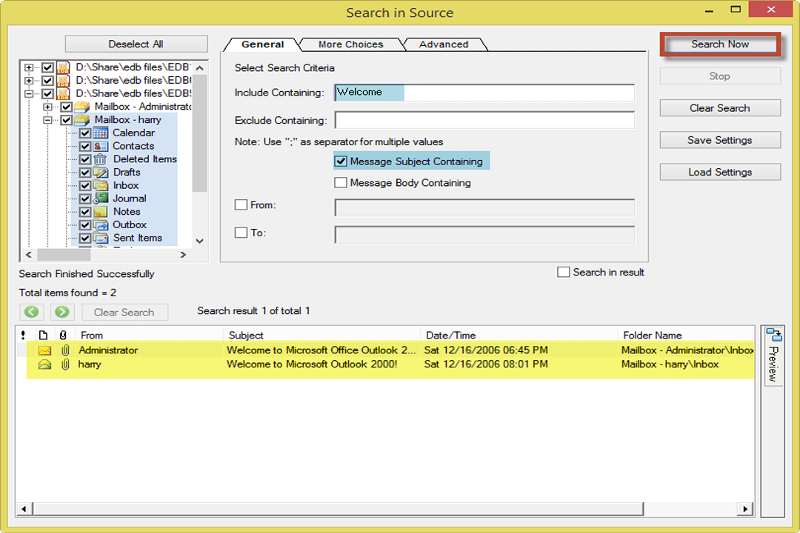 SysTools Exchange EDB Viewer
This is another free EDB file viewer software that is popular in this category and facilitates its user to get a view of emails in multiple modes.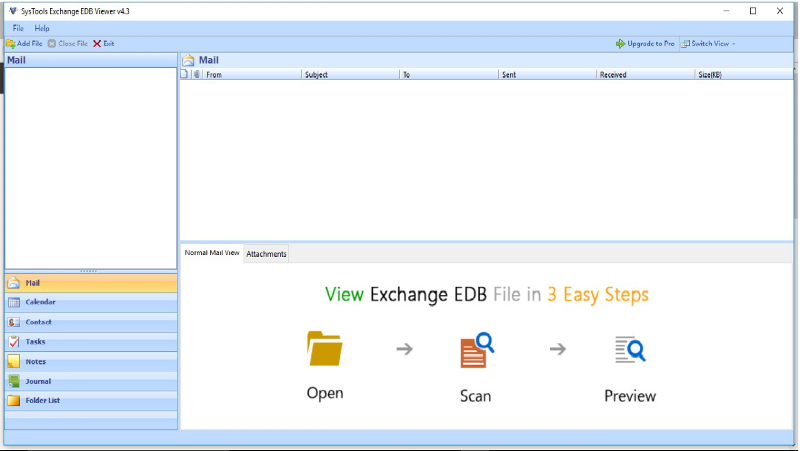 Using this tool, you can have a preview of the emails in Normal view mode, properties view, message header view, Hex view, MIME view, HTML view, and the attachments view. In addition, the other vital attributes of the software are:  
Easy Scan & Recovery of EDB File: Once, you have a select the desired EDB file; with this tool, you can open and preview the EDB file mailboxes & items present in it. The software takes just a few seconds to scan the file, but in case the file is corrupt, it even recovers data in just one click.
Switch View Option: Running this software, while you extract the emails from exchange EDB file and generates a preview, the software also facilitates in switching between the different preview options like "Horizontal" or "Vertical" view options. Thus, it gets easier for a user to get view of selective folder or data contained in it.
Competent Dual File Recovery Modes: Using this software, you also have the access to make the most use of the different recovery modes to restore corrupt EDB file in two different ways. In fact, as you operate the software, you have the functionality to recover and restore exchange server private store database or even exchange server public store database file.
Voimakas Exchange EDB Viewer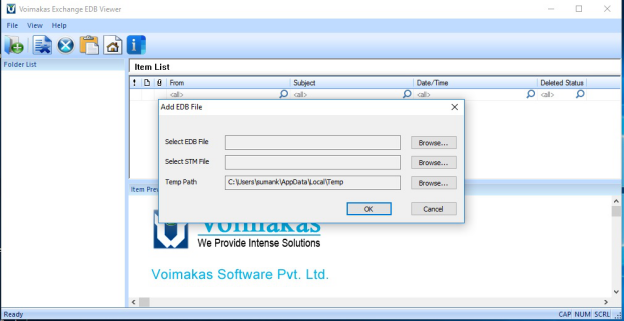 Voimakas Exchange EDB Viewer
 is yet another most popular free tool and allows its user to gain the complete view of Exchange Database (EDB) files. The key features of the software that makes it popular in this free edb viewer software group are:
No limitation of EDB file size: No matter what is the size of the edb file, the software is competent enough to read and generate the clear preview of all the items contained in it.
Show folders in the original hierarchy: Just in case, you are wondering whether the software disturbs the integrity of the data present in it then you don't have to. While providing its user with the solution to view edb files, it also retains the folder in its original hierarchy.
Show all Items as well as deleted Items: Also, this software has been programmed in such a manner that a user can not only open unmounted EDB files (private, public, user mailbox), but also read EDB file contents without Exchange.
As per your requirement, you can easily install or run this open unmounted edb file viewer freeware software and easily extract a mailbox data and provide its instant preview. These top three EDB Viewer freeware is totally clean and secure.