Read the original post on Monitis Blog.
Hi. My name is Erik Dietrich, and this is the first time I've posted on the Monitis blog. By way of introduction, I thought it would make sense to talk about my initial experience with Monitis.
Before I do that, though, I need to explain a bit about myself. Don't worry. It's relevant, I promise.
I'm a techie by trade. Specifically, I have historically made a living as a software developer, architect, dev manager, CIO, and, these days, IT management and strategy consultant. On top of that, I write and present frequently, including routine publishing to my own, tech-centric blog.
Because of this, I know a certain tension to which you can, no doubt, relate. I'm talking about the tension between not having time to build and look after your own website and thinking, "what kind of developer am I if I don't build and look after my own site?" I feel awkward about it, but over the years, I've come to the conclusion that it's better to leave my site's development to WordPress and the folks that make themes for it. I just don't have time to take care of it myself.
But this delegation can lead to embarrassing lapses. I write about software professionalism, IT strategy and the delivery of high quality solutions. So when someone that follows me on Twitter sends a tweet informing me that my website has gone down, I can't help but feel silly. Anyone looking at the situation obviously knows that it's my hosting company or, perhaps, something with WordPress. But that doesn't stop me from feeling the ironic sting of being the last to know about my own outage.
Mitigating Outages for Professionals
When I ran an IT department as the CIO, I had responsibility for some public facing web applications. I understood acutely the embarrassment of an outage, and I understood how it could be mitigated. If you become aware of it first and inform your users, you lose far less credibility in their eyes than if they find out and inform you instead. The outage is still unfortunate for everyone, but you being on top of it makes it seem almost planned to the users that hear of it.
To make sure my group had this advantage, I oversaw the instrumentation of monitoring tools within our network. This was some years ago now, so I don't recall the particulars, but I do remember having a dashboard to peruse and getting emails and text notifications to alert me immediately of any problems. This was powerful stuff.
Mitigating Outages for the Rest of Us
When it comes to my own blog and site, however, this sort of instrumentation never occurred to me. I had sound reasoning. An outage on my site is not critical to anyone. Nobody logs in and interacts with the site in a high-touch way – it's just content that I publish for people to read. I don't lose money when my site was down.
Because of all of these considerations, it made no sense to me to invest in monitoring. I had a preconceived notion of the cost of such things, since I had, in the past, allocated budget for them. Had I really gotten serious about it, I would have reasoned that I could probably do better in price a few years later and with different needs, but it never really bubbled up near the top of my own personal priority list.
This changed, however, when I encountered the Monitis product offering. I'll fast forward a bit and say that today, I have effective monitoring for my site that gives me exactly the data I want and costs me almost nothing.
Getting Started
I would offer a "how to" at this point, but you'll have such an easy time it's honestly not worth the bother. Go to the main site, click "start monitoring now" and fill out the requested information. That's it. Really.
I did this, and true to what they say, I had monitoring of my site set up within 3 minutes. At the time I performed the setup, I recall being in something of a hurry, so I just kind of did a fire and forget. I setup monitoring HTTP for my site, and didn't think anything more of it for the rest of the day.
The next day, I got the email shown below. I saw that they had hit my site with HTTP requests from 3 different locations. Cumulative uptime of 100%, too. I won't lie — I was a bit relieved to see that "all good" seemed to be the default state of affairs.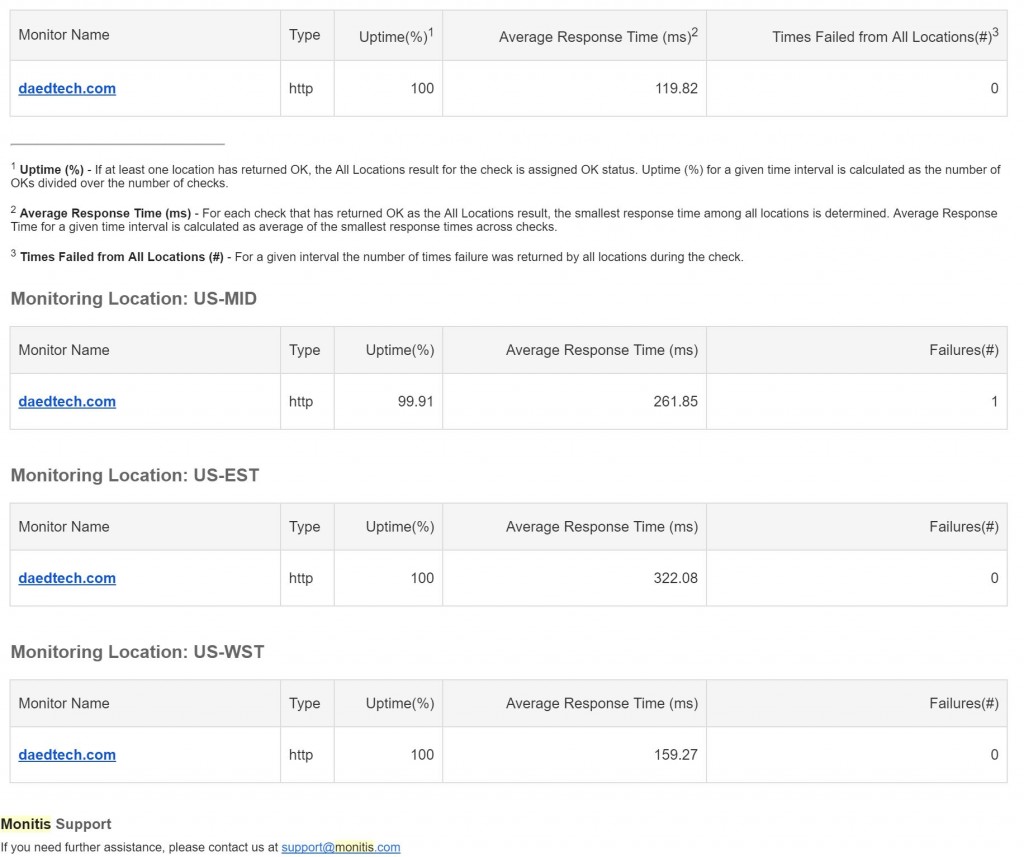 For a few more days, I continued to receive this daily summary. I had an even larger sample size of things being alright, and, about a week in, I found myself with a bit more time to dig into the monitoring itself. I logged into my newly-created Monitis account and poked around in my dashboard.
The default monitoring that I had setup involved 3 locations making HTTP requests all day to my site. If any 2 locations failed simultaneously, I would receive an email alert that my site was down. At the time, I had signed up for a trial account, so my next bit of curiosity was "what will this cost me." When I went to the pricing page and punched up what this would cost on an ongoing basis, I found the result quite reasonable: $1.20 per month.
Wow.
My Takeaway: The Value Proposition
I could kick myself for not doing research earlier. I keep my finger on the pulse of many different trends and technologies. And, if you would have asked me whether or not some kind of affordable site monitoring technology existed, I imagine I would have said, "gosh, probably."
And yet, I never went out and did the research.
The obvious lesson here is that affordable and effective monitoring for your site exists. Even if your site is simply you posting a food recipe or two per month, and a couple of your relatives reading it every now and then, it's probably worth about a dollar per month to make sure it runs smoothly. Call it peace of mind or call it professional pride. Either way, if you have a site, you might as well keep an automated eye on it.
But the deeper lesson here is one of cost and specialization. Cloud technology and its ramifications extend beyond, "it's easy to provision a server." All facets of traditional IT are becoming commoditized and offered affordably and with good quality to people with budgets of all sizes. If it's been achievable for the enterprise for years, keep your eyes open, because, quite probably, a version is achievable for you as well.
Sign up for Monitis FREE 15-day full-featured trial! Premium plan starting from $12/month only!