If you use the Google Now Launcher, as an aftermarket add on, have a Samsung Note 5 and are worried about power consumption be wary of using the ultra power saving mode. Here is what happened to me when I made the mistake of trying this out...
Background
I love my Android phone (a Samsung Note 5), although it does have its caveats. I have had an Android phone of one type or another for over a decade. On this phone, I replaced the built-in launcher with the Google Now launcher when it came out. This comes into play later.
My biggest worry has always been my phone's battery life. When I was able to, I would carry an extra battery with me (prior to this phone it was easy to change the battery). Now that changing the battery is not a simple procedure, I carry a battery recharge unit (~ 4 full charges). So when someone suggested trying the built-in ultra-power save setting for additional power saving, I took it seriously. I had used the basic power saving setting before, but never the ultra-power saving mode.
I tried the basic power saving mode again, turning it on and off to see if there was any visual effect to be had. Other than slowing down the phone by restricting CPU usage amongst other things there was no visual change. Although regular power saving mode saves power and the resulting screens look uncomfortably like the ultra power saving mode, it doesn't save as much battery and seems to revert to regular mode more seamlessly. When I tried the ultra-power saving mode, I almost immediately decided I didn't like it and turned it off. When the launcher came back up more than half of the screen shortcuts were missing (the applications were still present). Not only were the shortcuts missing, but half the widgets were gone as well. On closer inspection, it turned out that only widgets from third party apps disappeared. Nonetheless, this was unacceptable, especially considering this is a Google Android phone (made by Samsung) using the Google Now launcher and a setting built into the Google Android operating system.
I was more than a little surprised. I immediately went online to find out if there was a solution. The very first comment I saw asked the poster, who had a very similar problem to my own, if he was using the Google Now launcher. Apparently, as it turns out, this launcher doesn't hold its settings very well.
I have been making all kinds of changes/customizations to this launcher four the past ~18 months, now most of it would have to be done over again. On top of that, I unfortunately followed one suggestion that said to reset your applications and that might bring the shortcuts back. Needless to say it did not work, but it did make it so I now had to either re-log into an application, re-allow it to access certain preferences or both. The only good side to this, is that I was able to eliminate apps I didn't need or no longer used and to revisit security preferences.
What to do to save Battery instead of UPS or PS modes:
In lieu of using the ultra power saving mode, if you also use the Google Now launcher on your Note 5 phone, there are several steps you can take to conserve battery life. Many of these steps you can find online in various blogs and forums, but I will try to summarize them here.
The basics of power saving, without using power saving or ultra power saving modes, that I have seen online are the following (I have tried all of these at one time or another - they work without causing undo hardship when you return to normal settings):
1. Turn off what ever you can - for instance, a big battery drain is location services
2. Decrease screen brightness to the minimum where you can still see the screen.
3. Use airplane mode when possible (or just turn off your device)
4. Use a black background, or better yet use black & white mode (if you don't have this mode, follow the instructions on this page). Also note that active wallpapers, although nice, do take up more battery.
Here are some links to several good pages regarding battery life that I not only have tried but recommend (mostly). There are many more...
Sprint offers several suggestions here. (I have tried most of these with 100% success on my Note 5)
Another article on battery saving tips for Android phones. (I have tried a majority of these suggestions)
Androidcentral has a good article on battery saving tips for Note 5 users. (although I have tried all these suggestions, I would suggest staying away from the Ultra Power savings)
After doing more extensive searching I found a few articles dealing with this power mode on Android phones. Only a few address the problem of this launcher and ultra-power saving mode. I do NOT vouch for these articles. Some make suggestions that I have tried, while others I have not tried. In the 2 paragraphs above are those settings I have tried and suggest.
The best article is from AndroidCentral, even though it speaks about the same problem but with the Samsung Galaxy S5.
This article is more specifically about ultra power saving mode, not the problem with the Google Now Launcher.
Sprint has this guide on Ultra power saving mode on the Note 5, although it is only informative and not much help.
Some more explanation about what ultra power saving mode is.
A similar problem to my own, but just similar.
Here is a video of a Note user turning on UPS and configuring it (from youtube). As far as I can tell, the poster is NOT using the Google Now launcher:
https://www.youtube.com/watch?v=BLkWRF8yFII
When Ultra Power saving mode is first turned on it will look something like this: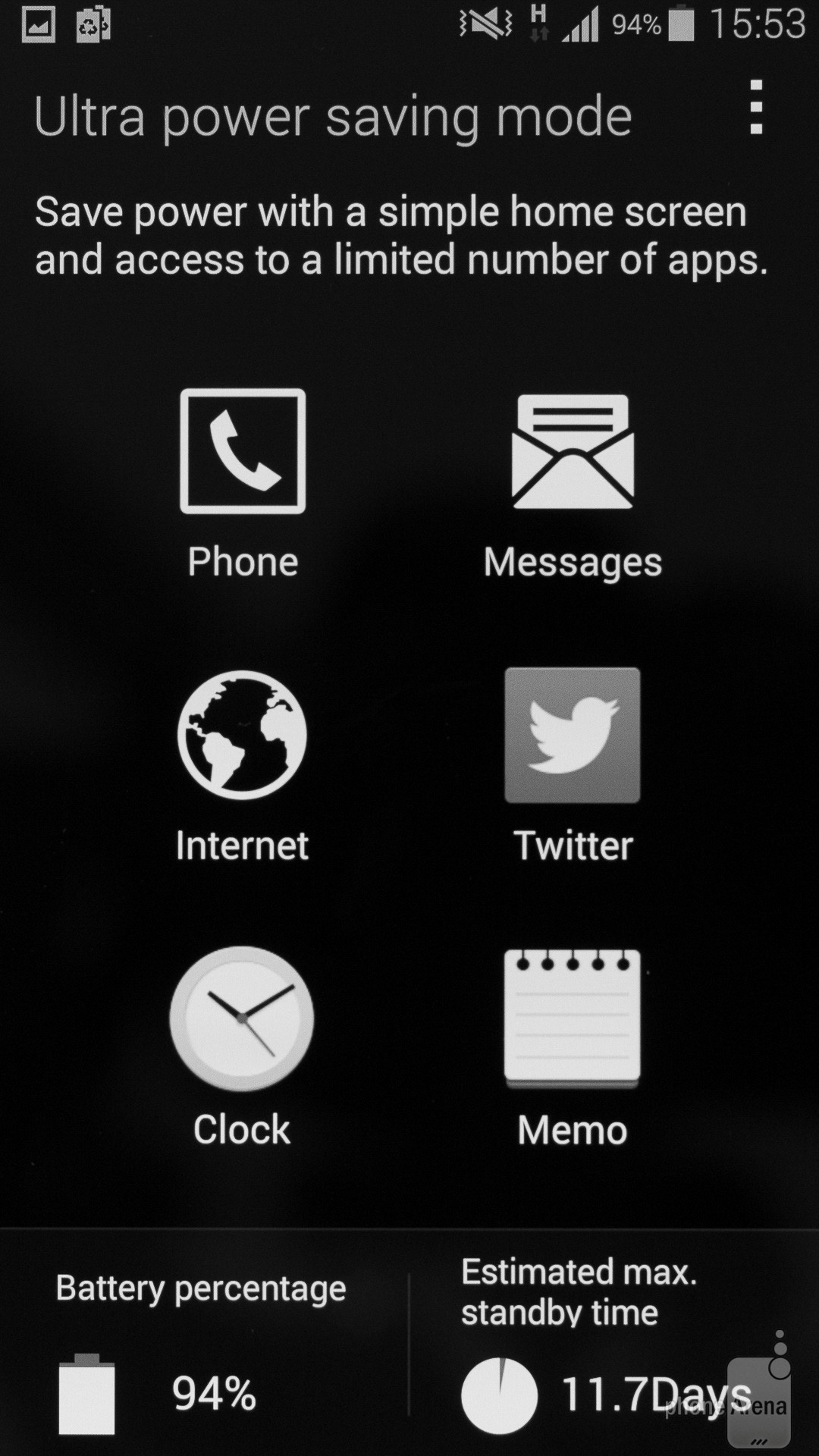 I wish I had seen an article like this before I attempted changing to ultra power saving mode. I suppose I would have seen the ones I linked to above if I had bothered to look. I hope I can prevent at least one other person from trying this and falling prey to the inability of the Google Now launcher to keep its settings on a Galaxy Note 5. Anyway, if you find this article helpful, please give it a thumbs up.