Changing a few Outlook Options can help keep you organized!
Modify These Outlook Options and Save Hours!
Now that you are getting your mailbox organized, here are two little-known options that you can enable to help keep you organized.
You'll find these options in the Mail category in Options, i.e.
Navigate to File > Options
Click to select the

Mail

category

Be sure to click OK when you've finished updating the settings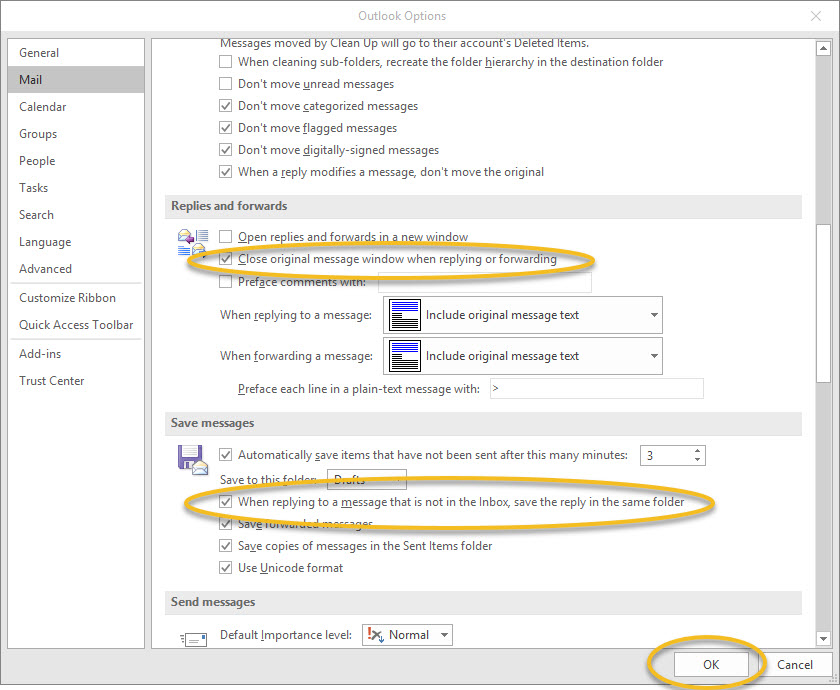 Tip #1 Close the message window after replying
The first option will automatically close your message window after you reply, rather than keeping it open. This will save you a click (and your sanity).
Scroll halfway down to the "

Replies and forwards"

section
Click to tick "

Close original window when replying or forwarding

"
Tip #2 Save sent items with the original
The second option will automatically save your replies in the same folder as the original. This is very helpful for those of you that file messages into folders and like to keep your replies in the same place. No more searching the Sent Items folder!
Navigate down to the "

Save messages

" section
Click to tick "

When replying to message that is not in the inbox, save the reply in the same folder"