This article is a collection of issues that people face from time to time and possible solutions to those issues. I hope you enjoy reading it.
This article is a collection of short stories about problems, issues, and solutions. No one problem is a prerequisite for another problem here. However, all of the issues below have happened to me and I thought you might like to read through and see if you had any of these issues. I like my computers and network to work near perfectly and never more so that when I travel. I do not want problems when I travel and I also want unfettered access to my home machine. In the list below, travel issues come at the end to(somewhat) wrap up the thread of the articles. I needed to resolve all the issues as any one of them would turn into stumbling block if not fixed
The short stories are:
1. Strange problem of being able to connect but not browse or get email.
2. A troublesome issue changing the IP address of a client tunnel (should be simple!)
3. My trusty Sync Back Pro stopped syncing.
4. Windows 10 is addressing accessibility issues for people with aging eyesight.
5. Adapting to hearing loss.
6. Travelling with a computer.
My personal business system is Windows 10 Pro Version 1703 Build 15063.296 running on a Lenovo ThinkPad X1 Carbon with a 1 TB PCI-e NVM-e SSD drive, 16 GB of memory, Intel i7 CPU and Intel HD graphics. Generally, I find Windows 10 to be quite reliable and it accommodates everything I need to do. That does not mean or infer that there are no problems, but (if Experts Exchange is any measure) I have fewer problems than most.
The forerunner to the above system is a (now spare) ThinkPad X230 now running Windows 10 Insider Version 1703 Build 16178. It was running Version 1607 back in 2016 when I had it on a ship on the Rhine River. The ship had internet for passengers and it was generally OK, but not always perfect. Let's start here.
Problem: Browsing and network activity stopped working
We had gone overseas for a river cruise, and whenever and wherever I travel, I take my ThinkPad. (the X230 as noted above on this cruise). We checked into our suite on the ship, I checked out Internet, got the setup, and connected. All seemed well. A couple of days later, people with iPads complained that they could not connect, then something changed with the ship internet, and immediately after that change, I could not browse anything. I could connect but not do anything including email.
It was night time, the day's activities were done, dinner was over and I sat there looking at various things. After all, I have solved a number of network problems in here. I tried TCP/IP Reset and DNS Flush to no avail. I shut down, started up and still nothing. I tried another browser – nothing. I looked in Device Manager and all was working well there. Now if you ever read my posts in Experts Exchange in any detail, you know I am very organized. I have all my drivers and software carefully organized in one large root folder called "General_Storage". I pulled out the Wireless driver, made ready, uninstalled wireless, restarted and installed the wireless driver. I connected and was running. All was well, email worked and I could browse anywhere I needed to.
Why? I did some digging (Google) and realized that if Client for Microsoft Networks was not enabled, I would get the symptoms I had. I recall looking in there and but I had not connected the dots. I unchecked Client for Microsoft Networks as a test and all my symptoms came back. I enabled it and all was well.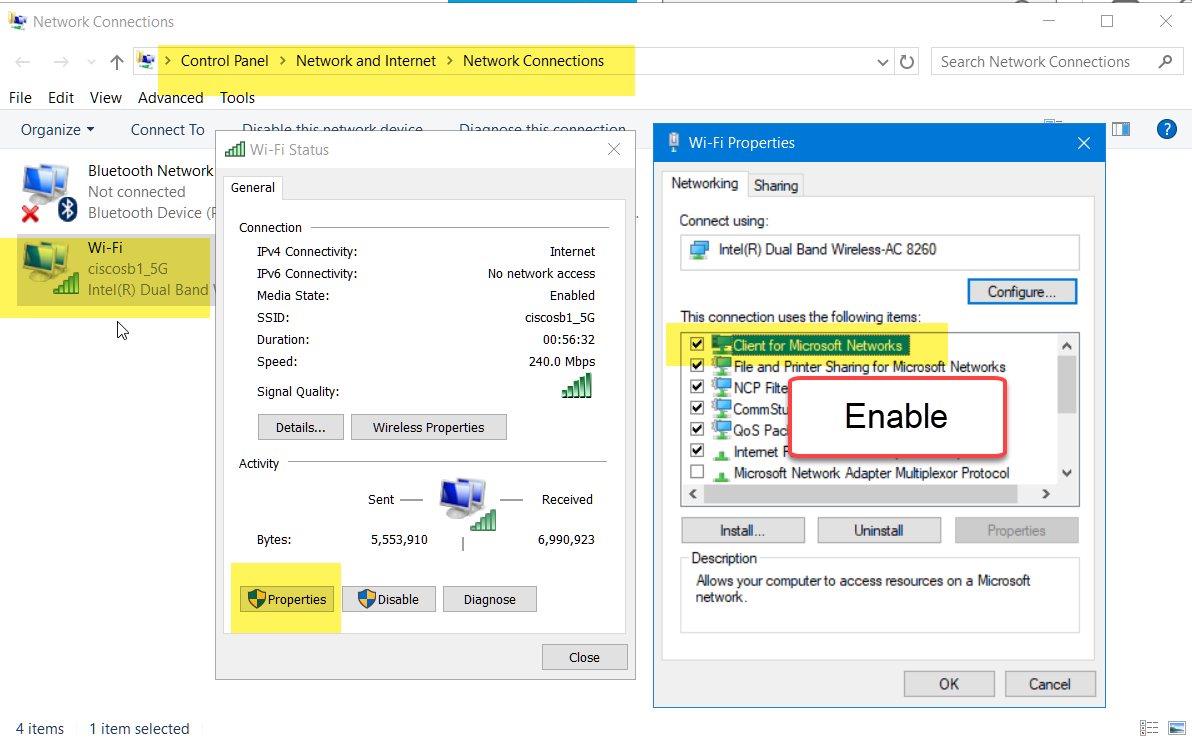 Why did the ship internet changes affect this? I do not know. All was working well when we boarded the ship, and so the problem occurred on the ship.
Problem: Connect and not browse or get email.
Solution: Enable Client for Microsoft Networks (or reinstall the Network Card).
Problem: Change a VPN Tunnel IP range and the tunnel quits.
In my home office, I have a Cisco RV325 VPN router with IPSec Tunnels out to several of my clients. I have a Cisco RV134W wireless AC router lashed to this so either machine (Laptop or Desktop) can RDP into clients. This setup had been working well since I got the two routers above. I also check the RV325 box occasionally to see that all tunnels are up and working.
One of my client had an internal network that was 192.168.0.x and, of course, many home routers are .0 so we had to say to employees "Change your home subnet". It has been like this for quite a while and we decided to change this in 2016. I tried to change my RV325 tunnel to reflect the IP address change but it could not connect. Oddly, I could connect to the old subnet but not do anything. I could, if necessary, use NCP Secure Entry as I had updated the client profile in NCP to reflect the new IP range.
Solving the problem became somewhat critical as my colleague will be going in vacation overseas (at the time of writing this article) and I need to be able to provide support while he is gone. I set up the correct tunnel, turned on logs and changed to the new IP range. The log said I am routing to the old IP range. This is strange because there is no special routing in place (very simple setup). The other end (at the client) uses a Juniper Netscreen router and our review of the policies in the Netscreen turned up nothing.
I left the RV325 box with remote access enabled and the broken tunnel set up. We called our specialized consultant, he reviewed the settings, and then tried to change the IP range at the Juniper end and could not. He deleted the tunnel, set it up and we waited a couple of minutes and the errant tunnel connected. All was well now. We are not sure what happened to setup in the Juniper box, but deleting and recreating the tunnel setup is a tried and true methodology that worked here.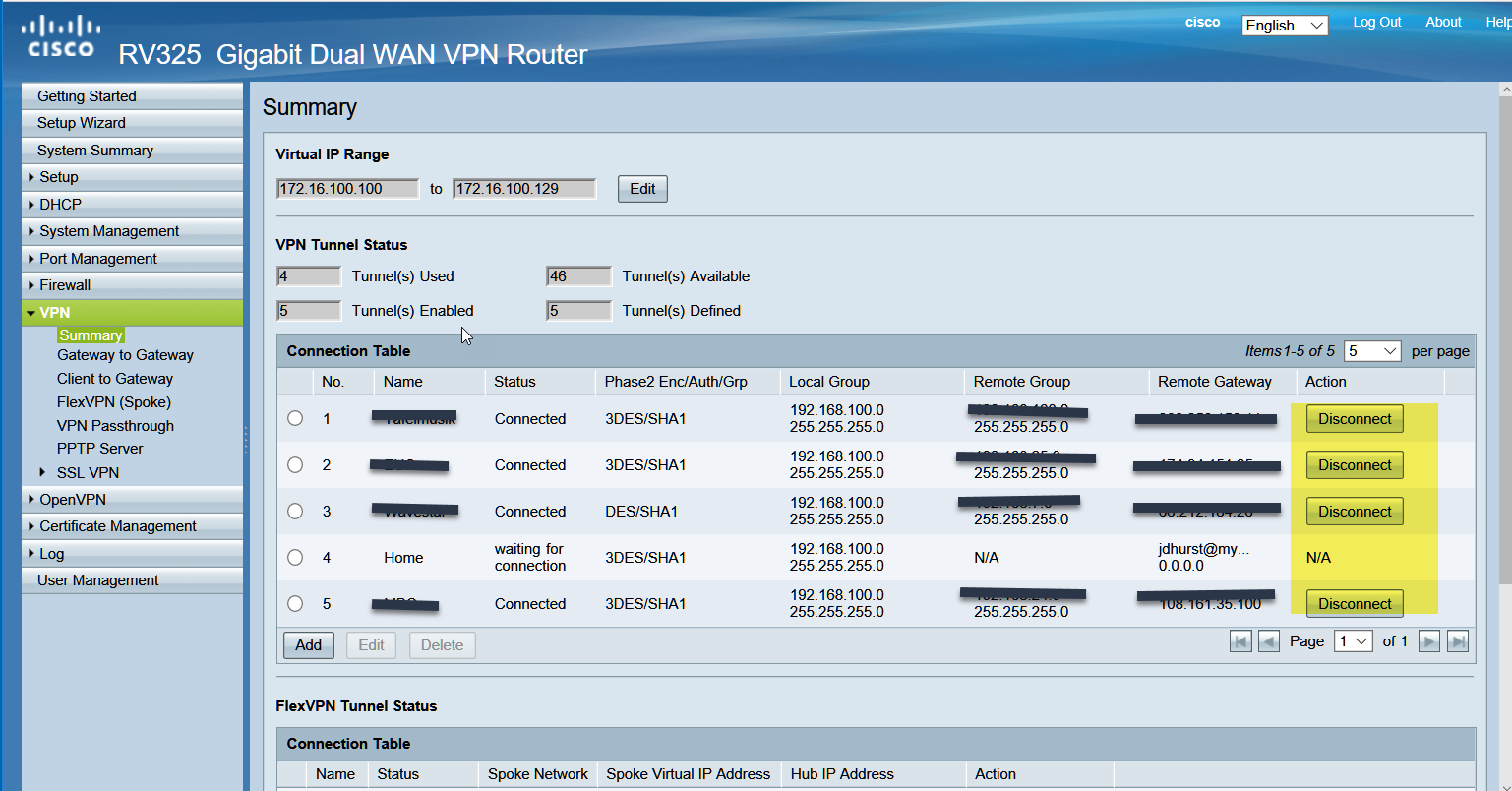 Problem: Tunnel goes down after a simple IP range change.
Solution: Delete and re-create the tunnel.
Sync Back Pro: Cannot sync to desktop after making user changes
I used to use Microsoft Briefcase to sync files between my laptop and desktop machines to ensure backup and easy access on both machines. That method was useful to me, ensured that all my files were backed up, but it died with XP. A quick look here at Experts Exchange when I got my Vista Business computer pointed to Sync Back Pro (2brightsparks.com). That was 2008 and I have been using Sync Back Pro ever since.
In mid-October 2016, I got my current ThinkPad X1 Carbon Windows 10 computer, set up Sync Back Pro between it and my Windows 10 desktop machine, ensured it was working and that I had fully backed up, and then headed off to the Microsoft MVP Global Summit in Redmond, Washington in early November 2016. At that point, I was using Local User Names on both Windows 10 computers. Sync Back Pro works just great that way and between any OS that I can connect to – workstation or server.
At the Microsoft summit, and during a presentation, I decided I would change my laptop to a Microsoft Account ID. I don't use Outlook.com for regular mail – I have used Mail.com since 1996 and I wanted to use my own email address. I set that up using my own email address and it worked fine. What will happen, I wondered to myself when I return home? Sure enough, Sync Back Pro would not connect (because user account ID had changed). I restarted both machines, connected with NET USE and then Sync Back Pro would sync properly. But that is a pain – connecting folders just to sync files. I have grown accustomed to Sync Back Pro working on demand.
Now one huge benefit to Sync Back Pro is that the files are "real" on both ends – that is files on both ends are independent of any syncing. Microsoft sync has required one end to be owned by the other end and so access is slow if disconnected. I don't know if they may have fixed this, but my clients got annoyed with the slowness and Sync Back Pro fixes this issue for them. So, I called my colleague and he noted that he has entered the credentials of the other machine (normally the server) in Sync Back and that facilitates connection. I tried that on my laptop, restarted both machines, did not connect the folders by mapping, and Sync Back Pro started to sync properly. Problem solved.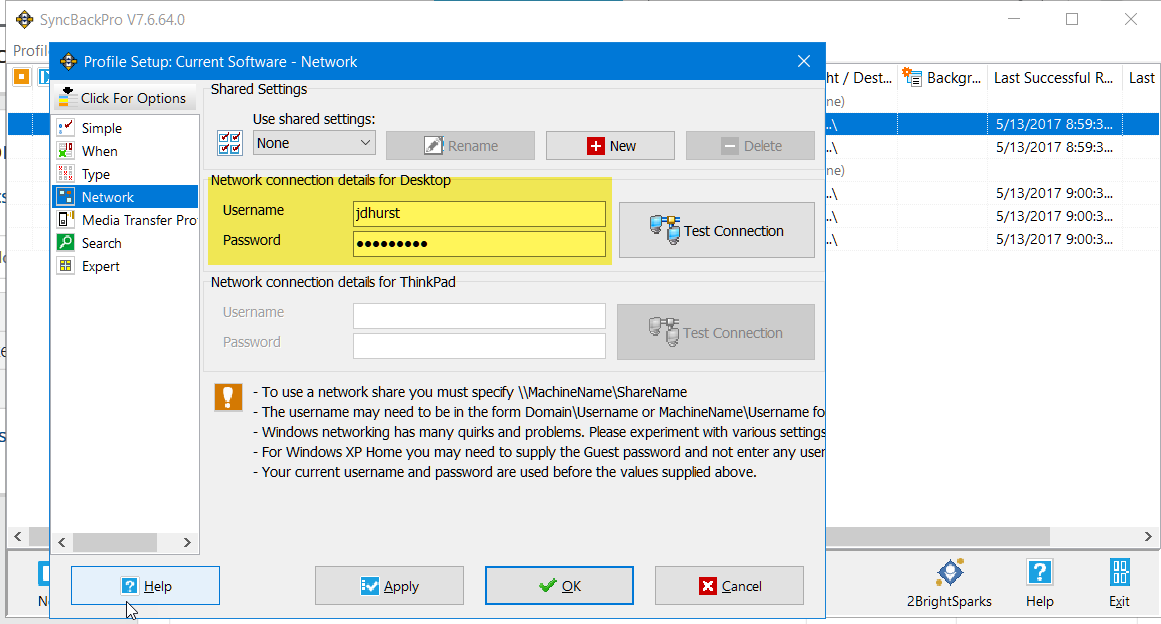 Problem: Change in type of user credential breaks Sync Back Pro connection.
Solution: Enter the user credentials of the other machine in Sync Back Pro settings.
Eyesight issues with age
I have worn reading glasses for years (decades). With Windows 7 (almost a decade ago), I could change the size of icon text, menu text, message text and other such items in Advanced Display controls. These controls have been in existence from before Windows 7 to Windows 10 Version 1607. But the controls were gone in Version 1703.
Even in past systems, resizing the icon text did nothing for Office or One Note. Sometimes text was so tiny (on a high-resolution monitor) that I had to look hard. However, with no ability at all to change text size in V1703, I saw the whole issue as an accessibility issue. I set up a chat with Microsoft and they called me.
The gentleman at Microsoft showed me a change in Windows 10 Version 1703 that permits scaling. I set it to 125% but not changing the 1920x1080 resolution. Icon text immediately got bigger, but so also did text in Word, Excel, One Note, QuickBooks and a whole lot of other little applications.
This is a wonderful capability, absolutely wonderful. This is worth, all by itself, upgrading to Windows 10 V1703 Creator Update on a small high-resolution laptop.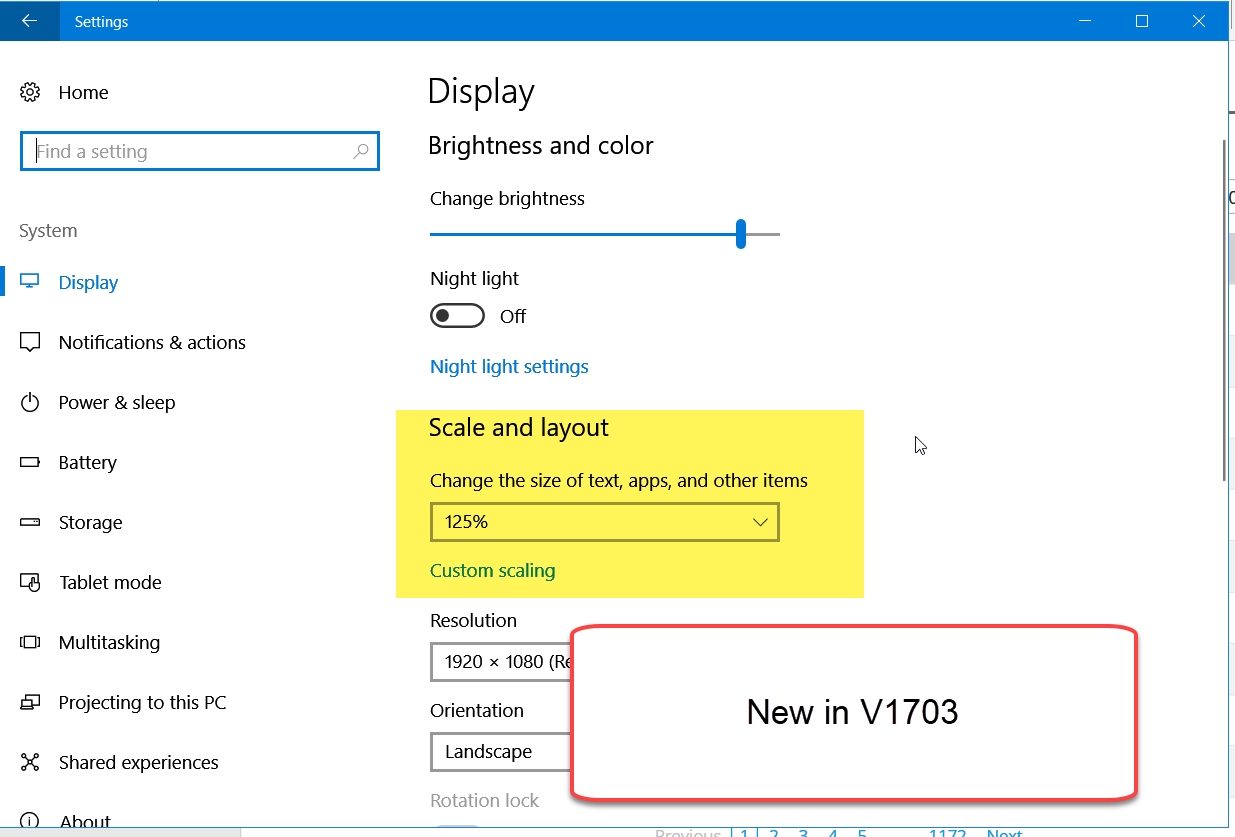 Problem: Small text in a high-resolution screen
Solution: Windows 10 Version 1703 Creator build or higher.
Hearing gets poorer with age
This is not really a computer issue, but the golden lining is.
I got hearing aids 3 and half years ago. They were decent but there was a bad dip in high end frequency response. To correct this meant plastic plugs for my ears. Such plugs need to be vented so a I can hear myself normally. The plugs create pressure in your head because the vent hole is quite small and this hurt after many hours, so there is a limit on how long you can endure this hearing aid setup each day. Still, I never left home without them.
6 months ago, I looked a replacement hearing aids. On one hand, a set of hearing aids is expensive; on the other hand, the promise was soft open dome earpieces which are really comfortable and easy to wear. I decided to get a replacement pair. They are 50 times faster than the earlier ones (a huge increase). The speed goes to improve speech that I hear and to reduce background noise significantly. All in all, it was very much worth the expense (which is considerable, but medical, and so deductible off my income tax).
What is the golden lining? The new aids have Bluetooth and the manufacturer (Oticon) has an iPhone app to permit the phone to work through my hearing aids via Bluetooth. I can put the phone on the desk, talk, hear properly, and use the computer with both hands simultaneously. This is better I find, than regular iPhone earplugs with wires attached to the phone or large Bluetooth earpieces. The app makes it all very automatic and Bluetooth is better than earplugs with cables dangling down to the phone.
This is not really a problem except to aging people like me, just a story, but the offset for me to having to have hearing aids in the first place is far more accessible phone and computer use.
Travel issues with a computer
I have travelled quite a bit both on business and for pleasure. I always take my computer. In the last 15 years, this has been necessary to attend to my personal consulting business. Over this time, I have renewed and revised my travel companions and have arrived at very good computing arrangements for travelling.
One issue is computer size. I have always keep the size to a 14-inch display or less. 15-inch computers are too large and heavy. Weight is always an issue when carrying your briefcase over your shoulder pulling an overnight (or larger) bag behind you.
Another issue is internet access. Wireless access is not always available. The situation today is better than 10 or 15 years ago, but it would be foolhardy (in my situation) to assume internet will be available at my destination. So, I ensure a good roaming plan for my iPhone and I carry a HUAWEI USB Internet stick. It was not always like this as I started consulting with a flip phone, graduated to a Blackberry and 5 years ago to an iPhone 4s and then now to an iPhone SE.
I had the following setups over time:
ThinkPad T41, XP Pro, 14-inch, 1024x768 LCD display, 4.5 pounds, Sony PCI wireless.
ThinkPad T61p, Vista, Win 7, 14-inch, 1024x768 LCD, 6.5 pounds, Nokia USB wireless
ThinkPad X230, Win 8.1 and 10, 12-inch, 1366x768 LED, 3.5 pounds, Nokia wireless
ThinkPad X1, Win 10, 14-inch, 1920x1080 LED display, 2.5 pounds, HUAWEI wireless
The first machine had a nickel-cadmium battery that was good for an hour or less and the Sony PCI wireless was about 56K or a bit better. This was slow but I could access clients if the need arose.
The second machine was a heavy beast, mostly because I had added a large battery (Lithium Ion) to give me 2 hours or so of sustained use. The Nokia USB Internet stick provided about 3 Mbits/second down and the whole arrangement was quite creditable. The minimum monthly cost for the Nokia stick was about $50 including a $5 monthly upcharge for VPN access. It was only good across Canada, not in the US or overseas. I had no roaming plan for my Blackberry, so I was forced to depend on whatever access I could get.
Both these machines have been retired and recycled.
The third machine has a small LED display and a 500 GB 7200-rpm hard drive. Battery life is 3 hours or better, that is, good enough for a half-day meeting or similar requirement. The display is small, but I adapted to it fairly well and I have very good reading glasses. I very much appreciated the small physical size of the machine, but I grated at the small display when using VMware Workstation virtual machines. I used the same Nokia stick until Windows 10 came along, but then I could not reinstall the USB stick when I needed to repair the installation. I went back to the ISP and they offered the HUAWEI USB stick that can do as much as 25 Mbits/second down and 5 Mbits/second up. The price came way down to $15 monthly including the $5 monthly upcharge for VPN. The price ramps as you use more data and is about the same price as the Nokia for its base provision for data. The HUAWEI stick has a lower standby charge and lower provision for data. This is fine for a few uses a month which is often how I use it.
The fourth machine is new to me (6 months old as I write this article). I admit to splurging but I wanted a light machine (2.5 pounds), thin machine, huge SSD drive, long battery life, and all the other goodies. The machine is good for 6 hours or more of constant use. I can go out for a meeting or other engagement and never bother to carry the AC Adapter. The 1920x1080 LED screen is not touch screen (so as to save battery life) and the SSD drive does not require much battery capacity. The HUAWEI stick works on this machine as well.
I have a thin (2.5-inch) leather briefcase that will hold this machine, the AC Adapter, a Logitech M557 Bluetooth mouse, and a thin folder of paper (for a meeting). The whole thing weighs 5 pounds or a bit less, and goes on any plane or public transit vehicle effortlessly. This is not a cheap way to go, but it is very effective. I can access my clients readily and quickly from anywhere in the world. You can a get slightly thicker and heavier T460s ThinkPad from Lenovo that will bring down the cost and offer the same benefits.
So, from slow and heavy 15 years ago to sleek, fast and light now, travelling has gotten easier for me. But, yes, there was a cost to all this. Amortized over 5 years, the cost submerges into my general and administration costs and is not a big deal. My ability to service clients, however, has increased dramatically over that time.
As I said at the beginning, I left travel to then because that is the time I want problem-free operation. There will always be issues and so my work never ends and work falls out of the sky. But I hope this collection of issues will help a few people, especially those who are very active but still aging.