When the s#!t hits the fan, you don't have time to look up who's on call, draft emails, call collaborators, or send text messages. An instant chat window is definitely the way to go, especially one like HipChat.
HipChat is a true business app. And while it's tempting to call it a chat application, it's much more. It's persistent, searchable, and loaded with extras like group chat, video chat, screen sharing, and airtight security.
So if you're busy doing other things when a nasty incident ticket starts hogging space on your screen, how quickly and effectively can you get into HipChat? That's where we come in.
Combined with xMatters, this integration allows individuals to collaborate with the correct on-call resources via HipChat to coordinate and resolve incidents faster. xMatters leverages your group on-call schedules and rotations, escalation rules, and user device preferences to quickly engage the right resources into a targeted HipChat room.
Linking HipChat in your toolchain

Integration xMatters with your monitoring, ITSM, incident management, and communication tools enables you to share data across your entire incident resolution toolchain. Using the xMatters integration, you can open a HipChat room directly from JIRA Service desk or another ITSM system without leaving the ITSM environment.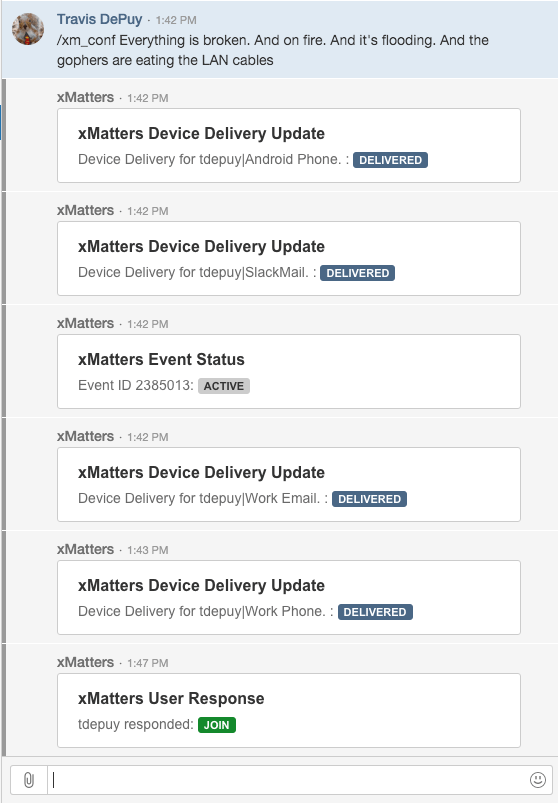 When you send invitations to collaborate from HipChat, they reference key data from monitoring tools or service management systems. All this data enables your resolution teams to quickly get up to speed and act.
Within the targeted HipChat room, members can use slash commands to see who is on call from a specific team, invite additional resources, and make updates to a service management ticket or StatusPage listing. xMatters eliminates the need to switch back and forth between systems, so your team can resolve incidents instead of worrying about record keeping.
Here are a few other things you can do with the xMatters HipChat integration:
Automatically assign a JIRA issue to the responder
Record HipChat activity back into a service management ticket
Use slash commands to add comments to a service management ticket or StatusPage
Adding HipChat to your xMatters instance is easy. Just visit our Integrations Directory!