There's a movement in Information Technology (IT), and while it's hard to define, it is gaining momentum. Some call it "stream-lined IT;" others call it "thin-model IT."
There is a movement in Information Technology (IT), and while it's hard to define it's gaining momentum. Some call it "stream-lined IT;" others call it "thin-model IT." At Concerto Cloud Services, we call it centrally-managed IT or cloud-centric IT. Regardless of the name, more organizations are evolving the decades-old assumption that IT departments are little more than a cost center and embracing the department as a trend center.
A traditional IT organization (or "Thick organization") employs staff to solve problems, procure equipment and address projects that are set by high level management. In contrast, "The streamlined IT organization has a singular mission: delivering high-value services at best-in-class costs. This means building core capabilities, moving non-core work outside the organization, and making every activity leaner—all within a thin managerial structure," according to PWC & a study by Booz & Company.
The traditional model of maintaining hardware, server rooms and an in-house support desk is being replaced by central management of core infrastructure and the influx of subject matter/solutions experts. Booz explains the new trend this way: "it is largely staffed in expertise-based functions (e.g., IT strategy, architecture, demand management, vendor management) rather than utility-based roles (e.g., help-desk support, application maintenance)."
When an IT organization shifts its focus and redistributes resources, more of the cost and staff can be allocated to discretionary projects and tasks that will differentiate and move the organization forward. At this point, IT becomes a profit center instead of just a cost center. (Full Booz article here)
The chart below is a look from Gartner Research at what organizations were spending on IT.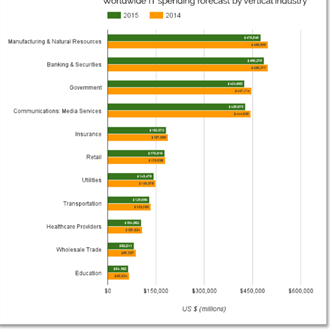 The overall dollar values are staggering, even for large companies. A few years ago in 2015, CIO Magazine forecasted the change with an article titled "Say Goodbye to Traditional IT." It wasn't about promoting the latest fad or even a specific hosted or cloud vendor. It was more about embracing a shift from the early 2000's reality of every organization owning the entire delivery process and building their IT organization around deliverables of hardware and software, to an era of true solutions-oriented thinking.
Ultimately, every organization will need to process and apply their own assessment of how to innovate and move from a traditional model to a stream-lined model. A stream-lined model is about personnel, management and strategy. And more often than not, it costs less due to a reduced IT footprint and the economies of scale from centralized cloud management. Office 365, Desktop as a Service, Infrastructure as a Service, and other cloud offerings are all evidence that cloud-based IT the new wave.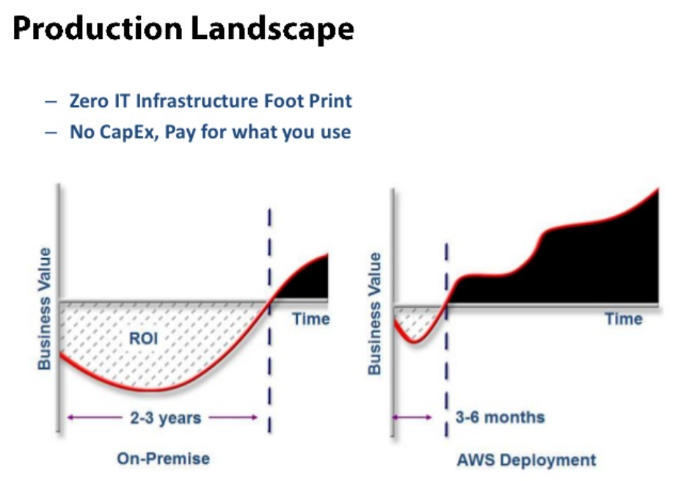 Cloud-based IT is all about leveraging off-site infrastructure and Software-as-a-Service to lean on vendors who perform extremely well at delivering results via a service level agreement (SLA). Again, this is not about promoting a particular brand or even destination (for example, public or private cloud) but rather a shift in thinking to procure solutions instead of the building blocks to build them with. While the graph to the left does illustrate an AWS deployment, it can be applied to many other vendors and solutions. (Source here) While organizations are shifting internal staff goals to be a "results-oriented environment," why aren't more shifting external goals to also be results-oriented? Instead of questioning the best "traditional IT solution" to have, why not consider a new way of delivering IT altogether?
Early adopters of this model are already singing its praises. And it is highly likely that more quality organizations will be using a streamlined-IT mindset, and possibly even a completely cloud-based model.