Windows 10 Creator Update has just been released and I have it working very well on my laptop. Read below for issues, fixes and ideas.
Making peace with Windows 10 Creator Update (60 days later)
Are you running Windows 10 Creator Update Version 1703 Build 15063? Take a look in Windows 10, Control Panel, Security and Maintenance, pull down the Maintenance arrow and View Reliability History. See any errors? If so, what are they? Read on as I describe some issues and fixes to make Windows 10 perform well, and to make peace with Windows 10 Creator Update.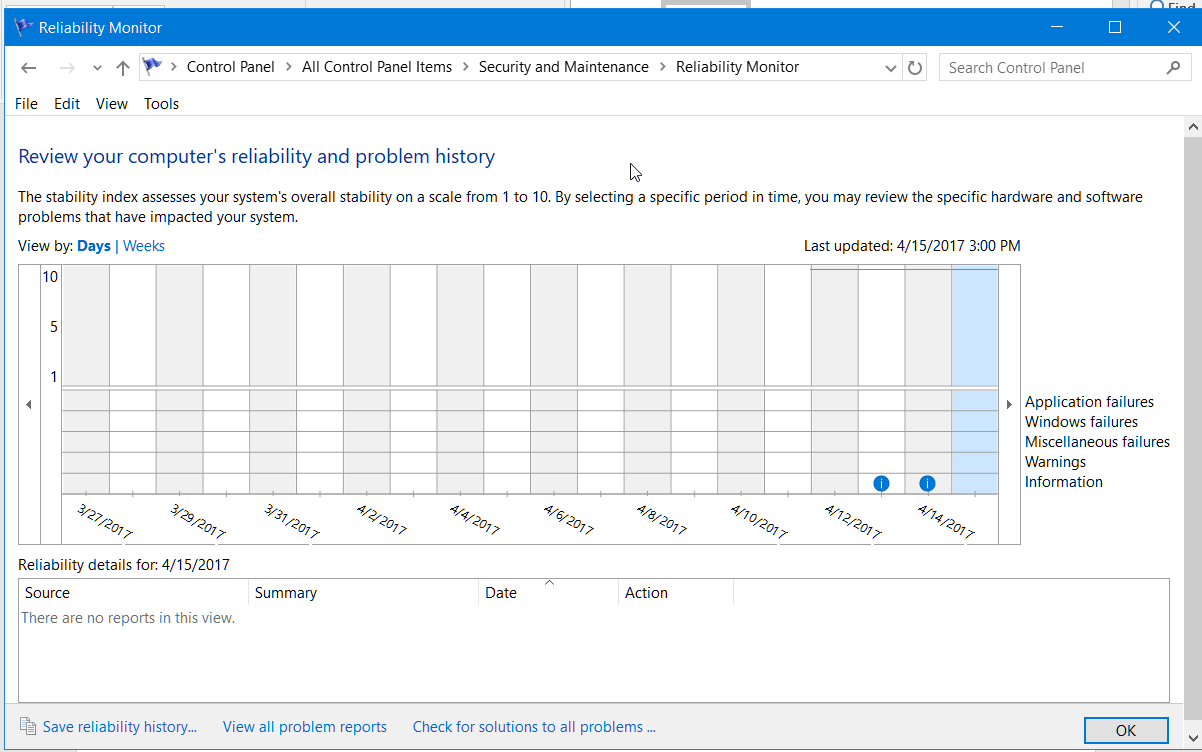 I updated to Version 1703 Build 15063.138 on April 12 just passed on my ThinkPad X1 Carbon. We are now up to Build 15063.332 for Creator Update.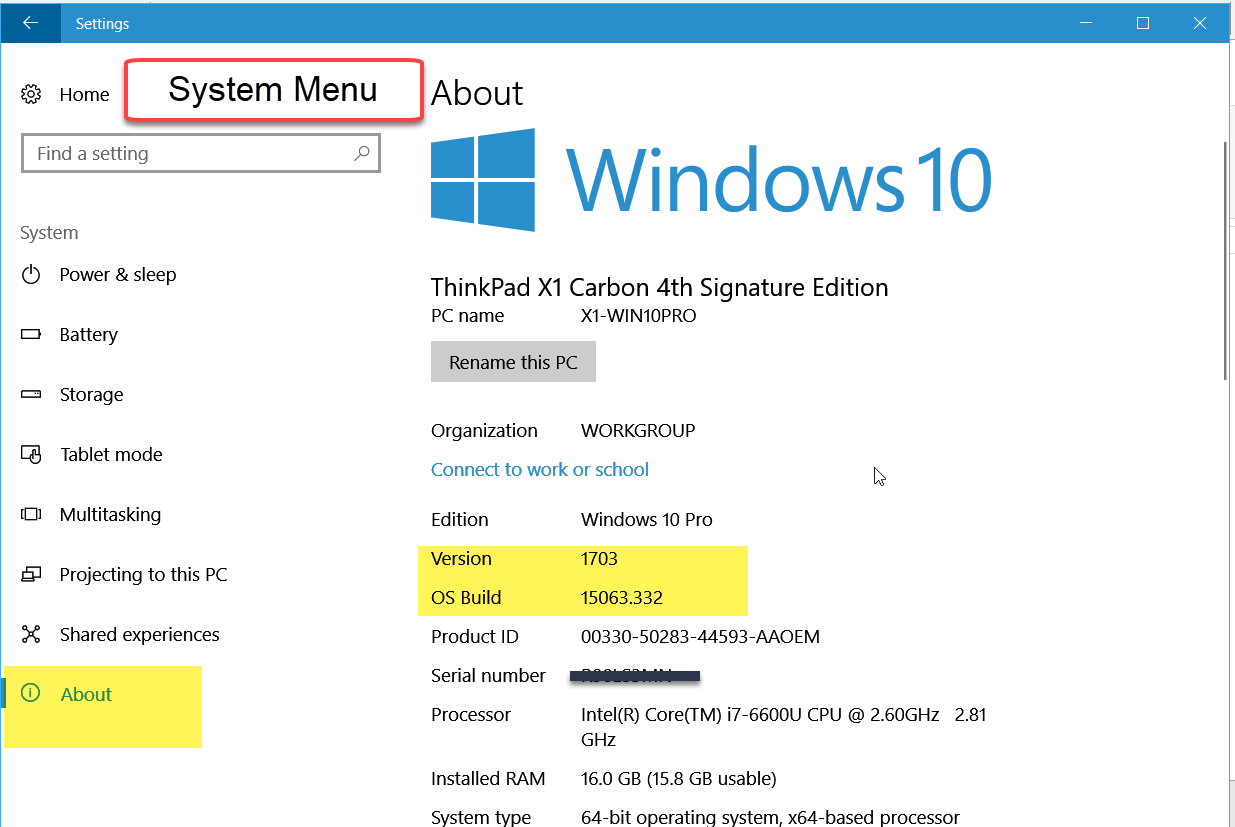 I had no end of issues when I had Windows 8 / 8.1 so I started keeping a log in One Note with errors and fixes. Since it is a daily or weekly log, it is no big deal to keep it up, but it has a wealth of information in it. Generally, I found out three things from this log which remain true today:
1. Most errors are the fault of software applications, predominantly drivers, but some software faults as well.
2. Internet Explorer 11 is / was trouble prone because of add-ins. Eventually I had to run it without add-ins, so now I use Edge in Windows 10 and Edge does not have add-ins in the same sense as IE.
3. Less often, I configured software incorrectly which caused errors.
I pay attention to these errors because (a) I like my computer to run properly and (b) I depend upon it when visiting clients or travelling on business. Here is an excerpt from my current One Note log (a tab in One Note for Windows 10 errors). I recommend you keep some sort of log of your issues as it is impossible to connect the dots from errors you have forgotten.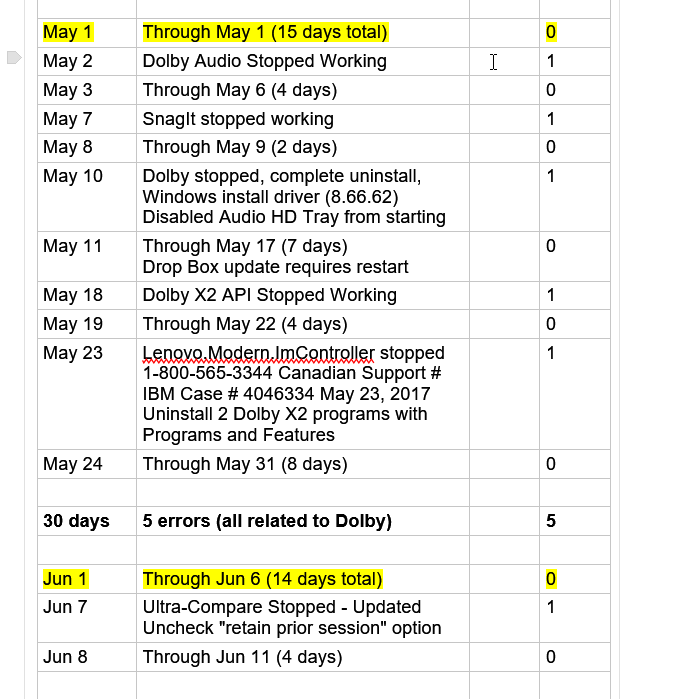 Once an error shows "Report Sent" there is no real need to retain it, so I clear out Reliability History every so often and start fresh.
You can find the Reset Reliability History batch file in a number of places. I use the site below and keep the batch file on my computer.
The Windows Club Reset Reliability Monitor
I have used Windows 10 Pro 64-bit for 2 years now, and in my view, the Creator Update has been the most significant update to date because it is a departure from Version 1607 and very much demands newer software and drivers. Microsoft is assuming we are all wise enough to keep software up to date. Below are my experiences over the 60 days I have had Creator Update running on my ThinkPad X1 Carbon (which was new in October 2016).
Lenovo Software
I barely got Creator Update installed when Lenovo Easy Resume "stopped working". I do not know precisely why, but Lenovo Companion, Settings, Solution Center, and other drivers have been updated since and this error has not occurred again.
EdgeCP.exe "stopped working" but a Windows 10 update occurred quite soon after. Edge has not broken since.
Conexant Dolby Audio
This turned into a saga. I got errors for both Dolby X2 API and Dolby System Tray Icon. I prevented the system tray icon from starting (Task Manager, Startup Tab) and though this helped, did not eliminate the problem.
I uninstalled the Conexant drivers completely, shut down, started up and installed the driver again (newest at the time) but that did not really fix the issue. I looked for updated drivers. The errant driver also caused Lenovo IM Controller errors.
I called Lenovo Support and insisted on a solution. They suggested uninstalling two Dolby X2 API programs in Programs and Features. Once I did this, Dolby was at peace for a couple of weeks. More on this later.
Legacy Software
I have a license for, and have used Quick View Plus from Avantstar for several years. This is file viewing software that allows me to view files without opening them. It is modestly useful and I used it with Windows 7 and Windows 8.1. I asked about upgrading to Windows 10, but Avantstar support said (at the time) Quick View Plus V13 was not supported on Windows 10. I upgraded anyway and it ran on Windows 10 up to V1607.
I never put Quick View Plus on my new ThinkPad so I thought I would try. It installed fine and it installed a Visual Studio 2005 re-distributable module. Soon after, Windows Explorer "stopped working", I could not use Context Menus of any kind and had general havoc with my computer. I found the same issue had occurred when Drop Box updated. A simple restart fixed the Drop Box problem until the next time.
So, I decided to uninstall Quick View Plus, but the errors continued. I looked through Programs and Features, recalled the VS 2005 module installation, found it with the current date, uninstalled it, restarted and the errors vanished. More on this later.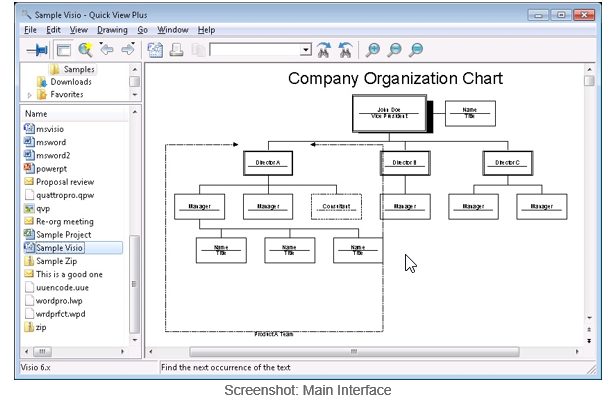 User Errors
I have had a license for Ultra Edit forever. World's best text editor, and the only one I know of that can edit in columns for any size of file. This is handy to add a column of text in a data file. I like it so much I have a permanent license that allows upgrades forever. A couple of years ago, I purchased Ultra Compare because it can do binary compares on very large files (a couple of gigabytes and larger). I started it the other day and it "stopped working". Why would that be? This had been a reliable application. It was showing files to compare that were not immediately available and I think that may be what broke it. It should not break for that reason but it did. It said an update was available so I ran the update and unchecked "Load prior compare at startup. It seems to be fine now.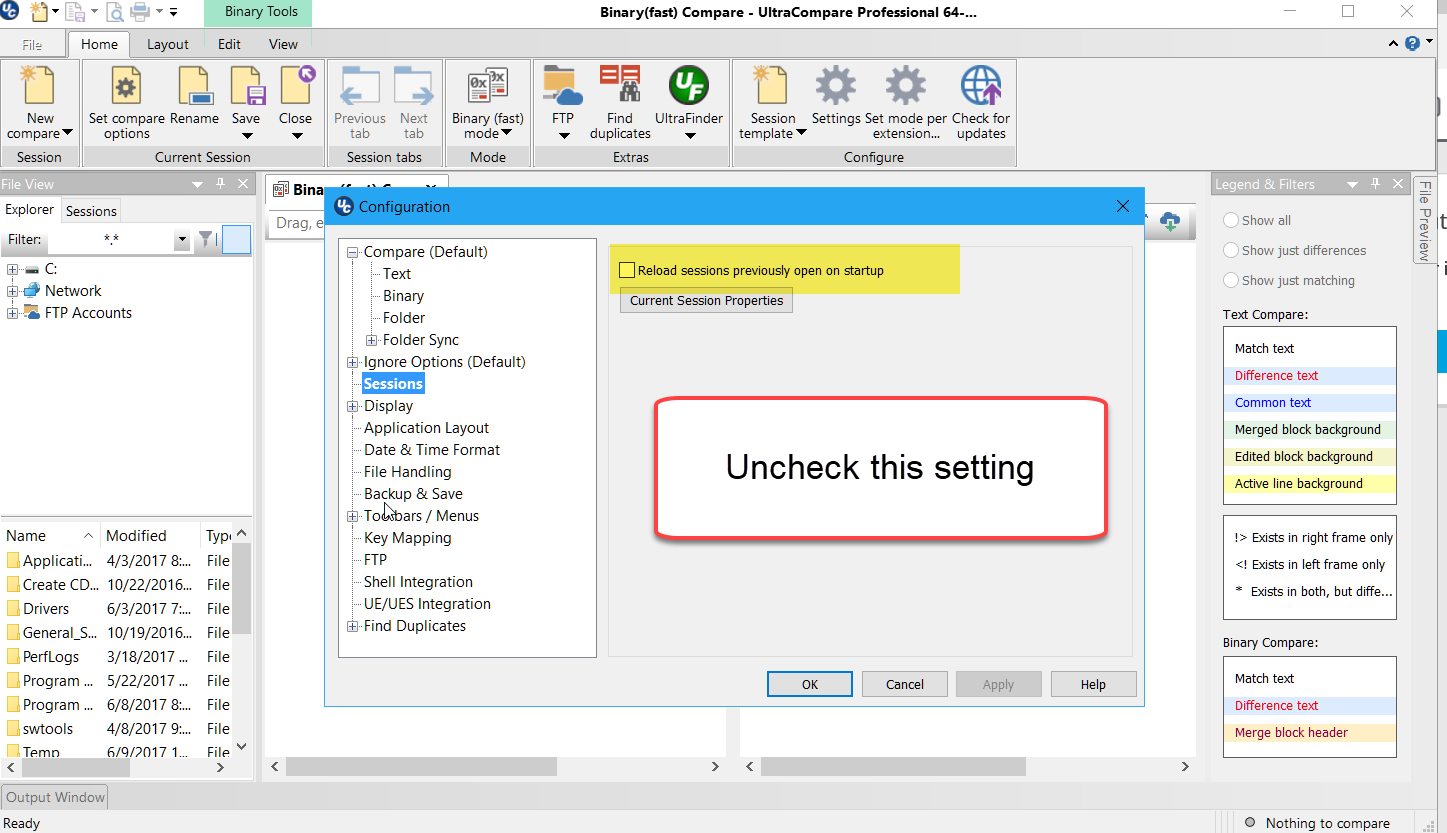 Now let's circle back to connect the dots.
Recall I said Conexant Dolby was a problem right from the beginning of the Creator Update. This was a driver problem pure and simple. Conexant was simply not ready for the Creator Update, even though it was in their hands months before the production release of Creator Update. Lenovo's solution was to uninstall 2 Dolby X2 API modules. While this brought peace to Dolby, I now think it was the root cause of the Windows Explorer problems that started at the same time. The first Drop Box updates that conflicted with Windows Explorer occurred after the first Dolby errors and Lenovo's attempt to fix Dolby.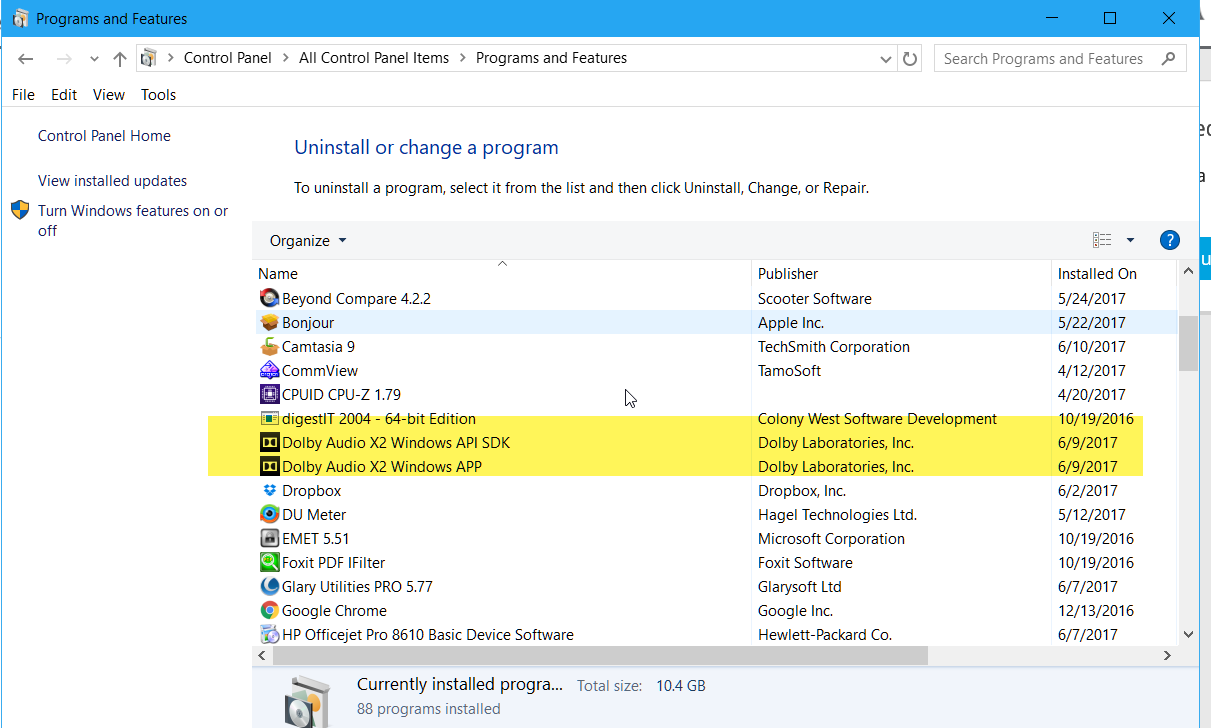 A couple of days ago, I went to Lenovo Update and there were updates for Intel Gigabit Networking, Hotkey, NVM-e SSD Firmware Update software, and Conexant Audio. I updated the first three and restarted, then tried to update Conexant and that failed. Windows Explorer also stopped during the failure.
I went to Device Manager, Sound devices and uninstalled the audio. This took a long time, and on restart the sound was tinny (of course). By the time the restart was complete, the driver was at V8.66.62.50 (up from 8.66.62.0) and sound was normal. I re-ran the newest Lenovo Audio Software which took a while but which completed normally. That was Friday night and the computer has (as I write this) been error free since.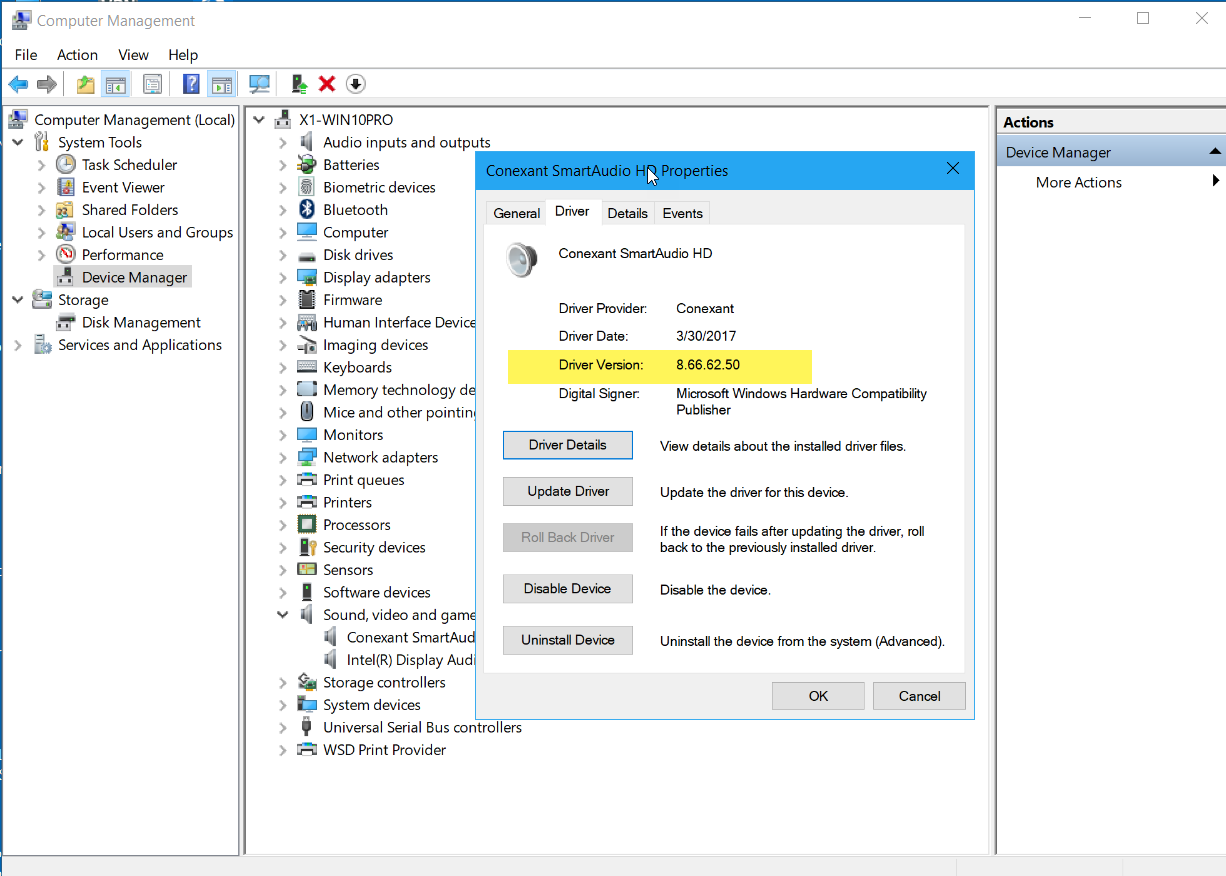 Lesson learned about drivers: If a normal update does not work, make sure the driver is on hand on the computer, uninstall from Device Manager, shut down, start up and install the new driver. This has worked more than once for me.
So, Drop Box, Quick View Plus, Ultra Compare and Windows Explorer all use Explorer sub functions and all failed during this period of Audio Driver instability. All is back working except Quick View Plus. Avanstar has never updated this product and the Visual Studio 2005 Redistributable module is too old now. So, this product dies because of vendor sloth.
Have I made peace with Windows 10 Creator Update? Yes.
1. Make sure all drivers are up to date and that they are all Windows 10 compatible. Since April 12 just past, I have updated BIOS, Bluetooth, Audio, Video, Chipset, Fingerprint reader (works finally), Hotkey, Intel Gigabit Networking, Intel Management Firmware, Monitor Panel Patch, System Update, UltraNav mouse driver, Intel AC Wireless driver, or, to put it simply, nearly every driver on this computer in the last 60 days, and they were all up to date immediately before the Creator Update.


2. Make sure all Software has been patched. I have updated Adobe DC Standard, Office 2016 Business and Home, WinZip, UltraEdit, UltraCompare, Beyond Compare, VMware Workstation, Sync Back Pro, Skype Desktop, iTunes. DU Meter, Drop Box, Glary, Tree Size Pro, Camtasia, SnagIt., Comm View packet capture, all of which are most of the major software packages on this computer.


3. Make sure options have been set to not conflict with moving a laptop from location to location. This is true of Ultra Compare as noted above. Turn off the option in Network Discovery to discover new equipment when you move. This plays havoc with Printers. I turn that option OFF.


4. Fly in the ointment: Symantec Endpoint Protection V14.0 MP1 and MP2 do not yet properly support the Windows 10 Creator Update. I have one home machine that remains at V1607 with SEP 14.0 MP2 and that is working fine. I have a client Windows 10 Machine with V1703 Creator Update on-domain with Managed SEP and I get the occasional "consent.exe has stopped working" error. I keep after Symantec to fix this and while I wait, my ThinkPad is running Windows Defender instead.


When I do all the above, Windows 10 V1703 Creator Update works very well and (except for the issue raised in Point 4 above) quite reliably as well.
Were there any wins?
If one is going to put up with the short-term pain of a new Windows 10 update, is there any benefit? The answer is an unqualified Yes!
As reported in my earlier articles, Windows 10 Creator Update allows scaling the display affecting many applications and make the display easier to read. This is worth the update all by itself.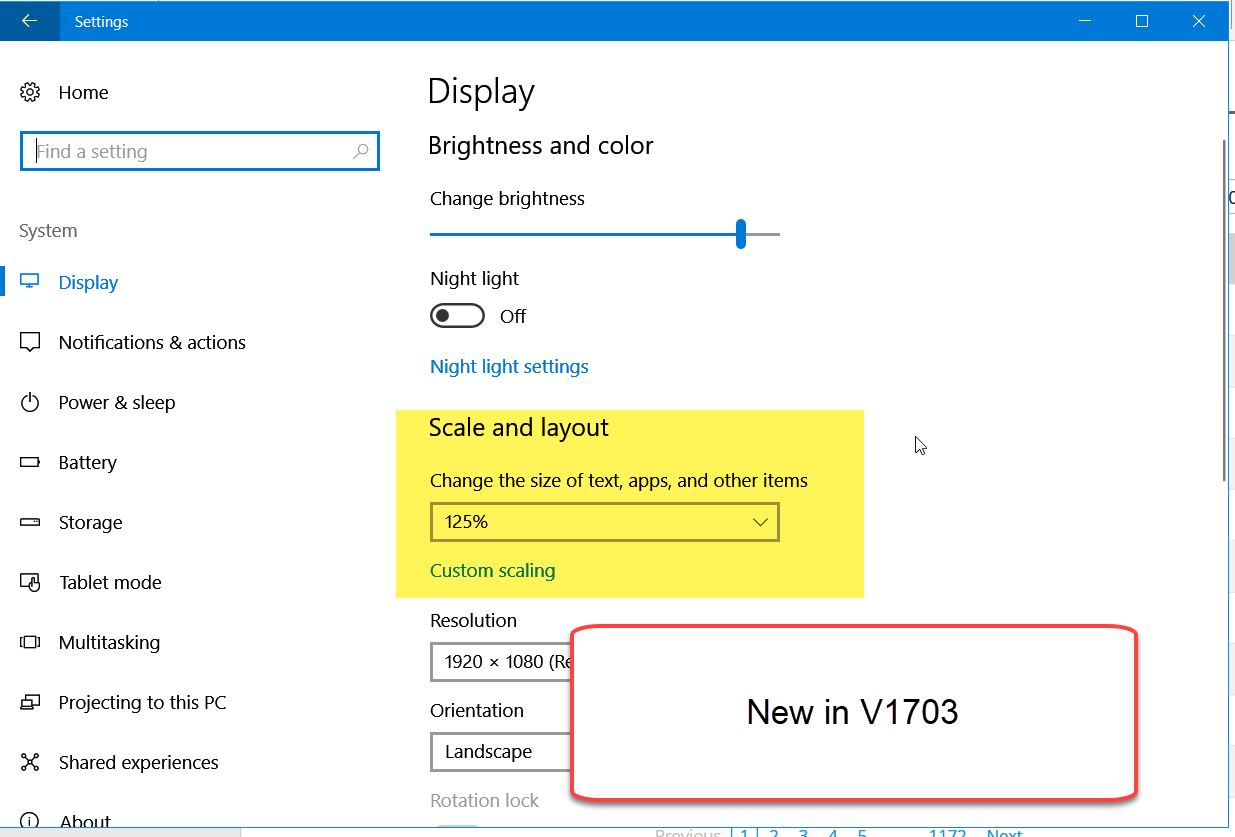 Potpourri - An eclectic collection of short stories about Windows and Network issues and solutions
and
Edge for Windows 10 Creator Update has put back the Open, Save and Save As options that have been common with Internet Explorer and other browsers. This was a welcome improvement.
Devices and Printers: This has often been slow to load in Windows 7, Windows 8, Windows 8.1 and Windows 10, up to and including V1607. Fixed in V1703 and is now reliably fast to load.
More drivers update via Windows Updates: In my opinion, this is very welcome because Microsoft is doing a better job of it than computer vendors.
Reliability and Security: (including Windows Defender) have very much improved. I don't think there were any incidences of the WannaCry ransomware on these machines. Defender is updating two or three times daily to prevent this.
I will wait another month to see if Symantec fixes SEP and it not, I will upgrade my home desktop and use Windows Defender. This is a very good product itself.
I often report problems in my Windows 10 articles and I do this to help others. Generally, I find Windows 10 reliable but it is not perfect and finding / fixing errors increases reliability. Windows 10 reliability has been gradually improving over the 2 years it has been out. Windows 7 was very reliable three years or so from its release. Windows 8.1 (using my measures above) was never reliable.
I hope you have enjoyed reading this article and that is helps you make your own computer more reliable. 60 days of use has brought much change and dozens of updates.