Outlook for dependable use in a very small business
This article is about using the Outlook application (part of Microsoft Office) in a very small business, or for homeowners where dependability and reliability are critical requirements. This is more of a descriptive article than a "how-to" article so there are few screen shots.
As background, I use Outlook because (a) it works and (b) it is a very common email application for computers. I use POP3 and not IMAP because (a) I want my email on my computer and (b) I have outlived many IMAP vendors. I want email on my terms, not someone else's. I have looked at IMAP but decided against it. Thus far, I have not had reason to regret my decision.
I keep Outlook on two computers so that all received email is on both computers going back to 1996. I keep Sent email on my laptop as I travel around with it. I can always transfer Sent mail to the other computer if I need it. I understand IMAP might solve these issues but I have decided against it for the reasons above.
What do I mean by dependability and critical requirements?
The same email address "forever": This is a critical requirement for me. I have had the same email address since 1996. I have no interest in changing it. Since I change ISP companies and they come and go, using an ISP's email system is not something I can do. If Microsoft had come along in 1996 with Outlook.com, I might have an outlook.com email address but Microsoft was late to the game and I had already decided on a portable email address back then.
My end email vendor is a tiny little company in Toronto and I know the players personally. I can call them on the phone when there is an issue. If email is available, they will respond to me very quickly. Most people cannot do this, but I like the capability it offers me. Once in a while they take their customers to dinner and a beer at a local pub. I meet other email customers at the same time.
No spam: Another critical requirement is I do not want spam. And now more than ever, spam is a source of ransomware. I do not want it in my inbox at all. Most users think that they can block ransomware with tools on the computer. Maybe (only Maybe). Blocking spam is the very best way to stop ransomware.
So now there is some complexity.
For email address portability, I use Mail.com. I started using it when it was Four11.com, and when it claimed to be "free forever". Ha! I continued when it became Iname.com and it was still free. I continue now as Mail.com and pay to use the forwarding service ($30 per year). I forward my email to my current email vendor. My email vendor used to change more often then I changed socks some years back (at least so it seemed to me). Then I found my current email vendor about 20 years ago. They came (more or less) out of Internex.com – one of Toronto's first consumer Internet vendors. I had the best email address in the world: io.org. It couldn't last and it didn't.
Let us return to the issue of spam. Mail.com has one of the best email filtering systems there is. It was not always this way, but for the last 10 years they have been top notch. I might see a spam email every other month or even less. I see about 10 emails a month in my spam folder. The rest gets dumped into the bit bucket by spam filtering or grey listing. I am not aware of losing any email that I have not seen, including in the spam folder.
The Mail.com filtering is so effective that regular email from joe@abc.next comes into my inbox, but if Joe's computer has been compromised or his email address spoofed, the email from joe@abc.next that says "You need to read this www.link.next" goes to spam. Of course, clicking on the link (if it got into your inbox) hoses your computer.
My Toronto vendor uses both grey listing and Spam Assassin. Spam Assassin is a good tool and I get essentially no spam from this system. Grey listing is a box or application that looks at incoming email and looks back at the IP address that sent it. If that IP address is not identifiable, the email is not accepted. I have had grey listing running for over 15 years and I am not aware of any lost emails.
Allow me to underscore the point on spam. Eliminating spam is the most important weapon in eliminating ransomware.
Email organization: I get a lot of email and so I keep my Inbox tiny (never more than 50 emails) and I put email into folders as soon I get it or shortly thereafter. I have just over 120 folders. The names are all meaningful so I see no need to use subfolders and there are no subfolders to my Inbox. Email organization is a personal thing and I organize my email to fit myself. Your mileage may vary (YMMV if you come out of the days of DOS).
Email archiving: Rule 1 – Archive your email. It works and it is silly not to use the Archive function. Take a look in here (Experts Exchange) – Email is slow, sluggish, broken (take your pick). How big is your email file? I ask. 40 GB. Duh!
Open Outlook, File, Options, Advanced, Auto Archive Settings. See below: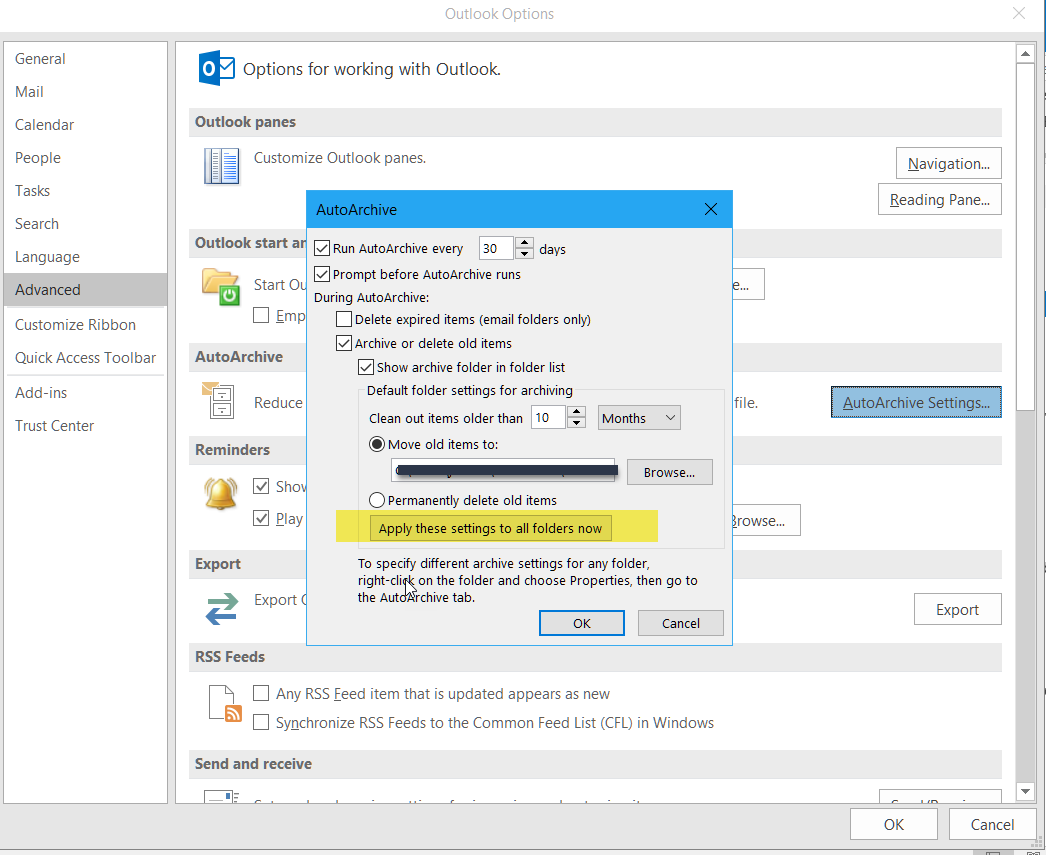 I auto archive every 30 days, archive everything older than 10 months, and never delete old items. At somewhat irregular intervals, I archive into a new file. I have 6 archive PST files plus my current email PST file, all of which are below 2 GB.
One trick / defect of Outlook is that the folder archive option is normally not on by default. I think that is because most people keep email in their Inbox. I do not. So, two things:
1. Go to the Properties of each folder and make sure the Archive Option is ON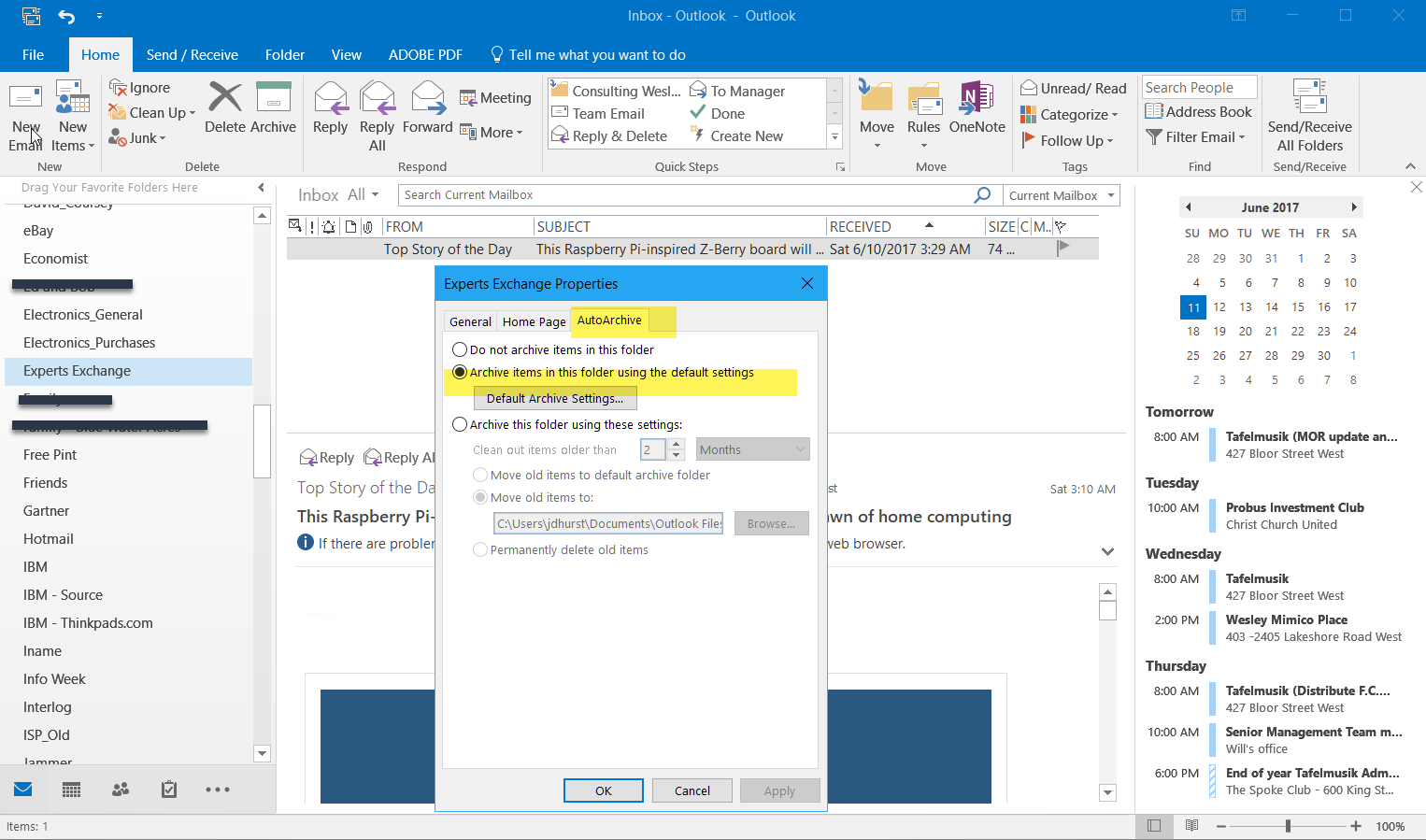 2. Go back to the main Archive options and select Archive Now.
Contacts: I keep my Contacts in the Contact folder by individual. It is a big mistake to assume Auto Complete will never go wrong. It will go wrong, precisely at the wrong time for you. Use Contacts. I do not archive contacts.
Calendar: I live from my calendar. I make appointments for everything I do, keep a brief description of what must done in the appointment line, and keep notes and expenses in the note area of the calendar item. I do archive calendar items.
I have done this for years, before Blackberries and iPhones. When I got my first smart phone (a Blackberry) I began to sync Contacts and Calendars (all items in the current PST file but not archives) and now have this readily available on my smart phone.
Sync to Smart Phone: My current phone is an iPhone SE (6s) and I use iTunes to sync the items. It means my iPhone tells me where I am supposed to be and what I am supposed to do. This is outstanding organization when I am busy and nothing can be left to chance. Syncing to iTunes also backs it up, so if my phone is damaged (happened once) a new phone can be set up in minutes.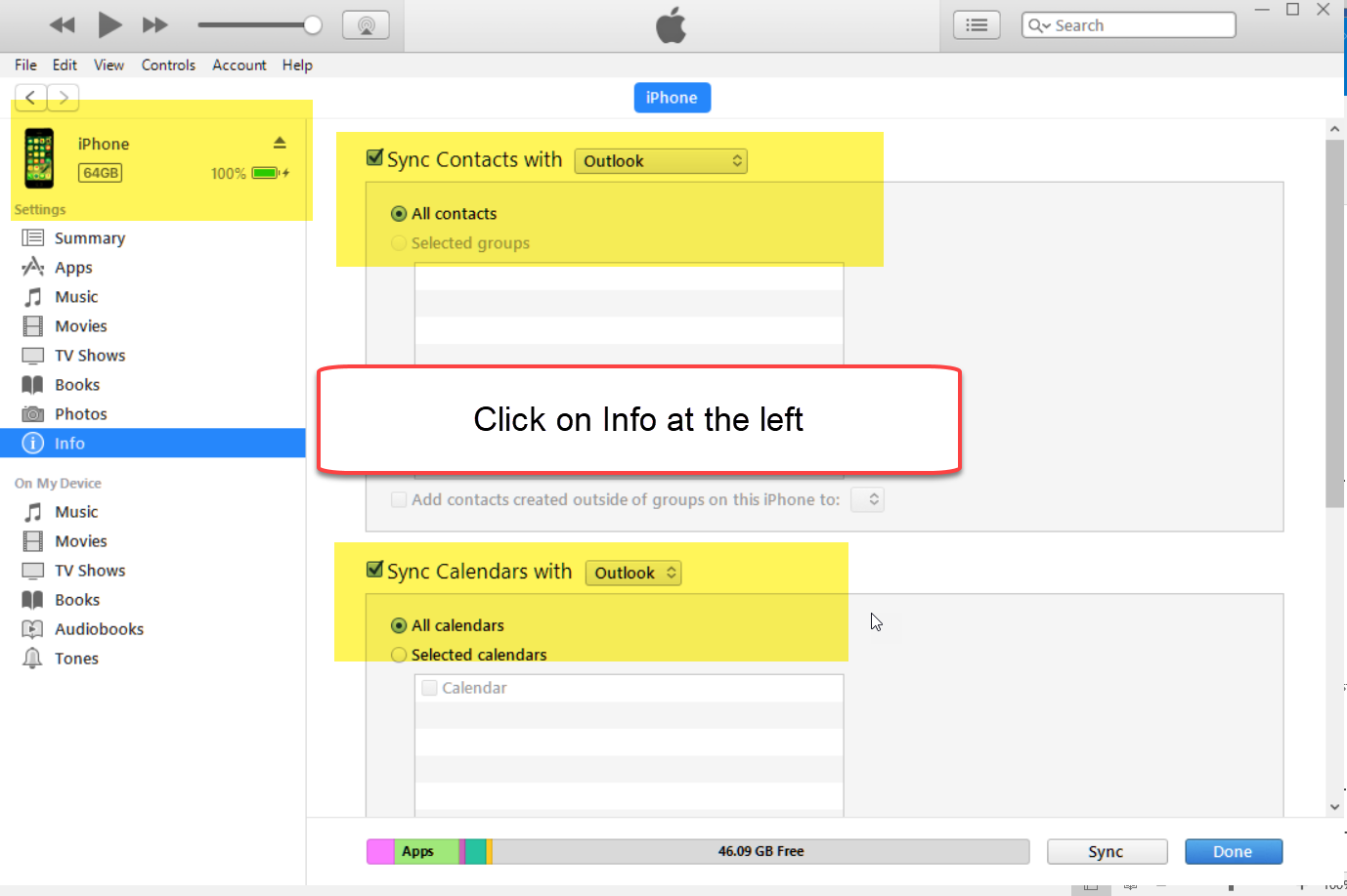 Outlook Main Screen Organization: I keep a traditional organization screen – folder tree on the left, Inbox top middle, Preview bottom middle and calendar on the right. I know where things are, what my current email is and where I am supposed to be.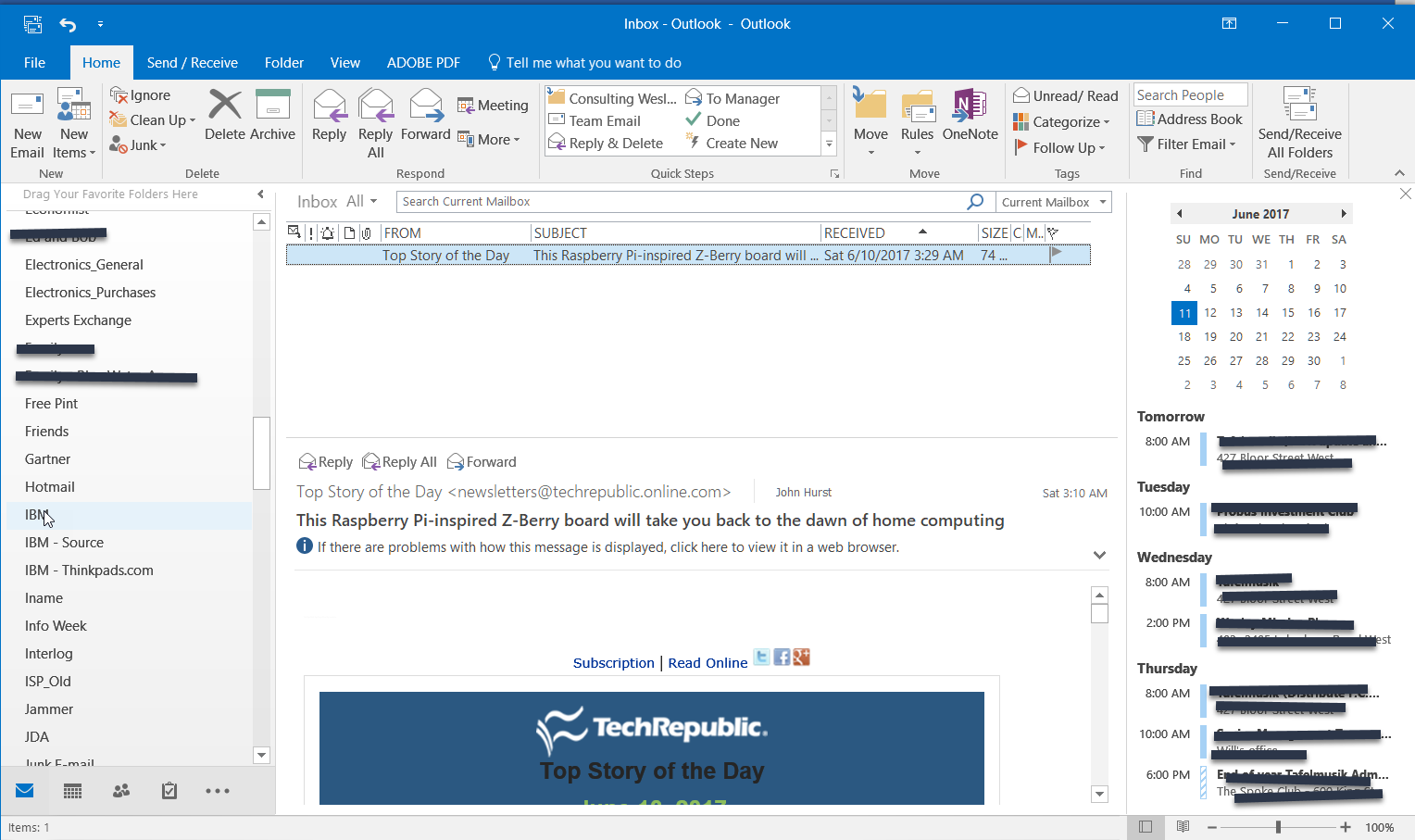 Keeping email on two computers using POP3: There are several ways to do this. I use POP Peeper (esumsoft.com) as an email daemon to see if there is email, action Experts Exchange email without downloading it and deleting trivial email I do not need to keep. I set Outlook on both computers to never delete email. When I have it on both computers, I delete with POP Peeper.
I never send email from my desktop computer, only from my Laptop. So, my laptop has all email – received and sent email. My desktop has all the received email. Accordingly, I need only back up my main PST on my laptop about monthly or when I am going away for a week or so.
Doing all the above takes a bit of incremental time, but practice (more than 15 years of it) makes it easy and provides me with a powerful organizational tool that is fast and efficient (because I archive) and tells me what I need to be doing (Calendar). I can easily get a Contact on the phone because I sync via iTunes (Contacts).
I trust the above will help you use Outlook more effectively.