Ever visit a website where you spotted a really cool looking Font, yet couldn't figure out which font family it belonged to, or how to get a copy of it for your own use? This article explains the process of doing exactly that, as well as showing how to install downloaded fonts.
Introduction
For those that enjoy creative writing, you may often come across a really cool looking font on a website and think "Hey, that would look great in a piece that I'm working on at the moment!" If that's ever happened to you, then this article was written with you in mind. Or perhaps you've seen a strange looking font on a page and were just curious about what it was called.
Enter an excellent and free website service named "Fount"
-Fount- Installation
Fount allows the identification of web fonts on any website and works with the following Browsers:
Internet Explorer 8 (or later)

Google Chrome

Mozilla Firefox

Safari
Here's how to use it..
Using one of the supported web browsers, head over to Fount's Webpage.
On the fount.artequalswork.com web page, you'll find a very easy to install "Fount" button for your browsers bookmarks bar. Simply drag the button found on the Fount web page to your browser's bookmark bar.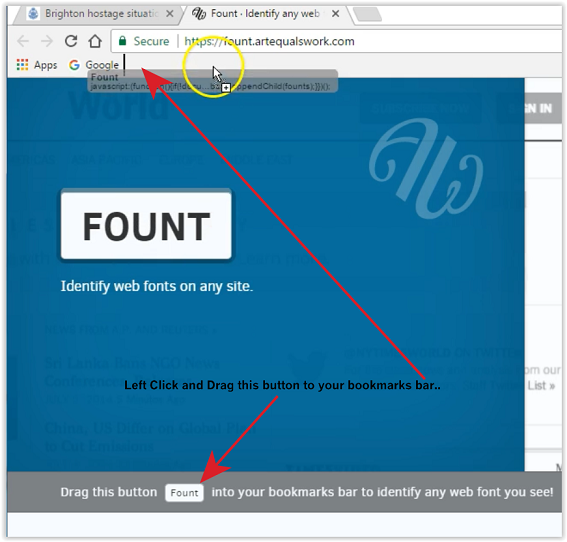 And that's all there is to it. You're now set to start identifying fonts you see on web pages. The button will always be there for you to use whenever you see any web font that you want more information about.
-Fount- Usage
To use your new "Fount" button, browse to any website that you want more information about a font on, and click your "Fount" button. Your pointer will turn into a + cross hair shape. Point to any text which contains the font that you're interested in and click your left mouse button.
Identifying information about the font is displayed at the top right of browser window, including Size, Weight and Style.

Grabbing a copy of the Font
IF the font you're interested in is available at the Google Fonts website, a "View font on Google Fonts" link will also be displayed.

Clicking that link will open Google Fonts in a new tab and present you with comprehensive details about the font you're interested in.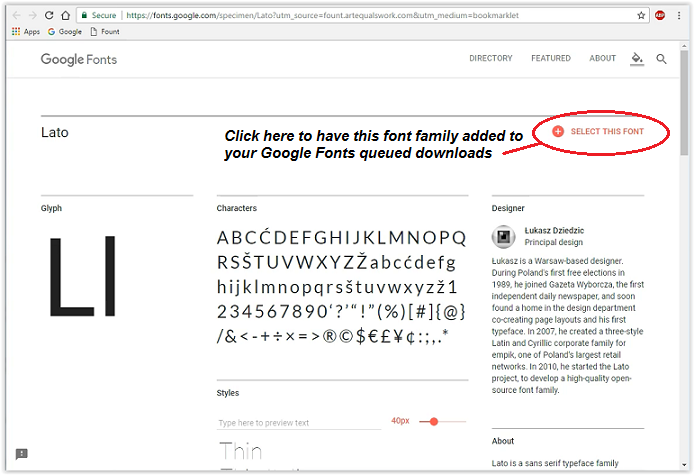 A black bar will appear at the bottom right of your browser window. Click on that bar and then click on the "Download this selection" drop arrow to download the font compressed into a Zip file.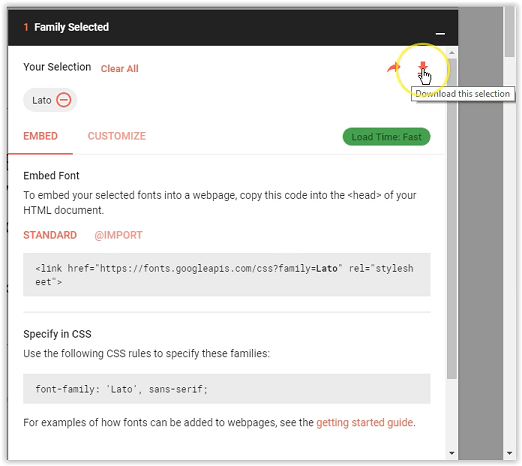 Save the Zip file to a temporary folder and extract the font files within to a temporary folder.
Now select the font files you just extracted, click your Right mouse button and select Install to install the font(s) into Windows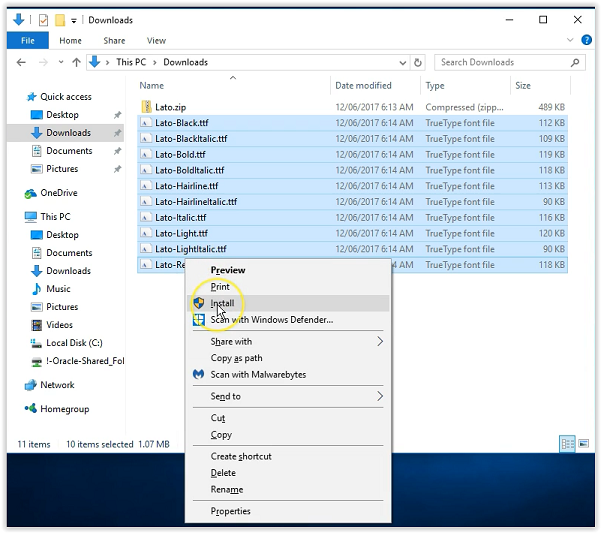 Windows now installs the font(s) to the C:\Windows\Fonts system directory.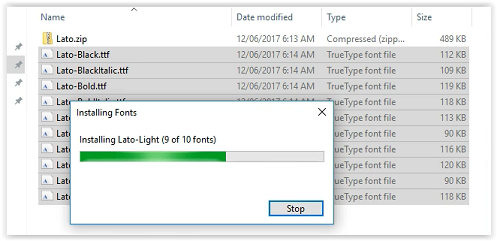 The font is now available for you to use in Microsoft Word, PowerPoint, or any any other editor you have installed that allows the selection of alternative font sets.
Document Sharing Considerations
As mentioned above, any fonts you've downloaded and installed will now be available to your Windows applications, but there are a couple of things you need to keep in mind if and when you decide to use them.
In example, lets say we created a document with Microsoft Word that was formatted with the above downloaded "Lato" font.
The document would always look correct on our computer, because we have the font installed - however if you were to email that document to another person who doesn't have the Lato font installed on their system, then Windows will replace the font when they open the document and it could end up looking nothing like what you intended.
An easy way around that with Microsoft Word is to embed the font into your document before you save it. Here's how..
Embedding Fonts in Word Documents
Click File > Options > Save in your word document and put a tick into the following two boxes
under "Preserve fidelity when sharing this document:"
Embed fonts in the file
Embed only the characters used in the document (best for reducing file size)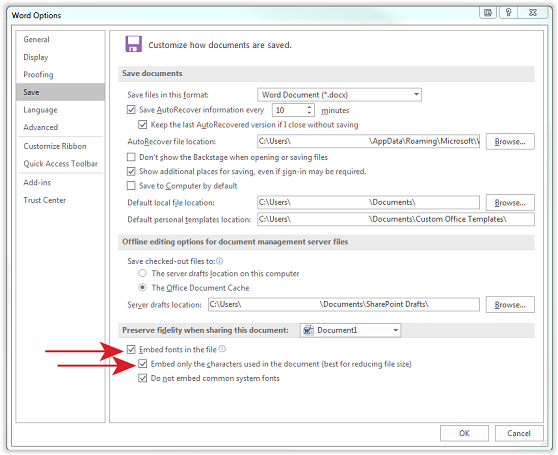 Click the OK button and you can then save your document as normal. Word will embed the fonts used into your documents so that anyone you send it to will no longer need to have the font installed on their system to be able to view your document exactly as you intended it to look. The only trade off here is that the .docx file ends up saving a little larger in size than it would be if it did not contain embedded fonts.
Another way to share documents with your choice of non-standard fonts is to print them to a Portable Document Format (PDF) - that also takes care of any embedding considerations and is view-able on any platform, including smart phones, IPads and tablets.
Of course you could also file attach a copy of the font Zip file which you downloaded along with your document, so that those who receive it could also install the font to their computer. I don't recommend this though as not many folks would be too happy about needing to install a font into their system just so they can see a document looking the way you wanted :)
That's all there is to it! I've also created a Video Tutorial of this topic here How to Identify Fonts on a website and download them.
Till the next time...
---