The top three best PST File Viewer tools that are completely safe and secure to open & view damaged PST files. One can have a complete preview of all data items maintained in an Outlook PST file using any of this 3 software in just a number of clicks. Upgrade to full version to unlock new features.
Since Outlook is the most popularly used email application across the globe, users must be familiar with the PST (Personal Storage Table). It is used by MS Outlook application to store mailbox data i.e. emails, contacts, calendars, etc. Moreover, it is the PST file, which one can easily access on any other system also.
However, there are some situations whereby a user needs to open and view a PST file without MS Outlook. It can be due to any reasons like corrupt, orphaned, and dismounted PST files. Such types of situations make this difficult for a user to open and view an Outlook (.pst) data file.
Moreover, there are no such manual means available to provide a preview of PST file data without any loss of data. Therefore, it is always suggested to use a professional solution that is completely free of cost to "view" PST files. But, now the question arises as to how to choose best one among them all.
Hence, in this post, the top three best PST Viewer software is discussed. All of them easily provide access to corrupt, dismounted, and orphaned PST file without the need of MS Outlook being installed. These are the best PST file viewers with good quality, which an upgrade to their full versions in order to unlock all features.
Best PST File Viewer to Read PST File Without Outlook
In order to open, view & read PST files without MS Outlook, users keep on searching for software that allows them this functionality. There are many tools available to view Outlook PST files, but not all of them are ideal to use. Therefore, to resolve the confusion, we discuss the top 3 PST viewer tools in this section. All three software brands are (in this authors opinion) the best that are available online.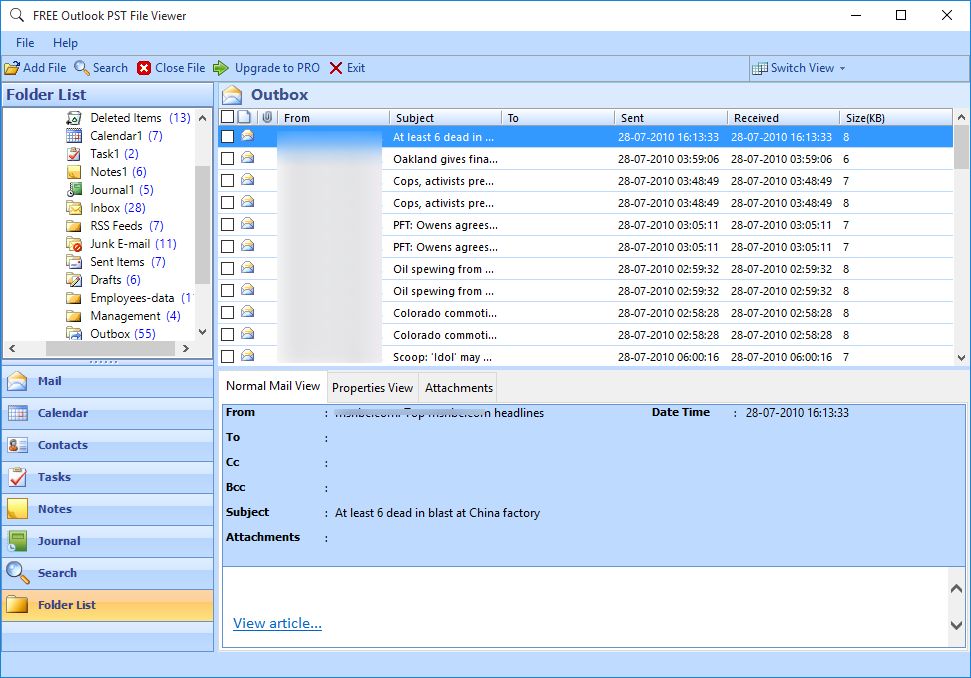 PST File Viewer from Freeware is a utility which is designed specially to open and read PST file without MS Outlook. One can use this software to view all data items like emails, contacts, tasks, etc., stored in Outlook PST file without any hassle. Moreover, the tool is supported by all versions of the MS Outlook and MS Windows OS. Apart from this, other special features of this tool are discussed below:
Different Viewing Modes to Read PST File: In order to view PST of MS Outlook, one can use this tool. It provides the different type of viewing modes that a user can use to view PST file based on his/ her convenience.


View PST Emails Along with Attachments: The software is programmed in such a manner that one can view PST file emails along with the associated attachments.


Advance Search Option: Another special feature of this tool is the advance search option. This will helps users to search for the specific email in the PST file. One just needs to type the keyword and all searches related to it will appear immediately.
FreeViewer PST File Viewer Pro Version Price: $69.00
SysTools Outlook PST Viewer Freeware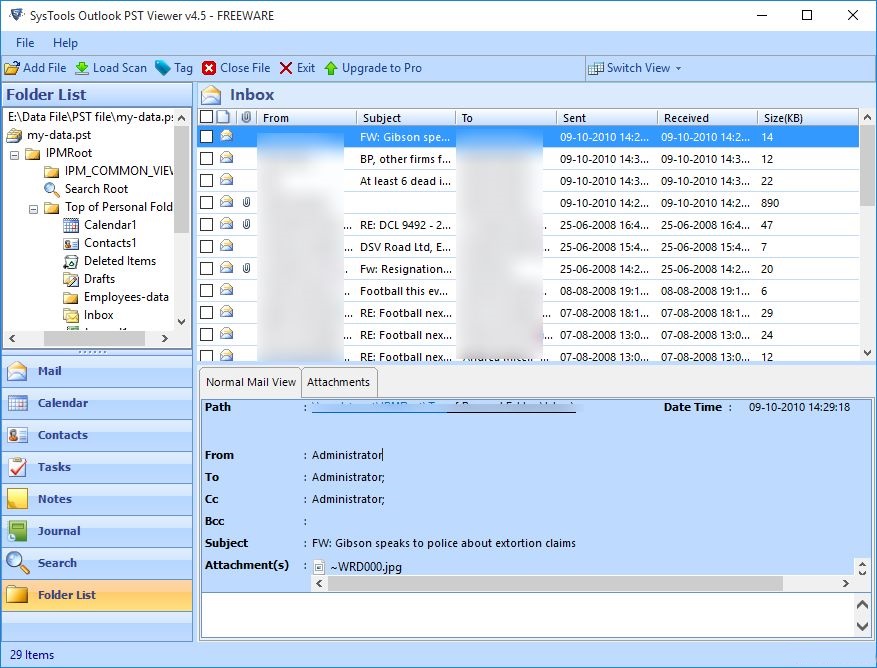 Another best free PST file viewer is from the SysTools. This Outlook PST file viewer is a simple and effective software to view PST file without any file size limitation. The tool is completely safe and secure to download and install on the system. Moreover, it is totally free of cost to use (to View only) so one can simply download it from the official website. In addition, there are some other features of this software (purchase is required to unlock all features) that are mentioned below:
Repair & View Corrupt PST File: if you want to open and read corrupt or damaged PST file, then this Outlook PST file viewer is the best choice, It first scan the PST file suing the Advance Scan mode and after that provide a preview of all data items stored in it.


PST Calendar Viewer: The tool is capable enough to preview calendars stored in Outlook PST file without any issue. In addition, it displays the calendars in the same as in Outlook. Moreover, one can view notes, tasks, and journals also using this tool.


PST Contact Viewer: It provides an easy and instant preview of all contacts stored in the PST file in the same manner as in MS Outlook. It does not compromise with the original formatting of data.
SysTools Outlook PST Viewer Pro Version Price: $69.00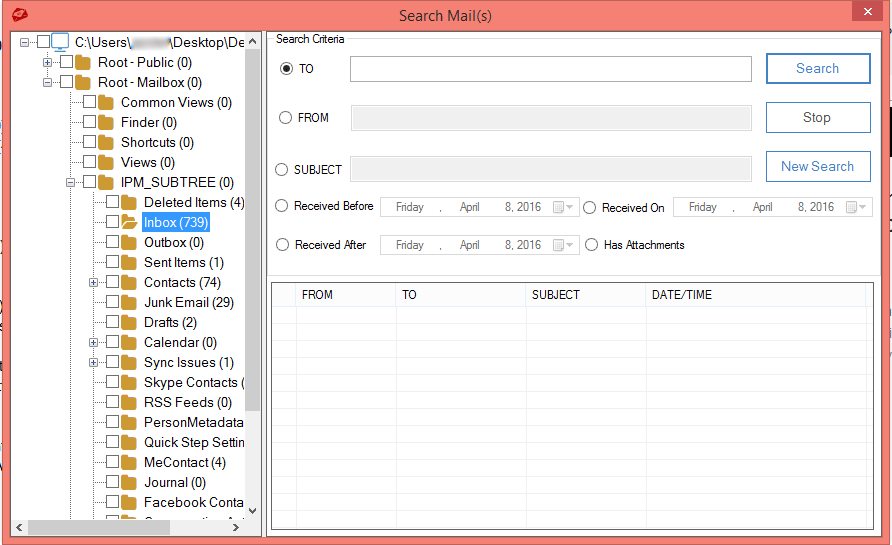 MailsDaddy PST File Viewer is also one of the top three free PST viewer tools. A user can also use this software to read Outlook PST files without installing Outlook on the system. One can view any number of PST files using this software without any restriction. In addition, the software provides an advanced search option to look for particular mail in the PST file. However, the other special benefits of this software are:
View PST File on Mac & Windows OS: The most unique and special feature of this Free PST Viewer is that it allows users to open and read PST file data on both Windows and Mac OS.

No PST File Size Limitation: There is no file size limitation imposes by the PST file viewer while previewing Outlook data file (.pst). One can easily view any size PST file using this application.


Keeps Meta Properties Intact as Original: Another key feature of this MailsDaddy PST Viewer is that it keeps the meta properties intact as original after add file in the software.
MailsDaddy Free PST Viewer Pro Version Price: $49.00
Final Word
Users nowadays keep on searching for PST file viewers. As there are so many of them are available, it becomes hard for them to make a choice. Therefore, we have discussed three best PST viewers above. All three of them are totally safe and secure on all kind of infected viruses. One just simply needs to download them from the official website with any loss of data. In addition, all of them are free of cost with various benefits. One can view corrupt PST files in just a number of clicks using these amazing utilities.