Check out what's been happening in the Experts Exchange community.
The Future of IT
Educational Technology
Bringing IT to the Forefront in K-12 districts
When the tech world thinks of devastating cyber attacks, major corporate losses come to mind. We don't often think of the public school system, though it's an easy target for domestic and international hackers. Read John Gates' article that outlines why cyber protection should be increased in school districts nationwide.
3 Reasons Certifications Matter
Gone are the days where higher education degrees are enough to carry you through to a successful career. Now, self-taught IT professionals need to explore continuing education certifications in order to remain competitive. Here's COO Gene Richardson's view on why certifications are important.
What's in a Hack?
Cyber Security
We all have light and dark inside of us. With the added knowledge of how to surpass data security safeguards, what keeps a person from using their power for harm? Check out Experts Exchange CEO, Randy Redberg's latest article on ways hackers can walk in the light.
Join us for storytime as user McKnife tells us a tale of a sysadmin named Hal who works hard to keep his Windows server secure and safe from harm.
5 Ways you can protect yourself from online identity theft
If you shred your paper bills, you're worried about identity theft. What about all your information that lives and breathes online? Read this informative 5-step article by Lisa Michaels on the best ways to keep your online identity out of a hacker's reach.
Life in the Fast Lane
Storage
Hard Drive vs. RAM Drive Speed Comparisons
Have you heard of RAMDisks? Expert Andrew Leniart evaluates their speed and outlines how to install them in this informative, how-to article.
Tech in the Real World
Tech News
Technology and Hurricane Harvey
Weather patterns are easier to track and predict thanks to technological advances. In the wake of natural disasters like Hurricane Harvey, technology can also be used to deliver aid to those in need. Read COO Gene Richardson's piece here to learn how you can make a difference.
Sign Language Translation Glove
When voice-to-text technology became available, the tech world was amazed. But the advancements didn't stop there. Joining the fold is the SignAloud Glove, a new piece of language technology capable of translating American Sign Language into text and audio.
Why product designers are the new politicians?
Technology design teams have to create new products with an aesthetic to please people from all walks of life. The biggest critics tend to be sitting around the development table. Read expert Ali Eslamifar's tips on building successful "political" solutions to support executive team concerns, team members, and users.
Explore Data Backups
Vendor Spotlight
Brought to you by: Acronis
We all know we need to protect our data. Did you know there are different backup methods, built for certain circumstances and varying virtual and hardware machines? Learn what best fits your needs and start protecting your data with a backup today.
Did You Miss These?
Top 5 Posts
Team Updates
Our Team is Growing!
Meet Remy, 4-month-old son of Anthony Pangilinan, our Java developer here at Experts Exchange.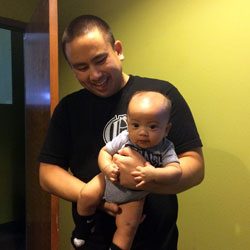 Meet the growing demand for IT professionals with data center virtualization skills by continuing your education in VMware vSphere technology. Sign up for September's Course of the Month today!
New Featured Partners
Have questions for the brand that debuted the original laptop bag in 1983? Check out Targus' page for feature updates interesting discussions
Explore how Belatrix Software helps clients with R&D and product development solutions.
Coming Soon
Just like you can't fix a leak by plugging one hole, you can't keep your database secure by only focusing on one point of entry. Check out this informative webinar to learn how multi-vector protection methods are most effective against cyber attacks.
Microsoft Ignite
Are you off to Orlando this month for Microsoft Ignite? So are we! Drop us a line at swalter@experts-exchange.com to chat at the conference—we love to meet our members!