The core idea of this article is to make you acquainted with the best way in which you can export Exchange mailbox to PST format.
The core idea of this article is to make you acquainted with the best way in which you can export Exchange mailbox to PST format. Nonetheless, before delving into it, it would be good if you have the knowledge of the instances and need to export the mailboxes from Exchange Server database to Outlook PST file format that is nothing but converting Exchange EDB files to Outlook PST format. With this, all mailbox data that are emails, contacts, calendar entries, notes, tasks, journals, etc. is exported in PST file and can be further accessed in Outlook.
Need to export Exchange mailboxes to PST file

Exchange EDB file is not supported by Outlook. Therefore, when it becomes necessary to access Exchange data in Outlook, it becomes necessary to convert EDB file to PST format.
Next, if Exchange Server is temporarily undergoing maintenance the user mailboxes become inaccessible, and all the processes become prolonged. In such a circumstance, it is quite beneficial to convert EDB to PST file as this would allow you to access user mailbox data.
The other important reason for EDB to PST conversion is to maintain a backup of the Exchange data in Outlook. This becomes feasible as PST files can be stored anywhere on the system and imported in Outlook to access all the contents of the mailbox.
Methods to export Exchange mailboxes to PST
1. ExMerge utility – ExMerge is nothing but Microsoft Exchange Server Mailbox Merge Wizard using which you can extract data from mailboxes on one Exchange Server and then merge the extracted data into mailboxes on another server that runs Exchange. Further, this free utility from Microsoft can also be used to export Exchange mailboxes to Outlook PST. This utility is available for Exchange 2003, 2000, and 5.5. In Exchange 5.5 it is available as a product support utility whereas for Exchange 2003 and 2000 it is available as a download option.
Things to do before running ExMerge
Extract it into the C:\Program Files\ExchSrvr\Bin folder to let it run. This is because it depends on DLL's in this folder. The other option is to add this path into the Environment Variables but this requires a reboot to take effect.
Create a user account, commonly known as a service account, which has access to all mailboxes to be exported.
Once permission changes have been made on the Information Store by you, there may be a delay in them being functional for up to 2 hours. Therefore, expedite this process by restarting the Exchange Information Store service.
(Note - The Administrator user should not have these rights by default, and under a normal installation of Exchange Server it is specially denied the required permissions.)
Disadvantages
Dismounted 'Information Store'
User account related with the mailbox is disabled
Insufficient disk space to store converted PST files
Does not export mailboxes of size more than 2GB
Wrong permissions, however, it is removed by creating a new service account
Available only for few Exchange versions that are Exchange Server 2003, 2000 & 5.5
Damaged data in the mailbox (When this happens, the only option that you have is to export using Outlook as ExMerge does not export damaged data.)
Advantages
Inbuilt utility
Available for free
2. New-MailboxExportRequest – It is a cmdlet to export Exchange mailbox to PST file that can be used in on-premises Exchange Server 2016 and 2013 & Exchange Server 2010 SP3 and SP 2. Using it, you can create more than one mailbox export request per mailbox where each request must have a unique name. By default, Exchange generates up to 10 unique names for a request. On the other hand, to create more than 10 requests you would have to give a unique name to each of them.
Here, to remove existing requests, use the Remove-MailboxExportRequest cmdlet before you start creating a new request that uses the default request name <alias>\MailboxExportX (where X = 0–9).
More Description: This cmdlet requires you to have certain permissions granted before running it. This is because if the permissions are not granted, an error message affirming that Exchange is unable to create a connection to the target mailbox occurs. The permissions that you need to grant to group Exchange Trusted Subsystem to the network share where you wish to export or import PST files are as follows:
1.Read permission: This is to import PST files from the share.
2.Read/Write permission: This is to save exported PST files to the share.
(Note - This cmdlet is present in the Mailbox Import Export role only, and by default, this role is not allocated to a role group. You need to add the Mailbox Import Export role to a role group to use this cmdlet.)
Advantages
Disadvantages
Requires technical know-how and hence cannot be used by all
Consumes more time and hence delays the conversion process
3. Stellar EDB to PST Converter – An advanced third-party software that is devised to convert EDB file to PST format efficiently can serve as the best way to export Exchange mailboxes to PST file. For instance, you can use the professional Stellar EDB to PST Converter that allows you to convert Online Exchange and Offline EDB file to Outlook PST without much of manual intervention. This is because it is embedded with the following key features:
Converts EDB to PST file extracts all mailbox data items
Exports emails & attachments, calendar entries, notes, contacts, etc.
Offers to convert multiple EDB files to Outlook PST
Offers to convert Archive mailboxes to Outlook PST
Exports Offline Exchange EDB file to Live Exchange Server
Exports Offline Exchange EDB file to Office 365 environment
Enables to save converted data in PDF, HTML, EML, MSG & RTF file formats
Compatible with Exchange Server 2016, 2013, 2010, 2007, 2003, 2000 & 5.5
Advantages
Easy-to-use
Does not require technical knowledge and hence can be used by all
Almost automated
Trial version will scan & preview your converted mailbox as PSTs.
Disadvantages
Full version required to be purchased to completely convert your EDB to PST.
Working of Stellar EDB to PST Converter
The working-steps of Stellar EDB to PST Converter with screenshots are as follows:
1. Download, configure and run the software on doing which the home screen appears.
2. In the home screen, choose Offline EDB or Online Exchange from Select Conversion Mode.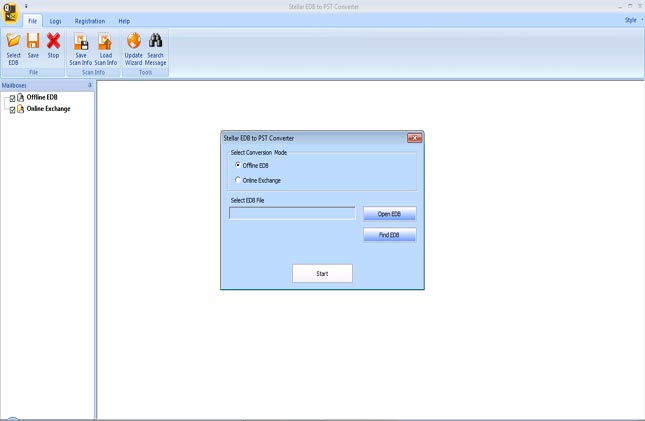 Note - Select 'Offline EDB' if the EDB file is not mounted whereas 'Online Exchange' if the Exchange is online.
• On choosing Offline EDB, any one from the following should be performed:
o Click Open EDB button if you know the storage location of the EDB file.
o Click Find EDB button if you do not know the EDB file storage location. On doing so, the Find EDB File dialog box prompts up.
3. In Find EDB File dialog box:
(i) From the 'Look in' drop-down menu, choose a particular drive or click on the Look in button. The File Type should be EDB.
(ii) The converter exhibits all EDB files present in the drive you had chosen. The found EDB files are shown in the Find Results segment.
(iii) Choose the EDB file to be converted and click Start button so that the converter starts converting EDB file to PST format.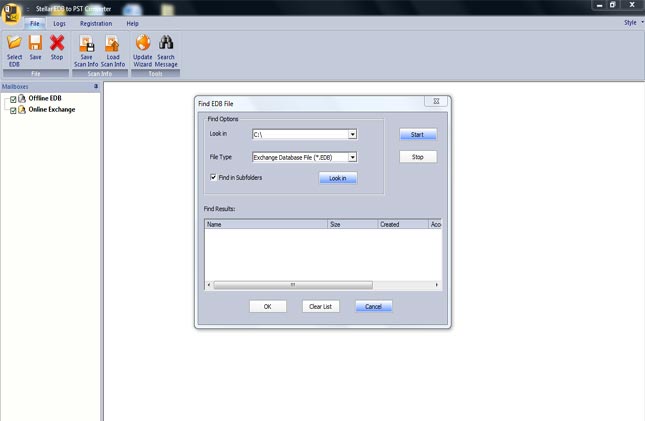 4. A progress bar that shows the current data of the total number of converted items shows up when you click the Start Conversion button. You can click the Stop button to stop the conversion process in between.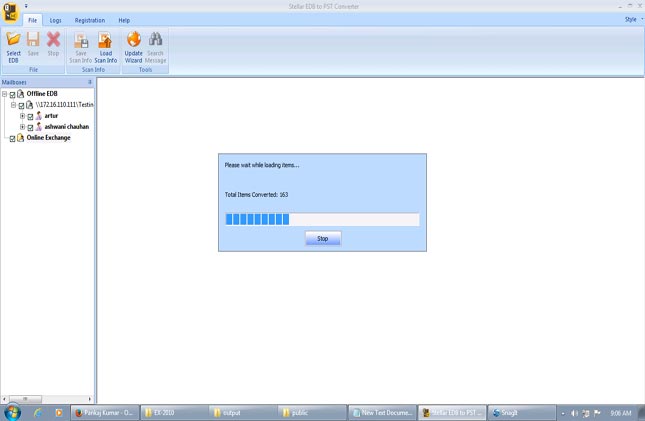 5. In the mailbox preview window having a three-pane structure, preview the exportable data items after the end of EDB to PST file conversion procedure.
Note – The chosen EDB filename below the Root node in a tree format/structure is presented the left-pane. The list of converted emails is presented in the middle-pane whereas the content of the email selected in the middle-pane is exhibited in the right-pane.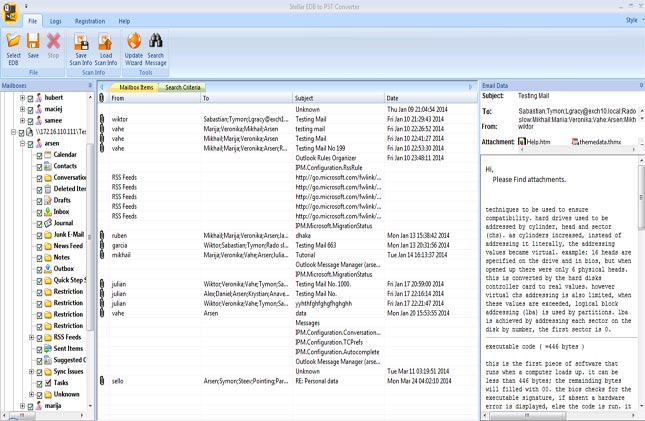 6. In the File menu, click Save to select the converted mailbox that has to be saved as PST. On doing so, the Save As dialog box providing various saving options comes up.
7. In Save As dialog box that offers PST, EML, MSG, HTML, PDF, RTF, and MS Office 365, select one file format. From Destination Path, select the desired location by using the Browse button to save the converted data items. Then, click OK button.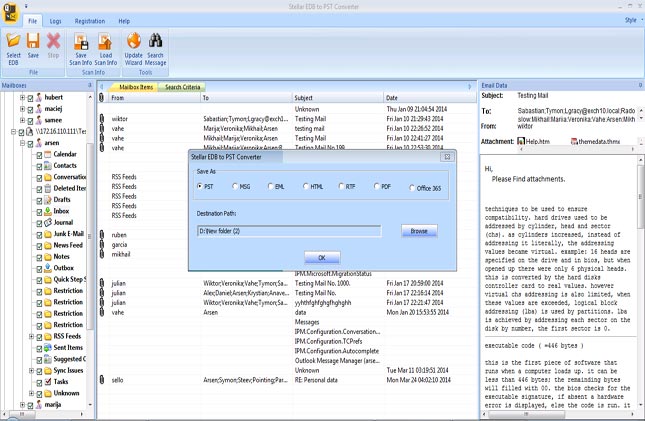 Finally, the converted file is saved in the desired file format!
To export data items from the online Exchange, you need to do the following:
1. Select Online Exchange option from Select Conversion Mode dialog box that comes on the launch of the software.
2. All the Connected and Disconnected user mailboxes are enlisted in the window and shows the total number of connected and disconnected mailboxes. Next, click OK button.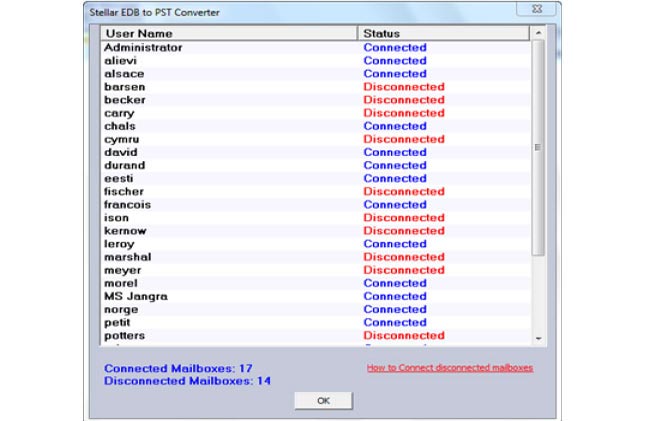 3. All the converted mailboxes are displayed in the left pane of the Preview window.
4. Select the mailbox folder and click Save button present in the File menu.
5. The Save As dialog box comes up. In it, select the file format in which you wish to save the mailbox data.
This is the completion of the Online Exchange to PST format conversion process!
The Ending Lines
Now that you know the advantages and disadvantages associated with all the three methods that have been described above to export Exchange mailbox to PST, Stellar EDB to PST Converter is the best. Therefore, bring it to use as has been explained above in the article!