Have you ever run into that annoying problem where the computer won't boot? Wouldn't it be great if you had a tool that would make that disk boot again? I have found one tool that works more often than not ...
I have a plethora of software and hardware tools I am able to use at any one time in order to diagnose and fix various types of computer problems. Most of the software tools I have are free. Tools that I have collected over the many years I have been doing this. There are a few that are paid, but generally worth it.
In troubleshooting a problem recently, I was introduced to a tool I hadn't used before. It is called HDD Regenerator. The software can be downloaded for free or purchased, if you think it is useful. Note that the free version has limitations. It will not regenerate more than one sector and does not create a bootable USB. The free version also does not have the Real-Time Monitor menu and the SMART menu.
HDD Regenerator purports to fix underlying issues with the hard disk's magnetic properties. Whether or not it does this is another question. The hard drives I have used it on do seem to perform better afterwards. One can make an unbootable disk bootable.
Another aspect of the software is that on the machine on which you initially install it, you can set it to provide various updates on your disk health (paid version). Some of these updates/popups can be annoying (do you care if your HDD temperature has dropped by 1 degree?), while others are helpful.
The software also provides an easy way to visualize your SMART information.
When you first install HDD Regenerator you will see a screen something like this one: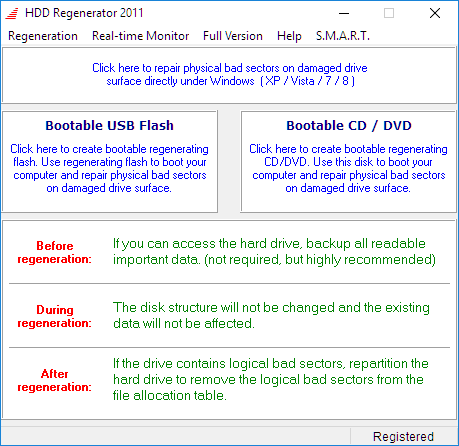 This is the latest version of the software. It works under windows 10 as well. Your first step may be to make a bootable USB so you can use the software. If you click on the left box, HDDG will start that process. If you see this screen, the software could not locate a USB device: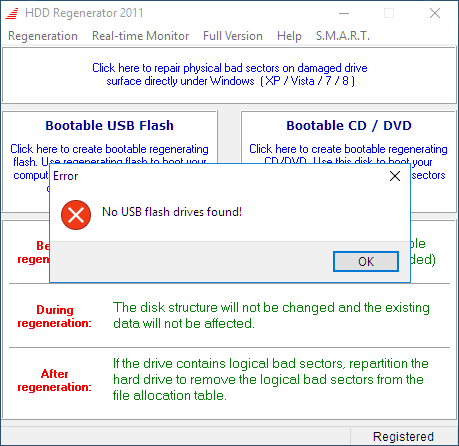 When it does see a USB the screen should look something like this: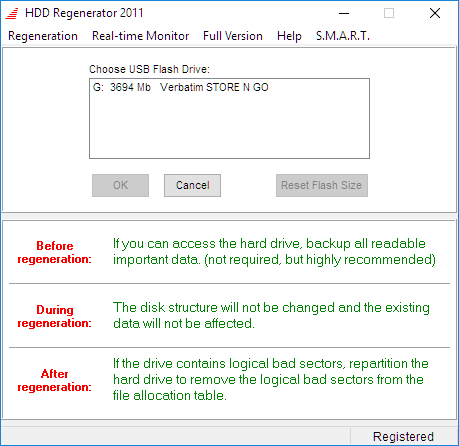 These are the various menu screens
Regeneration Menu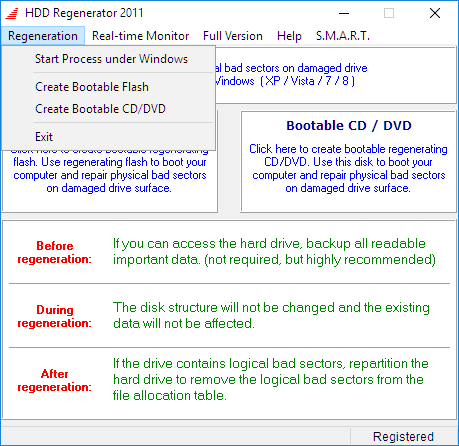 Real-Time Monitor Menu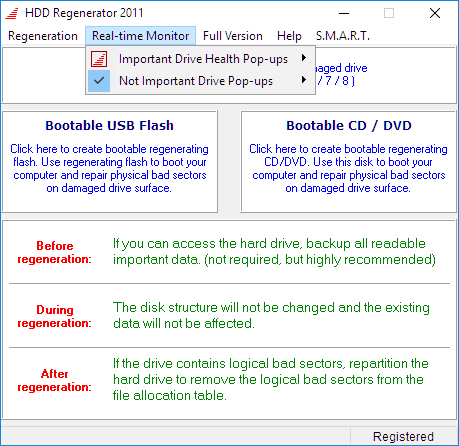 Real-Time Monitor Important updates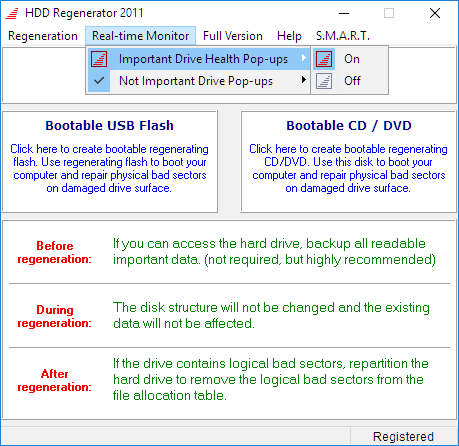 Real-Time Monitor Non- Important updates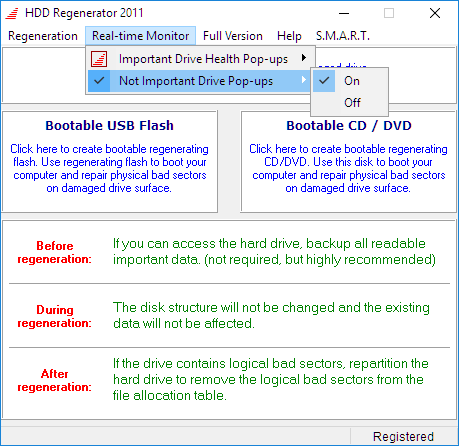 Full version Menu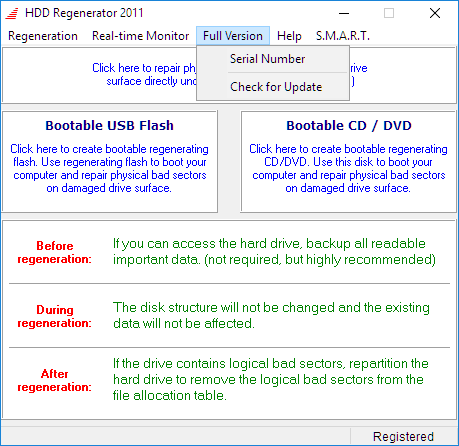 Help Menu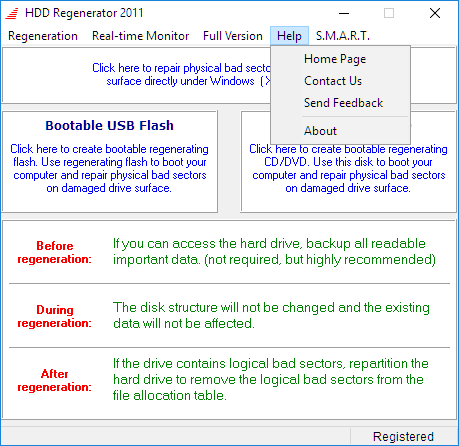 If you click on S.M.A.R.T. you will see this readout from your harddrive(s):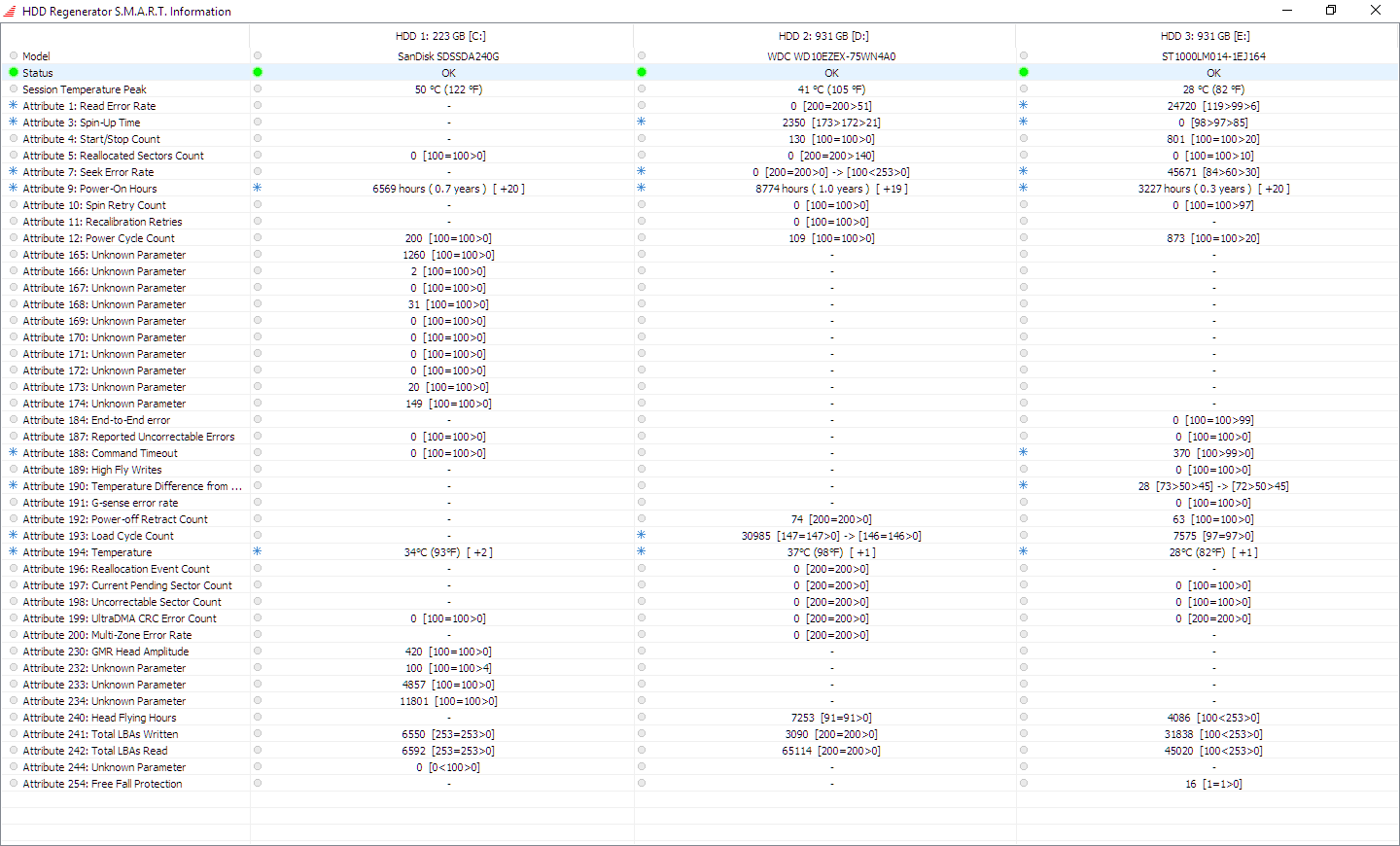 Important!
If you choose to scan a drive, take the following steps AFTER you do a complete backup (even though they say it is not necessary):
1. Reboot to the USB/CD you created with the program
2. Select the disk you wish to scan/fix
3. Select whether you wish to Just scan it or Scan and fix it (initially a straight scan will take a shorter amount of time)
4. The scanning screen should look something like this: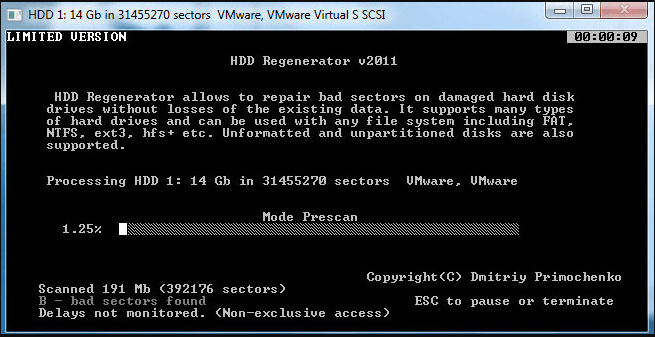 5. note that there will often be two time values in the top right hand corner. The first is time elapsed in HH:MM:SS format and the second would be time remaining in the same format. The time remaining, although generally correct, is best calculated by figuring out how long say 1% takes and multiplying that out.
6. If you are performing just a scan, bad sectors will be marked with a B, while if you perform a Scan and Fix, Bad sectors that are recovered are marked with an R.
7. If you perform just the scan you can select to fix/repair only the sectors that were detected as "B."
8. If a lot of "delays" (marked by "D") are detected, you may wish to check your backups. In the following picture there are all the problems that were found in a sample scan. Keep in mind that 623,496,507 sectors were scanned and less than 1/10,000 of those were found to have delays. After attempting to fix this drive there were still more than 21 bad sectors.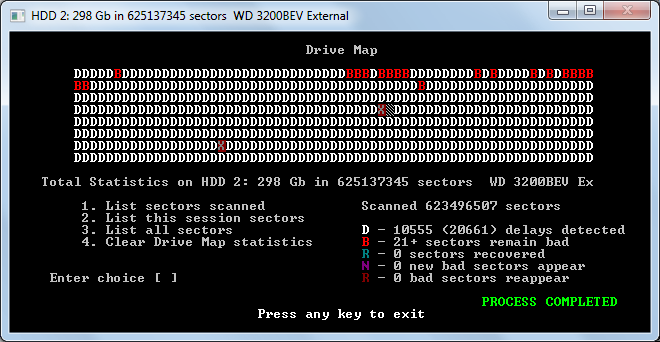 The benefits to using this software is that in many cases it can repair disks where even a low level format will not work. It retains all data and OS. In the end, the truth is it can't hurt to run this and it may help. Probably the biggest downside to this is it does not always work, at least in my experience. At $79.99, it is not a bad deal, even if it works just a few times!
If you liked this article don't forgot to click the thumbs up below. This helps me to know what types of content users are most interested.