The main intent of this article is to make you aware of 'Exchange fail to mount' error, its effects, causes, and solution.
Of course, if you are working as an Exchange administrator in a company then this article would prove to be a hands-on guide to you in situations when you would wish to deal with 'Exchange fail to mount' error. Therefore, go through it to get a befitting answer to your query: how to deal with 'Exchange fail to mount' error.
Consider a situation that you faced or may face while working with Microsoft Exchange Server: You try to mount a mailbox store. However, the operation fails, an error with the below-given message occurs:
"Exchange is unable to mount the database that you specified. Specified database: Servername\First Storage Group\Mailbox Database; Error code: mapiExceptionCallFailed: Unable to mount database. (hr=0x80004005, ec=-528)"
Explanation of the error
The Transaction log files record all the modifications that are made to a database in Exchange Server. These log files are exceedingly crucial for the proper functioning of Exchange. Therefore, if you remove a log file that has not been written to the database associated with it, several issues can arise. And, one of the most common issues is that the database may fail to mount. You can eventually fix this issue by removing all the log files. Nonetheless, for this, you would first need to check consistency of the database. If the database is in inconsistent state, the solution is to restore database from backup or use a technique to repair Exchange database (EDB) file.
Effect of 'Exchange fail to mount' error
When 'Exchange fail to mount' error occurs after every time you attempt to mount the mailbox store in Exchange Server, all the clients connected to server are disconnected.
Cause
This error can occur if you remove one or more log file that has not been committed or written to the Exchange database yet.
Solution – Manual Method
To fix 'Exchange fail to mount' error, you would have to transfer the 'transaction log files' to a different folder. To do so, you would have to follow the process mentioned here in a step-by-step manner. The steps for the manual method are as follows:
Stop Information Store as well as all databases present in the Storage Group.

Run Eseutil utility and run its esesutil /mh command followed by database name (For instance, for Mailbox Store1 database, the name is Mailbox Store1.edb). This step is crucial for the verification of the integrity of the database. Under its header information, examine the 'State' value.

Check the consistency of the Exchange database:

If the database is in Clean Shutdown or Consistent state, remove all the transaction log file and save them to a different folder safely and securely. However, you should not remove the current transaction log file.

If the database is in Dirty Shutdown or Inconsistent state, restore Exchange database from the last online backup. If the backup is invalid, run eseutil /r command to initiate Soft Recovery. If soft recovery fails, perform hard recovery by executing eseutil /p command. However, Hard Recovery may cause data loss in situations it deletes the damaged pages.
Advantages
As Eseutil utility is inbuilt in Exchange Server the method can be availed at no cost.
Disadvantages
The process may consume a lot of time and hence proves to be tiring

A single deviation in the process may not yield the desired results

Novice users cannot execute the process correctly
The software suggested to deal with 'Exchange fail to mount' error
As you now know that the manual method includes a number of disadvantages and hence may not be successful every time you execute it, it is suggested that you request for third-party software. With many search online, Stellar Phoenix Mailbox Exchange Recovery has been found that can give you best result when it comes to fixing 'Exchange fail to mount' error. Its key features are as follows:
Removes 'Exchange fail to mount' error successfully by repairing EDB files

Restores emails messages and their attachments, calendar, notes, contacts, journals, notes, etc.

Restores dismounted Exchange database

Restores Offline EDB files successfully

Repairs EDB file regardless of its size

Retrieves mailboxes to Office 365

Retrieves mailboxes to Live Exchange Server

Offers saving messages in file formats such as PST, RTF, HTML, PDF, MSG & EML

Compatible Exchange versions: 2016, 2013, 2010, 2007, 2003, 2000 & 5
Execution Steps of Stellar Phoenix Mailbox Exchange Recovery
In this section, have a look on the steps using which how the suggested software can be executed to fix the error discussed here in this article.
1. Download and register the software using Registration Key that you get after purchase.
2. When you do this, Select EDB dialog box is exhibited.
(a) Click the Open EDB or Find EDB button.
(Note - Click Open EDB if EDB file's storage location is recognized to you, otherwise click Find EDB. Then, click Start button.)
Figure 1: Exchange database (EDB) file selection
3. Find EDB File dialog box is exhibited, provided you click Find EDB in the Select EDB dialog box.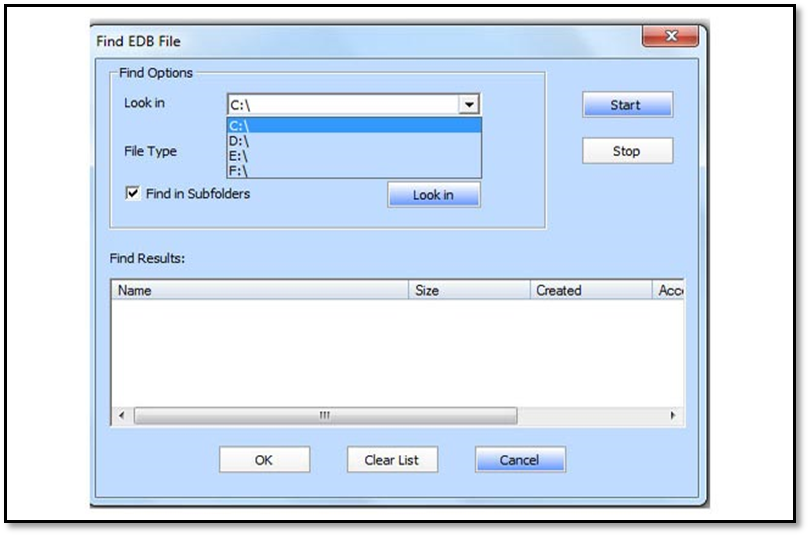 Figure 2: Hunt for EDB file
(a) Go to Look in drop down menu and select 'EDB' as the File Type. Else click Look in button located there in the Find EDB File dialog box.
(b) Click Start for the software to begin the process of (EDB) file search. The software will search for EDB files stored in the specific drive you selected in the last step '3(i)'. Depending on the file size and severity of corruption, the search process completes in some time. After that, all the found EDB files are displayed in Find Results section of Find EDB File dialog box.
(c) View all the EDB files in Find Results segment and choose the corrupt EDB file that you want to repair. Then, click on OK button.
4. Choose either Quick Scan or Extensive Scan option present in the Select Scan Mode dialog box that is exhibited.
(Note - For fast results, go for Quick Scan. For comparatively better results, opt for Extensive Scan. After that, click OK.)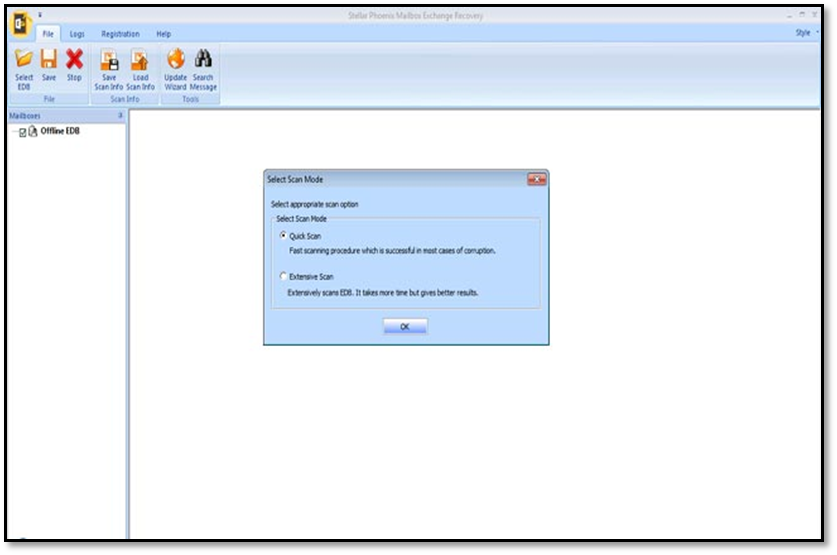 Figure 3: Choice of Scan Mode
5. The Scan process starts, and its progress is shown with a progress bar.
(Note – The Scan process can be stopped in between by a click on Stop button.)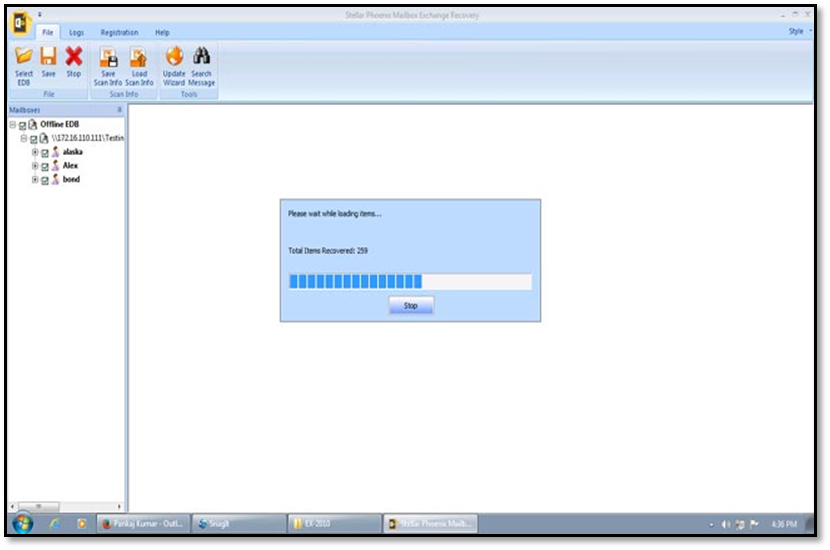 Figure 4: Headway of Scan process
6. A three-pane structured preview window is exhibited. In it, all the retrievable Exchange database with complete mailbox data is presented.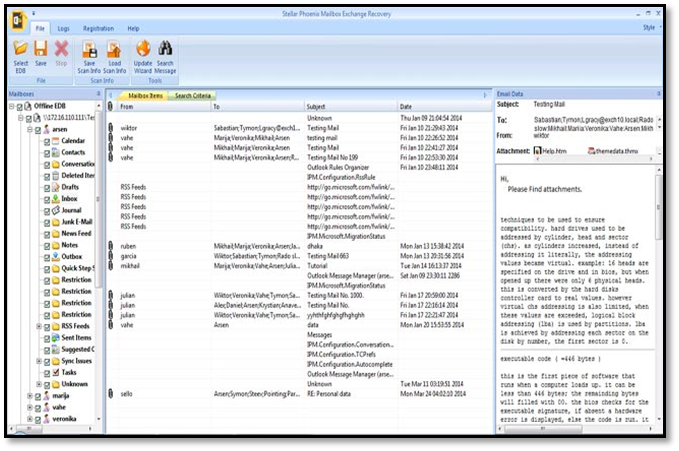 Figure 5: 3-pane structured preview window
7. There is a Save option in tool's File menu. Click it, on doing which the Save As dialog box is presented with various popular saving options: PST, HTML, RTF, MSG, PDF, EML, and Office 365. With this, mailbox items in Exchange database are finally retrieved.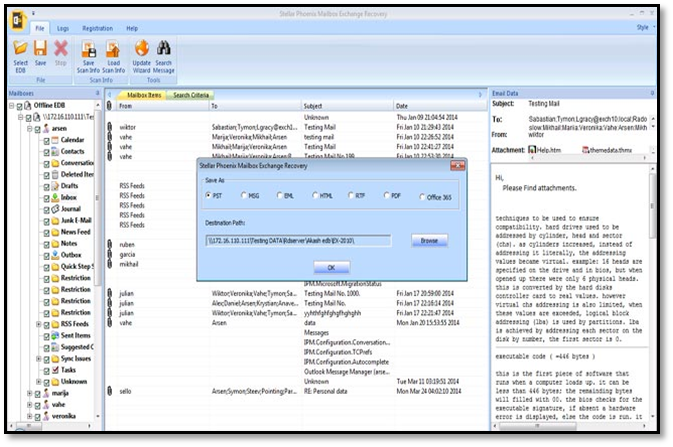 Figure 6: Saving of recovered Exchange database
Advantages
User-friendly tool

Technologically advanced and enhanced utility

100% effective and result-oriented

Novice users can also use it
Disadvantages - None
The Final Opinion
The final opinion is that you use Stellar Phoenix Mailbox Exchange Recovery software to fix 'Exchange fail to mount' error. The simple reason is that it is beneficial as compared to the manual method!