Here in this article, you will get a step by step guidance on how to restore an Exchange database to a recovery database. Get a brief on Recovery Database and how it can be used to restore Exchange database in this section!
Commonly known as RDB, Recovery Database is an out-of-the-ordinary mailbox database that permits you to mount and then extract data from a restored mailbox database as part of a recovery process. RDBs allow restoring data from the backup or copy of the database without restricting or disturbing users in accessing the data of the mailboxes saved in the Exchange Server database.
After you create an RDB, you can restore the mailbox database into the RDB by using a backup or by copying a database and its log files into the RDB folder structure. Thereafter, you can use the New-MailboxRestoreRequest cmdlet to extract data from the restored database. Once you extract the mailbox data, you can export it to a folder or merge into an existing mailbox.
Exchange Management Shell for restoring Exchange database to a recovery database
1. Restore the database and its log files or copy the recovered database and its log files, to the place that you will use for your recovery database.
2. With the Eseutil utility, turn the database from dirty shutdown to a clean shutdown state. The syntax for it is as follows:

(Note - In the syntax given above, EXX is the log generation prefix for the database. For instance; E00, E01, E02, etc.)
3. Create a 'recovery database' and give it a unique name. However, use the 'name' and 'path' of the database file for the EdbFilePath parameter. And also, use the location of the restored log files for the LogFolderPath parameter. The syntax for it is as follows:

This example shows the creation of a recovery database that will be used to recover database'DB1.edb' and its log files located at 'E:\Databases\RDB1.'
4. Restart the service named Exchange Information Store. The syntax for it is as follows:

5. Mount the recovery database. The syntax for it is as follows:

6. Confirm that the mounted database comprises the mailbox(es) that you wish to restore:

7. Use the New-MailboxRestoreRequest cmdlet to restore a mailbox or items from the recovery database to a production mailbox. For example:

The example displayed above restores the source mailbox that has the MailboxGUID 1d20855f-fd54-4681-98e6-e249f7326ddd on DB1 mailbox database to the target mailbox with the alias Morris.
8. Use 'Get-MailboxRestoreRequest' at regular intervals to check the status of the mailbox restore request. Once the restore has a status of 'Completed', use Remove-MailboxRestoreRequest to remove the restore request. The example is as follows:

9. Lastly, confirm if the mailbox and data has been successfully recovered. To do so, open the target mailbox with the use of Outlook or Outlook Web App and check if the restored data is present.
Things to know
You should know the following things before executing the process described above.
You need to have permissions before carrying out this process. You can find the required permissions in 'Mailbox recovery' entry of Recipients Permissions topic.

There are some backup applications that can restore Exchange data to a recovery database directly. Windows Server Backup can restore backups to a recovery database that are only 'file-level' and therefore it cannot be used to restore backups of 'application-level' to a recovery database.

The database and log files that contain the recovered mailbox data must be restored or copied into the Recovery Database folder structure.

The database should be turned into a clean shutdown state from dirty shutdown state. To do so, you can use Eseutil /R utility that is inbuilt in the Exchange Server.
Advantages
Available free-of-cost
Disadvantages
The process is time consuming and tedious.

The steps should be followed correctly and in sequence.

Knowledgeable professionals are required to execute the process correctly.
The suggested software to restore Exchange database
It is suggested that as an alternate to using Shell to restore Exchange database, you can use Stellar Phoenix Mailbox Exchange Recovery software. Having a user-friendly interface, it can easily and successfully restore Exchange database. Along with that it can restore all mailbox data. Its salient features are as follows:
Restores Exchange data items - emails, attachments, calendar, contacts, journals, notes, etc.

Restores dismounted as well as Offline EDB files successfully, irrespective of the EDB file size.

Restores Exchange user mailboxes to Office 365and as well as Live Exchange Server

Saves restored emails in PST, MSG, EML, RTF, HTML& PDF file formats.

Supports multiple versions of Exchange Server: 2016, 2013, 2010, 2007, 2003, 2000& 5.
Know how Stellar Phoenix Mailbox Exchange Recovery can be executed
Here, you will get to know how Stellar Phoenix Mailbox Exchange Recovery software can be executed to restore Exchange database.
1. Launch the software after it has been downloaded and configured.
2. Select EDB dialog box comes up on the main screen, click Open EDB or Find EDB to choose the EDB file that is in damaged state.
(a) Click Open EDB provided the storage location of EDB file is known to you, else click Find EDB. Next, click Start.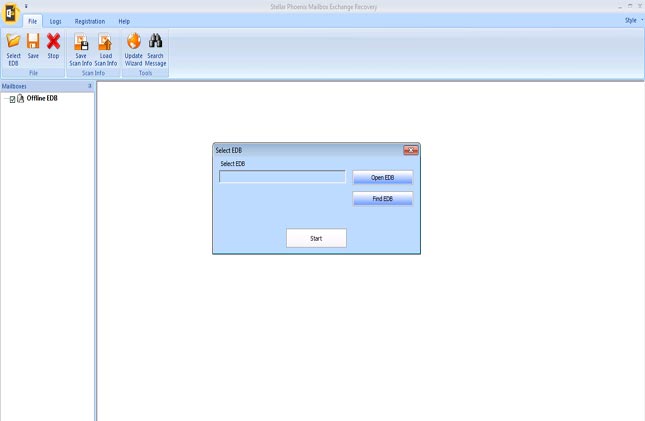 3. Find EDB File dialog box appears if you click Find EDB button in the Select EDB dialog box.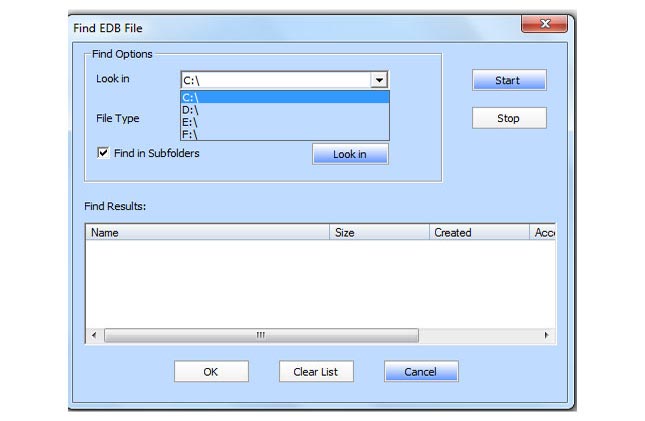 a. Choose a disk drive using Look in drop down menu, then select File Type as 'EDB'. Or, click Look in tab.
b. Click Start so that the software starts searching Exchange database (EDB) files saved in the drive you selected in the last step. After some time, the search process completes and all the EDB files that are found are displayed in Find Results of Find EDB File dialog box.
c. From Find Results, choose the corrupt EDB file to be repaired and click OK.
4. Select Scan Mode dialog box that provides Quick Scan and Extensive Scan options appear. For quick results, select Quick Scan. For better results, select Extensive Scan. After that, click OK.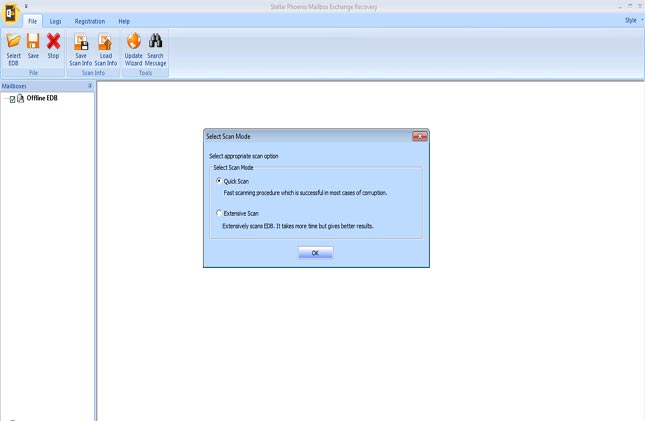 5. The ongoing Scan process is shown that you can even stop by a click on Stop button.
6. A three-pane structured preview window comes up. In it, the restorable Exchange database with entire mailbox data is displayed.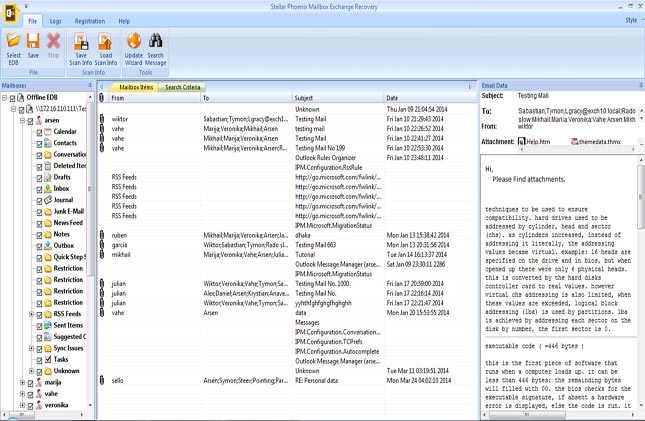 7. Click Save present in the File menu. Save As dialog box shows up from which you can select PST, HTML, RTF, MSG, EML, PDF, or Office 365 file format as you wish. With this, Exchange database is restored.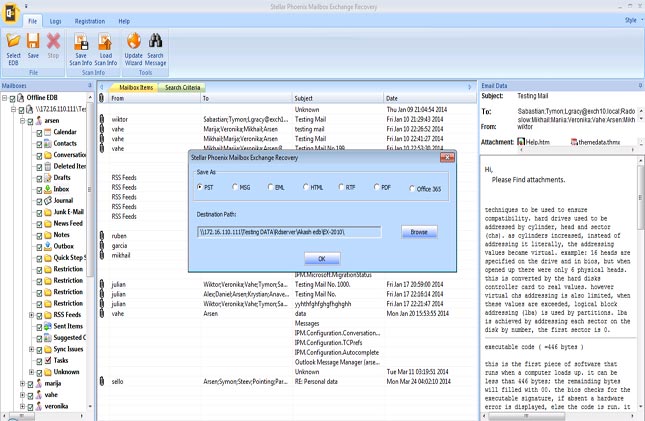 Advantages
Easy

Quick

Avoids having expertise

Avoids having technical knowledge
Disadvantages - NA
The Ending Lines
Now that you know how to use Stellar Phoenix Mailbox Exchange Recovery software to restore Exchange database, go for it make your work easy without leaving any chance for failure!