If something goes wrong with Exchange, your IT resources are in trouble.All Exchange server migration processes are not designed to be identical and though migrating email from on-premises Exchange mailbox to Cloud's Office 365 is relatively simple and straight-forward, especially when you have planned your activities well; you might encounter some complexities in the process. As a result, you have to put in more than required efforts.This article guides you through the pros and cons of using the right method to export Exchange mailboxes to Office 365.
Based upon the network connectivity, Firewall rule setting, and other similar IT-infrastructure setup, you have to decide amongst the possible migration routes from on-premises mailing system to cloud. Migration also depends on the number of users to be moved to cloud, available skill set and availability of IT resources, and time needed to move the boxes. All these factors cumulatively help you choose the right migration tool for safe and fast completion of the process.
Based the requirement, we have classified the manual methods into the following:
Cutover Migration
Migrate all your mailboxes at the same time and ensure success with cutover migration. This method work best when
1.Migration involves less than 2000 mailboxes.
2.Time is a constraint and mailbox movement is to be done as quickly as possible
Cutover migration is works fast but this method may pose considerable challenges when bulky-mailboxes are moved. If users try to move mailboxes of excessively large size, it may take an unacceptable amount of time for complete migration. The easy-to-go method has limitations and these can be overcome provided the organization has competence to troubleshoot and resolve Exchange-related issues.
Hybrid Exchange Deployment
This method integrates the on premise Exchange environment with Office 365. Move your mailboxes gradually and in series over a period of time with hybrid exchange deployment. Hybrid Exchange as the name suggests maintains a mix of on-premises Exchange and Office 365 email users and integrates the two for unified Exchange environment.
This is one of the most convenient methods as users can access mailboxes both online and offline with same login credentials and administrators have access to manage and have full control on security of passwords policies through Active Directory. Reason being servers used to manage password policies are deployed on-premises.
Staged Migration
Move the mailboxes in batches when you have:
1.To move more than 2000 mailboxes and
2.Time required to move mailboxes in not enough
Staged migration may sound similar to Hybrid Exchange but the difference is that users can't manage their mailboxes online as well as offline. Secondly, the duration of co-existence of two environments – On-premises Exchange and Cloud is very small. Contrary to the Hybrid environment, staged migration involves moving the mailboxes to Cloud Office 365 in so much time that IT resources do not have to integrate and manage two environments, separately.
IMAP Migration
A little variation in migration environment – IMAP is compatible for migrating non-Exchange environment to cloud Office 365. Generally, this method is adopted to move mailboxes from outdated Exchange server like version 2000 and similar. Though this method is beneficial for the outdated Exchange versions, its migration capacity is limited to Emails only. Users cannot access their Calendar entries, contacts, journals and other related information with the switch to Office 365 with IMAP.
If you are ready to conciliate with your data transfer, opt for IMAP migration.
Third Party Tools
As the name suggests, this method of migration involves migrating mailboxes from platforms like Novel GroupWise or IBM lotus Notes or others to Office365. Vast number of third-party tools are available in the market to help migrate mailboxes to Exchange online. Choose the right method of migration basis the reviews and surveys.
Microsoft support
Moving Exchange to Office 365 is not easy. Keeping in view, Microsoft has come up with support tools to let you decide the right method of migration and conclude migrating with ease.
1.Exchange Server Deployment Assistant: Integrating the hybrid deployment of on-premises Exchange with mailboxes in Cloud may require additional resources. For this reason, Microsoft has released Exchange Server Deployment Assistant tool for this rich-coexistence scenario.Valid for Exchange 2010, 2013 and 2016, Exchange Server Deployment Assistant asks you a set of questions about your current mailbox environment and the requirements. On this basis, it creates a custom checklist and procedures for simplified deployment.
Note: Exchange Server Deployment Assistant assists in migrating non-hybrid on premise Exchange to Office 365 also.
2.Remote Connectivity Analyzer tool: This Support and Recovery Assistant is relatively new to help fix issues related to Office 365 Apps and services. Even after migrating mailboxes, users may face problems with account setup, connectivity and password and in extreme cases Outlook stops responding. Remote Connectivity Analyzer identifies the root cause of the existing problems and suggest an appropriate solution.
You have the understanding of your on premise Exchange environment and you are mindful of your requirements. Now that you are aware of all the manual methods and their advantages and limitations, you must be in the position to choose the right migration method for available Exchange environment.
Exporting Exchange mailboxes to Office 365 may not be as expected, and support and troubleshoot needs time and effort. It is always good to take the help of migration tools like Stellar EDB to PST Converter.
Why Stellar EDB to PST Converter?
Stellar tool is an Exchange Migrator to help you export offline Exchange mailboxes to Office 365 and foregoes the manual process of reconfiguring users on Exchange. The three step process
1.Select Offline Users
2.Preview scanned mailboxes
3.Enter Credentials and Export to Office 365.
ServerConsole.exe grants full mailbox rights to disconnected mailbox.
Explanation with screenshots:
Step 1: Select Offline EDB. From the Homepage, select Offline EDB. Alternately, find the EDB file from the parent folder. Select the right EDB file from drop-down menu. Click on start button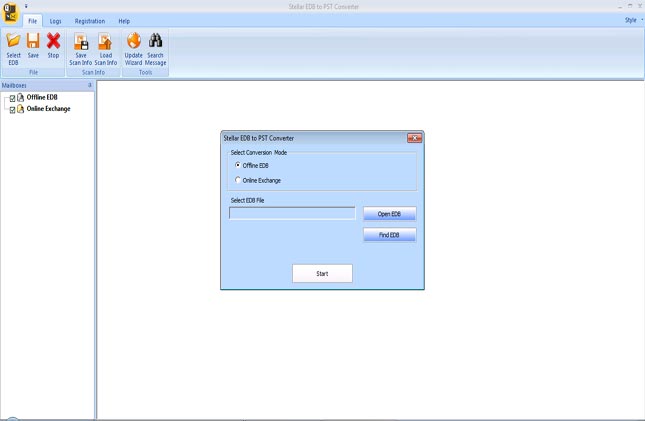 Step 2: Progress bar is displayed showing the progress of file-scanning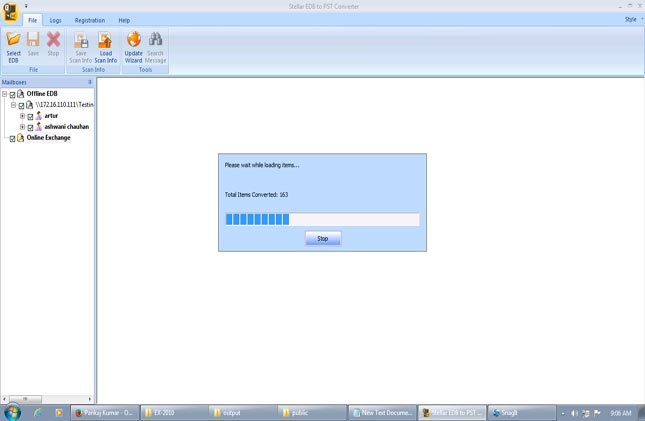 Step 3: A preview of the file is displayed in tree-format. Left pane describes mailbox details, middle pane is about mailbox components and right pane is the description of selected mailbox entry.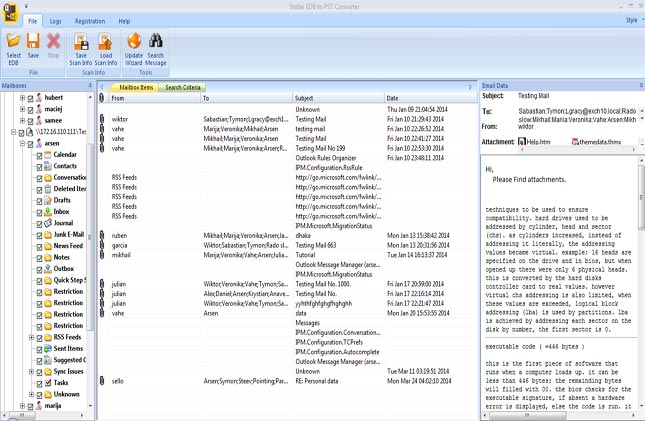 Step 4: Select Office 365 from the available options and export mailbox data to Office 365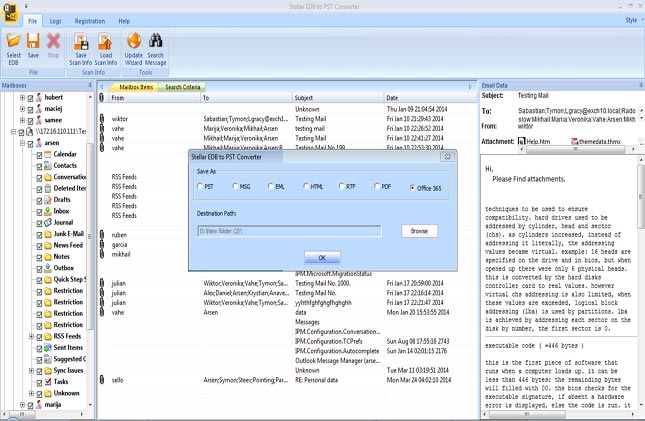 Step 5: Enter the Login credentials for Office365 to exported selected mailbox folders: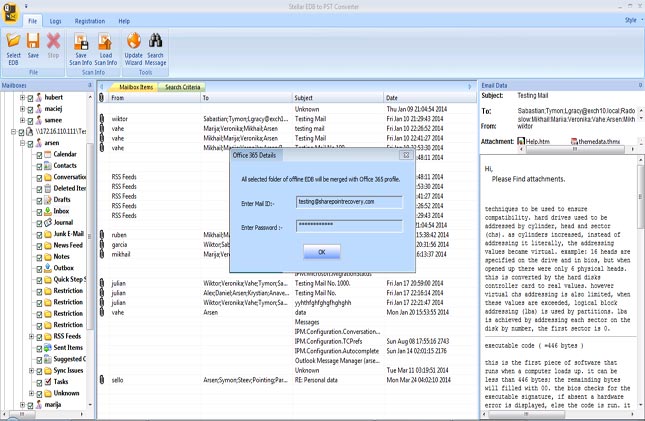 Step 6: Selected Exchange Mailboxes are exported to Office 365 with Stellar EDB to PST Converter.
The Conclusion
Exchange mailbox Migration to Office 365 is a good decision but this should not be done in haste. Analyze the migration-options, comprehend your Exchange environment and select the right method of migration. However, it is a difficult task. To execute such important task, Exchange Administrators need to select but the best and Stellar EDB to PST converter is the finest mailbox migrating tool. It helps you scan your files, displays the preview of the available mailboxes and maintains originality even after exporting mailboxes. And above all facilitates smooth uninterrupted migration.