With so many activities to perform, Exchange administrators are always busy in organizations. If everything, including Exchange Servers, Outlook clients, and Office 365 accounts work without any issues, they can sit and relax. But unfortunately, it is not the scenario in most of the organizations. However, this situation can be improved very much if they try a competent recovery-cum-migration solution in their Exchange environment – Kernel Exchange Suite.
Kernel for Exchange Server – a multifaceted solution for almost all Exchange needs
Kernel Exchange Suite can resolve all the Exchange related issues. If you have this too, you do not need to use different tools for the file recovery (EDB, OST, & PST) and migrations (Office 365 & Exchange).
EDB recovery & migration
OST conversion & saving in Exchange/Office 365
PST file recovery to various destinations
Exchange & Office 365 migrations
Exchange backup extractions
When to use Kernel Exchange Suite
Kernel Exchange Suite is a multi-purpose tool for handling various requirements related to Exchange Server, offline EDB files, OST files, Outlook PST files, and Office 365 (Exchange Online). It has many features that are extremely useful for Exchange administrators.
EDB & PST File Recovery: This suite can easily recover mailboxes and public folders form EDB files. Also, it recovers emails, calendar, contacts, appointments, lost & deleted emails, etc.from PST files. The recovered data can be saved to Outlook PST files and destinations like Exchange/Office 365. Also, individual emails can be saved to MSG/EML formats.
OST to PST Conversion: Exchange OST files residing on user systems is a valuable source of user mailbox data after Exchange crashes and disasters. This suite helps you convert OST files to PST files or to import them directly to Exchange/Office 365. And specific OST items can be retrieved to EML, MSG, file formats.
Exchange and Office 365 migrations: By using this suite, you can easily migrate your single or multiple mailboxes to Exchange Server or Office 365. Both the source and the destination data can be viewed on the software console to drag & drop or copy & paste the required data.
Exchange back up extraction: This suite helps to extract your Exchange backups from NT Backup and HP Backup and then restore that to hard disk or you can migrate that into Exchange Server.
Important features of Kernel Exchange Suite
Kernel Exchange Suite provides you many advanced facilities and options for every Exchange related task you have to perform. Unlike the manual methods, all the tasks are performed from a user-friendly interface. Administrators can just glance through the software interface, read the instructions, and choose the options the require, and proceed with the recovery/migration operation.
OST to PST Conversion
This suite can recover mailbox data from OST files (even if damaged or inaccessible) to Outlook PST files. It can recover deleted items too. The OST data can be saved to a new PST file or to an already existing PST file.
Displays the source OST file and destination PST file on the software interface
Allows to copy mailbox folders or messages from OST file and paste them into PST folder hierarchy.
Copies subfolders and creates a hierarchy in PST file as in the OST file.
Filters mailbox data by date range (by specifying a date range).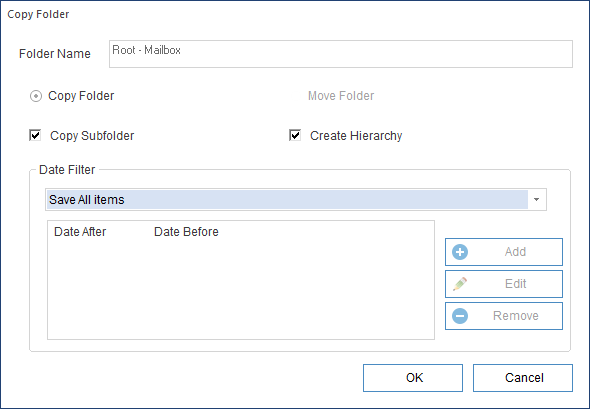 PST file recovery
Kernel Exchange Suite helps users to fix Outlook issues and PST file corruption issues. It can recover mailbox data from corrupted PST files and save to PST files, Live Exchange, or Office 365 account.
Repairs PST files of all versions of Outlook
Before saving, filters mailbox data by date range
Allows creating a new Unicode PST file.
Imports PST data to Exchange Server and Office 365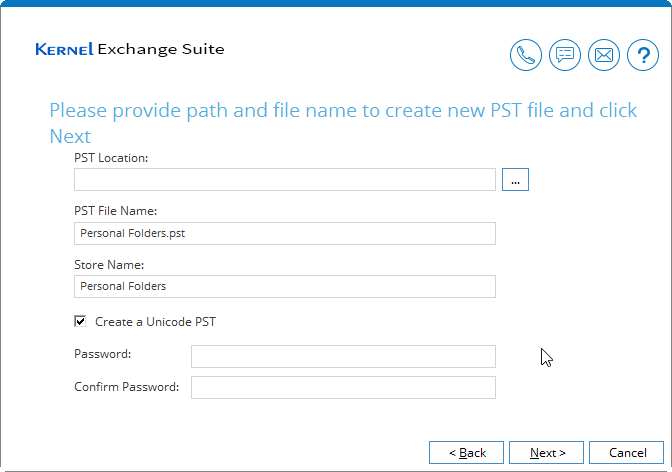 EDB recovery and migration
This suite restores EDB data to Outlook PST files without any loss. During recovery, it maintains data integrity as well as the hierarchy within the mailboxes. It also allows users to export their EDB mailboxes to Office 365 accounts and to Live Exchange Server.
Restores EDB mailboxes and public folders to Outlook PST files
Splits PST files after the specified size to save the data in multiple PST files
Saves EDB mailboxes to Live Exchange Server and Office 365
Facilitates selective migration by filtering EDB mailboxes by Item Type & date range
Creates operation logs with the details of EDB recovery process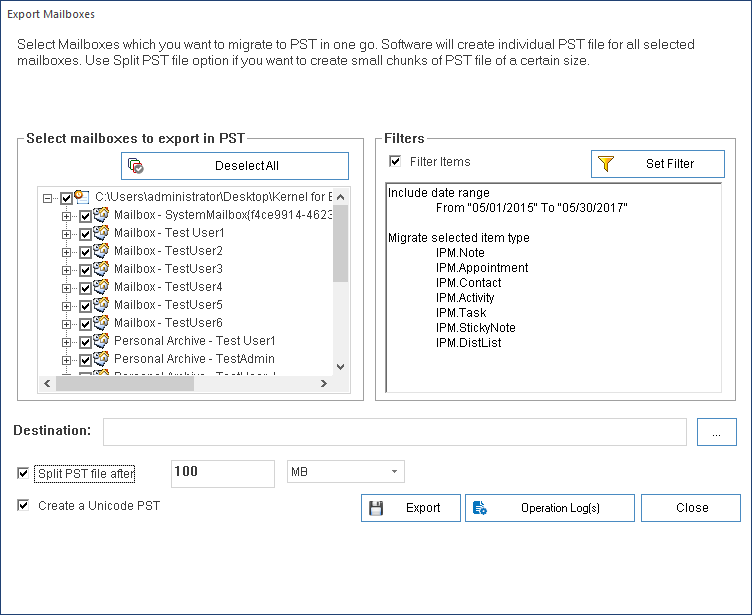 Exchange and Office 365 migrations
Kernel Exchange Suite facilitates migration of single or multiple mailboxes between different Exchange Servers and Office 365 accounts. With this tool, migration is just a copy/paste or drag/drop affair (from the source Exchange/Office 365 to destination Exchange/Office 365).
Supports Office 365 & all Exchange versions at the source/destination ends of the migration
Administrator can copy mailboxes and paste them to the destination
Maps mailboxes between the source and destination for smooth migration
Can create new mailboxes in the target from the software interface itself
Support all versions of Exchange Server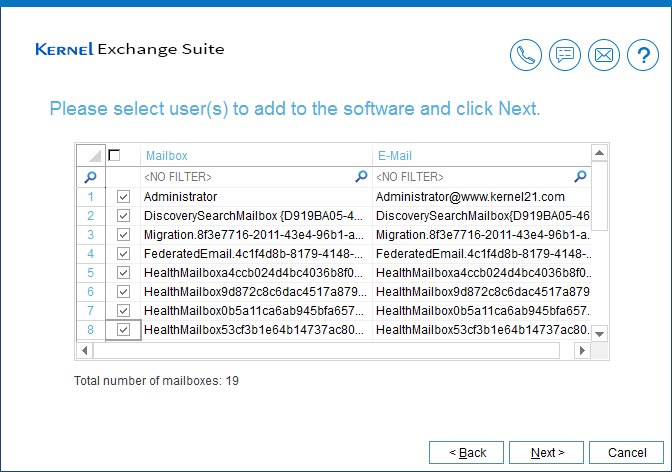 Kernel Exchange Suite functions as a combination of 4 essential tool for Exchange administrators. It supports EDB files, PST files, OST files, live Exchange, & Office 365 at the source end and EDB files, PST files, live Exchange, & Office 365 at the destination end of recovery/migration operations. So you do not need to use different tools for recovery of EDB, OST, & PST files and Exchange/Office 365 migrations. It is a reliable tool for all Exchange related activities.