Dropbox has a relatively new feature called Smart Sync. This feature allows Dropbox Professional (not plus) and Dropbox Business (if enabled) users to store information in Dropbox WITHOUT storing any files on their computer.
I have used Dropbox for a long time. It is a great utility - a syncing service (if you have read some of my articles about backup or have interacted with me regarding backups, you probably already know that I don't consider DropBox a true backup solution).
I have a Dropbox Plus account, which is expensive enough as it is (9.99/month) for only 1TB of storage. In comparison, places like Code42's CrashPlan (now available as CrashPlan for Small Business only - the home version is being phased out) offer unlimited storage for $10-15/month.
Now Dropbox has finally caught up with its competitors by implementing their Smart Sync option - a way to use Dropbox without having to also store your Dropbox files on your computer. You no longer need to figure out disk space by using a formula like <the space I need>+<the space I will need>+<some extra space - just in case>+<the space dropbox needs>. Now you can take out the last piece of that formula and regain up to 1TB of space in Professional accounts, or infinite space in Business accounts!
Of course, this all is dependent on a few factors;
You need to have a minimum of a Dropbox Professional account (19.99/month in the USA)
You need to meet the minimum OS and space requirements (most systems now do)
If it is a Dropbox Business account, your administrator needs to turn the option on for all users
Make sure you have the latest version of the Dropbox application (download here)
Make sure that you do NOT have "Early Releases" turned on.
How do I turn "Early Releases" (think beta) on or off?
You will need to log into the website, Dropbox.com. Once logged in, left click on your picture, or the default picture, in the upper right-hand corner of the screen. You should see something like this: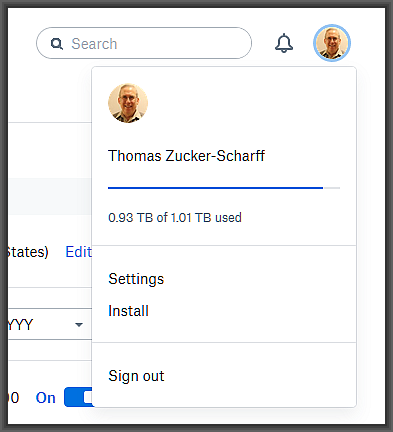 Click on Settings to access the settings for your account. When that opens you should see the Settings broken up into various categories by tabs. The first tab, and default, is "General." Scroll down if you do not see the "Early releases" option, it should look something like the picture below: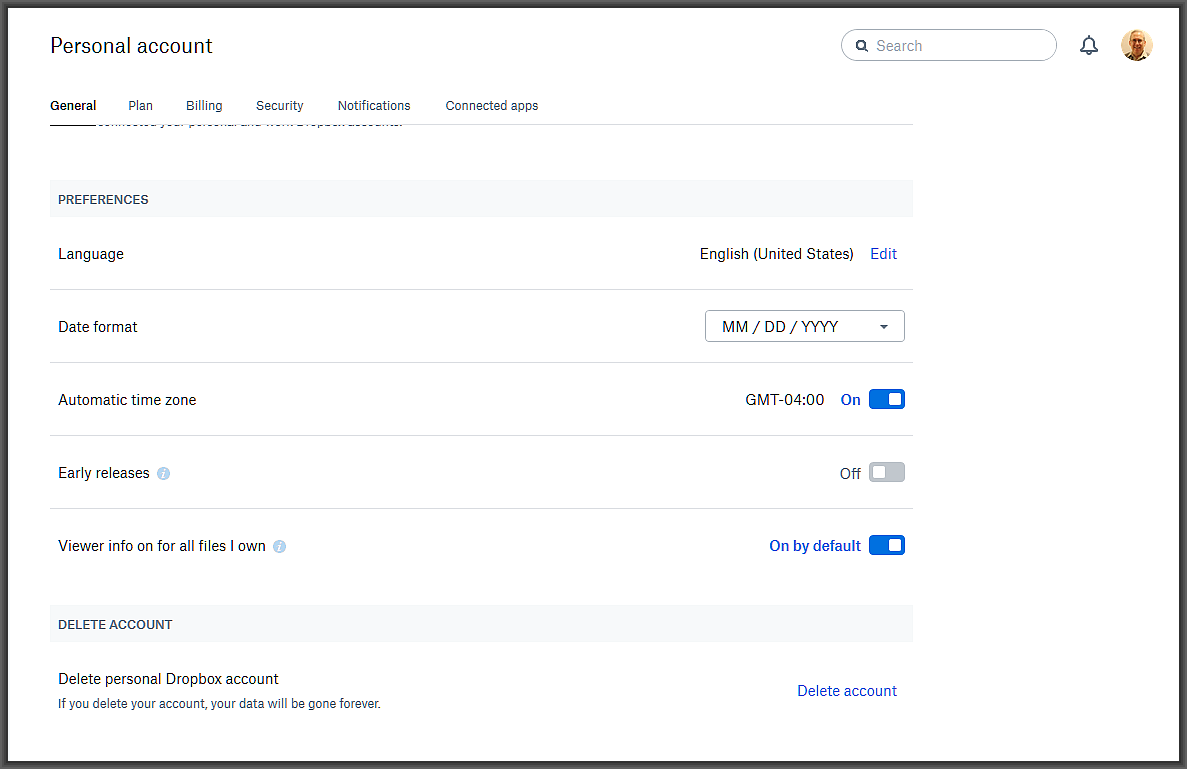 Make sure that the option is turned off. At this point, you may need to redownload the Dropbox installer, if the option needed to be turned off. If it was already off, then you are okay.
This all started because of a colleague who had the dreaded Dropbox "x" problem - your disk is full error indicated by this symbol in the system tray:

If you right-click on the Dropbox icon, you might see something along these lines: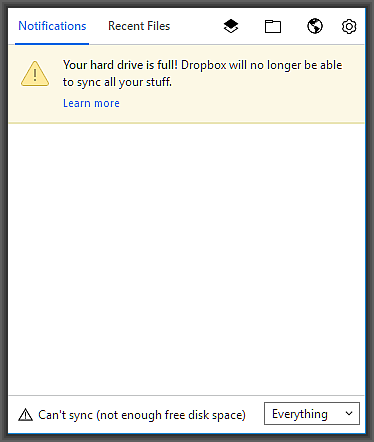 This screen appears if you were to go to the preferences (left click on the gear):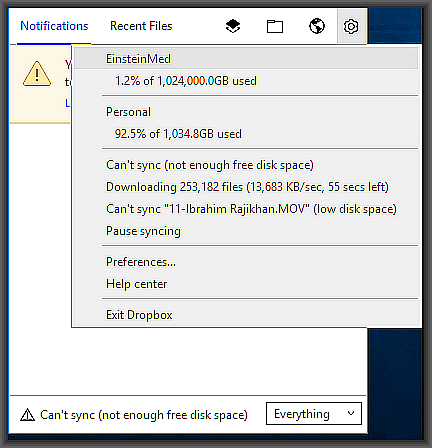 Once one clicks on preferences, this dialogue pops up. The default tab is General.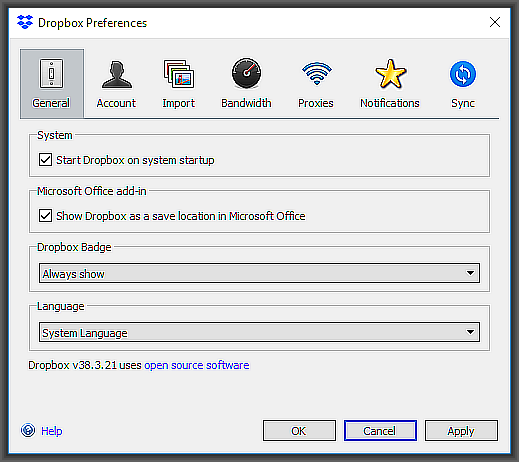 Click on the Sync icon to see these preferences.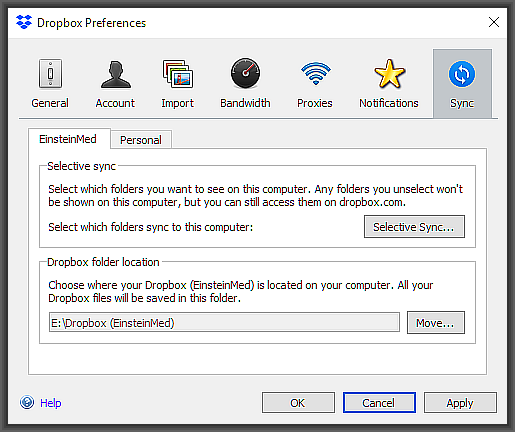 Note that these images show a "Non-Smart Sync" enabled business account. Below is the same account with Smart Sync enabled.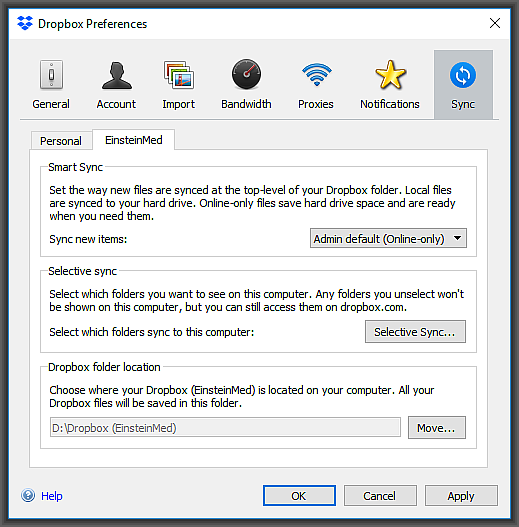 This is what the Dropbox folder looks like on my computer. The green checked items are stored locally and in the cloud and the grey checked items are stored only in the cloud (Smart Sync).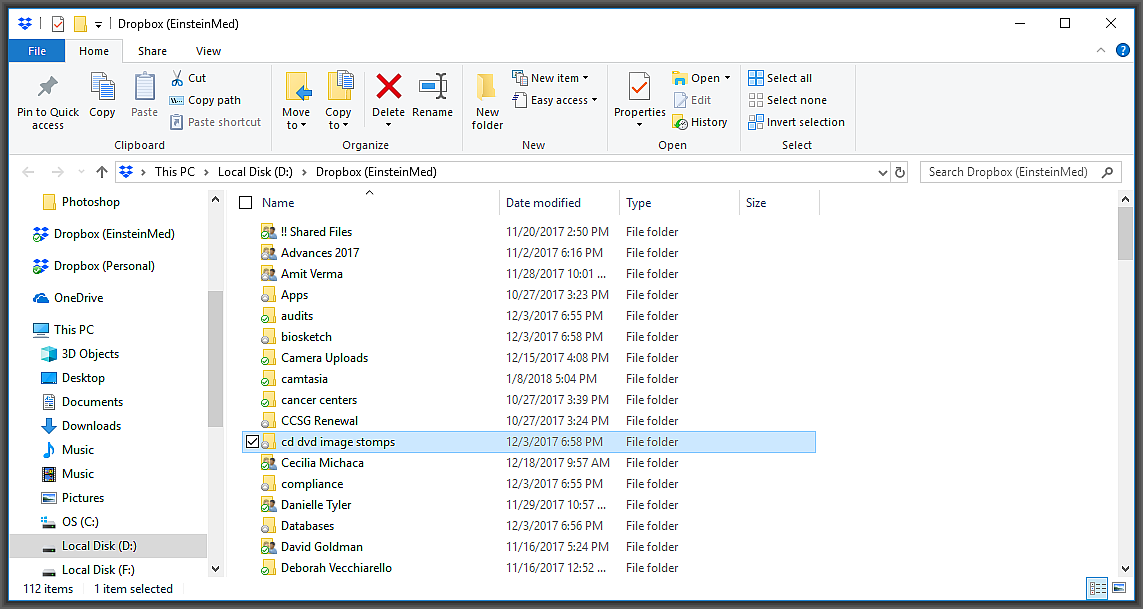 The picture below shows the options you receive when you right click on a Dropbox folder that has Smart sync enabled.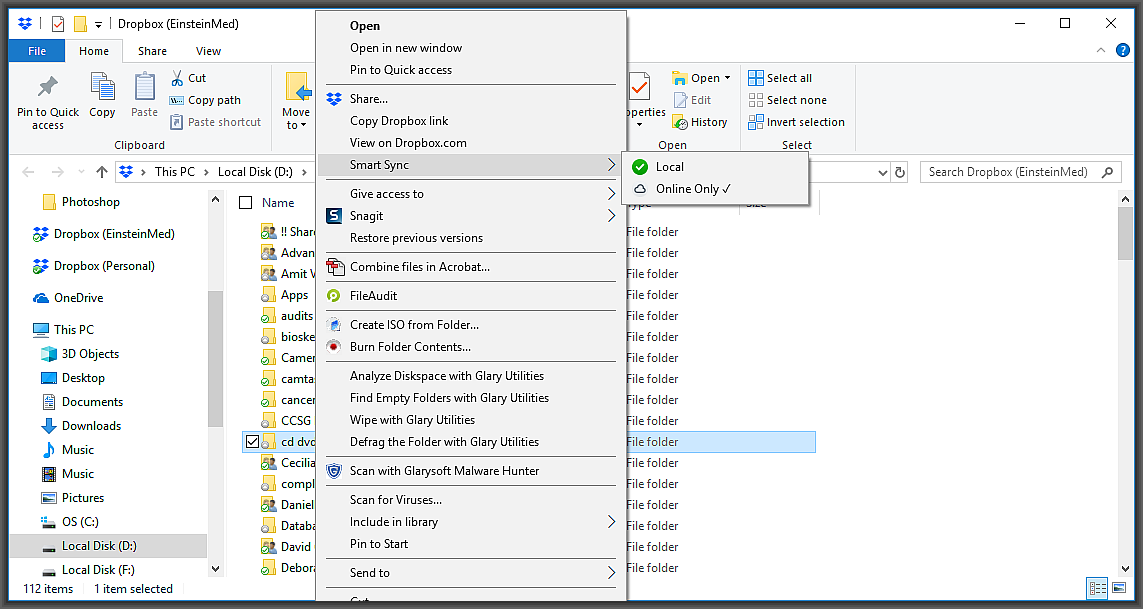 But how can you know absolutely if your Dropbox Business account has Smart Sync enabled?
The only way that I have found is to ask. In my case, I asked Dropbox Support (@DropboxSupport on twitter, or go to their help center) first (email from your business email) and then, when I found out it was not enabled for our Business account, I asked my DropBox admin to turn it on.
The Downside
Some of my users are a little leery of this. One put it most succinctly when he asked, "Won't that mean if the network goes down I won't be able to access my files?" If you are used the convenience of having a copy of your Dropbox files stored locally, then this is a con. If, on the other hand, you are used to most of the other providers where the files have always been stored remotely and not locally, then this is no different.
The Takeaway
USE Smart Sync to save space, but be aware of the consequences if you lose network connectivity.