This article is about my experience upgrading my consulting machine to Windows 10 Version 1709 (The Fall 2017 Creator Update)
Windows 10 2017 Fall Creator Update (V1709)
Have you upgraded to Windows 10 2017 Fall Creator Update Version 1709 Build 16299? I upgraded both my computers on October 17, 2017 when Version 1709 came out. I am very happy with the results.
This is a new and, in my opinion, much-improved version of Windows 10. Windows 10 Version 1607 was a nice stable version for me. But then, Windows 10 Version 1703 brought us some new features at the expense of reliability, at least initially. Most of the issues were Microsoft problems that they fixed over time. I upgraded to Version 1703 April 12, 2017, it did not become truly reliable until September 2017, and then Version 1709 came out October 17, 2017. Version 1709 has been reliable right from the start, and although the time since my upgrade has been short, the improved reliability has been instantly obvious, and I am confident my conclusions are reasonable.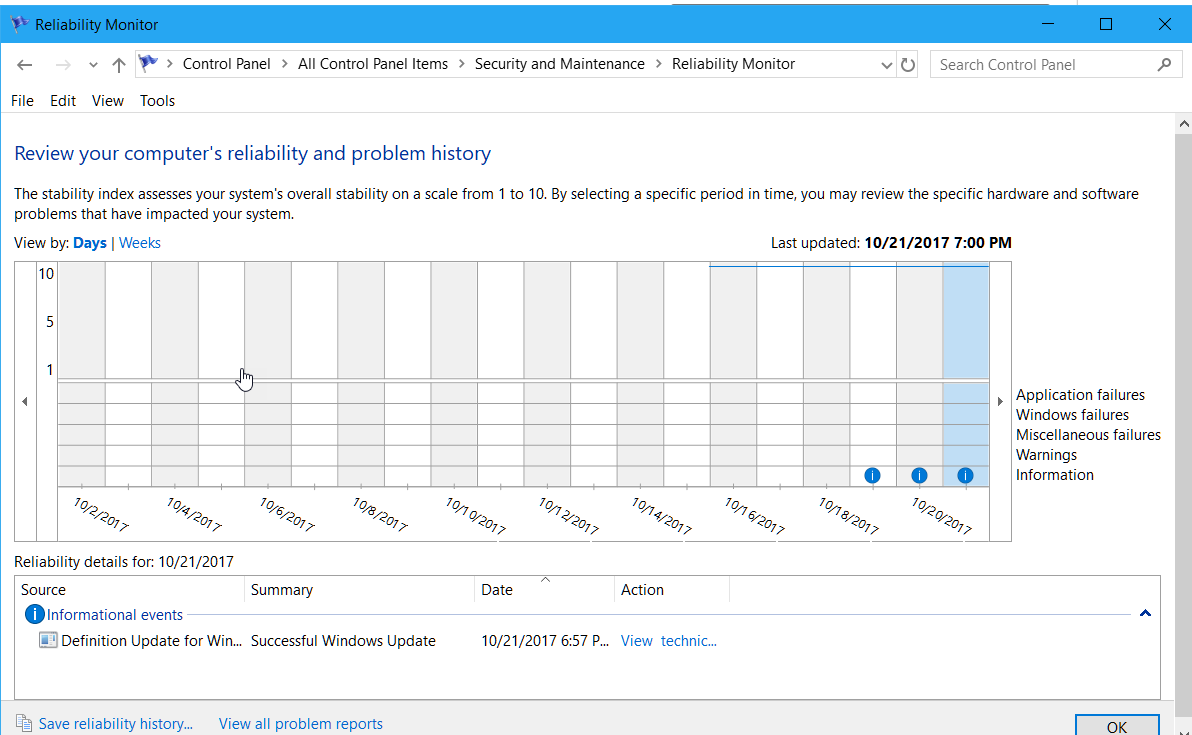 Now there are lots of new features with this release and I will review just some of the key new and improved features below. Here is a detailed Microsoft TechNet article which is worth reading to acquaint yourself with all the new features in Windows 10 V1709. Also, my review is aimed at the small user and not in any way at large companies – use the review below for large companies.
https://blogs.technet.microsoft.com/windowsitpro/2017/10/17/whats-new-for-it-pros-in-windows-10-version-1709/
New Features in Windows 10 Version 1709
Many of the new features have been concentrated in the Windows 10 Settings Manager. This app has increasingly become "home" for many of the settings we use to manage our machine. This means less reliance on Control Panel (although it is still a very useful tool) and less reliance on settings in individual apps. I find this integration welcome because new settings in at least one case (Wireless Settings) were added that were not readily available before.
Open the Settings Manager by pressing Start and clicking on the little gear Icon above Start.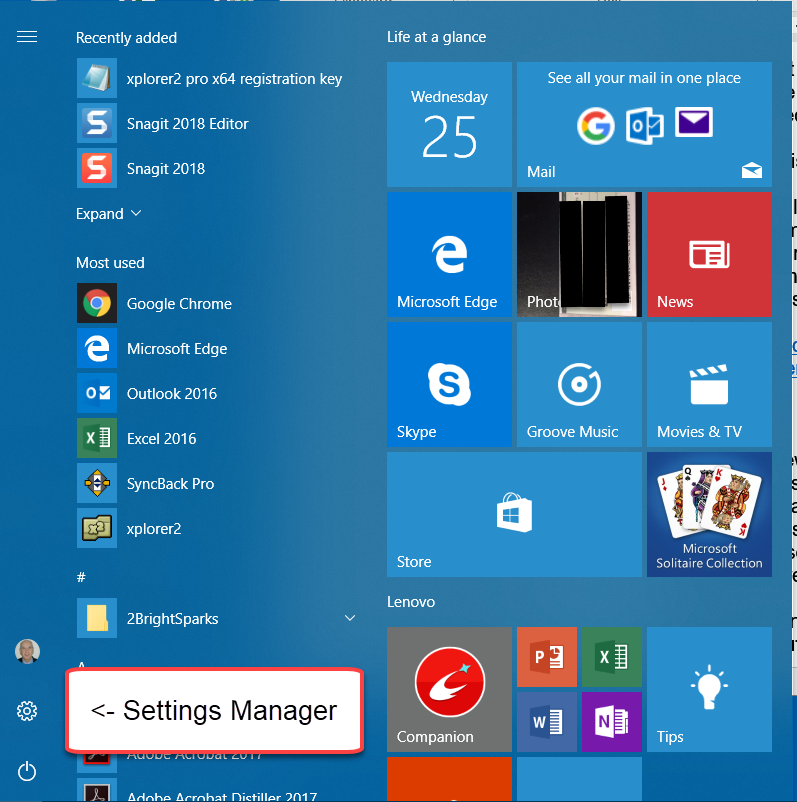 System, About
The "About" screen has new content and will confirm which version of Windows you are using. It gives information about your computer as well as information about Windows and Windows Defender (more about this later). As you can see below, I am using Windows 10 Pro Version 1709 Build 16299.19. It also tells us the details of the computer that is running Windows. If you have a computer manufactured by a mainline vendor, it has a link to the vendor's support site.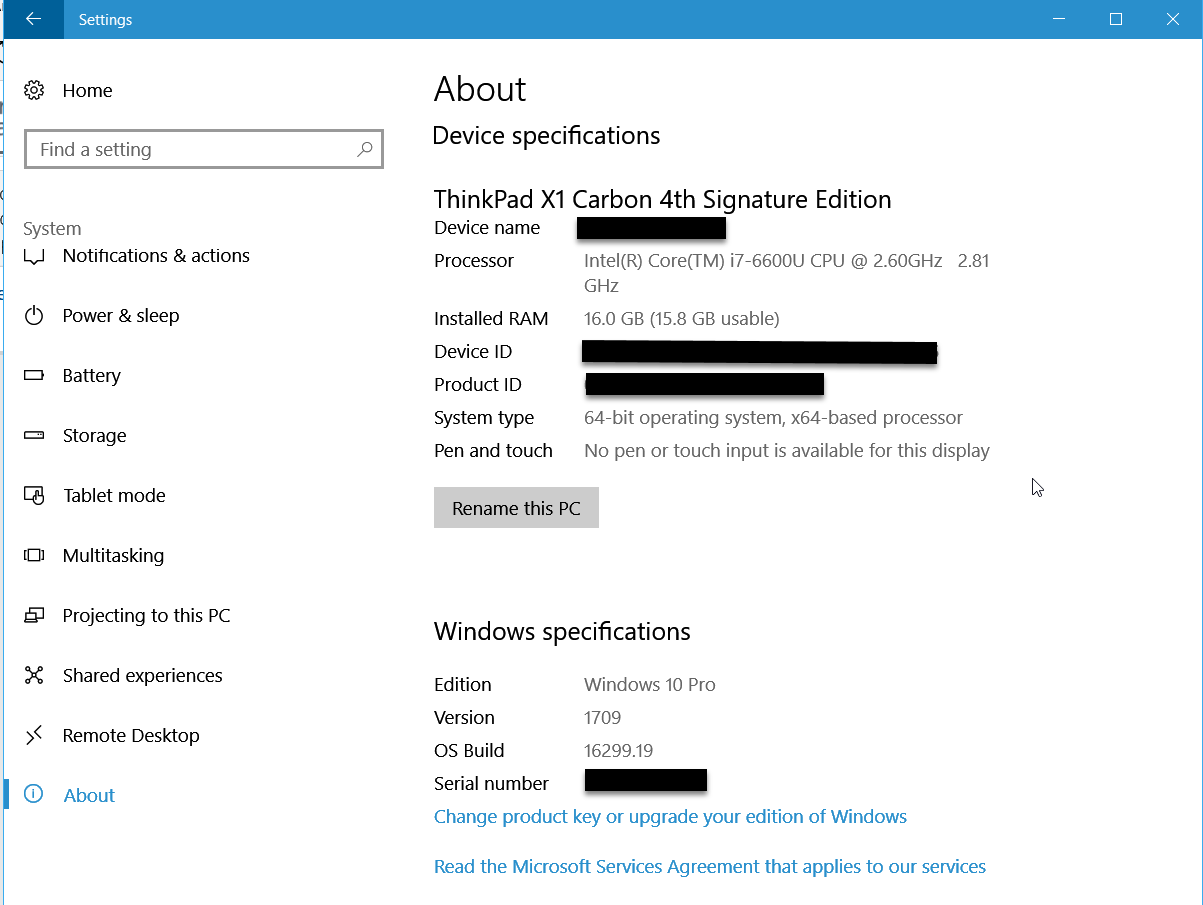 Display settings first appeared in the original Creator Version and have been maintained in Windows 10 2017 Fall Creator. I set my ThinkPad X1 with 1920 x 1080 native resolution to 125% increase in text, apps and other items. This is a good balance that allows me to work for long periods of time without strain.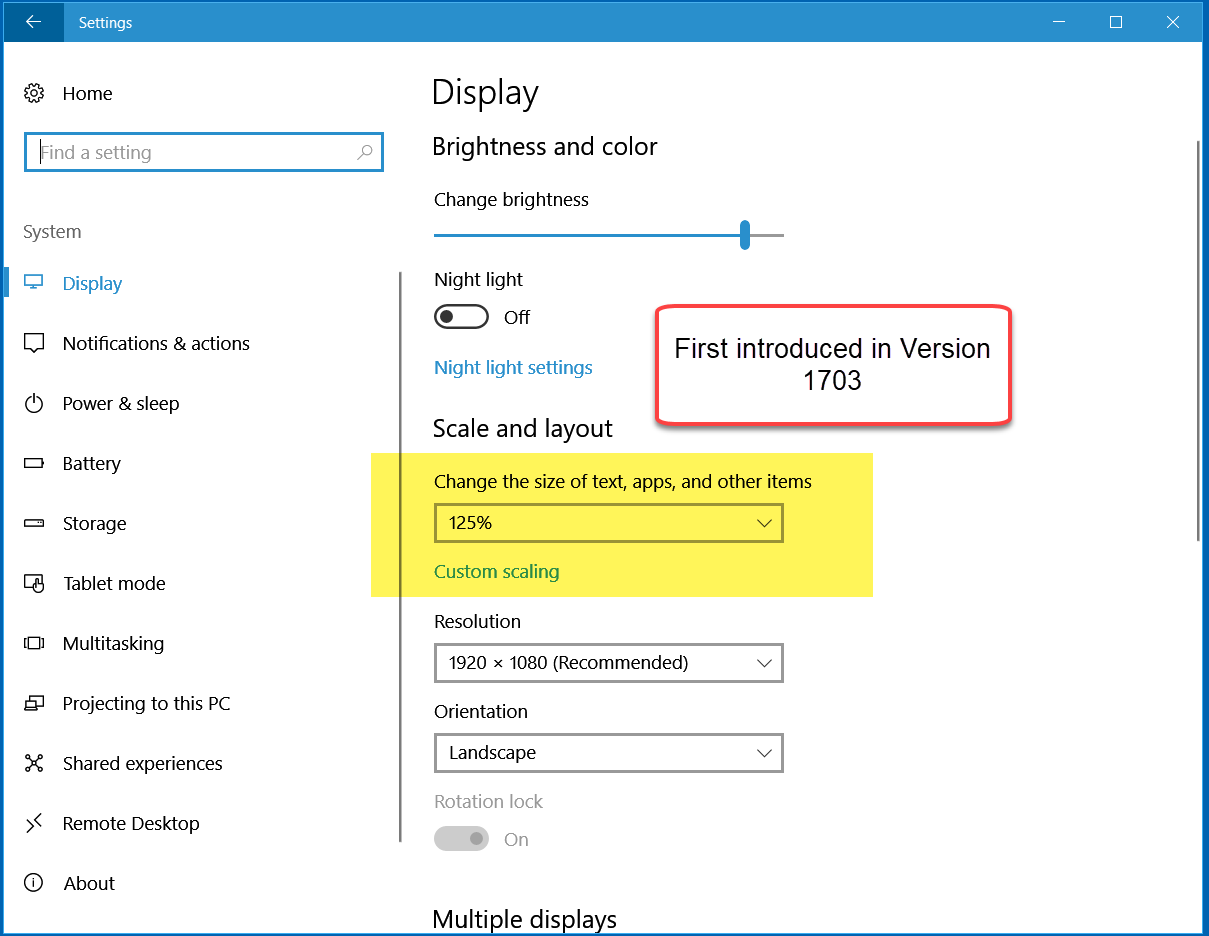 One setting I cannot readily find is Colour Calibration. On a Laptop Screen, it is important to get Gamma, Contrast, Brightness and Clear Type correct. In the main settings manager, there is a search bar. Enter "color calibration" or "calibrate display color".Never been here? Try it out because setting colour and clear type may make your display snappier and easier to use.
Cortana
Cortana has now been made part of Settings. You can set the Talk, Permissions, and Notifications right in this new app. These settings used to be part of the Cortana search icon and are now included in the overall Settings app. "More Details" here conveniently links to Privacy Options.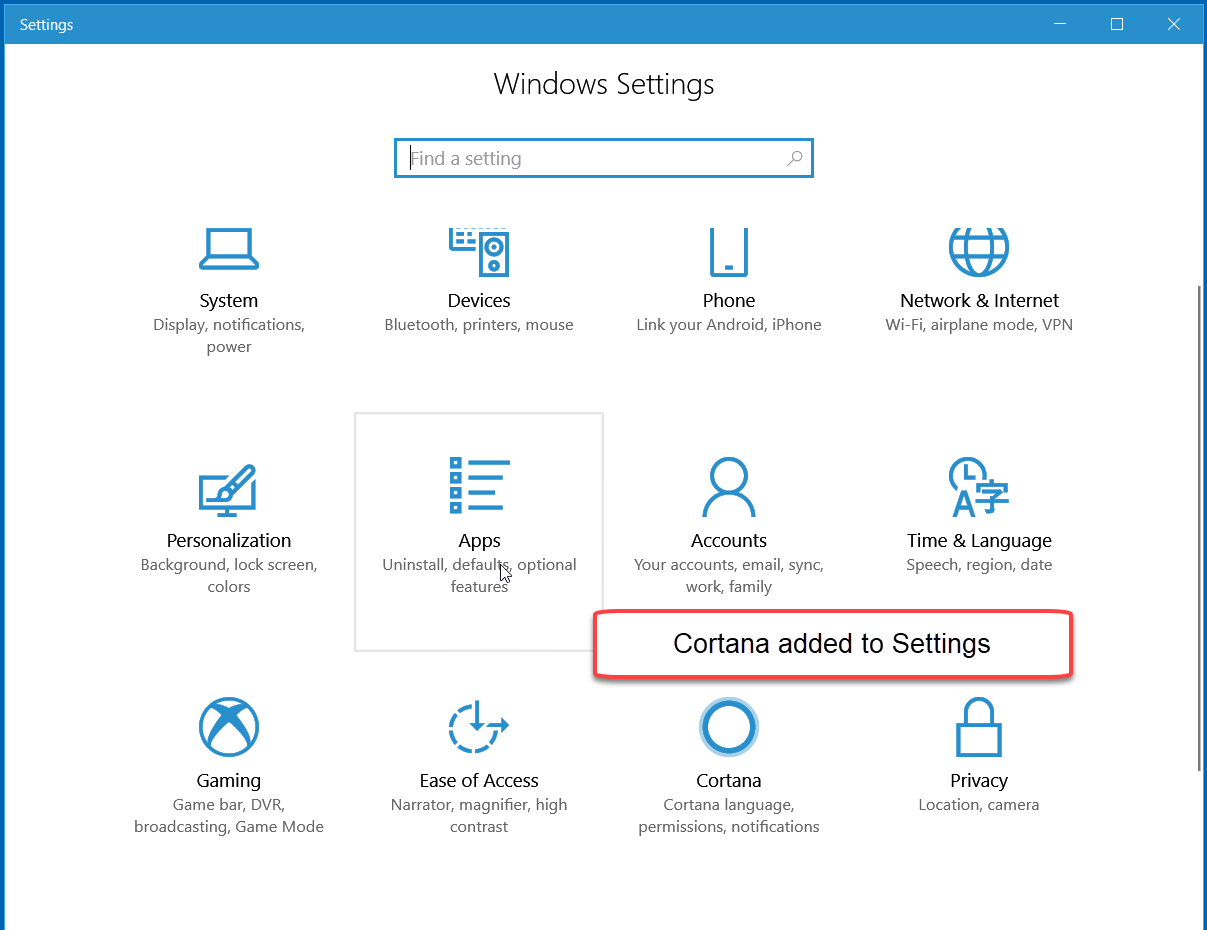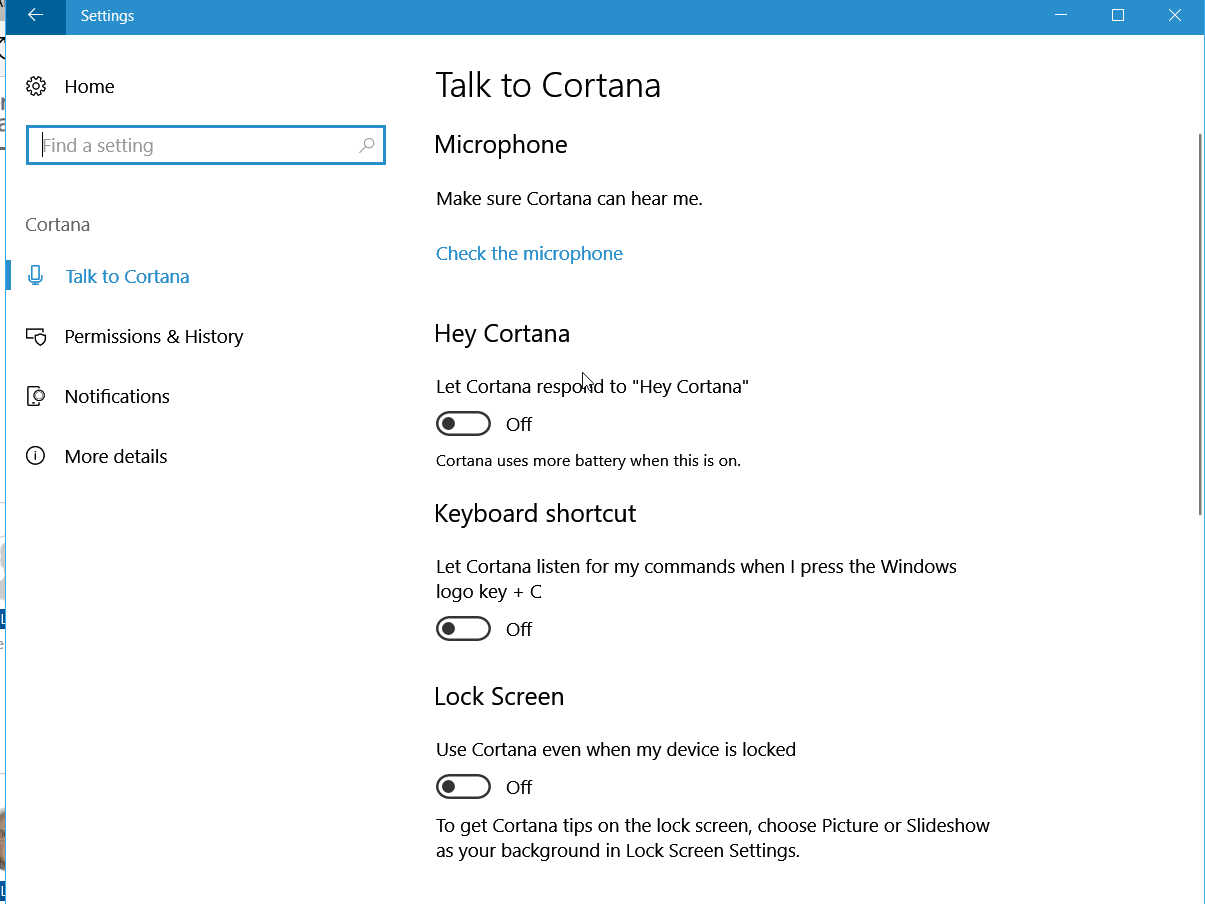 Update and Security
Update Active Hours allow more flexibility in this version, and you can set the Semi-Annual Channel to be targeted or not targeted. "Not targeted" causes major updates to wait longer (until widespread usage has occurred) before major updates try to install. You can pause updates from being installed for 35 days, even if downloaded. These changes have been gradual and have responded to legitimate concerns about updates. Overall there has been a distinct improvement since the first launch of Windows 10.
Now, I always keep my Windows System updated. For me, there are fewer issues (by a wide margin) keeping my system updated rather than by trying to turn updates off. Most of the benefit is in security and avoiding harmful attacks.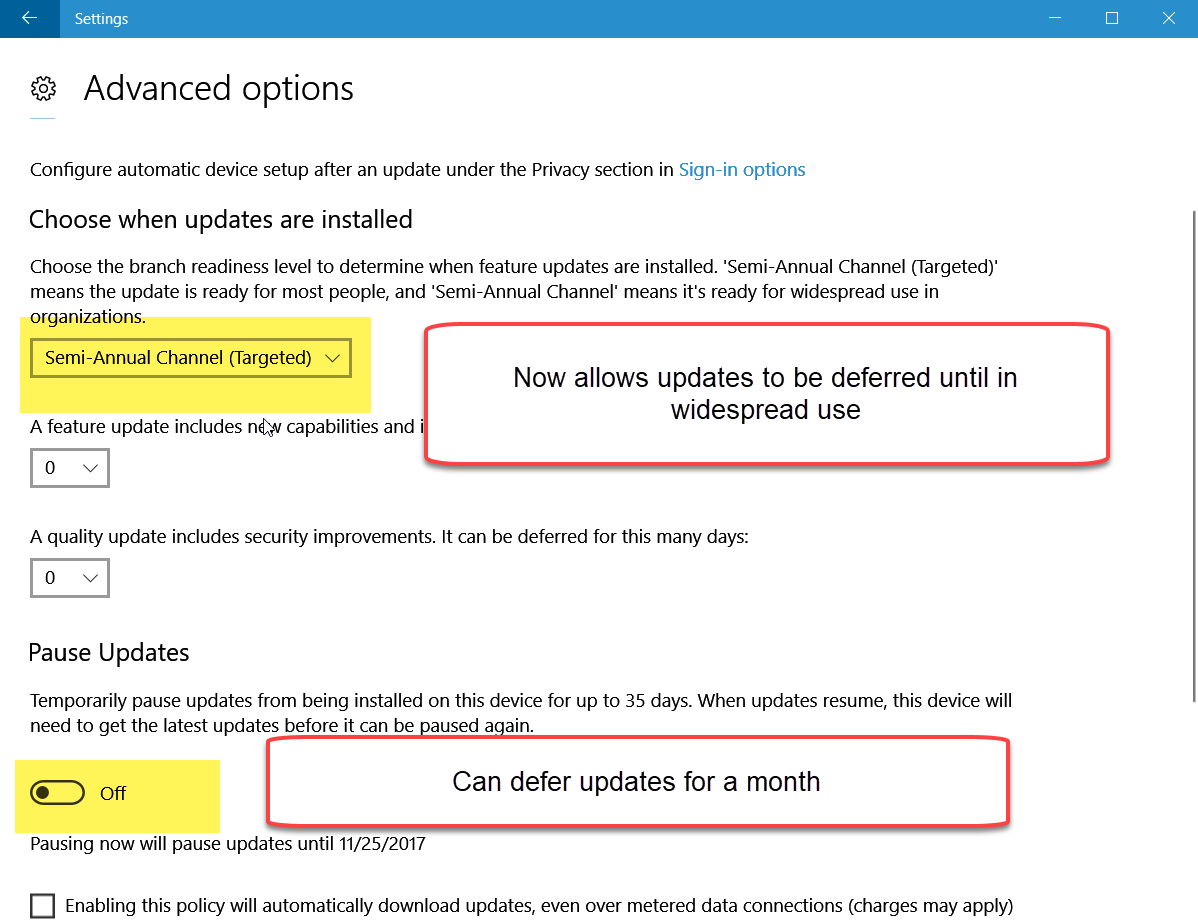 Update and Security, Windows Defender
I am a long-time user of Symantec Endpoint Protection and it has served me and my clients very well. We have never had a virus outbreak, and together with top notch spam control, no encryption malware either. We keep current Server backups (local and offsite) anyway in order to remain protected and prepared.
However, Symantec Endpoint Protection V14.0 MP1 and MP2 did not properly support Windows 10 Creator Update Version 1703. Windows 10 updates over the months following the introduction of Version 1703 have improved the situation, but I still saw "consent.exe has stopped working" errors. Symantec has agreed they have a problem and we should have a new MP3 or later version in the next month or so.
It is somewhat complicated because the issue is related to performance inside Windows 10. I was (pleasantly) surprised that Symantec Endpoint Protection works fine with Windows 10 Insider Build 1709 Version 17017. The only conclusion one can draw is that Microsoft should work more closely with Software Vendors that we use.
In the meantime, I have switched my own non-Domain machines to Windows Defender and I have learned that Windows Defender is a top-notch product. The newest version with Windows Version 1709 is very advanced and includes encryption malware control using Windows Defender Application Control. This does not protect against all encryption malware, but it is a step in the right direction that will likely be improved over time. Also, the elements of EMET (Microsoft Security Software for Windows 7 and 8) have now been included in Windows 10 V1709. EMET is no longer being supported or improved now that Windows 10 and Windows Defender include these functions. If you are hanging onto Windows 7, these features will never be retrofitted into Windows 7 leaving it as fundamentally less secure operating system than Windows 10.
https://blogs.technet.microsoft.com/mmpc/2017/10/23/introducing-windows-defender-application-control/
From a review of a Microsoft Article: "Windows security features have been rebranded as Windows Defender security features, including Windows Defender Device Guard, Windows Defender Credential Guard, and Windows Defender Firewall".This means further integration that is convenient for users.
https://docs.microsoft.com/en-us/windows/whats-new/whats-new-windows-10-version-1709
At this point, it now makes sense to move my "one-of" clients to Windows Defender and keep Corporate clients with Servers, Domain-connected workstations, and centralized control on Symantec Endpoint Protection. I am very happy with Windows Defender.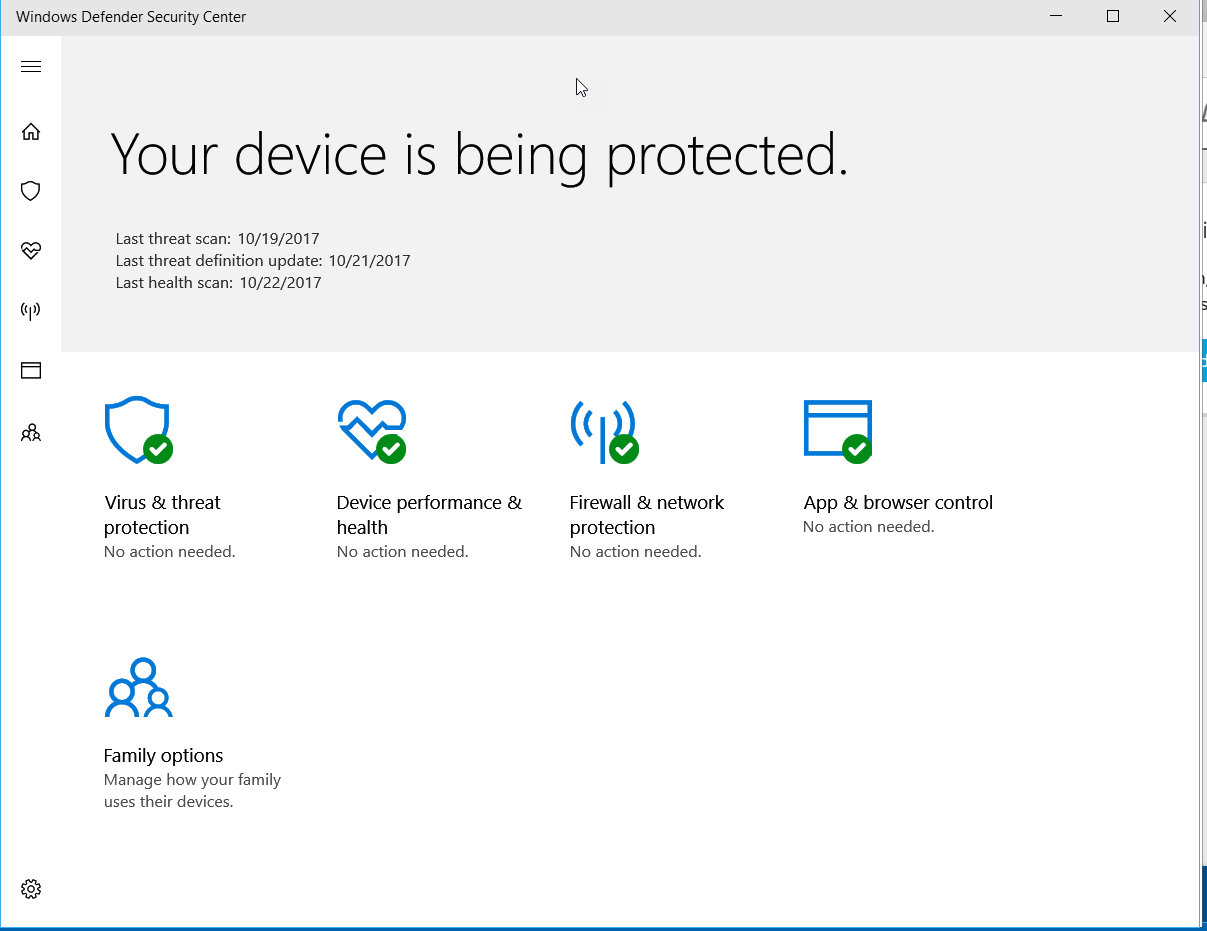 Network and Internet, Wireless
This section has been very much improved, and has integrated many wireless settings right into this Settings App. When you open the app page, you can see the status of your connection, get to your wireless settings and get to the Network and Sharing section of Control Panel right from this screen. This is much less confusing and much more convenient.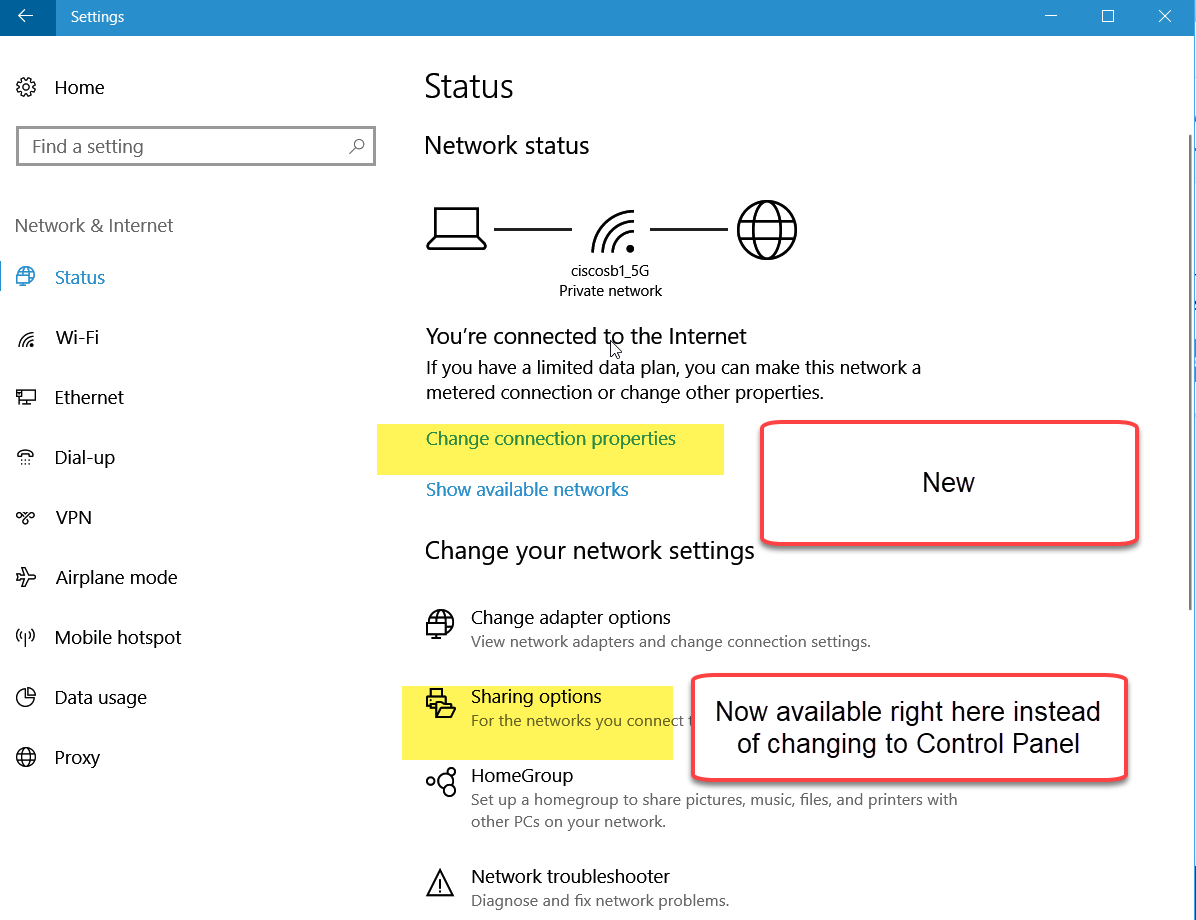 When you click on your internet connection, you can now readily change Public (no sharing allowed) to Private (sharing permitted). Changing Public to Private has always been confusing, often requiring that the connection profile be remade in order to change it. This is new functionality, very needed and very nice functionality.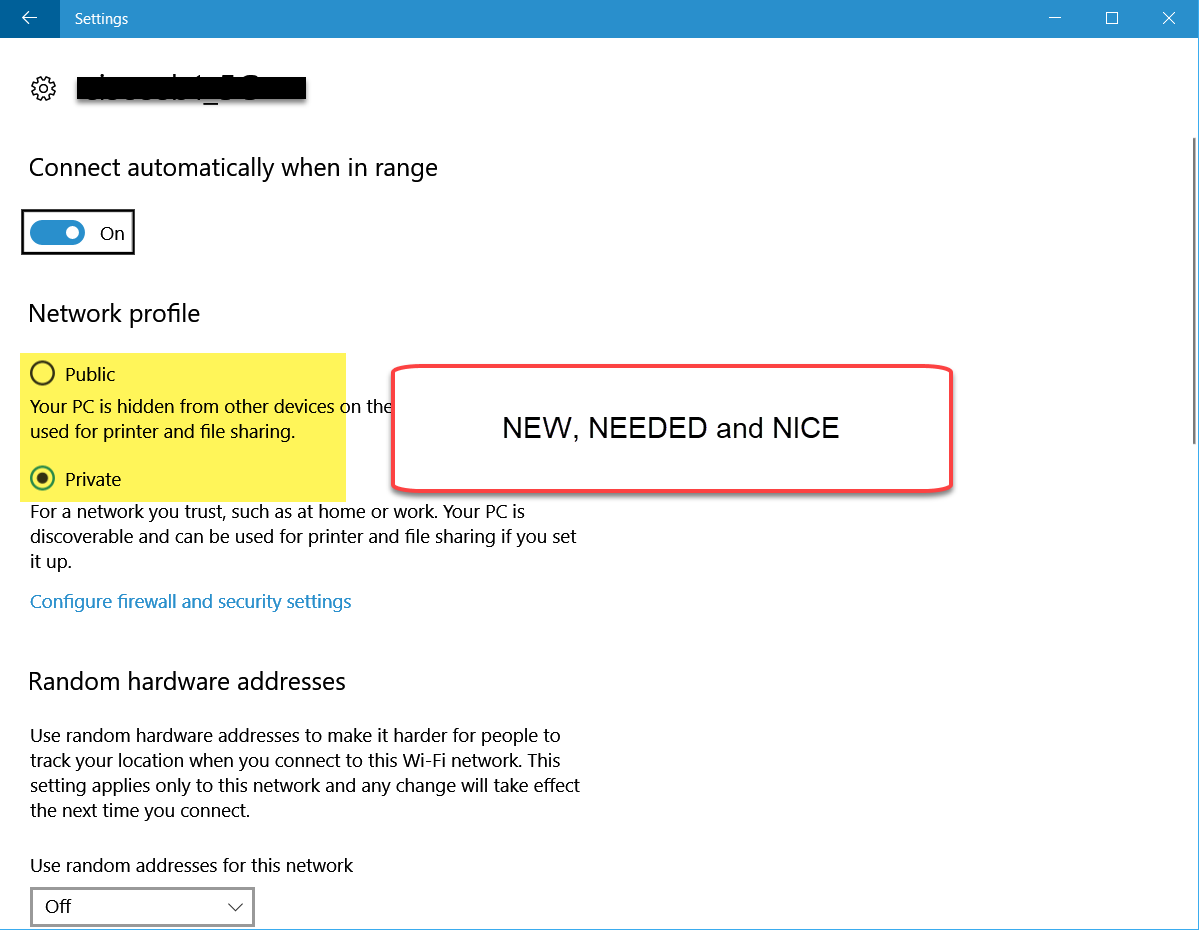 You can also see the detailed properties of your connection right here.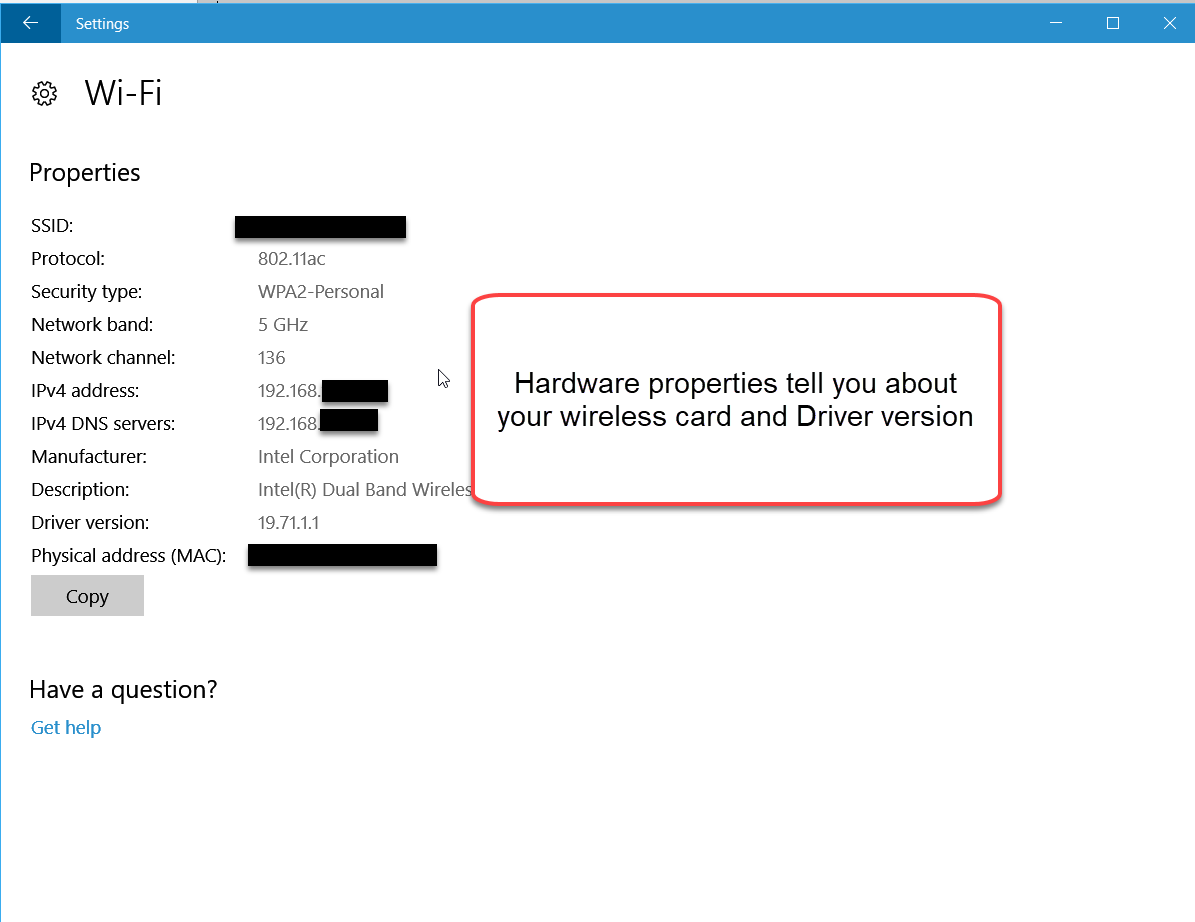 If you click on the Wireless Icon in your system tray, Properties takes you directly to the Settings section.
Like Display Settings in Version 1703, this is one of those key reasons to upgrade to Version 1709, especially if you use a lot of wireless (like I do).
Task Manager
As we leave Settings (where many of the new features were found), let us look at Task Manager. Task Manager has been around for years back to early servers and operating systems. It allows you to see what processes or applications are using CPU, Memory, Disk and Network resources. Reliability Monitor (Admin tools) is a close sister of Task Manager. I open Task Manager, set the options to Hide when Minimized and keep Task manager running at all times in the system tray. It is normally dark green which means that the system is operating normally with respect to CPU, Disk and Network. If it switches to bright green for more than a minute or so, I can open task manager and see what is going on.
After upgrade, I saw that Task Manager had been improved in Windows 10 V1709. A GPU (Graphics Processing Unit) percentage column has been added. People with discrete graphics (separate Video Chips) will now be able to see what processes or applications are using the GPU. I think this will be a very useful feature on systems with Discrete Graphics.
This is an early inclusion that Microsoft has said it will improve and flesh out over time to include more of the same information that (TechPowerUp's) GPU-Z provides. My own machines use Intel integrated graphics and do not benefit from this new function, but we will be using it at clients who have advanced discrete graphics on their computers.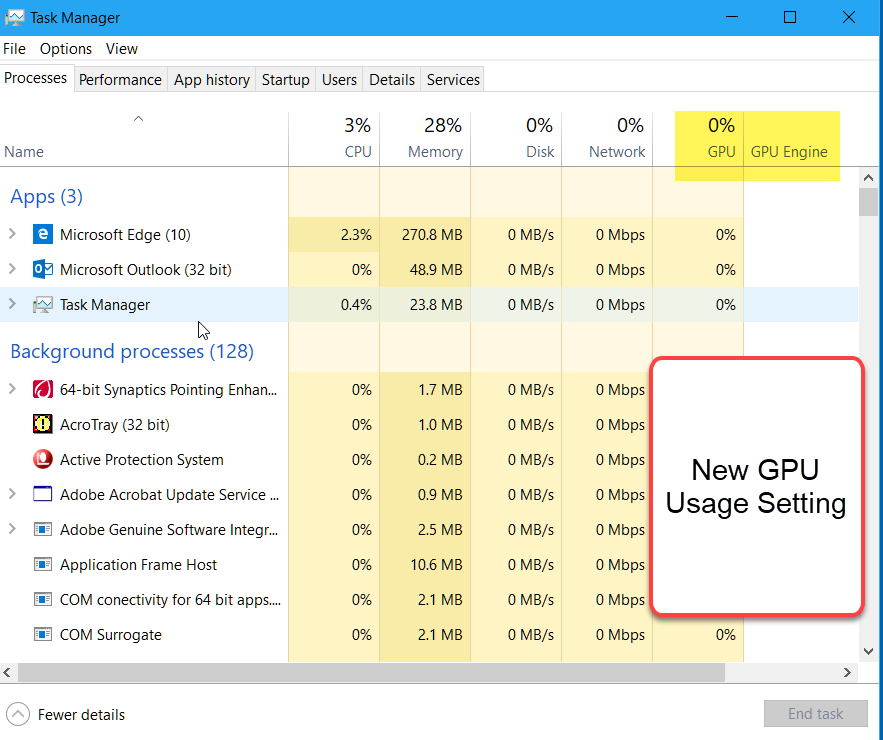 Pin Contacts to the new People button
You can enable the People Button (on by Default) by right clicking in the taskbar and adding the People Button. You can remove it the same way. Once enabled, you can add Contacts to this button, I do not find this as useful as some people do because I concentrate this kind of work in Outlook.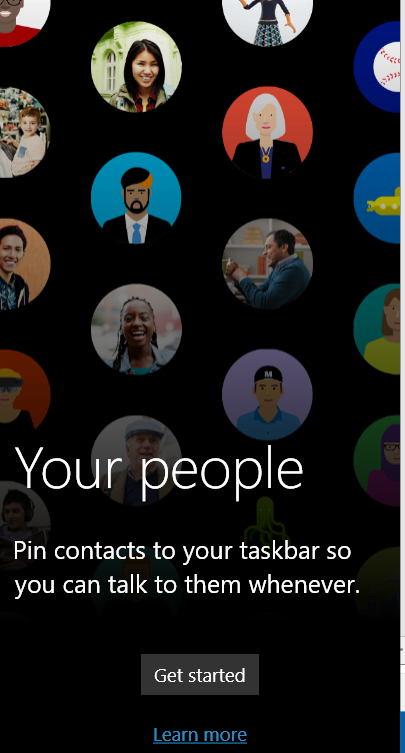 Did you know?Look at your task bar, far right side, and see a faint but bright vertical bar to the very right side of the taskbar. Click it and your desktop shows up. Click it again and your active apps show up.
I have covered a number of the new things (by no means all) that have shown up in Windows 10 V1709. Let me turn now to some reliability and other issues I have had over time. I have resolved such issues to make my Windows 10 machines work more smoothly.
Tracking errors and reliability problems
I started keeping a log in Windows 8 using One Note to record errors and fixes. Since it is a daily or weekly log, it is no big deal to keep it up, but it has a wealth of information in it. Generally, I found out three things from this log which remain true today:
Most errors are the fault of software, predominantly drivers but some software as well.
Microsoft Edge in Windows 10 has been prone to errors and websites have been slow to adapt. Happily, in Version 1709, Edge has proven to be reliable. Microsoft publicly said Edge quality would be improved in Version 1709, and so far as I can see it has been noticeably improved.
Less often, I have configured software incorrectly which caused errors. The log allows me to track the issues and make necessary fixes.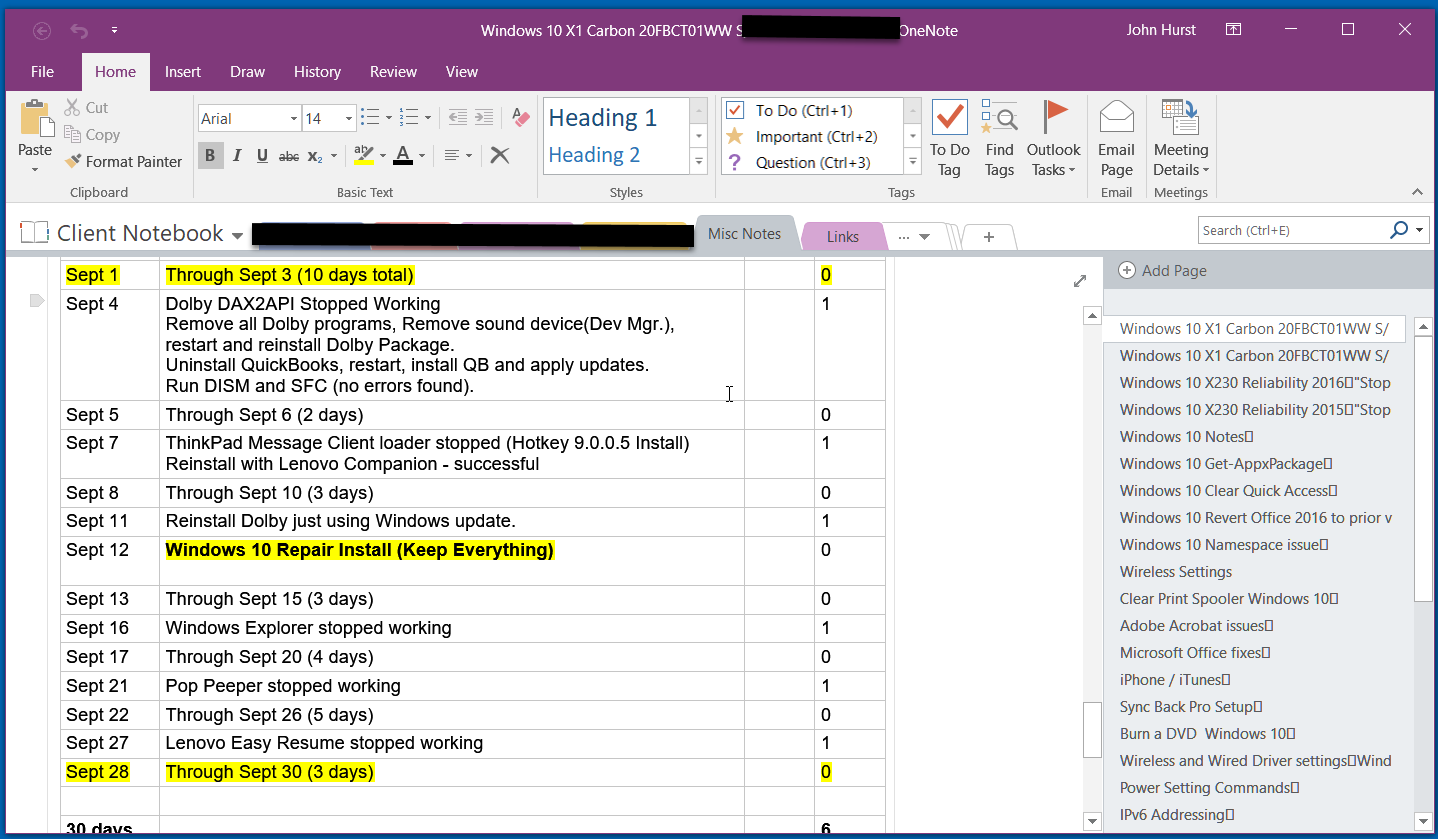 Once an error shows "Report Sent" there is no real need to retain it, so I clear out Reliability History every so often and start fresh.
You can find the Reset Reliability History batch file in a number of places. I use this site below and keep the batch file on my computer.
http://www.thewindowsclub.com/reset-reliability-monitor-windows
I have used Windows 10 Pro 64-bit for just over 2 years now, and in my view, the Fall 2017 Creator Update has been the most significant update to date because (a) it includes all the features of V1703 (the first Creator Update) and (b) reliability has been much improved. Version 1709 very much demands newer software and drivers. I keep BIOS, Chipset and all drivers updated and all software at the newest version.
I included the Reliability Monitor section above help you with tracking errors you might have and how you might resolve such errors.
A Fly in the ointment
I use Windows Remote Desktop Connection to access client Servers and client workstations, particularly my own client QuickBooks workstation so that I can use QuickBooks remotely.
RDC worked fine to access Servers, but promptly broke when I tried to connect to this workstation. I tried my other computer with the same result. It is a Microsoft bug because RDC on Windows 10 Insider Version 1709 Build 17017 works fine. A quick search on Google suggested Printer redirection was a fault in the current build so I unchecked the Printer and Clipboard settings and RDC connects to workstations just fine. I expect Microsoft will fix this over time.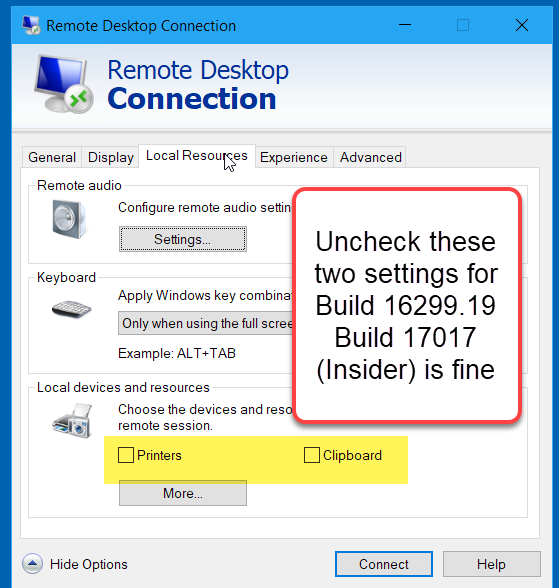 My shiny new Windows 10 machine has problems
It is inevitable that we all will have a problem with some piece of software at some time. Normally we can resolve the issue by uninstalling the software, restarting and reinstalling the software or an upgraded version.
If this does not work, there are some steps you can take.
Run DISM (Microsoft Windows Deployment Image Servicing and Management tool) and SFC (System File Checker)
For DISM, you can remove old system files no longer needed and restore good files to the current operating system.
Open cmd.exe with Run as Administrator. (Start, cmd.exe, right click and select Run as Administrator)
DISM.exe /Online /Cleanup-image /StartComponentCleanup (takes 15 – 20 minutes).
DISM.exe /Online /Cleanup-Image /Restorehealth (takes 15 - 20 minutes).
Restart the computer and test

System File Checker corrects any remaining errors.
Open cmd.exe with Run as Administrator and run SFC /SCANNOW.
Allow to complete, restart or, preferably, shut down the computer, then start up again.
Test to see if the problem has been corrected. If nothing further is wrong, SFC will end by telling you it has not found any integrity violations.
When I completed the Version 1709 upgrade on my Laptop, Windows Task Manager stopped working a couple of times. I ran the DISM and SFC steps above, shut down, started up and Task Manager has behaved properly ever since. Task Manager changed and there may have been old files that were in the way and conflicting.
Run Windows 10 Repair Install
A Windows Repair Install is a way to repair Windows, keep all your data, and keep all your applications intact. This is very different from a fresh install. I have seen people confuse the issue and suggest that a Repair Install is an invasive issue. For Windows 10, it is safe, convenient and not invasive. Setting up a Repair Install takes 5 or 10 minutes of applied time and an hour or so of watching paint dry. This will fix the majority of operating system errors and prevents hours of black-hole searching. It is a productive and effective way to fix a Windows 10 installation gone wrong. I have used it numerous times for myself and clients.
Here is a set of condensed instructions for running Windows 10 Repair Install:
Go to the Media Creation Link:
https://www.microsoft.com/en-us/software-download/windows10
Windows 10 is running, so click on the Download button (not Upgrade Button, select Open (Run) but NOT Save. Allow the program to run. Allow drivers to update. Then select Keep Everything.
If necessary to do a fresh install, you can also Keep Data, or Keep Nothing. Keep Nothing is very close to a clean install.
A note of caution, however. A Windows 10 Repair Install does not repair a damaged Windows User Profile. The only way to fix a bad profile is to back it up, delete it and create a new User Profile. This means setting everything up again. Sometimes it is just easier to do a fresh install keeping all your data and then installing the applications and setting them up again.
My system has old files on it after upgrade
Windows 10 upgrades are complete new operating systems that can be installed on a blank disk. As such, it is normal for Windows to create a windows.old folder that can be used to roll back to the prior system if necessary. This folder will go away after 30 days. If you are happy with the current version and wish to remove the files, run Disk Cleanup (Admin Tools) and select the option to clean up system files. Allow it to run and select all items for deletion. When you say OK, an alert will come up telling you that "removal of installation files prevents rollback".Say OK (yes) and allow the files to be deleted.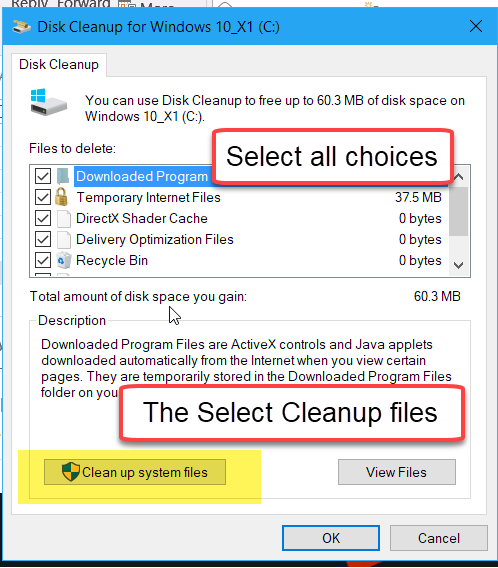 Is Windows 10 2017 Fall Creator Update a good product? Unequivocally Yes.
Very simply, Microsoft has produced a good product here and (given I had done software and driver updates immediately prior), Version 1709 has been trouble-free from the beginning.
I have several articles on Windows 10. Here are two that are relevant to the discussions above.
https://www.experts-exchange.com/articles/29614/Potpourri-An-eclectic-colllection-of-short-stiores-about-Windows-and-Network-issues-and-solutions.html
and
https://www.experts-exchange.com/articles/29523/Windows-10-Two-Years-of-Use.html
I hope you have enjoyed reading this article and that is helps you make your own computer more reliable.