Lost Word File? Eagerly, need it back? Read ahead; this File Recovery guide is for you.
Nothing is worse than losing the Word File on which you have been working for hours.Adding more, it becomes a real panic task when it happens all of sudden without any intimation. This only gives a feel that file is gone forever.
Fortunately, when you end up deleting a file, it is the link to the file that disappears not the actual data. You have the possibility to retrieve the data provided you have not overwritten.
Thus, if you act quickly, you can recover that file. The first port of call to recover deleted or lost word files is to Restore from Recycle Bin; when this option fails, don't lose hope. You can still recover it using manual approaches to software recovery program. Follow this comprehensive guide for Word File Recovery.
Get Started
Method 1: Word Backup File
One of the simplest approach to regain lost or deleted Word File. You only need to ensure that Word backup on your system is Turned On.
Steps:
Go to Microsoft Word
Open and click on File
Select Delete Word File Recovery option
Revisit the File tab and select Open
Choose Lost Word File and How to Recover option
Select the location of lost File
Click Backup followed by Open
Method 2: Word's Auto Recover Tool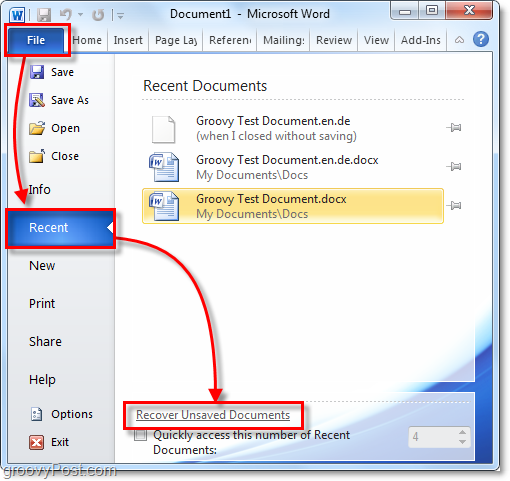 Quite efficient and simple, this method is Word's inbuilt recovery approach. When you open Word Document, you can easily find all the Recoverable Files on the left side. You just have to Choose the desired file and Restore. However, if it does not generates automatically, then look for AutoRecover files manually.
Steps:
Open Microsoft Word
Select Files tab followed by Open and Recent option
From this list, select Recover Unsaved Documents
Now, Browse the desired file, Select it and Restore
Method 3: Temporary Files

Typically, in the system's temporary files folder, temporary files are created for all the files. You just have to enable the option to see Hidden Files and Folders.
Steps:
Open Windows Search
Search *.tmp files or check C: Documents and Settings*USERNAME*Local SettingsTemp
Method 4: Use File Recovery Program
If the afore-stated manual approaches fail to recover the inaccessible Word File, you can still recover it using file recovery software such as Stellar Phoenix Windows Data Recovery-Professional. However, if in case, the reason for loss or deletion is Physical, the software also won't work.
Make sure to use a trusted and secure software to regain your lost or deleted files. Don't just select the one with a hefty price tag. Explore its features and other aspects before downloading. Also, always count on Official site to download. Lastly, install it on the other disk instead of the same to avoid overwriting.
Final Thoughts
These four methods are the sure-shot solution to recover lost or deleted Word File. Depending on your situation, choose the right approach to regain the data back effortlessly.Stay tuned for more simple hacks!