Web hosting control panels were first developed to make it faster and easier for most users to set up and operate websites. The graphical user interface (GUI) allows users to perform tasks by pointing and clicking rather than typing highly specific instructions into the command line. Control panels are therefore generally easy to use, by their nature and by design.
Ease of use is a principle reason Plesk is one of the world's leading control panels. Its interface is clean and intuitive, particularly for users with WordPress experience, to whom the left-side main menu and function windows look immediately familiar. Plesk divides functions into category pages, accessed by clicking on items in the main menu.
Customizable
Part of what makes Plesk so clean and simple is its approach, providing those tools which are necessary to get started, and those which all administrators need during the lifecycle of a website. In the latest release of Plesk, Onyx, the category pages make it easy to find the action you are looking for. Features that previously required the use of the command line, like system and panel updates, are applied from within Onyx.
Beyond those essential basics found in all Onyx installations, users customize Plesk with extensions which have their own category in the main menu. Once the user has clicked on "Extensions," the most popular extensions are available on the main page, and others are found by selecting a specific category from the drop-down menu or the scroll-down list.
Popular extensions like Symantec SSL, Plesk Premium Email, powered by Koalab, and Plesk Multi Server can be added to your Plesk Onyx account with three clicks. Users not needing them do not have to pay for them, or navigate around them, keeping the interface clean and the category pages limited to functions that are useful to the administrator using it.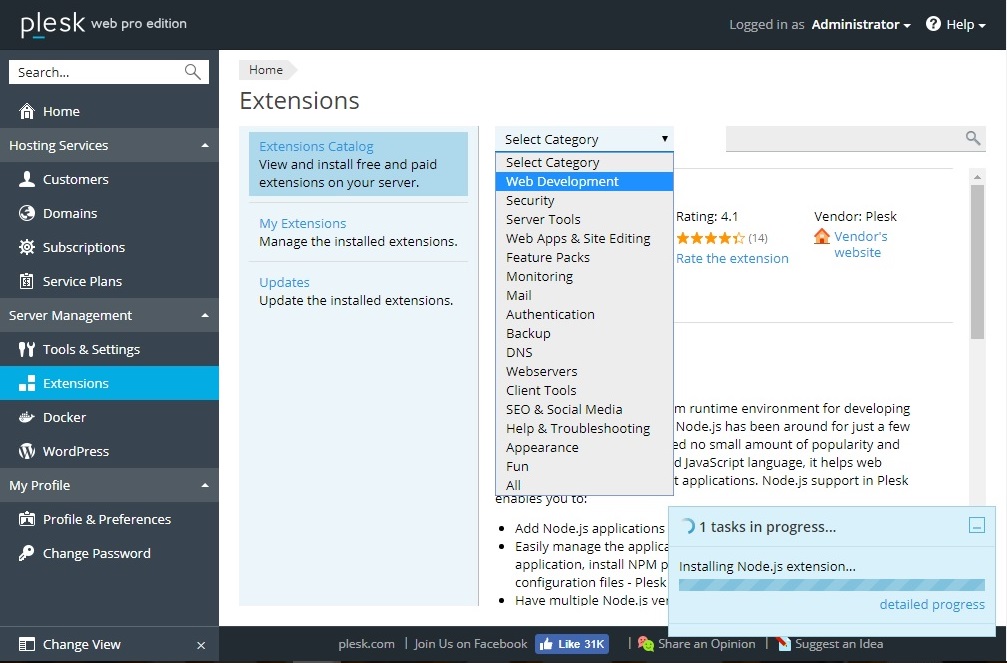 Recent Plesk releases, and particularly Onyx, have also increased its support for developers, with extensions including Git, Docker, Ruby, and Node.js.
The specific number of extensions available to the user depends on different factors, but there are over a dozen categories of extensions, in addition to "Feature Packs" which each include several extensions.
Compatible
Support for a wide range of operating systems, tools and platforms is one of the strengths of Plesk. This is the main reason Plesk is the control panel used with the vast majority of Windows Server installations – because cPanel, the other leading control panel, does not support Windows. Plesk is not restricted to Windows Server, however, but is practically OS-agnostic, supporting all of the leading Linux distributions.
Another strength of Plesk is the ability to work with other platforms and tools, either with out-of-the-box integrations, as with the WordPress extension, which is included with each edition of Onyx, or through extensions.
The developer extensions mentioned above make it easy to build web apps, deploy containers, and publish content using these tools, rather than compromise or devise complex work-arounds.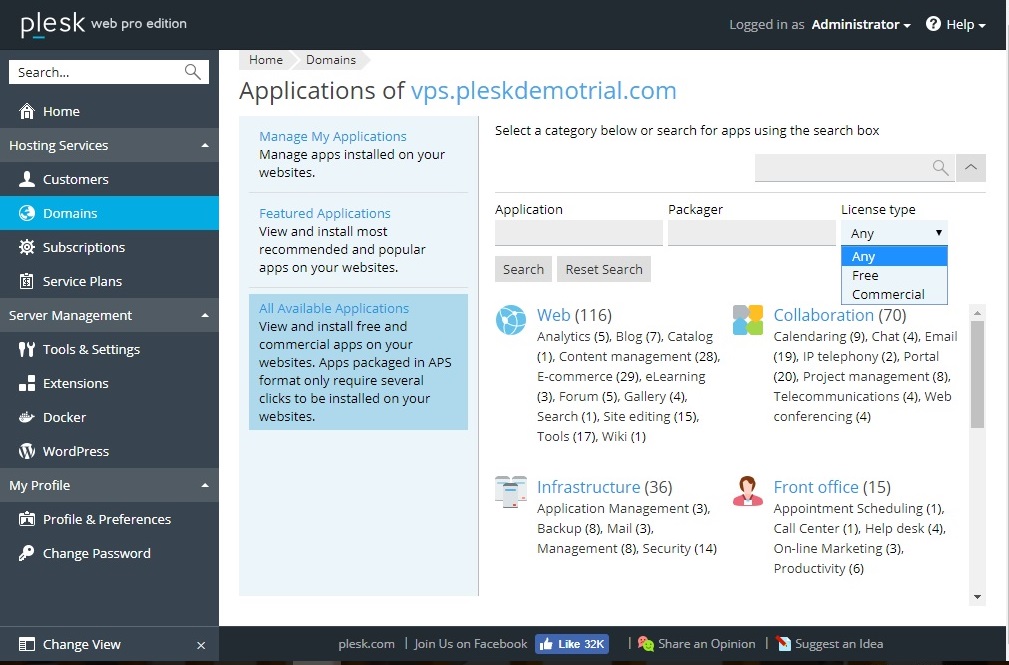 Other popular administrator tools with Plesk extensions available include ecommerce platform Magento, free SSL certificates from Let's Encrypt, CloudFlare CDN, and CMS patch manager Patchman.
Plesk's compatibility with all leading operating systems, web apps, platforms and tools enables websites to be built and run the way the administrator thinks is best, rather than forcing them to choose between limited options. Allowing users to build capabilities they need into their control panel also keeps Plesk uncluttered, so it continues to be clean and easy to use even when all necessary extensions are added, because they are not competing for space with numerous unused features.
1-Click and Automated Management Tasks
Easy installation and automation are another major strength of Plesk Onyx, significantly reducing the amount of time and effort necessary for website administrators to perform upgrades and common day-to-day tasks.
Plesk itself is easily installed to Windows with an installer GUI, or to Linux with default configuration by running a single command, although for most Lunarpages customers this step is already done. Setting up a website with Onyx is performed from the "Domains" page by clicking on your domain and then choosing from the "Install WordPress," "Install Apps," or selecting "Files" or "Databases" to create a custom website. When using a CMS like WordPress, Joomla, or Drupal, it is possible to have a website built, secured, and launched just minutes later, by pointing and clicking to add features and content, without any coding. Many extensions, including Let's Encrypt, can be added with one-click installation.
Server tasks can be automated by selecting "Scheduled Tasks" under "Tools & Resources" on the "Tools & Settings" page. From there, users can schedule a command or PHP script to run, or a URL to fetch. Tasks can also be scheduled for each domain from that domain's main page.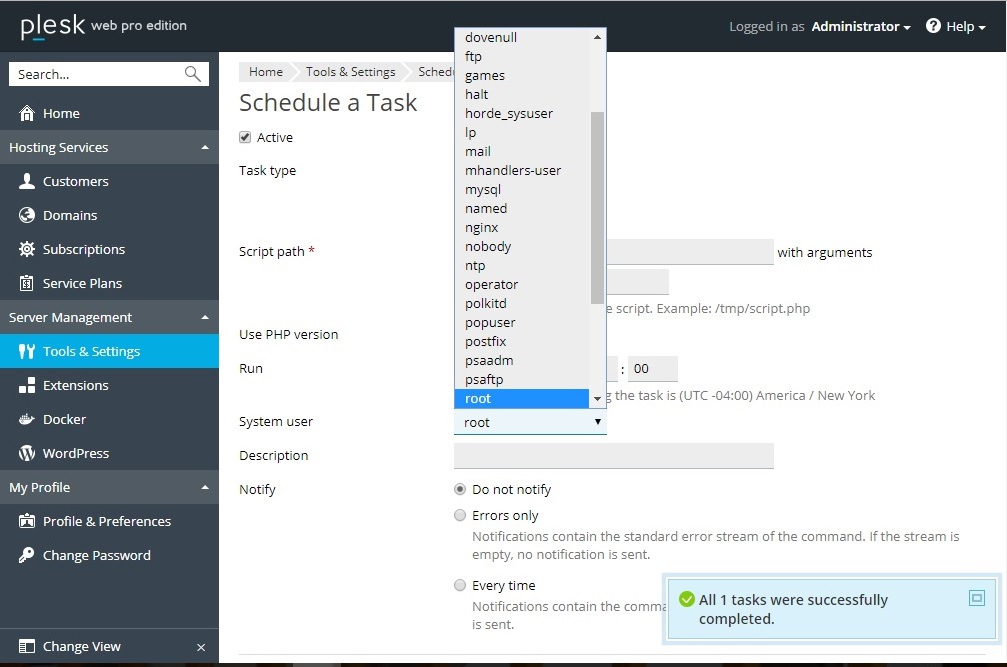 Beyond the automations available with Onyx out-of-the-box, extensions like "Perfect Dashboard" enable even more. Perfect Dashboard includes 1-click CMS updating for all websites on the account, automated backup integrity verification, and a "Genuine Test Engine" which checks whether layout changes cause display errors or break social and SEO tags.
Plesk is designed for ease of use by administrators of all experience levels, with its clean graphical interface, basics-plus-extensions structure, and wide compatibility. The Onyx release applies this approach to cover even more capabilities, like multiserver, and tools, like Docker. While some administrators prefer to use the command line, and some grow attached to control panels they have always used, those looking for a full-feature control panel that makes their job easy should consider Plesk Onyx.