The first step to building an amazing About page is to figure out what you want the page to say about your company. You then must grab the attention of the reader, boast a bit, tell a story and let others brag about you. With a little bit of thought, you can create an About page that will draw site
Thanks to the Internet, today's consumers are quite savvy. They look at far more than just price or even the quality of your products, though those factors are important as well. Today's shoppers want to know about the purpose of your company and whether or not you have a compelling story. One place you can share this information easily is on an "About Us" page.
However, if all you did to set up your About page was to slap up a short mission statement and call it a day, you'll want to read these six things you should definitely include if you want to grab the attention of site visitors. It isn't always easy to summarize everything that describes your company into a single page. It's important to focus on the most vital parts if you want to really grab your audience's attention.
1. Describe Your Journey
As blogging expert Neil Patel points out, a good About page shares the journey of the company, from where it started to where it is today. It might include an overview of your company and what you do, give background details on employees and may add marketing information such as customer testimonials — more on that later.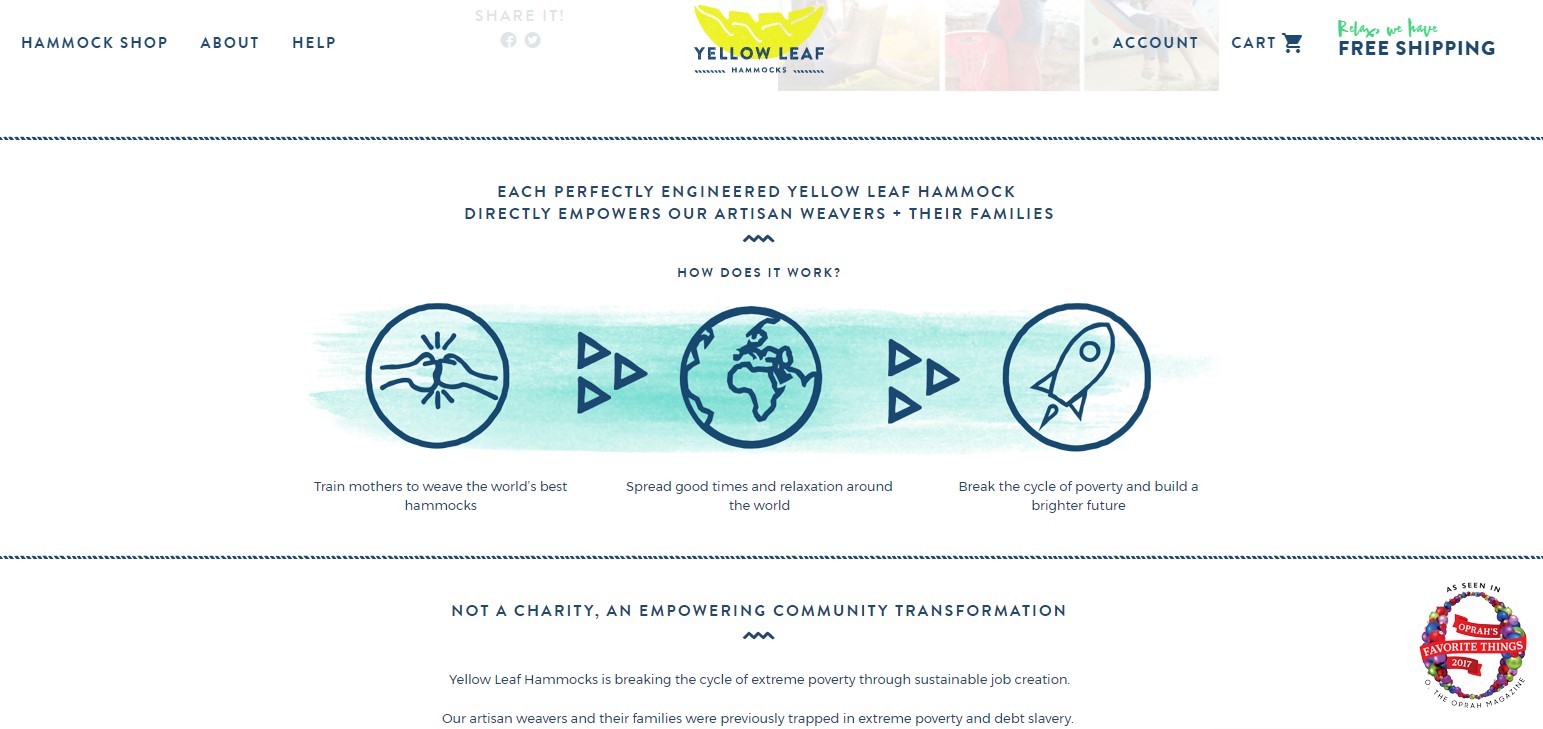 Yellow Leaf Hammocks' About page does a good job of telling a clear, compelling story. This website spotlights the weavers who make these hammocks and how the work is helping them break the cycle of poverty. This type of storytelling pulls readers into the content and engages them right from the start.
2. Share Your Most Impressive Facts
Your About page is your chance to show potential leads just what your company has to offer. Here's where it's OK to toot your own horn a bit. Share those awards you've received, the innovative new invention only your company has and how fast you've grown your company. Don't be afraid to brag about your accomplishments.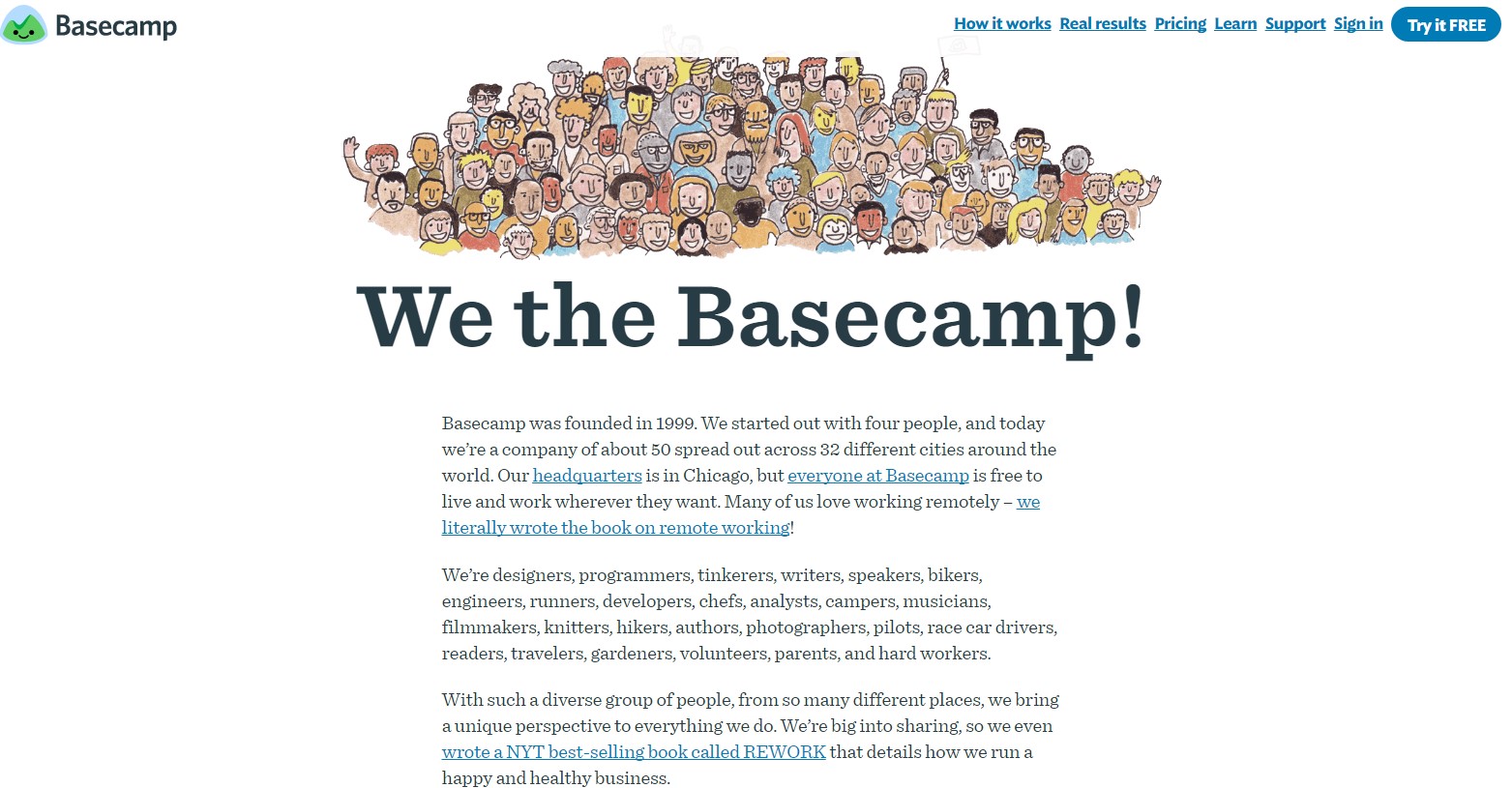 A good example of an About page featuring some impressive facts is Basecamp, which shares impressive statistics with site visitors. For example, they say their company has grown from four people to 50, and they rightfully brag that their employees are free to work anywhere they'd like, because they are experts at remote work.
3. Testimonials
One of the strongest arguments you'll ever make for people to do business with you is a simple testimonial from someone else. In fact, customer testimonials are so effective that they have a rating of 89 percent success out of all types of content marketing. You can boast about how great you are all day long, but far more effective is allowing someone else to put the weight of their words behind you instead.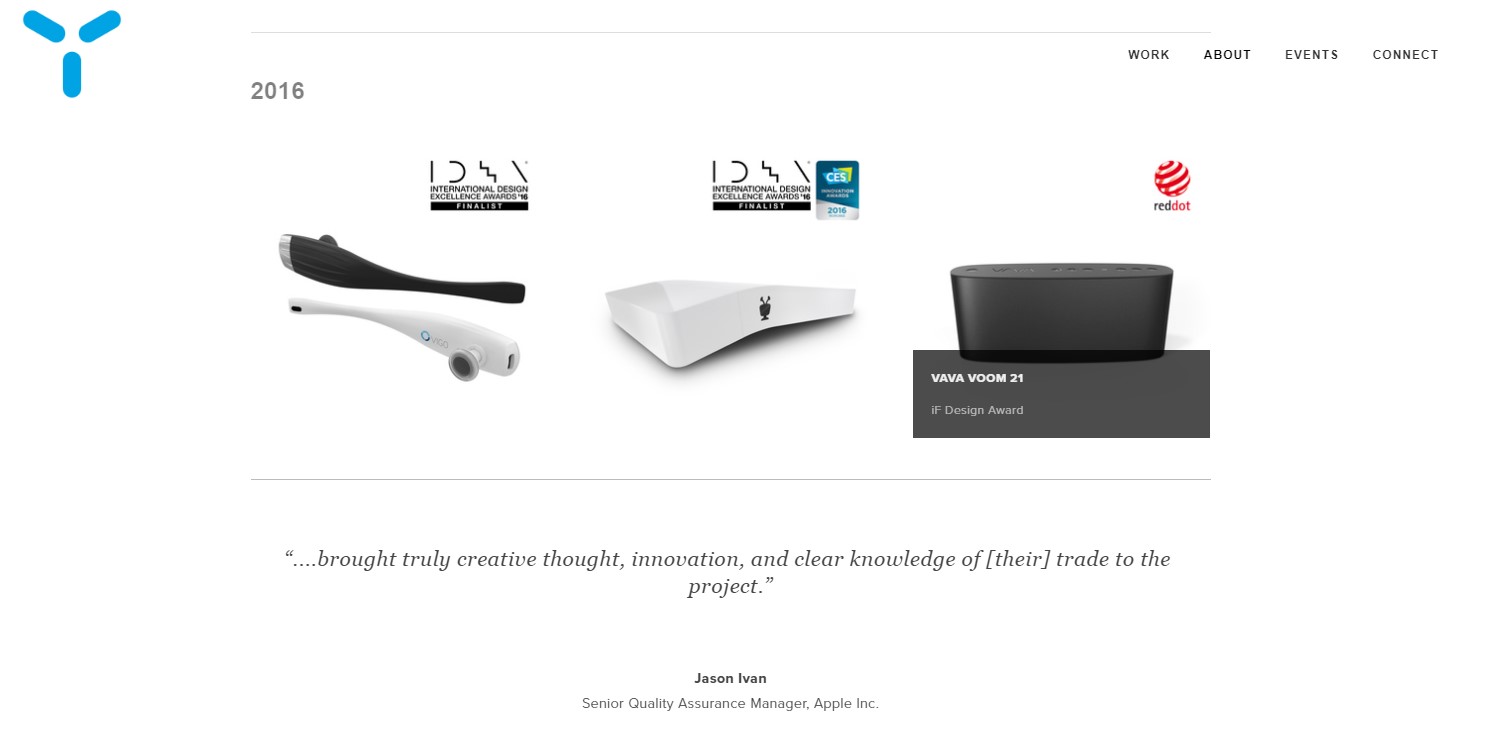 For an excellent example of how to include testimonials on your About page, check out YStudios' page, where they list both awards they've won for design and specific words offering them praise for their designs. This About page is powerful, because it shows real people who have already done business with them throwing their approval behind their work.
4. Your Company Name
Have you ever visited an About page with a ton of info about how great a company is, but you can't find the names of any employees who work there, no matter how hard you try? Site visitors have a tendency to grow suspicious of a page that doesn't offer this information. They may wonder if the company is embarrassed about their subpar work and don't want to put anyone's names out there.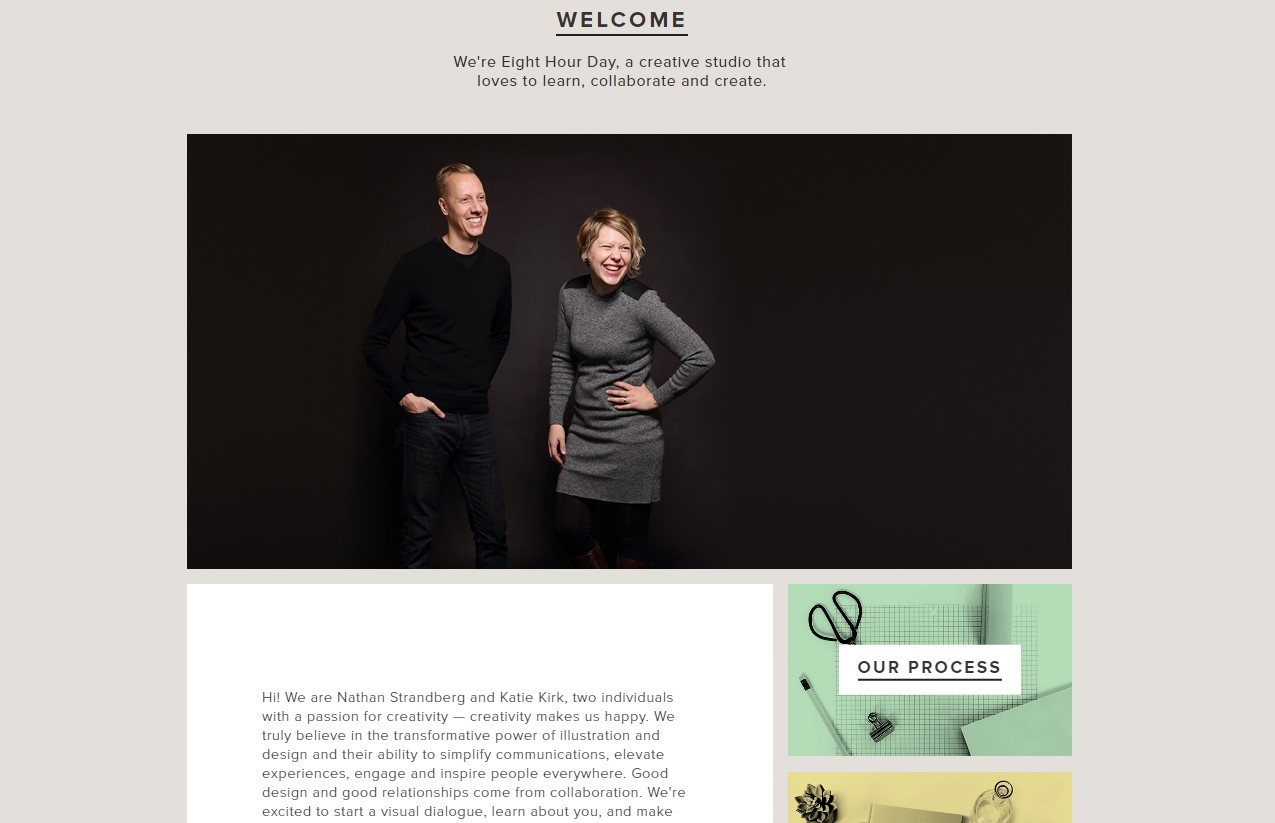 One page that does the whole name thing really well is Eight Hour Day, where they offer photos and the names of the actual humans behind the company. Adding specific information about those who run the company can lend a level of trust and credibility to the website.
5. The Text Is Snooze-Worthy
Remember, you're supposed to tell a story on your About page. Do you enjoy reading boring stories? No one else does, either. It is important to make your About page as entertaining as possible. Your company may be more formal than casual, which means your page would be a bit more serious. However, it should still grab — and keep —readers' interest by telling a story.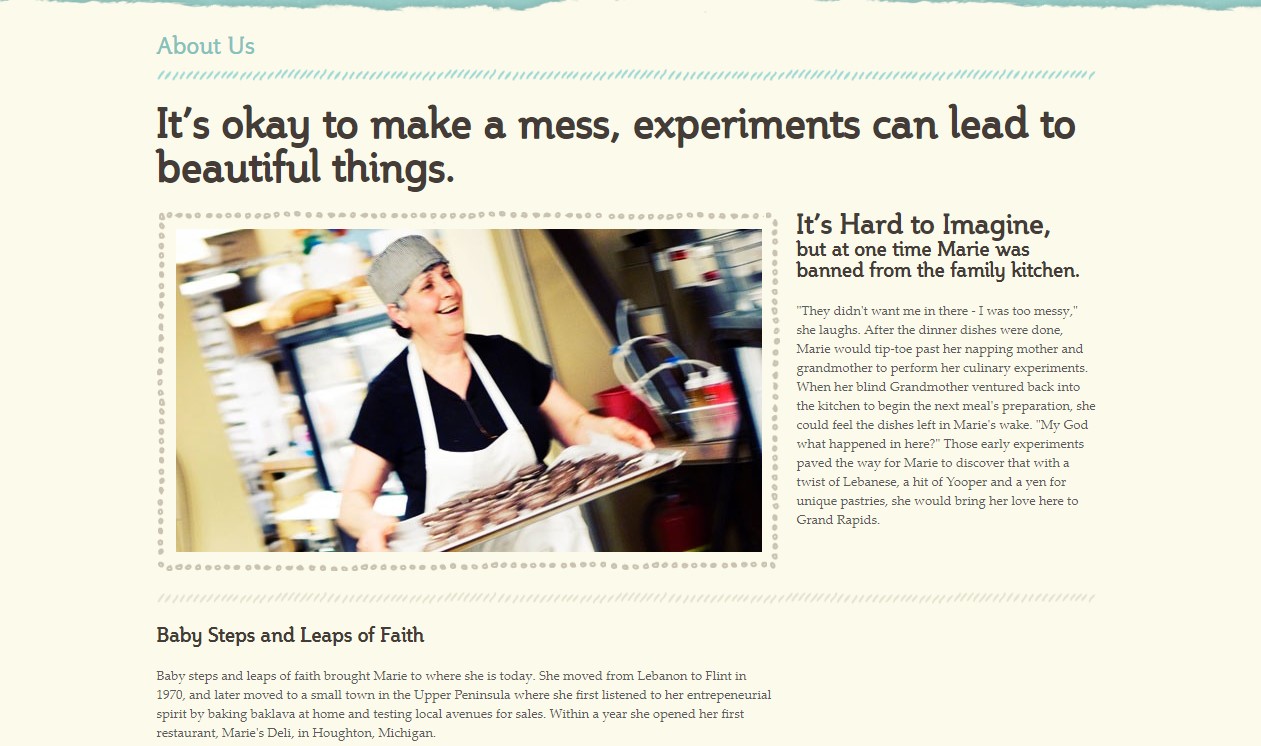 One site that offers an excellent example of how to keep things interesting is Marie Catrib's. The About page tells the story of the founder and how she was once banned from the kitchen. Wondering how someone who was forbidden from going into the kitchen could go on to start a restaurant pulls the reader right in, and we're off on an interesting journey about this eatery and how the brand was born.
6. Include Contact Info
Amazingly enough, many About pages don't include information on how to get in touch with anyone. Either contact details are on a separate page, or not there at all. It's pretty difficult to build credibility when customers can't even contact you. That's why it's so vital to include some contact info either prominently placed on the page, or have a noticeable link or call-to-action button that takes readers to the contact page. That way, if your About page has done its job, site visitors who want to take the next step can easily get in touch with you.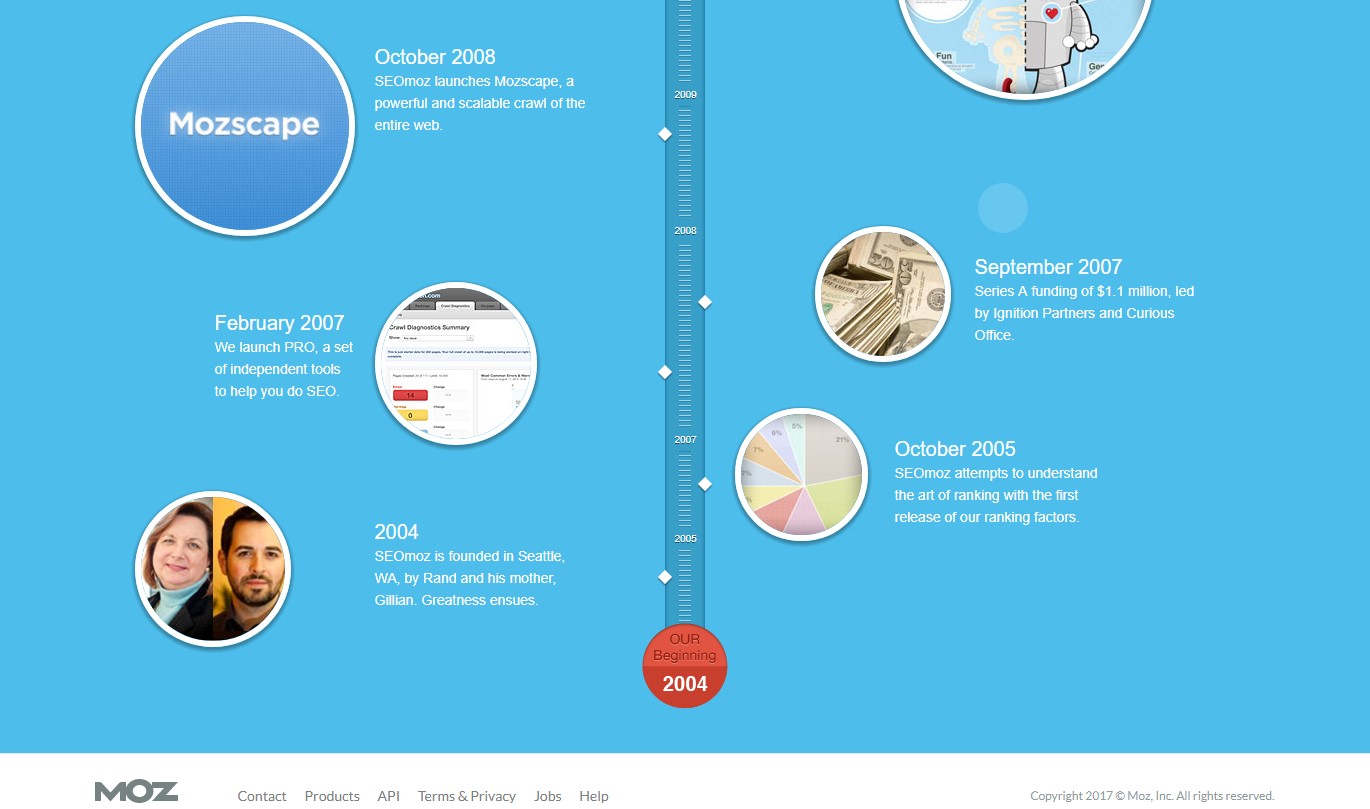 One example of a site with solid contact info is Moz. They don't put the contact info on the About page, but they place a clear link at the bottom of the About page text. This placement allows the reader to quickly find the link to contact someone and get in touch quickly.
The first step to building an amazing About page is to figure out what you want the page to say about your company. You then must grab the attention of the reader, boast a bit, tell a story and let others brag about you. With a little bit of thought, you can create an About page that will draw site visitors to consider doing business with you.