Take a look at these 6 Outlook Email management tools which can augment the working and performance of Microsoft Outlook to give you a more rewarding emailing experience.
Microsoft Outlook has gained almost cult status among user friendly emailing tools, thanks to its easy to understand user interface, contact management, calendaring, and notes features. The application has a number of inbuilt capabilities that enable users to carry out a host of operations, however, most users and organizations using Outlook enhance its functionality with the use of third-party applications. The purpose of using such applications is to get the best performance and outcome from Outlook while making sure it keeps running smoothly and without errors.
We've compiled a list of the top 6 utilities that are used by most Outlook users worldwide to better organize Outlook mailboxes and manage the application hassle-freely.
Need for Outlook Email Management Tools
Before we go to the list, here's a brief glance at the reasons that prompt the need for These Outlook enhancing tools. If you cast a look at the huge number of technical forums dedicated to Outlook issues, you'll be easily able to identify the following 6 reasons that require additional strength to be pumped into Outlook:
With the launch of latest Outlook version releases, PST files can now save larger amounts of data. So if you have multiple small PSTs which are getting difficult to keep track of, merge them into larger files with PST Merge tools
Users often protect their sensitive Outlook mailboxes by encrypting them with passwords. If they accidentally lose the passwords, all their encrypted data can become inaccessible. Outlook password recovery tools can avoid such a situation
We know what you're thinking! It's easy to point out what is needed, but the real challenge lies in figuring out how to do what's needed. Well, we've done the work for you and compiled a list of 6 great third-party tools that can efficiently fulfill the 6 different purposes highlighted above. Check them out!
Stellar Outlook Toolkit: One-stop solution to 6 Outlook needs
Stellar Outlook Toolkit is a collection of the below mentioned 6 unique Outlook tools. With this one software bundle, you can better organize Outlook mailboxes in 6 different ways.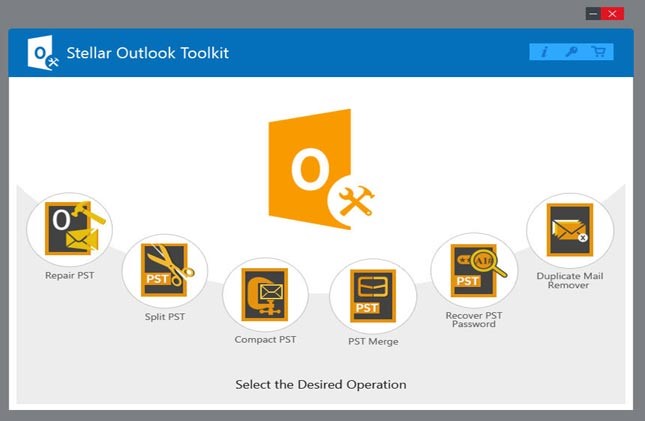 Stellar Phoenix Outlook PST Repair – Technician
Stellar Phoenix Outlook PST Repair (Technician) repairs damaged Outlook PST file and restores all its contents such as e-mails, attachments, contacts, calendars, tasks and journals. The product works on a 3-step approach of scanning and extracting data from damaged PST file, repairing it and then saving it as a new usable PST file. The new resultant PST file can be directly imported into MS Outlook to view repaired data. The software ensures recovery of accidentally deleted e-mails, lost contacts, missing calendar entries, and much more from damaged PST files.
2. Stellar PST Splitter
Stellar PST Splitter is a powerful and robust application that helps you split large PST files into smaller ones as per stated criteria. This helps prevent PST file corruption due to over-size. Protecting PST files is crucial since they contain confidential and personal information. Stellar PST Splitter has been specifically designed to deal with such difficult situations. The tool allows you to split single or multiple PST files in one operation and saves all your preferences to split files in batches.
3. Stellar Compact PST
Stellar Compact PST is a result-oriented tool to compact large Outlook PST files. Outlook PST file contains all items like e-mails, alerts, to-do lists, tasks, journals, notes, contacts. One of the major threats to Outlook PST file is its becoming oversized. PST files can be compressed to recover from this situation. Stellar Compact PST is designed to compact the size of PST files using powerful algorithms. The application performs deep scan of the PST file and compacts all the e-mails, calendar, contacts, tasks, and notes. The software extracts huge email attachments, compresses them in zipped folder, and saves them in a new folder while preserving their interlinking.
4. Stellar Merge PST
Stellar Merge PST is an easy to use application designed to merge multiple PST files into a single file without modifying contents of the original files. This software can be used to merge emails, calendars, contacts, journal, notes, and tasks folders from different PST files created in different Outlook versions. With this software you can perform operations like joining PST files, creation of multiple folder hierarchies within one PST file, etc. The software supports removing the duplicate items from new PST file during the merging process.
5. Stellar Outlook Duplicate Remover
The biggest disadvantage of email chains is duplication. Multiple copies of a mail are saved within Outlook PSTs when an email reply or forward is sent to many persons. These duplicate mails unnecessarily increase the size of PST files slowing edging them towards corruption. Stellar Outlook Duplicate Remover is a powerful tool for removing duplicate items from Outlook mailboxes. The application easily and precisely removes duplicates according to the set comparison criteria. You can compare and mark the mails as flagged, expired, copy or move the duplicate mails to a folder. The software has an interactive user interface which makes operating it extremely simple.
6. Stellar Phoenix Outlook Password Recovery
Stellar Phoenix Outlook Password Recovery is a complete solution to recover lost / forgotten passwords of email accounts or encrypted PST files of Microsoft Outlook. The tool generates set of 6 passwords that can be used to open PST files and unlock email accounts. While the exact password cannot be generated by the application but a series of password will be available to help open encrypted PST file. You can use any of the passwords generated by Stellar Phoenix Outlook Password Recovery to open PST files.
Wrapping it up
So what are you waiting for? Grab Stellar Outlook Toolkit today and reap the benefits of 6 brilliant Outlook Email Management tools in one go!
Reference: