There can be many situations demanding the conversion of Outlook OST files to PST format and as such, there is no shortage of automated tools to perform this conversion. However, what makes Stellar OST to PST converter stand above the rest? Let us explore the answer to this question.
The beauty of Microsoft Outlook is that it can be configured to be used with any IMAP, POP3, or web-based email server. Regardless of which mail server is sending and receiving information at the back-end, Outlook offers a familiar and easy-to-use front end to people making the entire emailing process hassle-free. All data being sent / received through Outlook is saved with local data files, and this post is dedicated to these Outlook data files.
Outlook data files are primarily of two types: a Personal Storage Table (PST) file and an Offline Storage Table (OST) file. The two files might sound alike in names, but functionality-wise, they differ from each other in many aspects. While both these files serve their separate purposes, there are many situations prompting users to access the data saved within OST files in PST format. This kind of action needs an OST to PST conversion.
Let us take a look at some of these situations and then discover an excellent tool that can help perform this conversion in the best way.
Situations demanding an OST to PST Conversion
The easiest way to extract data from damaged or corrupted OST files is to convert them to PST format and open them directly through Outlook. (OST files can get corrupted owing to several reasons like virus attacks, Exchange synchronization errors, hardware issues, etc).

If user mailboxes saved on Exchange server get deleted, you might lose access to them permanently since directly opening OST files associated with such mailboxes is not possible. In such situations, converting such "orphaned" OST files to PST format is the only way to extract data saved within them.

If an employee needs to transfer his business emails saved on Exchange server from one system / workplace / organization to another, the only way to do it is by converting the OST file associated with his Outlook profile to PST format.
The most efficient way to convert OST to PST
There are a number of automated tools available online that can help you convert OST files to PST format; picking the right tool can be a challenge. But you don't need to worry when you've got us around!
Stellar OST to PST Converter is undoubtedly the best software to perform OST to PST conversion. This competent product enables users to extract all their Exchange mailbox data such as emails, attachments, calendar entries, contacts, notes, etc, stored within OST files and convert it into to PST format. The PST file which is obtained as a result of this conversion can be directly imported into Outlook to access all mailbox data.

The best features of Stellar OST to PST Converter include:
Hassle-free conversion of OST mailbox data to PST format

Capability to convert password-protected (encrypted) OST files to PST format

Facility to sort and organize converted emails as per various criteria like Date, From, To, Subject, Type, Attachment, Importance, etc.

Wide compatibility with various MS Office versions including 2016, 2013, 2010, 2007, 2003, 2002 (XP), 2000

Support for preview of emails and calendars before performing conversion

Option to save emails in multiple other formats like MSG, RTF, EML, PDF, and HTML

Fully DIY operation owing to interactive Graphical User Interface
In addition to the above features, the software's Technician version allows users to export OST files to Office 365. Furthermore, if the converted PST files are too large in size, the software's Technician version gives users the option to split or compact them so that PST file corruption can be avoided. Furthermore, it is super easy to install this application since it needs only 50MB of free hard disk space and just 512MB of RAM to operate smoothly.
Steps to Convert OST to PST
Stellar OST to PST Converter uses a 3-phase approach for converting OST to PST: select OST to be converted, scan and preview items, convert and save. Here are the steps to be followed:
Download, install, and launch software

On the main software screen, select OST file for conversion by clicking on Browse. You can also click on Find if you don't know its exact location on the system
Once the file has been selected, click on Convert to initiate the procedure.

As mailbox items are discovered, they will be populated within a tree-view list within the software's left-hand panel. You can preview any item by double-clicking on it.
That's how easy it is to use this product for OST to PST conversion.
Here's why Stellar OST to PST Converter is ranked number 1!
Though the feature description and easy working described above should be convincing enough for any user to try out this great software, here's a little information that will assure you of the Stellar OST to PST Converter advantage.
o Nextofwindows – Described it as "one of the most efficient and reliable tools that you can trust for your important data conversions".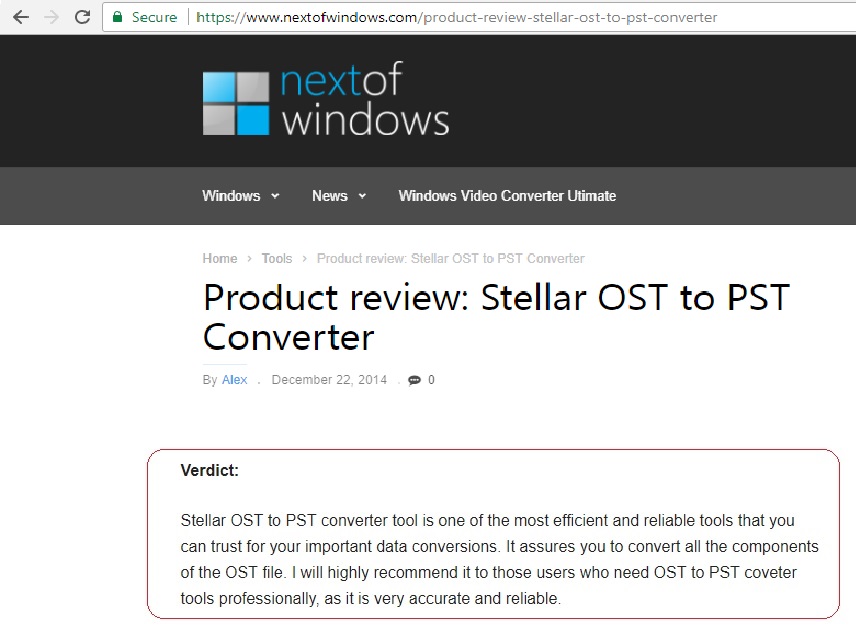 o CNET – The popular technology website CNET has awarded Stellar OST to PST Converter an impressive rating of 4 out of 5 stars. Out of a total of 28 votes, the software received an excellent rating from 21 users.
o Techgyo – A tech-geek has reviewed the application on Techgyo and vouches for the fact that it has over 2 million satisfied customers worldwide. He has labeled Stellar OST to PST converter as proficient and systematic.
o Technokarak – The conclusion of the most recent review for Stellar OST to PST Converter on Technokarak says it all.
o Softpeia – With over 3000 downloads the software has been awarded a 4 on 5 rating by users on Softpedia.
o Its efficiency and reliability are above other tools in its league
o It is extremely user friendly
o Converts OST files to PST format with accuracy
Rating by MVPs:


Reference: https://social.technet.microsoft.com/wiki/contents/articles/44756.microsoft-outlook-fixing-ost-corruption.aspx
Final Words
To wrap things up we won't say much except recount the benefits of choosing Stellar OST to PST Converter:
Trial version available which allows conversion of up to 20 emails per folder for free

It is 100% secure and extremely easy to use

It is covered by a 30-day money back guarantee

Software is backed by some great reviews and testimonials
So if you need to convert OST files to PST format, get your hands on this reliable product today.