Do online retailers and e-commerce sites even need to bother with the season? Is it lucrative to update and prepare your site for Black Friday and Cyber Monday shoppers? We'll find out now.
The holiday season is a time for family, cheer, and, for many Americans, shopping. Just one day after Thanksgiving is one of the busiest shopping days of the entire year — Black Friday. And it kicks off the holiday shopping season, including future events like Cyber Monday, Christmas sales and more. That also means it's an incredibly busy and exciting time for all businesses and brands too, especially brick-and-mortar retailers.
The question is, do online retailers and e-commerce sites even need to bother with the season? Is it lucrative to update and prepare your site for Black Friday and Cyber Monday shoppers?
The average consumer is is estimated to spend about $805.65 this holiday season. That's a lot of money per customer, but will some of that make its way to online sales? The answer is yes, because almost half of all shopping - 46% according to a survey - will be conducted online, including browsing and buying.
Technically, you could assume that nearly $400 of that $800 total spent by consumers will be going to online platforms and retailers, possibly even yours. So, yes, it is imperative that you prepare your site and regular marketing channels for Black Friday and the holiday shopping season.
1. Gather and Leverage Customer Insights
In most cases (hopefully), you already have a great deal of customer data and information about your brand and products.
To reap the benefits of a shopping event - like Black Friday - you need to fully understand your customers, potential business and how that impacts your site. Where are your referrals primarily coming from? How will audiences discover your site, deals, and promotions? What will they be most interested in, and what products are going to have the most significant impact during a promotion? Will you make more money with deep discounts or minimal ones?
These are the kinds of questions you have to ask to craft your Black Friday and holiday shopping campaigns. Without this data, you cannot make informed decisions and utilize appropriate design and content changes. If you have history and performance data from years prior, use it to craft an efficient campaign for the current year. Collect, analyze and leverage this information if you haven't already, and be prepared to use this actionable intel to craft appropriate strategies going forward. That may mean organizing and translating the data so it's more useful and practical to you now.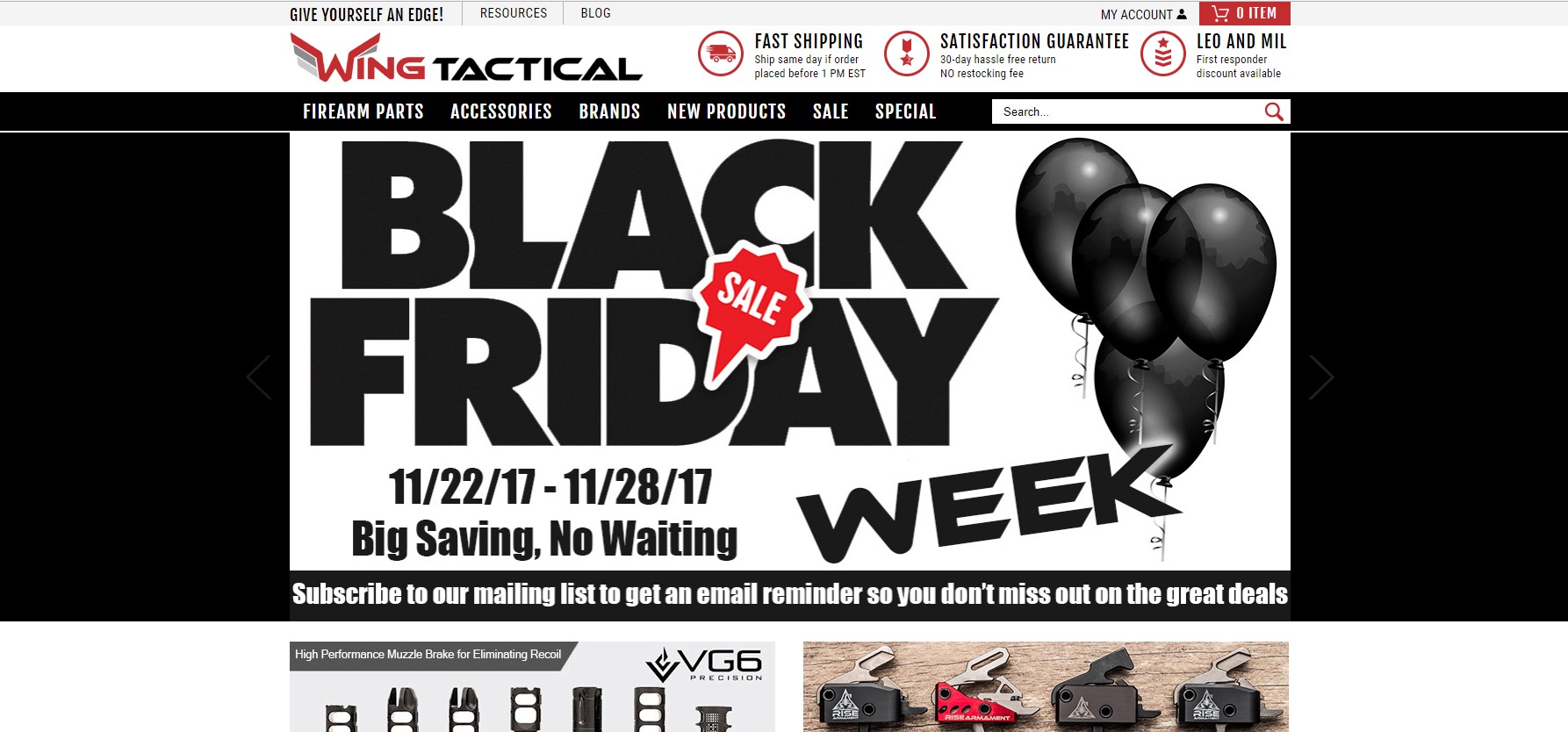 Notice how Wing Tactical placed their Black Friday advert front and center. At first glance, this might seem like an obvious move, but when you consider the potential impact, it's not. The company likely used customer insights to find a placement for their promotion that won't interfere with existing marketing campaigns and sources.
2. Pay Attention to Site Audits
We're inching closer and closer to Black Friday, so it's not a good idea to launch a site audit right here and now. That's okay because you should already have past data and information about your current site design.
Preparing your site for an event like Black Friday may mean tweaking the design and user experience so that it's more satisfying, engaging and user-friendly. Are there too many pop-ups? Do your product filters and categories hinder the experience and make things more frustrating, instead of easier to find? Have your shipping and returns policies been updated for the holiday season?
Again, you should have already been collecting most of these insights and should just need to prepare them for use with your current strategies. Pay attention to the site audits and consumer responses to further craft and hone your design. Nailing down a design on top of all those deals and promotions can make or break your holiday profits. Furthermore, the only way to know which sections or areas of your site are most useful for promotional materials and advertisements is to analyze past site audits and design details.
3. Optimize Performance
Performance is a big deal even on a regular site. 47% of consumers expect a web page to load in two seconds or less, while a whopping 40% will abandon one that takes longer than three seconds. These data points are especially crucial during Black Friday and the holiday shopping season for one reason —traffic will increase significantly, putting more strain on your system.
For the most part, your web host or service provider will be responsible for keeping your website up and running during optimal times. That doesn't mean the responsibility is out of your hands. There are ways to ensure that performance remains top notch and that your website can handle the increased traffic. Optimizing images and media, for example, by reducing their size will always improve loading times.
The last thing you need during your sale event is for your entire site to buckle under the pressure, killing any chance of business you had.
4. Assess the Competition
Your brand and products don't exist in a vacuum. Chances are, you have direct competition that will also be participating in online sales and Black Friday. Pay attention to this, and stay informed on what your competitors are doing. This is also true of similar or separate industries. It's vital that you stand out among everything competing for your customers' attention.
For example, let's say you are a small roofing business. A local lawn service and landscaping business is offering a crazy deal for over 75% off the price of all work for the next two weeks. You could look at that, and take inspiration from it, or even use it to your advantage. You could try to beat their offer, enticing customers to invest money in your business over others. Although they are technically in different fields, the competition is still there in spirit. You can come up with deals, discounts and promotions that effectively make your business, and your products, more alluring.
You simply cannot do any of this, without staying informed, however.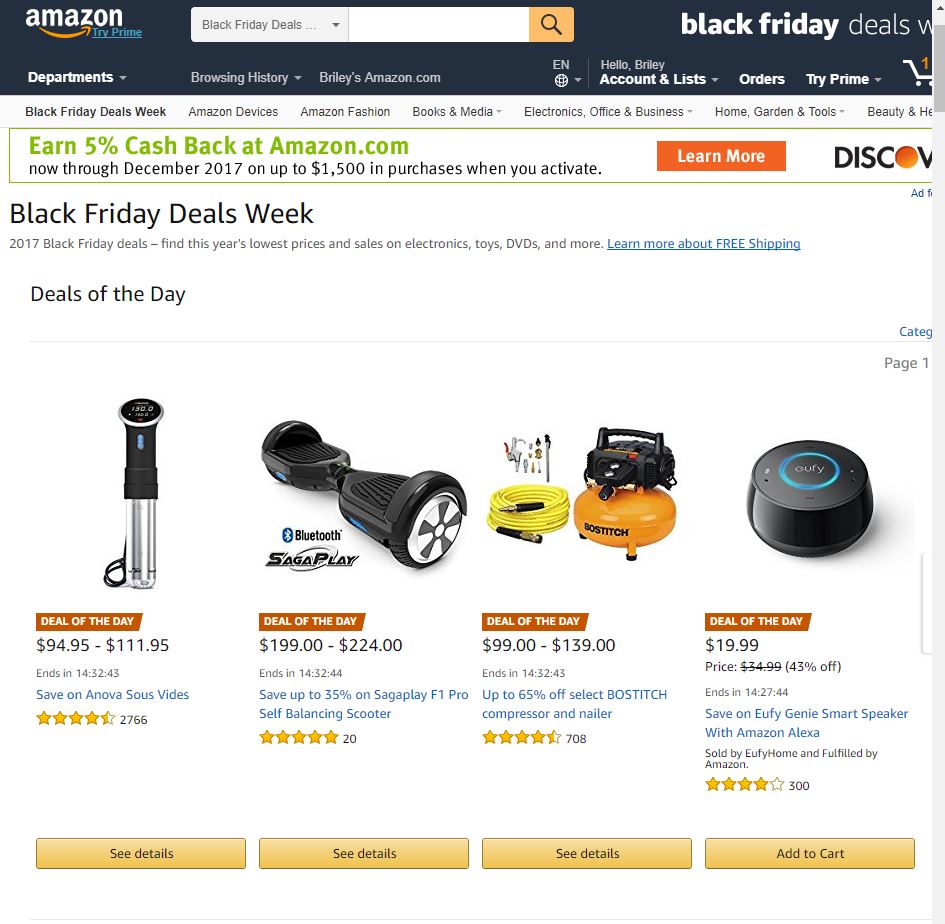 Amazon keeps their customers involved and on-site by using daily deals or deals of the hour. It's a regularly scheduled campaign that offers rotating products and items for a steal. The idea is that customers will stick around to see what they can get their hands on, and it will work remarkably well on Black Friday with all the promotions active.
5. Have Fun
This is perhaps one of the most critical points you will read in this entire guide. The holiday shopping season - Black Friday especially - can be very stressful for consumers, brands and business owners. That's why it's important to remember to enjoy yourself during the festivities. Don't overwork and overextend your business just to keep up with the competition and modern trends. It's important you remain competitive, but it's also just as important that you enjoy yourself. If you're having fun, then your customers are too, which translates to a higher satisfaction rating.
The best way to understand this process is to think outside the box. While everyone else is offering steep deals and discounts, maybe there's another way you can grab attention from audiences. Is there another type of promotion or advertisement you can run? Ever notice how major retailers often bundle items or products together to make a purchase more enticing? That's one example of this concept.
Bundling, say, a smart entertainment speaker with the purchase of a TV is alluring and fun for many reasons. It's not something that consumer would normally come across, and it's unique and attractive enough to draw in potential customers. Plus, it just has that excitement to it that you can only get from unique sales and great deals. Try to replicate that feeling or emotion for your own offers.
Create an enjoyable customer experience, and you'll draw in new customers, drive sales and may even form relationships with customers who return time and time again, even after the holiday season is over.