In this post, we will learn to set up the Group Naming policy and will see how it is going to impact the Display Name and the Email addresses of the Group.
Unified groups in office 365 is a new alternative to distributions groups that comes with lots of others features which users can set up from their own mailbox. If there is a no naming policy, then there is a risk of having lots of unstandardized Groups with unstandardized names which can be a pain for the Exchange admin to Manage, hence it's best to apply naming standards for the DLs. To solve this issue, Exchange online provides options to set up a Group Naming Policy.

A group naming policy:
Enforces a consistent naming strategy for groups created by users.
Identifies distribution groups in the shared address book.
Suggests the function or membership of the group.
Identifies the type of users who are likely to be members of the group.
Identifies the geographic region the group is used in.
Blocks inappropriate words in group names.
When a user creates a group, they specify a name in the Display Name field. If the Group Naming policy is set up, Microsoft Exchange applies the group naming policy by adding a prefix or suffix that the admins have defined.

In the example below, a User defines a Group name to be "Sales_Team". After the group policy was applied, its display name would appear as below:

<Country>_<city>_<Name> _<Users>
India_Noida_Sales_Team _Users

We can specify a specific prefix and suffix to be added to the Group name to be created and can block specific words from being used. This has the advantage of eliminating the use of inappropriate words in user created group names.
Things to be aware of:
The maximum length for a group name is 64 characters, including the prefix and the suffix.
The group naming policy is applied only to groups created by users.
It's recommended that an underscore character (_) or some other placeholder is used between group name text strings.
Windows PowerShell or ECP can be used by admins to override the group naming policy if required.
Creating A Group Naming Policy
Below are the steps to set up the group Naming policy.
1. Open the Exchange Admin centre, (https://outlook.office.com/ecp) and go to Recipients > Groups
2. Click on the three radio "
…
" buttons and select
"
Configure group naming policy
"
3. Add the attributes you want to be added to the Group Name prefix and suffix as shown below.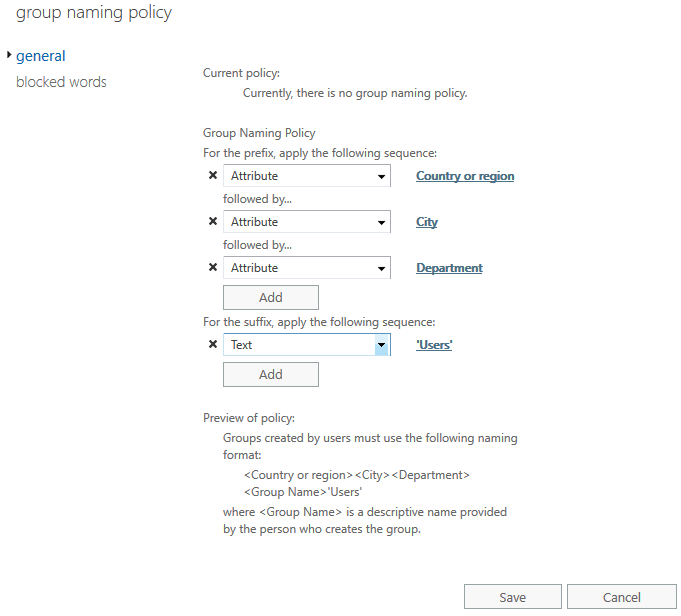 4. Next, click on "
blocked words
" and add the words you wish to block from being used in Group names.
You have now successfully setup the group naming policy. If you wish to edit the Group Name policy settings, simply follow the same steps.

Now let's take a look at how users will see the impact of the Group name policy when they try to set up any New Group.

To set up a new group, click on "
+ Create
" or drop down from "
+ New
" main menu in Outlook on the Web.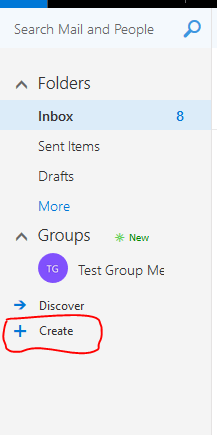 If a user tries to set up a group with the letters which are blocked by policy, they'll see the error shown below.
Now, lets set up a group for IT team.
Note that the name and the email address has automatically been updated with the configured Prefix and Suffix.
Note: The policy is only Enforced for the end user, and is ignored when used ECP.

In the example below, when trying to set up a new group from ECP, there is no Group Name policy enforcement.
So, this is how a Group Naming policy can be set up in office 365 Exchange online environment.
To Summarize
In this post, we learned about Group Naming policies and how we can set those policies up. We also set up a new group after we created a Naming policy and reviewed how it changed the Group email address and Display Name.
I hope you would found this post informative, please feel free to leave your comments and feedback in the comment section.