This tutorial is intended to teach the basics of 3-D Modeling using TinkerCad.com as the Computer Aided Drafting software. Once complete this model can be 3D printed.
Step One: Entering TinkerCad
To enter TinkerCad open a browser and enter Tinkercad.

This will bring you to this webpage photographed below.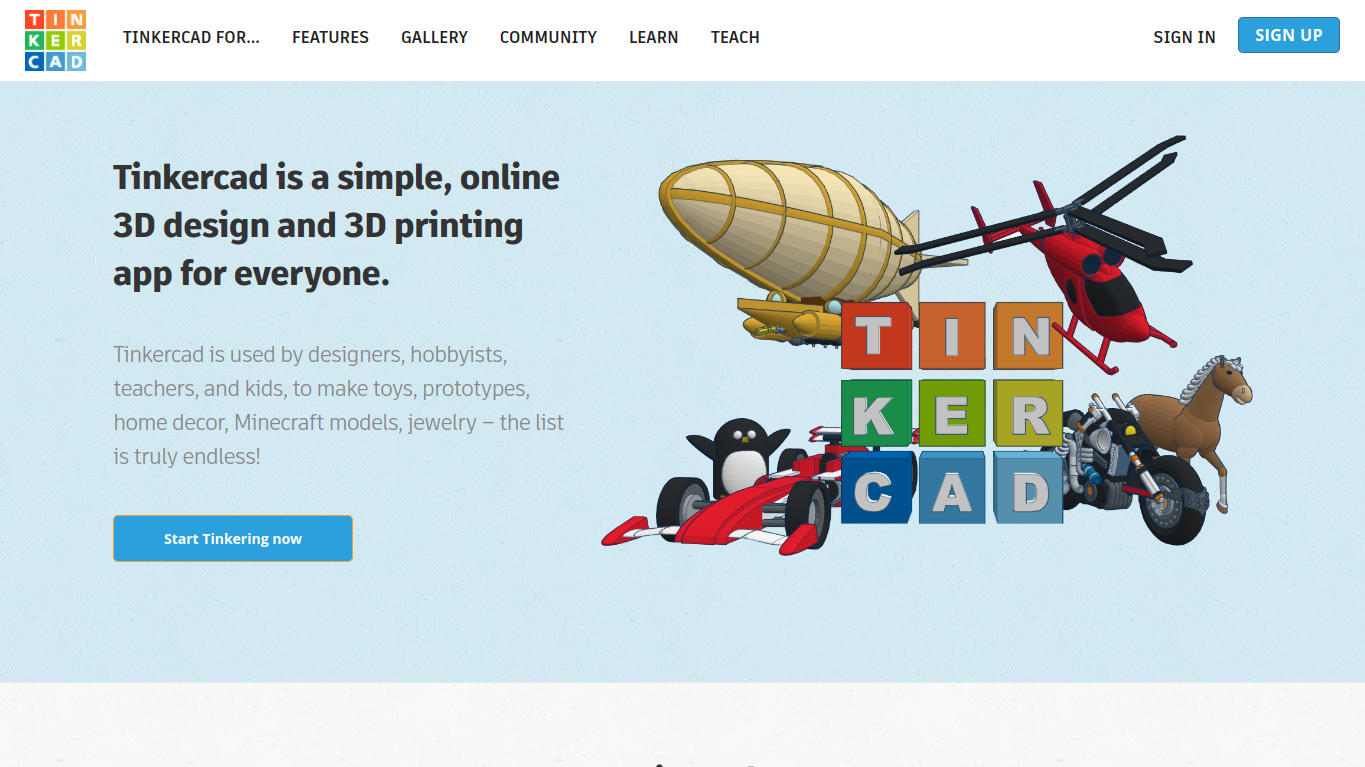 Once you are on this webpage, click on "Start Tinkering now" or "Sign Up" where it will prompt you to make an account. To create an account you will enter your Country, Birthday, an Email and Password.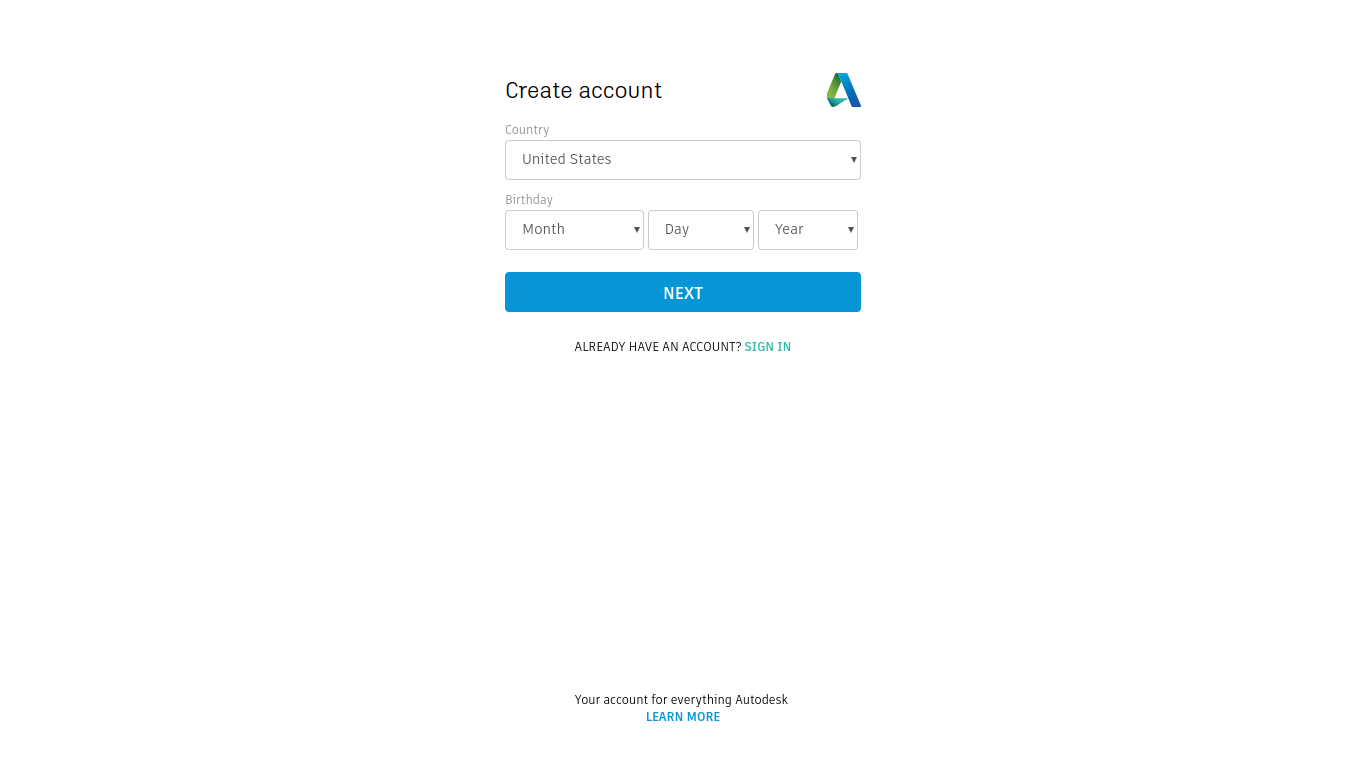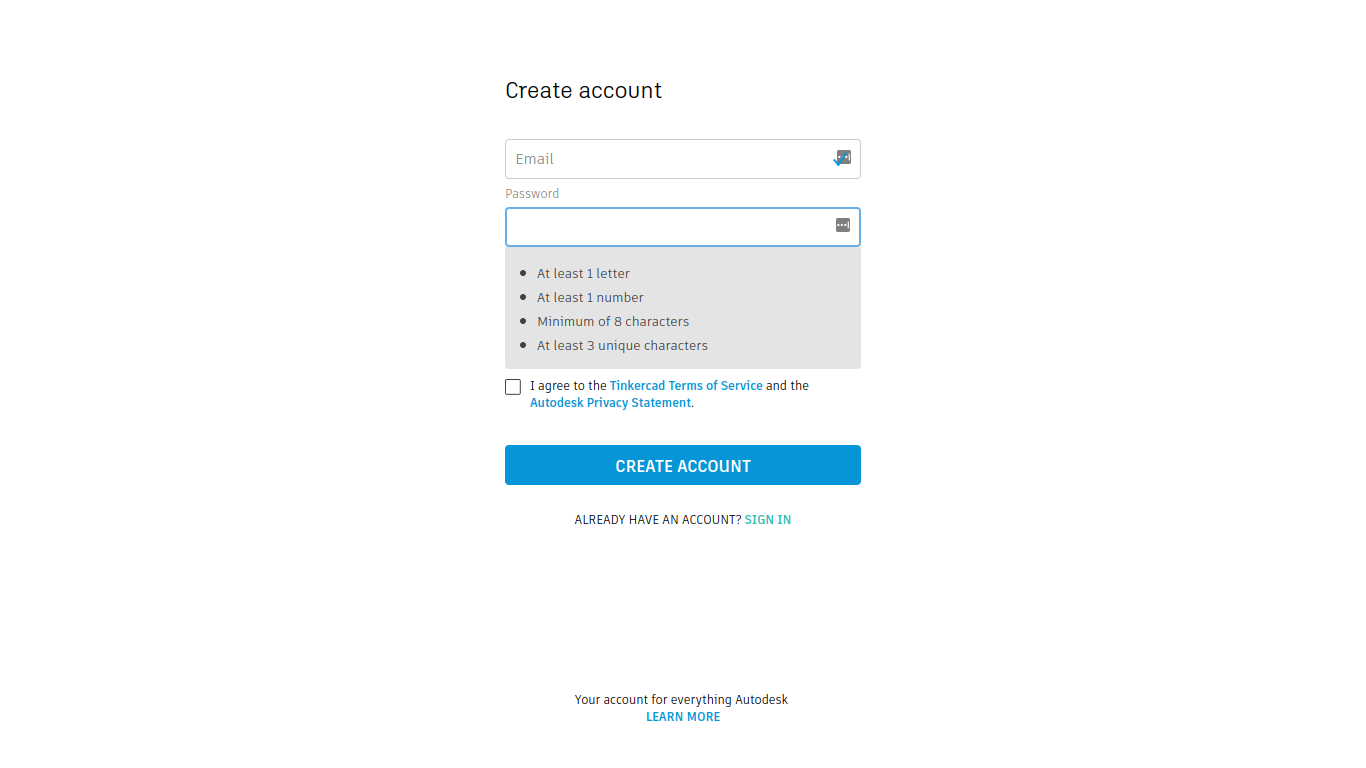 Step Two: Clearing the Workplane
After signing up for TinkerCad, you will arrive at this web page.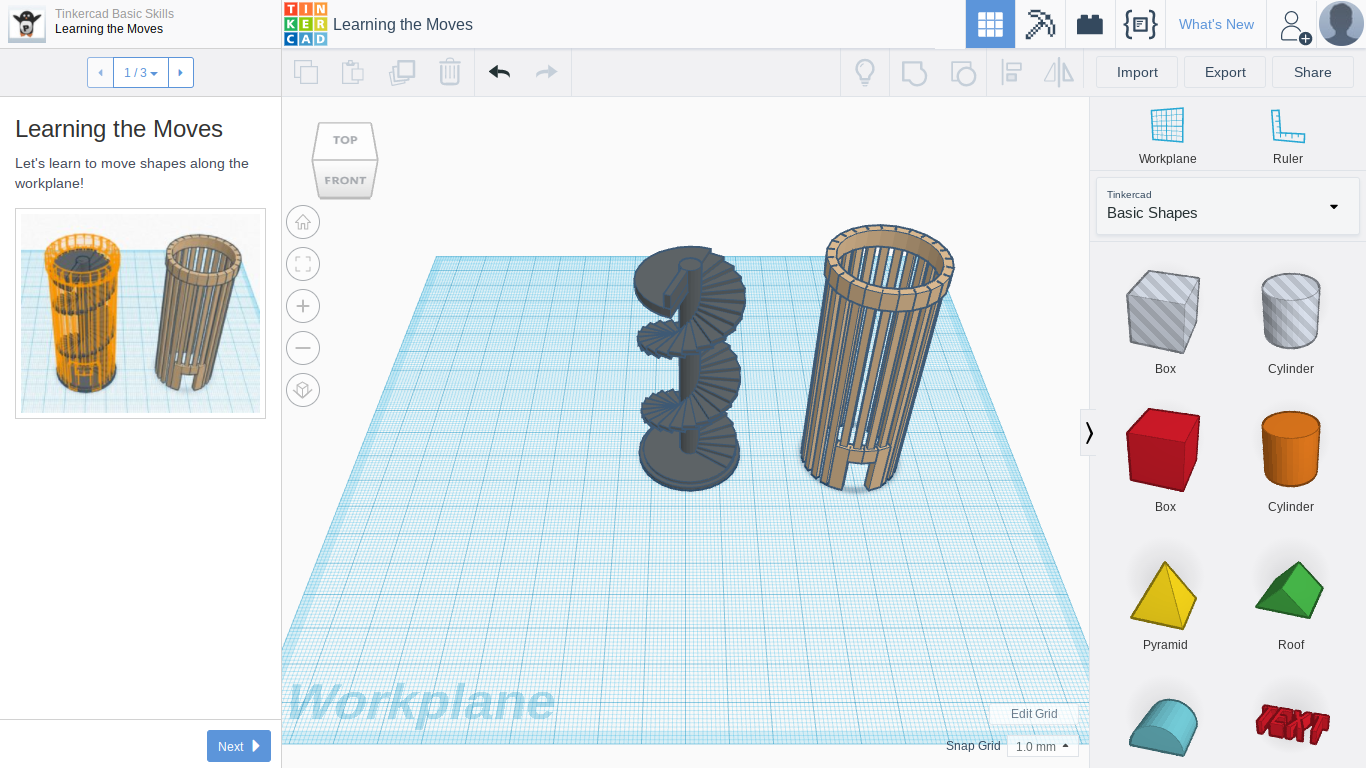 To delete the sample models to have a clear Workplane, click on the models then press backspace on your Keyboard.
Your workplane will then be clear and look like this.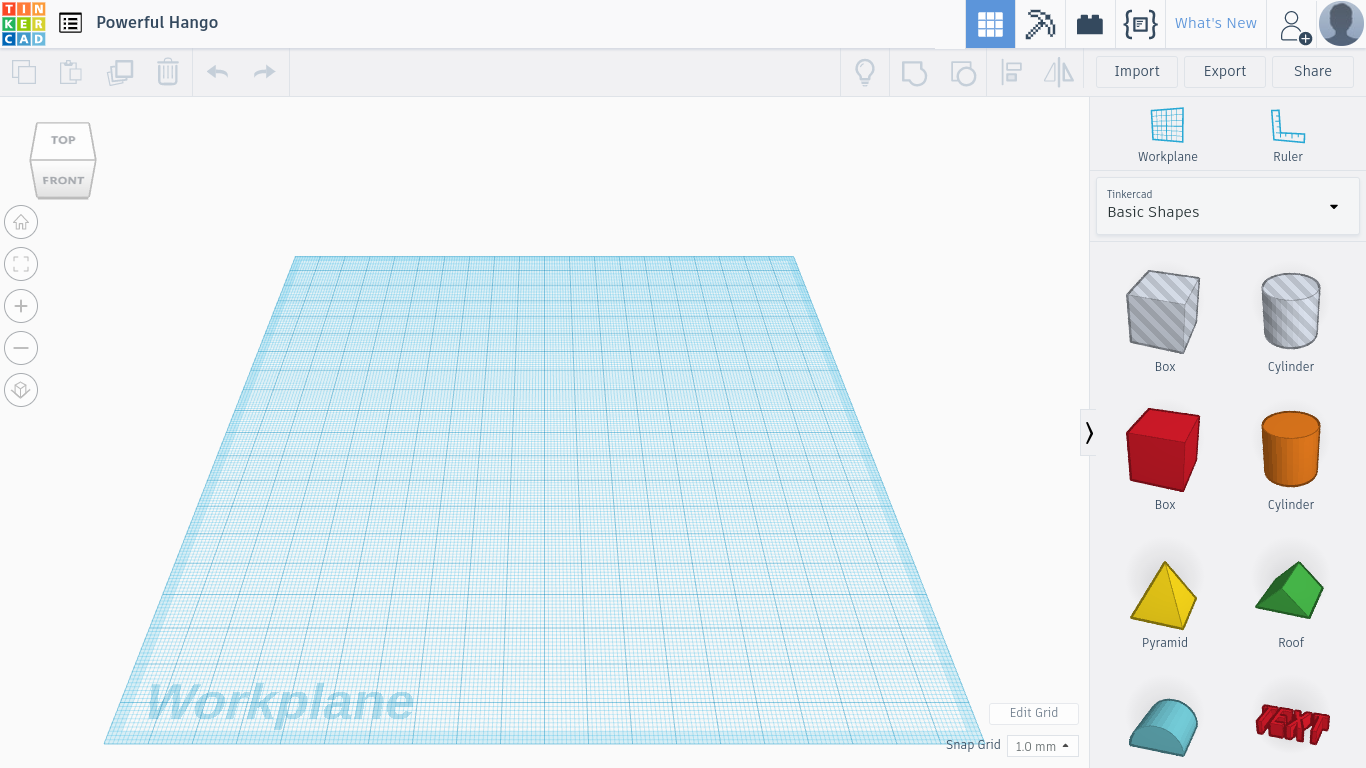 Step Three: Introduction to Tinkering
To demonstrate how to Tinker I will teach these skills by making a Key Chain.
Concept 1: You are an Ice Sculpturer. You first need your block of ice to begin your masterpiece before you can carve into it, chisel it, and adhere features.
To put down your first starting block you will add a basic shape by dragging it from the inventory into the Workplane.
Once it is on the Workplane you may alter the dimensions by dragging on the endpoints or typing it in.
Note: Click the

in the above graphic to start the animation.
Concept 2: Now that you have your iceblock you may start carving into it.
To start carving into your block, you may bring in a shape and then set it into "hole" feature rather than solid to it may intrude instead of than extruding. Similar to how you manipulated the last basic shape, you are also able to alter the dimensions and position of this hole.
Note: Click the

in the above graphic to start the animation.
Concept 3: You may adhere pieces onto each other or merge pieces with each other.
In my example, I am merging text to my keychain but you may also merge more shapes. You are free to type anything into this and similar to the other shapes, you may manipulate the dimensions. I also changed the colour for visibility but keep in mind that if you plan on 3D printing this file, the colour won't matter only the filament in your printer will.
Note: Click the

in the above graphic to start the animation.
Step Four: Exporting your file for 3D printing.
You may save this file in TinkerCad for modelling purposes but if you would like to 3D print your creation then you will need to export your model as an STL file. Once your file has been saved as an STL file, it should be accessible on your computer/laptop in your downloads or files.
Note: Click the

in the above graphic to start the animation.
Author's note: These are the beginning steps to 3D Printing that I teach the members of my 3-D printed Prosthetic Hand Club and my High School's MakerSpace club. I chose TinkerCad as the medium as it is very accessible as it is on the internet and free. In addition, TinkerCad is more intuitive compared to other platforms. I also have experience with Microsoft AutoDesk Inventor which is more of a professional, industrial software; On Autodesk Inventor some of the same principles apply except it starts in the second dimension (shapes such as squares, circles, ect.) and then building to the third dimension whereas in TinkerCad you start in the third dimension (With Cubes, Cylinders, ext.).
Here are pictures of some of the work I have done on Autodesk for a Reverse Engineering project:
Bike Assembly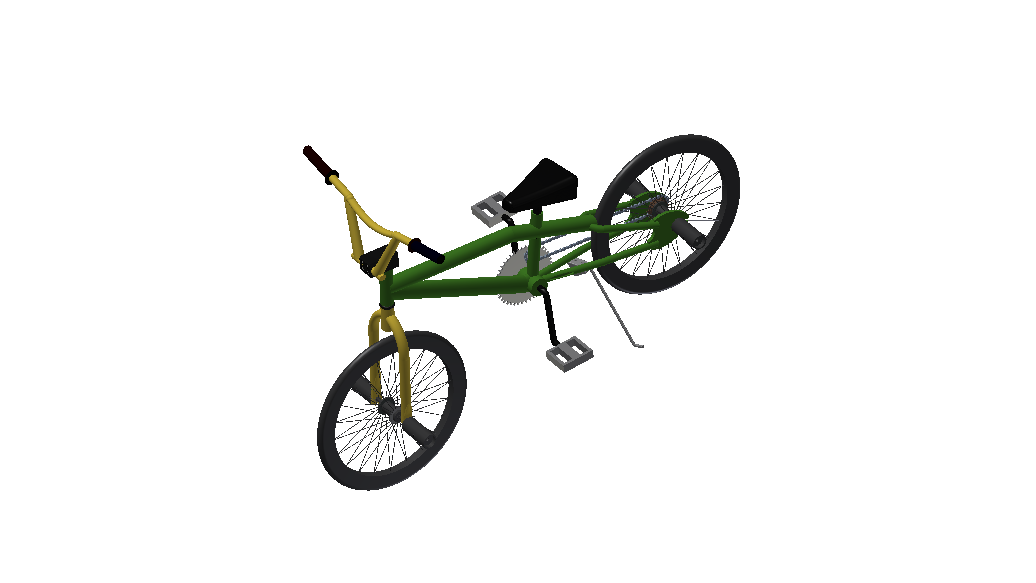 Wheel: