If you are a budding entrepreneur and using Facebook for the same purpose, you need to make good use of the available data to gauge the impacts of your marketing campaigns. This is where important metrics come into the picture. These help you optimize your campaigns and monitor your performance.
Facebook is a social media platform which has provided a great opportunity to everyone in terms of its massive fan base – over 2 billion users. Owing to its widespread popularity, Facebook has become one of the hottest online destinations for marketers to reach their target audience and grow their business.
If you are a budding entrepreneur and using Facebook for the same purpose, you need to make good use of the available data to gauge the impacts of your marketing campaigns. This is where important metrics come into the picture. These help you optimize your campaigns and monitor your performance.
Facebook metrics provide you with very crucial insights: how is your Facebook page doing? Is it giving you the proper ROI? Are you targeting the right audience? Is your marketing strategy actually working? And much more.
Here are the 5 key Facebook metrics which can prove extremely helpful for you:
1. Engagement Rate
Engagement is an important metric that tells you how effective your posts are and how much you are connecting with your audience. You can easily calculate the level of engagement by taking note of likes, comments, shares and clicks on your posts are generating. It also tracks the number of clicks that are received by images, videos, and links featuring in your posts. In simple words, if you have a really high engagement rate, your campaign is highly likely to catch people's attention and have them interact with it in some way. This is the reason, why many experts consider engagement metric most important from the perspective of the effectiveness of your marketing campaigns and overall strategy.
Engagement not only tells you that people actually like the content that you are sharing, but it is important in terms of giving your posts more exposure to a wider audience. Facebook's algorithm uses page engagements to determine which of your posts will show up in your followers' News Feed.
The Facebook Insights page will give a clear idea about your performance over time by showing likes, comments, shares, clicks, and graphs. According to Facebook engagement benchmarks, above 1% engagement rate is considered as good, 0.5%-0.99% is average, and below 0.5% means you need to change your strategy.
2. Reach
To put it simply, Facebook reach refers to the total number of people who viewed your post through paid, as well as, unpaid distribution. It is an important metric that shows the relevance and strength of your content. It virtually affects every other metric you can track, such as engagement, likes, comments, clicks etc. Reach feature can precisely measure whether a piece of content has been displayed, and to whom it has been displayed.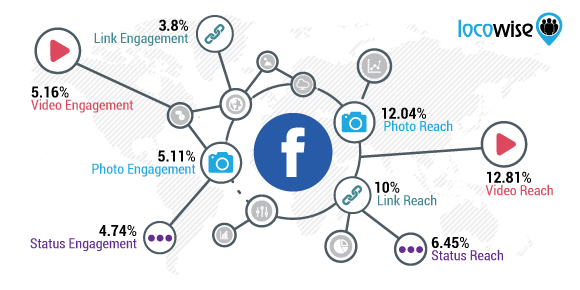 Facebook reach can be divided into the post, page, organic, viral and paid. However, you need to focus on fan reach, organic reach, and viral reach. A high viral reach shows that you have been able to reach your followers' friends, and a high organic reach means high engagement that is keeping your content on top of the EdgeRank algorithm. In some cases, a post can reach more people through your fans' engagement than it can reach your own fans. Therefore, reach is important in terms of the long-term value of your brand image in the audience.
3. Click-Through Rate (CTR)
The click-through rate refers to the number of people who actually clicked on your link and were navigated to your website, landing page, online offers or online storefront. CTR represents the percentage of people who clicked on your link. It helps marketers determine the efficacy of an ad, email, landing page or the whole website. In Facebook, CTR is the ratio of how many times an ad has been clicked, for the duration, it was seen. CTR also includes clicks on a photo (to open/enlarge it), on comments, or even on "view more" texts. The higher your CTR is, the more people will visit your site, which means increased revenues.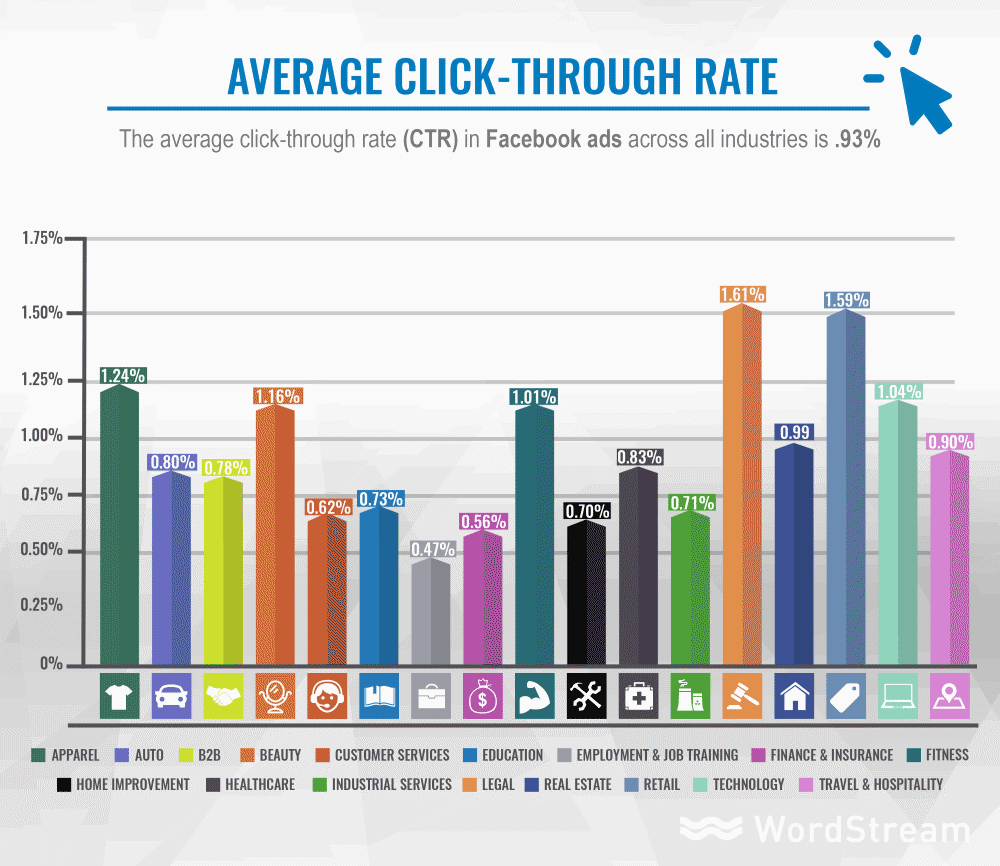 CTR is also a crucial factor for increasing rankings – a 2014 case study by Moz confirms this. Therefore, improving the CTR of your Facebook ads and posts can be extremely helpful for you if you want to earn more traffic. It is important, in the end, to note that CTR metric lies at the bottom of the content quality funnel, which needs to be tracked regularly.
4. Facebook Referral Traffic
This is the number of visitors your website gets from Facebook by clicking links in your posts, sharing your articles or clicking on your profile link. Marketers are relying on it for reaching wider audiences. A recent study shows how Facebook referrals are taking away potential searches from Google. Facebook has grabbed users' free time, while Google remains the top tool for seeking out information. Therefore, more users are spending time on Facebook means more brands will share engaging content for the users so that they appropriately consume their free time.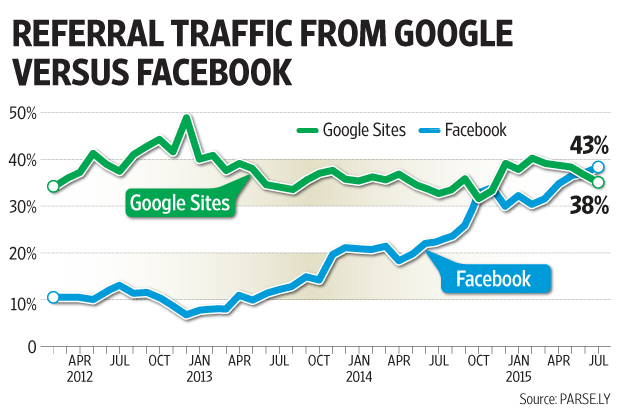 Facebook is a great platform for building and feeding your audience base, but your purpose is not served unless you get them on your website. Facebook referral traffic shows if people were compelled by your headlines and descriptions and went through the posts.
5. Page Likes and Follows
The total "likes" and "follows" on your page and posts give you a fair idea of how popular your brand is. With an in-depth view on your Facebook Insights page, you can see your page's likes over time. Facebook gives exposure to your brand and helps build a relationship with your audience, so your likes and followers should be growing with time too.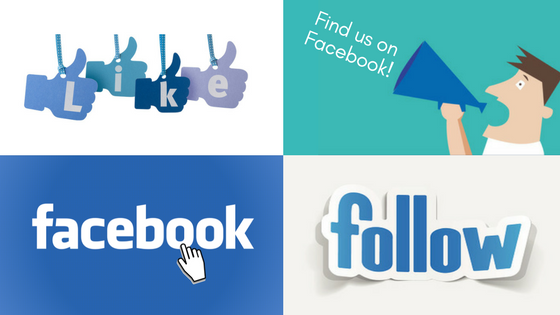 However, the key question is: why are likes and follows important for you? The first reason is - likes and follows can reduce advertising expenses. Since you have to save money on advertising and fans who like your pages are your direct customers, you can reach more people with their help. Secondly, Facebook is one of the quickest media for a recommendation. The likes, follows and shares of your customers also indicate their loyalty, which means they are indirectly recommending you to other customers.
Conclusion
There is no denying the fact that Facebook is a powerful marketing and advertising medium, on top of being a communication tool. Businesses can make use of many metrics, to check if they are heading towards the right direction. The above-mentioned metrics will give a good idea in this regard. However, it is also important to understand that the choice and use of a particular metric can immensely vary on the objective of your campaign.