In my humble opinion (IMHO), TouchDown from Symantec is the best in class for this type of application, but Symantec has end-of-lifed it and although one can keep using it, it will no longer be supported or upgraded. Time to look for alternatives to getting Exchange email on your Android phone.
A few of the email applications that you might run into while looking for a TouchDown alternative, or looking for an email app for your Android phone for the first time are:
I will not be reviewing all of the above apps as it would just end up creating a review article that is useless. Rather, I will look at what I consider to be a good representation from those listed.
Despite its End-of-Life status, TouchDown will be included in the reviews because it will serve as a baseline for the alternatives.
Before going any further, I should explain a couple of things that will affect your choice.
The first and foremost item that changes how you will look at these email applications is how you personally use your exchange email. If you are like most people, you let nearly everything come into your inbox first and then, if you want to keep some semblance of order, move different items to different folders, either as subfolders of your inbox or as completely separate folders. Let me explain.
Let's say an email comes in from your benefits office. The From field is benefits@yourcompanyname.com (or something similar), the To field contains a list email, which means it goes to nearly everyone (everyone@yourcompanyname.com) and the Subject line is "New benefits information" without the quotes.
Some people have a blasts folder that they put this type of mail into after they see it in their inbox. Others will read and delete it, still, others have rules set up so that anything from that address goes to a certain folder. There are many different scenarios. Almost all email programs will be able to handle scenarios where the email remains in the inbox until it's read or discarded. For this type of user, the built-in email apps are fine. On the other hand, if you have a lot of rules in Exchange that put incoming email in different folders for you, the built-in email apps will not suffice.
One Extreme:
I may be on the far end of the needy scale. I have nearly 200 rules (all server-side, which means they can run whether or not my desktop email program is running). I have hundreds of folders and subfolders that these rules move emails into. This is so much of a hassle, yet at the same time so important, that many years ago I purchased TouchDown HD for Android from NitroDesk.
I bought TouchDown because I considered it to be the best email program for Exchange email out there, hands down. When, several years later, it came out for iOS, I tried it immediately and immediately found it falling short :-(
What I needed above all else was the ability to see ALL unread emails in ALL folders at once.
Outlook for Windows seems to have always done this. TouchDown was one of the only email apps that also implemented this feature so for me it was well worth it. I continued to use TD through approximately 5-6 phones. I've even recommended it to many people. I kept using it when Symantec bought it and recently, after having to reset my phone to solve another problem, I reinstalled it, but I had to install the license file from a backup on my SD Card because it no longer exists in the play store, due to Symantec's EOL (End of Life) of the product.
These are the circumstances that are part of what prompted me to write an article comparing different replacements for TouchDown. The other item that prompted me to write this article was this excellent review of Password Manager apps by another Experts Exchange member.
The Metrics that this article will cover:
On deciding which metrics to use to measure each application, I figured that since I was the person that I knew best, I would use what I consider to be the basics of a decent email program (at least one that is querying an Exchange Server).
The items I decided to compare everything against (known as metrics) are:
Ease of Setup
The default display (Overall and does it show folders)
Can one see ALL unread emails at the same time from all folders
How easy is it to choose which folders to sync
Is the Graphical User Interface (GUI) pleasant
Is the app customizable
How easy is it to customize
I probably would have chosen more metrics, but as I looked at different email programs, it became clear I had already chosen enough.
I will attempt to review each email app separately and have a basic chart at the end comparing them. For comparison's sake, I'll cover TouchDown first. I am trying to be completely truthful about this, so if I say something is not quite up to snuff, even with TouchDown, I personally do not believe it is.
How the ratings are computed:
These ratings are from 0 to 5 where 0 is the poorest and 5 the best (except in the case where it is an either/or type of rating, like if an app shows the originating folder - either it does and receives a 5 or it doesn't and receives a 0). The overall rating is simple arithmetic which sums the individual ratings and divides by the number of ratings. So the overall is derived from the sum of ratings / number of ratings.
TouchDown HD from Symantec
(scored out of 5 stars)
So overall, TouchDown did not do as well as I thought it would. One of the features I found I really like in Outlook for Windows, and that is implemented in some of the email apps, is the ability to display which folder the email is from in a search/filter like all unread emails. Its unfortunate TouchDown doesn't have this feature, at least not that I can tell. I'll provide a screenshot of this later on.
Setup:
Initial setup is not straightforward. You put in your email address and password (if using automatic mode) and on mine, it failed. I then tried manual mode. I only checked ActiveSync protocol over SSL and let it try that. That also failed (ActiveSync version check returned negative). I then tried manually again and this time it succeeded. Options are immediately presented to you (see image below). You need to then accept the Symantec License agreement to continue.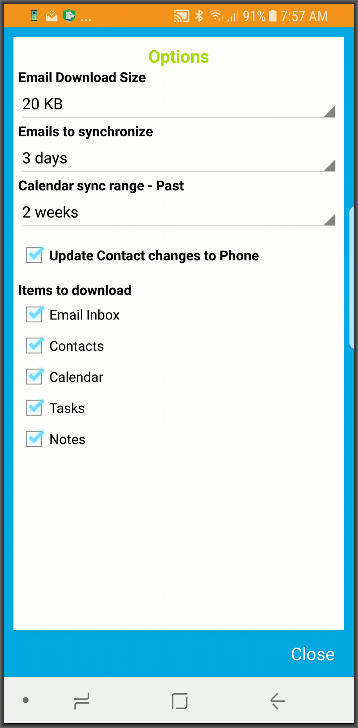 The initial screen after setup is finished looks like the image on the left below. Tap the three dots, then Settings, then Advanced Settings, then Legacy Settings Screens, and finally the Advanced Tab (see image on the right below) to access which folders will be synced.
Now scroll down near the bottom to see the folders that are currently syncing.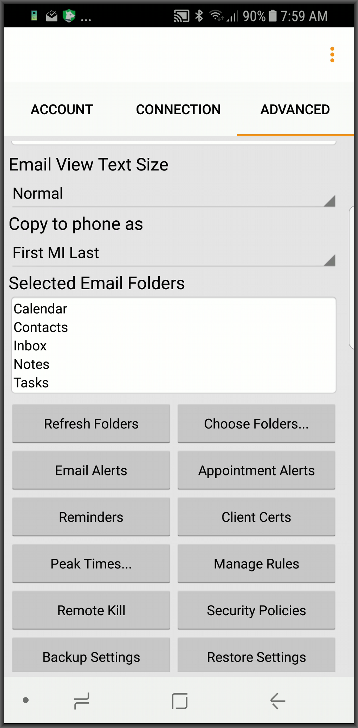 Select Choose Folders … and the screen below will pop up on top of the current screen that allows you to choose which folders to sync (of course, your folders will be different). Tapping the folder so it turns green, sets it for syncing. Tapping the arrow next to a parent folder expands that folder so you can see and sync the child folders as well (child folders do not automatically sync when a parent folder is syncing)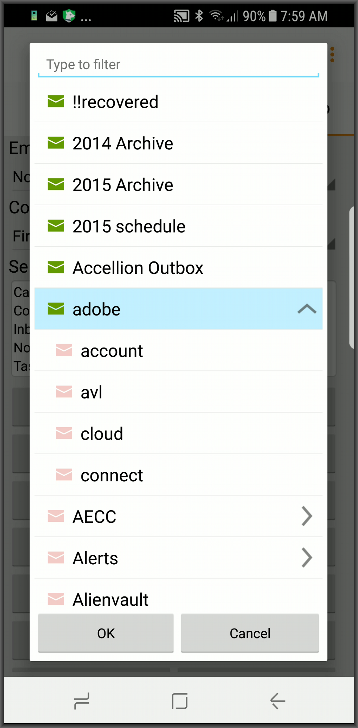 Here is the screen that will appear when you have selected all the folders you wish to sync: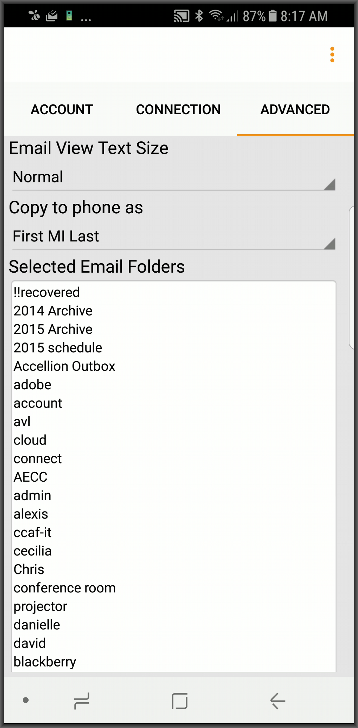 If you scroll down to the bottom of this screen you can see the various different categories of settings: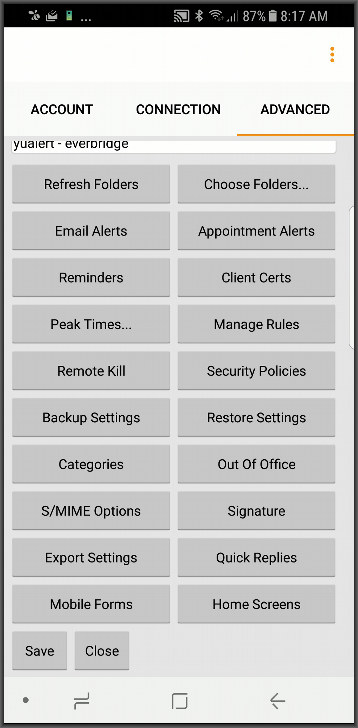 Always Save before leaving this screen
TouchDown is highly configurable. So much so that it is easy to get confused. So, before I deleted my account on my phone in order to go through all the steps for this review, I used the backup settings button to make sure I could get back to how I had it set up before.
Even though I have used TouchDown for over 15 years, when I was done, I had to use the Restore Settings button to get everything working again. As it is, the program took about 96 hours or 4 days to download my email (although in fairness to the app, I did ask it to download all of my email, which is nearly 10gb worth, and it did caution me that doing so might take a LONG time - long was in caps in the caution message).
Touchdown Email view
First and foremost, TouchDown easily displays all unread emails in one view. Simply choose to see all email and select the unread email filter. To manually sync simply tap the three menu dots and choose Sync. You can setup TouchDown to start with whichever view you find most useful, whether that's all Emails, Calendar, Today's Events, ToDo list, etc. There is a widget that displays the number of emails and the number of unread emails. Once configured. I found Touchdown one of the easier mail apps to use.
Nine from 9Folders
The Nine email app is by 9Folders. If one looks for a TouchDown alternative, Nine is the most frequently mentioned app, for good reason. Nine does almost everything you need in an Exchange email app. The most basic thing that prevents Nine from standing out is the fact it does not ask to be a device administrator. Because of this, the only way I saw to remotely wipe email from a device using Nine is a complete remote wipe of the device.
(.3 points added for the child syncing feature)
(scored out of 5 stars)
Setup
With Nine I needed to go to Manual Setup in order to get the correct settings for my server and account. (Only one email app was able to get the account settings automatically - TypeApp/BlueMail and that app doesn't seem to have great functionality - more on TypeApp later).
After trying Automatic discovery I entered the information for manual setup and that seemed to work fine (I changed the domain\username and the server)
After pressing next, it took about 10 seconds before the screen below left - Content to sync - popped up. Then it almost immediately went to the screen below right giving you the option to change the account name.
Choosing Folders - first try

In order to choose which folders to sync, you will need to tap the 3 lines on the top left of the screen,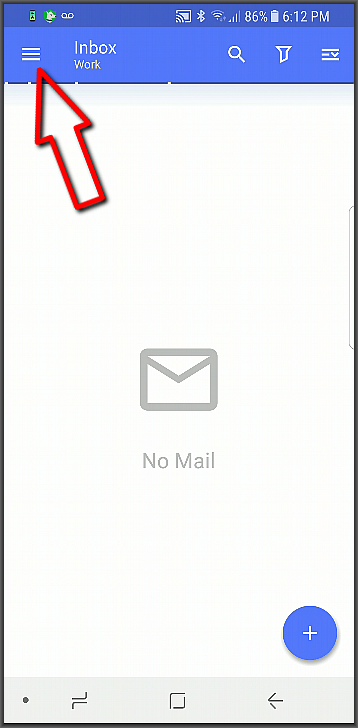 then choose folders and then tap on each folder you wish to sync. When in the folder tap the 3 lines with the arrow on the top right of the screen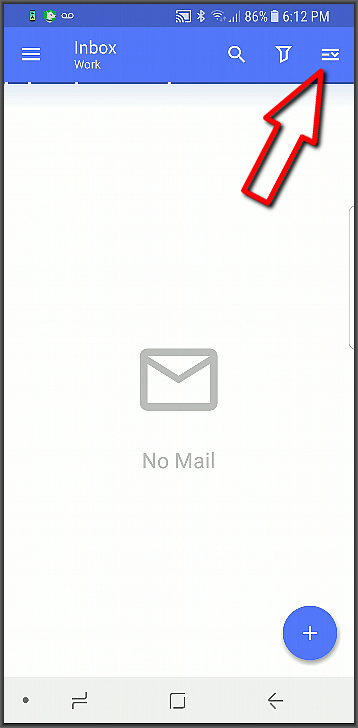 and select "Sync this folder." If you set the account default to ALL emails you don't need to set each folder's "Days of mail to sync." Just tap outside the Folder options screen twice to get to the folder list again. The folder you just worked on will be in green.
Choosing Folders - Second try
The best way to choose folders to sync is delineated in the comment below by Steve Market and illustrated here in this section. Use this method instead of the one shown above.
Tap on the lines in the upper left-hand corner (hamburger icon)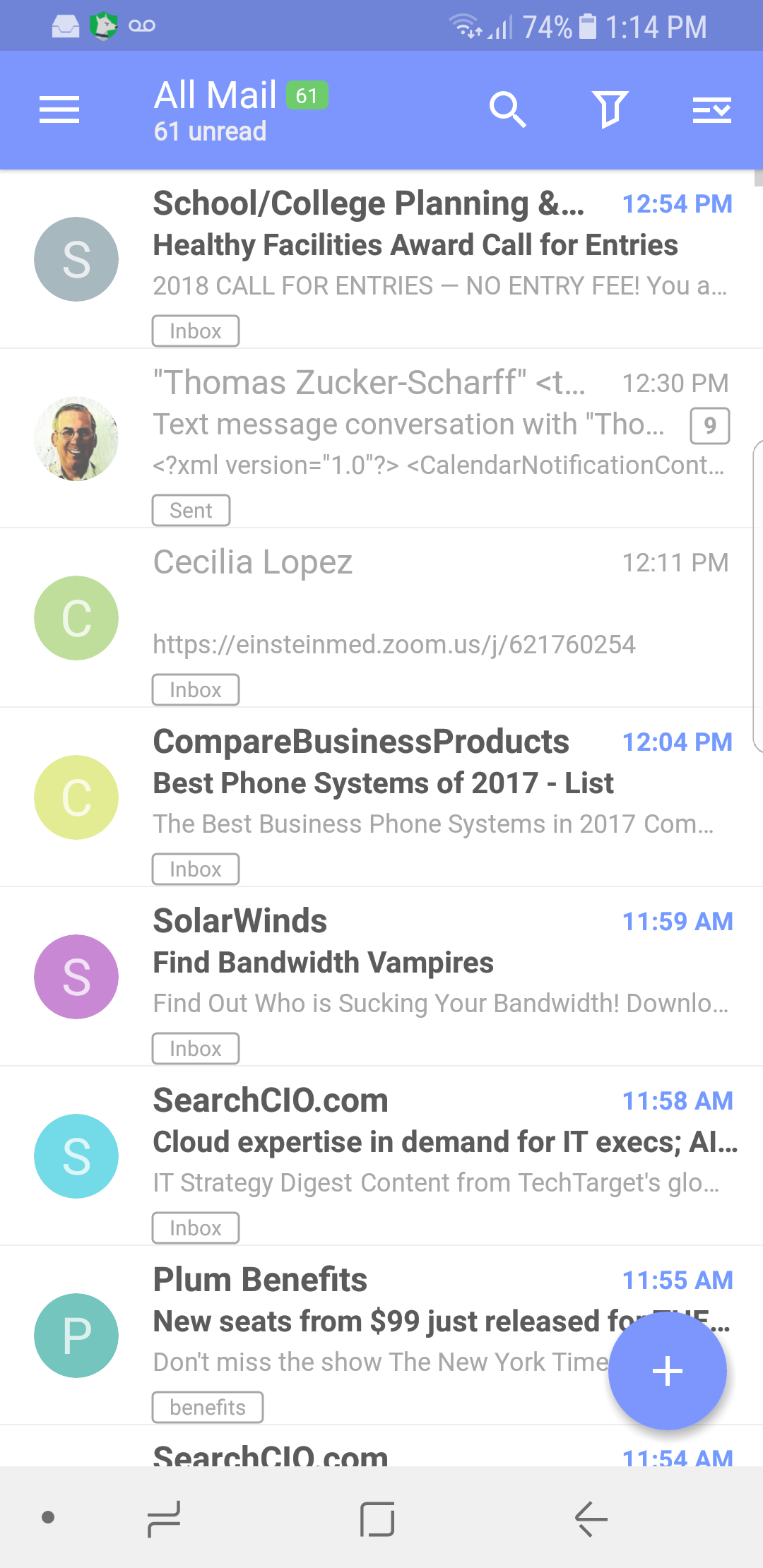 to get the first screen below. Tap the gear icon at the bottom of the first screen middle to get the screen shown in the middle. Then tap your account to get the screen shown on the right.
Now to get the left screen tap the email selection above. Then tap the folders choice in the first screen to get the middle screen. In the middle screen, I already started some folders syncing (indicated by the 2 arrows). To set a folder to sync there are 2 steps: 1. tap the folder to highlight it, 2. tap Sync, Favorite or Favorite+. Long hold on the Sync choice to sync the parent and all children folders.
All unread email
With Nine you can see all unread email from all subfolders. This is one of the few apps that can actually do this. Note that in the screenshot on the right, the folder in which the email resides is displayed. This is something TouchDown lacks.
Confession: I liked this app so much, I ended up purchasing it.
Blue Mail, Blue Mail Inc & TypeApp

(Note BlueMail and Type App are basically different versions of the same app)
(scored out of 5 stars)
It is easy to choose which folders sync, but you have to enter each folder to get it to sync for the first time. At the time of this writing, it had no way to see all unread emails in all folders.
Setup
This was so easy to set up! Just choose the type of email, put in your email, domain\username and email password and it sets everything up.
That is if you only care about the basic folders, like the Inbox, Outbox, Sent, etc. To sync other folders and/or subfolders, you will need to do a little more work. First, tap the inbox icon in the upper left corner of the screen.That will result in a screen like the one below:
When you tap each folder, it gets checked to be synced. Some will already be checked (like Inbox), the others you will need to check manually. Each folder is listed separately, whether or not it is a subfolder of something else, like the parent folder adobe and some of its children in the picture below.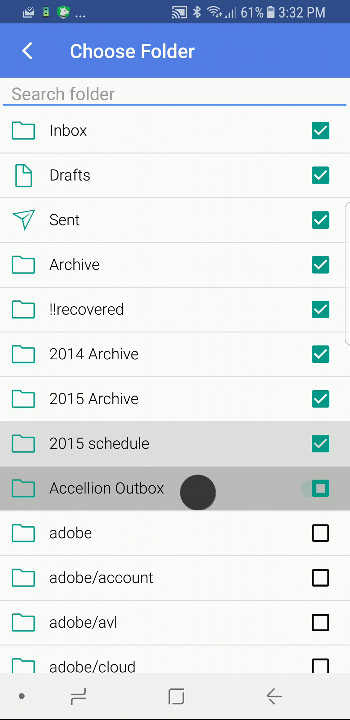 What I did find refreshing is that it is quite obvious which folders are being synced.
Despite going through all of the above, each folder is still set to offline sync of 14 days. In order to change that you need to go into a folder and tap modify as depicted below. Tap modify, then Various Account Settings and then choose how you want those set. I changed them all to unlimited, especially considering that the first one seems like it is just for Inbox and Sent.
In order to refresh in Typeapp tap the 3 dots in the upper right corner and then tap Refresh.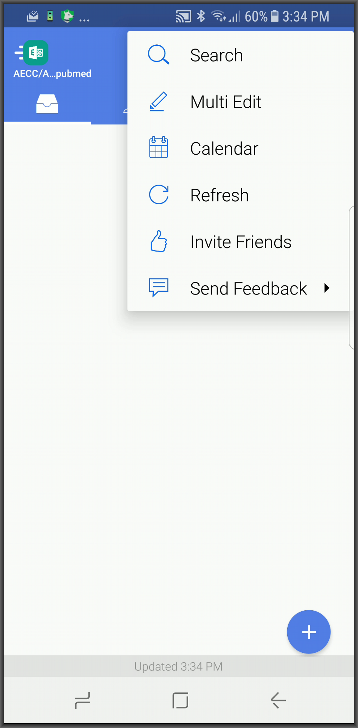 There was no way, that I could find to display all unread emails from all subfolders.
Edison Email or EMail
Edison email was easy to setup and very straightforward. It didn't automatically discover my server and login, but once I had put in the server name, my email address and domain, it connected right up. This app has a lot of bells and whistles, although right off I could not figure out how to get different folders to sync. There is a folder manager, that I found fairly quickly, but it was not obvious how to set syncing. I was also unable to immediately find settings on how many days to sync. I asked the company via twitter (@edison_apps) how to go about this and their response was "we don't automatically update your folder contents, you'll need to manually open these folders to refresh them. This is by design, but we may change this in the future."

Setup:
I started the app and tapped Add Other Account, then Exchange. I then slid the Advanced Settings slider and put in the required information and it was done!
I found that if I went to the inbox screen (below left) and tapped the three bars at the top left, it brought me to the mailboxes screen (below middle). If I then tapped the down arrow, it listed all the folders (below right). I had to go into each folder in order for it to sync. I still do not know how many days it was syncing.
MailWise
Mailwise is a great little mail app, it is relatively easy to setup and easy to use. The interface is pleasant. I was unable to even see my subfolders in this app, no less sync them or see a view of more than one email box at a time.
This app receives an additional fractions of a point for its' tutorial. Every mail app should have a nice tutorial.
Setup:
The initial screen already shows your Gmail account (if configured). Tapping on the Exchange icon brings you to the next screen, which lets you put in your basic information. If it fails to connect with that information another screen appears asking for more specific information. Once that is filled out, if your server requires more specific security permissions then you will see the next screen in this sequence. If you are okay with that and tap next on the following screen, depending on your server setup it may ask for device administrator rights. Then it will finally ask you to give your account a name.
The software will then display a short tutorial on using the Mailwise app. While it is syncing you can change the setup by tapping the three dots in the upper righthand corner. When you go to Settings and Accounts, select the account you made, in my case, "Work." This will allow you to set other settings like how many emails to synchronize.
Aquamail
Aquamail is a good email app. It doesn't pass my litmus test of being able to display all unread emails from all subfolders though. It was easy to setup and was pleasant to use.
Setup:
The setup is fairly straight forward. I opened the app, tapped exchange email, and put in my credentials. I needed to do the manual setup in order to put in the correct server and domain\username.
The next screens asked for certain permissions in order for the app to run smoothly, gave a truncated tutorial, which was helpful - so I followed its' advice to get to the settings for the account.
Tapping on folders, then on each folder listed, gave me four sync options as depicted in the center image below. Choosing which folders to sync was a two tap affair, not the best of all worlds but not the worst either. Which folders had been chosen to sync was plainly shown by a gear next to the folder and the type of syncing listed below the folder (left image below). After I set some folders to syncing, I went back several screens to another folder listing. Here I was able to access "Settings." (image on right)
Tap manage accounts, then your account, then options.
Tap account options on the screen shown on the bottom left and then you can set days to sync, etc from the screen on the bottom right.
Display:
Finally, you can go back to the main email display screen (shown below). The display is nice although it does have ads (one assumes that the Pro version has no ads and does not display the GO PRO symbol).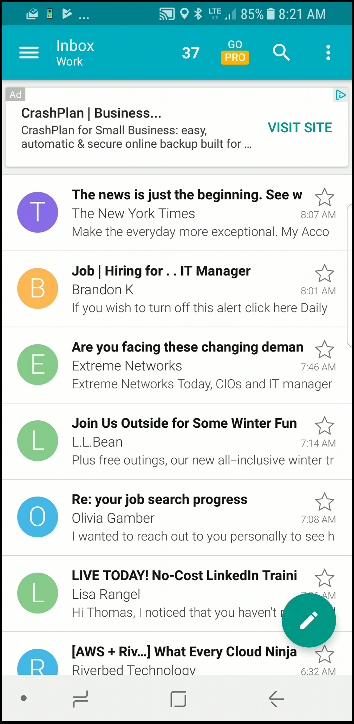 I was unable to find any way to display all unread emails with Aquamail. It does make it easier to tell which folders are being synced. Although the process of syncing each folder is not as easy as an app like TouchDown, it is easier than most others.
Samsung Email
(scored out of 5 stars)
I reviewed this app only because I own a Samsung phone. I was pleasantly surprised by virtually everything about this app. I was purposely hard on rating each item (I rarely rated the subjective categories more than a 4, but here I made some exceptions). Whoever put this app together did an excellent job and seems to really have been thinking about how people were going to be using it. One item I feel I need to explain. The 3 rating is on purpose because it is a little difficult to find where to choose the folders and once there, there is no way to expand all folders, which would not be too bad except that the way provided to expand folders is at times difficult. More on this later.
The only app that was easier to setup was TypeApp, which - if it was the standard - would have been a 5/5 while everything else would have been lucky to get 3 stars. I will walk you through the setup.
The initial screen was straight forward. I tapped Add New Account and saw the second screen. Upon entering my basic credentials I was presented with the third screen - This was not too difficult, but the icons on other email apps were better.
The app then tried to connect using the defaults, when it could not it presented me with the opportunity to change the details. I changed the domain\username, which had been the first part of my email address, and the server, which only needed 3 letters added to the front of it.
This was successful and immediately brought me to the screen to setup how many/much of my emails I wanted to sync. The following screen asked for device administrator permissions, which I think any really good exchange email app should do. And it then asked if I wanted to give the account a name.
The app then took me to my inbox. By tapping the three menu bars at the top left of the screen, I was able to see the listing of my folders. I then tapped the gear icon to get the email settings screen.
From the settings screen, tap the name of your account, Work, in my case, and you will get the screen depicted in the middle image below. Scroll down to "Folder Sync" and tap that to get the Folder Sync screen on the right below.
Here a simple toggle switch not only turns syncing on and off but also indicates which folders are being synced. Also, note the icon in the folder I circled below left. This indicates a folder that has child folders. Tapping the folder icon expands the folder (syncing the parent folder does not sync its' children). As I previously indicated, expanding these folders is sometimes trying. I had to tap some folders several times to get them to expand (maybe my fingers are just too big). Samsung email warns you when you may be syncing too many emails, as seen in the middle image below. When you finally return to the unread emails screen, you will see that all unread emails are displayed with the originating folder indicated (green arrow in the right image is pointing to folder).
MicroSoft Outlook for Android
Another member of Experts Exchange correctly pointed out that I should do more than just link to the outlook app, since this is a review of apps on the Android platform for Microsoft Exchange. In my opinion, since Exchange is made by Microsoft and the Outlook app is a Microsoft application, everything should be easy in the extreme.
I was probably in the first 1000 to download the outlook app when it came out. I also downloaded it on my iPad when it came out. I wanted this to work that badly. I was disappointed both times, although the Android implementation is better than the iOS implementation, neither met my expectations. I will go through it briefly.
Overall 1.9375 (15.5/8) plus .3 for the focused inbox = 2.2375
The Overall is only slightly better than Mailwise, while it should have been the best.
Takeaway:
In writing this review I found that TouchDown was much more difficult to setup than I had remembered. Anyone new to the Android email app market would not go for Touchdown for several reasons
It is no longer supported/upgraded
The setup is cumbersome at best
One can no longer buy a license
It takes a longer time to sync with your exchange account and is the only app I had to keep resyncing in order to get it to display correctly
If you are just getting into the Android Email market, or want an app with more support, Nine won hands down. In my opinion , the only thing that could have been better, when it came to folder sync, is if one could choose to sync all folders and then "unsync" the ones you didn't care about.
TypeApp/BlueMail is easy to setup and generally easy to use. Folder selection is fairly good (the long path for each folder can be confusing). On top of that TypeApp is cross-platform - Android, iOS, MACOS, and Apple Watch. But I have yet to find a way to see ALL unread emails from all subfolders in one view with this app.
Mailwise is a decent app but needs more improvement in order to compete. Aquamail is a contender, but my inability to find a way to display all unread emails from all subfolders takes it out of the running.
My personal suggestion is to use Nine as an alternative to any other exchange email app. The surprising, at least to me, entry in this bunch is Samsung Email. The Samsung app not only surpassed nearly all the rest in scoring and in nearly all categories, Ease of setup was taken by TypeApp - I loved it for that, and how easy it was to choose folders would have been higher if it was easier to find where to do the choosing.
I had intended to include only the top 5 alternatives to TouchDown, but decided at the last minute to include Samsung Email, and I am glad I did. If I had to say one thing that bothers me the most about the Samsung app, it is the way it displays emails in its' badge. Most of the apps have a way, usually with a widget, to display all unread emails, even when the app itself doesn't have a way to see this number. This is something I didn't realize how much I depended on until I found that although Samsung Email can display all unread emails in the app, it only displays all unread emails in the inbox in its' badge. So if I rated this app on that item it would get a 0 out of 5 for displaying all unread emails in the badge. Samsung email also does not have a widget at this time, the badge is in the app itself.
I made videos of how to setup the top two apps, Samsung Email and Nine.
(scored out of 5 stars)
* I ended up giving Nine an extra point for ease of customization for its' customizable widget.
Looking back, I would say that if TouchDown was both easier to setup (2 out of 5) and displayed the originating folder (0 out of 5), it would have been tied for the second best app with Nine. As it is the ranking of these 8 apps, including TouchDown, puts them in this order (with the best on top):
UPDATE: I found out that when I set peak times in the Samsung email app to be Monday - Friday 8am to 6pm, my email seemed to stop syncing in the middle of the day. This only happened anecdotally. But when I turned off-peak times it began syncing normally. I will most likely be playing with that setting some more and keep you updated. The other item, which I spoke to Samsung support about rather extensively, is the badge that displays the number of your emails. The Samsung app does not have a widget, instead, the app itself has a badge that displays ONLY the unread emails in the inbox.
I was told by support that this is the only way it can be done at this time in their app. I did put in a request to change this, hopefully with a widget. I also found out that when you display your emails in conversation view, they are counted differently by the app. It was only after I turned off conversation view that it started displaying the correct number of unread emails in the app itself (it was counting each conversation as 1 instead of each email as 1).
UPDATE 2: I have changed this article to reflect the fact that I was wrong when I spoke about syncing folders in Nine. I was corrected below in the comments and went back and tested it for myself. This is a far superior way to sync folders and to see what is syncing. For that I added extra points to the rating for ease of syncing folders in Nine (because it requires 2 steps to sync each folder 1-highlight the folder with a tap, 2-tap the type of sync), as well as an extra point for Nine's customizable widget. On top of that I added an extra .3 points, as I did in 2 of the other apps, for a feature I did NOT see in any other app - by long pressing the sync icon while a folder is highlighted, one can sync all of its' child folders as well!!!!! This is an excellent feature. One I had complained about not having with the other apps. It saved me a lot of time, once I discovered it (Quite accidentally I long pressed one folder and voila!).
Now Nine comes out on top as the best replacement for Touchdown, and the best all-around app to use to check your exchange email. Nine has a configurable widget - another excellent feature.