These seven tips can help you create an extraordinary website, one that captivates audiences and has them wanting to return regularly for more. Keep reading to find out what your site is missing and what you need to add!
An extraordinary website engages visitors enough to have them bookmark the site for later. Their reasons for returning may be numerous, ranging from enjoying the site's content to valuing its cohesive style.
When striving to create a great website that helps engage visitors and lead to more conversions, keep these seven tips in mind:
Craft Interesting and Scannable Content
Your website's readability is a combination of various factors, mostly about reader-friendly design and scannable content. For the content itself, it's a good idea to use short paragraphs and subheadings. A large wall of text can be intimidating, even if the content itself is interesting, whereas short paragraphs and subheadings make the content easily scannable. For readers wanting to take their time and read in-depth and those who would rather focus on the topic they find most interesting, short paragraphs and subheadings make sense.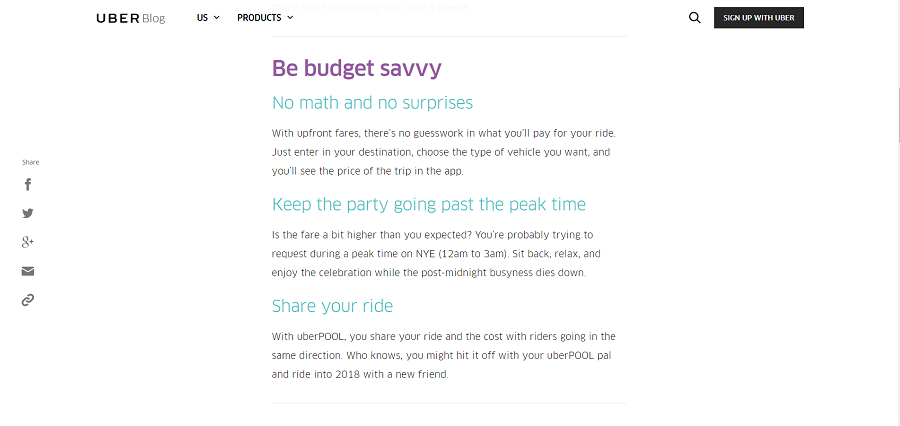 Uber's blog showcases interesting and scannable content in action. Its blog post providing tips for catching a cab on New Year's Eve features actionable tips, with variations in font and color that distinguish subheadings from the main content. Plus, there is a call-to-action in the "Sign up With Uber" button that allows for conversions of readers drawn in by the content, which is visually appealing and rich with useful information.
In addition to the content itself being interesting and scannable, it should be easy to read. Stay away from color schemes that make the text difficult to read, such as bright letters on a bright background. Instead, strive for sufficient contrast between text and background, aligning with your brand identity. Keep the text at least 16 points, so readers aren't forced to inch closer to the monitor to read. For fonts, use conventional types from the Serif font family, easily recognizable and viable in all browsers.
Make Navigation Easy
A website that's a chore to browse through will cause visitors to lose interest. Even if your content is extraordinary, it doesn't matter much if visitors can't find it. Link your logo to the home page, so visitors can quickly navigate back to the beginning. Place the menu in your website's header, prominent and available on every page.
The site's footer is also important, despite being the last section seen. It is prominent at the end of every article. From here, you should provide readers with important links, essentially a concise version of the header's menu, complete with social links and additional resources.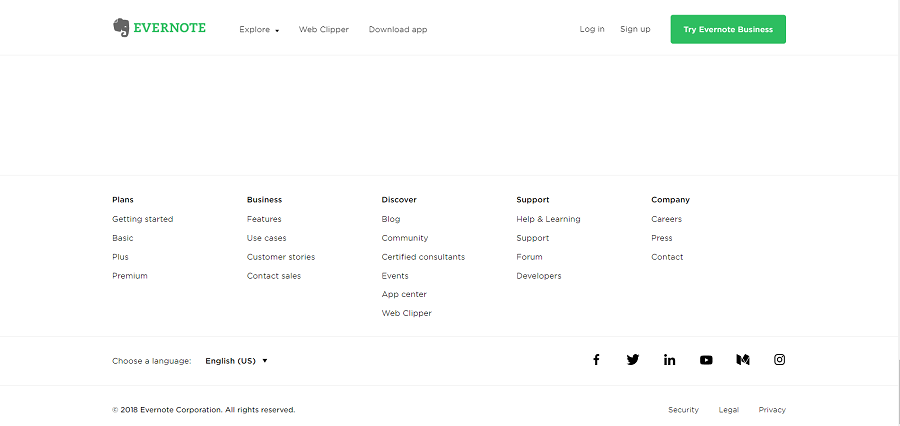 Evernote does a great job of using its footer as a concise version of its primary menu, listing everything from product plans, contact information and customer testimonials to options for support and applying for a job.
For optimal navigational purposes, your most important content on the home page should remain above the fold. Vital content helps establish what your site is all about — information readers should be able to access without having to scroll down.
Keep Mobile in Mind
Considering that 69 percent of digital media engagement is on mobile platforms, it's vital that your website's design is accommodating for mobile users. Whereas browser design caters to point-and-click, mobile design caters to the scroll-and-tap. Fortunately, there are many options to convert your pre-existing website to a mobile format. For example, if your website is running on WordPress, there are a variety of plugins that can help transform your site into a mobile-friendly counterpart, which only appears for those browsing on mobile.
The mobile audience is a substantial one, which if not catered to can result in missed opportunities for sites of all types.
Aim for Effective Minimalism on the Home Page
When surfing the web, it makes sense to scan pages instead of digesting every morsel of content. Similar to how it's important to have scannable content, your home page should concisely and effectively exude your branding and aim. The less that one has to read to gauge your site's feel, the likelier the site is to stick with them.
As a result, your home page should be effectively minimalistic, prioritizing only the best and most useful content that clarifies what your site is all about. Calls to action are especially useful on a home page, as are images or icons that can communicate your point without text.
Be Mindful of Your Competition
Your competition online can provide valuable insights regarding your industry's current trends, as well as aspects of their website design and content that may appear more effective. Your competition is always a good place to look for inspiration if you're in a creative rut. Of course, it's essential to have uniquely effective content, so you can't hijack their information. What you can do, however, is look at what topics they're touching on, while then providing your insight on that topic or trend on your site.
Be mindful of your competitors' strengths, while using those strengths as a way to develop your website into something that will eventually eclipse the competition's efforts.
Use an HTML Validator
Building a website requires ample time and focus, making the occasional mistake or two very possible. Since it's not feasible to manually sift through every page and check all links yourself, it's recommended to use an HTML validator, which helps check HTML markup for syntax errors, like missing quotation marks, open tags, extra spaces and broken links.
The Dr. Watson HTML checker checks your search engine compatibility, HTML, link validity and download speed, providing you with a great picture of how accessible your website is for visitors and search engines alike.
Provide Social Proof
A quality website lets quality content and social proof speak for itself, essentially showing that going to a competitor would not be a good decision. Social proof helps elevate this feeling, providing insight from clients and customers that praise your site, either for its content, product and service, or both. Client testimonials and customer reviews can show prominently on the home page to solidify your site's credibility, further enforced by social media widgets that show your following size.
If your site has been in notable media, a home page section for "As seen in ..." that lists various notable mentions can help bolster reputation as well.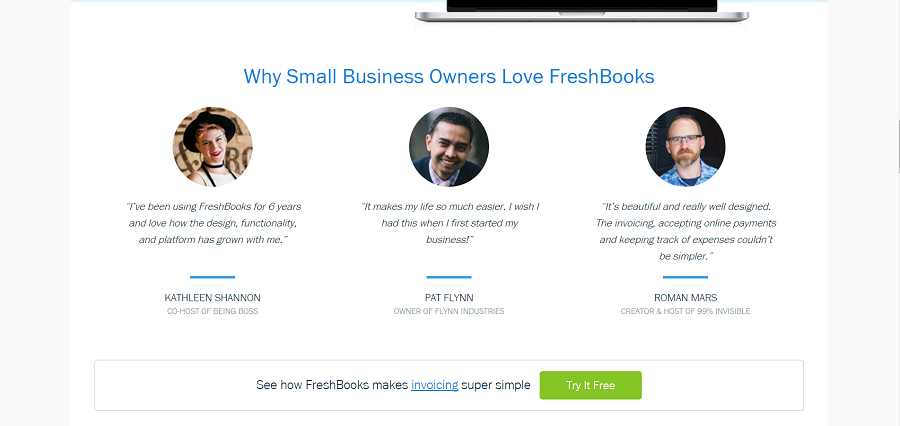 FreshBooks does a great job of immediately showing its credibility, listing small-business owners praising the product. Showing the photo, name and company of the person giving the testimonial gives the praise a trustworthy feel. The social proof is prominent on FreshBooks' home page, with an effective call-to-action — "Try It Free" — directly below the social proof.
These seven tips can help you create an extraordinary website, one that captivates audiences and has them wanting to return regularly for more.
Did you enjoy the article? Please give it a "thumbs up!" And do you have any suggestions or further insight on web design? Do leave it in the comments section.