The purpose of this article is to describe how to ask a good question, get fast responses that solve your problem and also to explain how to recognize those who have helped you along the way.
What are things I can do to ensure my problem is resolved in a timely manner?
---
1) Ask a good question.
Here are the basic steps to asking a question:
* Go to https://www.experts-exchange.com/askQuestion.jsp
* Describe your tech problem.
* Categorize your question by adding relevant topics.
* Give your question a title.
* (Optional: Prioritize your question)
* (Optional: choose the type of Security on your question)
* (Optional: Allow members to recommend Gigs or Live)
* (Optional: enable clarifications)
When the question is posted experts will be notified of your question.
Believe it or not, asking a good question is the key ingredient to getting fast responses from the experts. For example, if an error appears on my MacBook and need help figuring out how to fix it, I will need to ask a good question so that the expert can better understand the problem I am facing.
A while ago I got a "status: 0x40003 Code: 0x100002000014 Stackshot reason: Watchdog" error on my MacBook when I opened it on from sleep mode. If I ask a question on the website and only put minimal information about this in my question, it doesn't give a lot of information of how I got to this error. Look at the following example: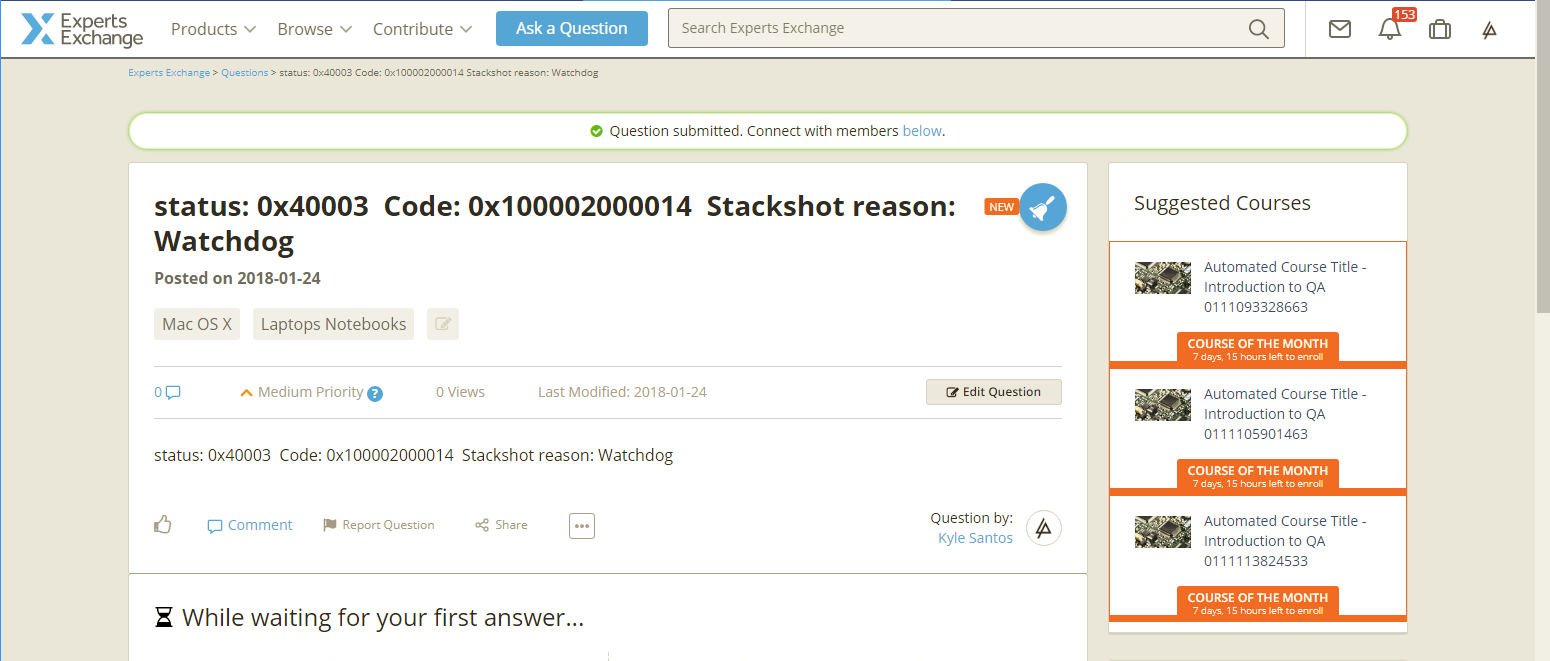 If an expert looks at this question, they don't have much information to go off of to try and help you. And there isn't even a question with this post. How is an expert supposed to help someone if this is all the information that is provided by the asker?
Clarification is necessary.
Here is a more defined example of the question with the same error that is easier for experts to understand and help me to resolve. In this second question I've clarified a few things about what happened to get that error:
The brand of the laptop
The operating system
Described the steps to produce the error
Explained what I have already tried to resolve this myself
Provided the error code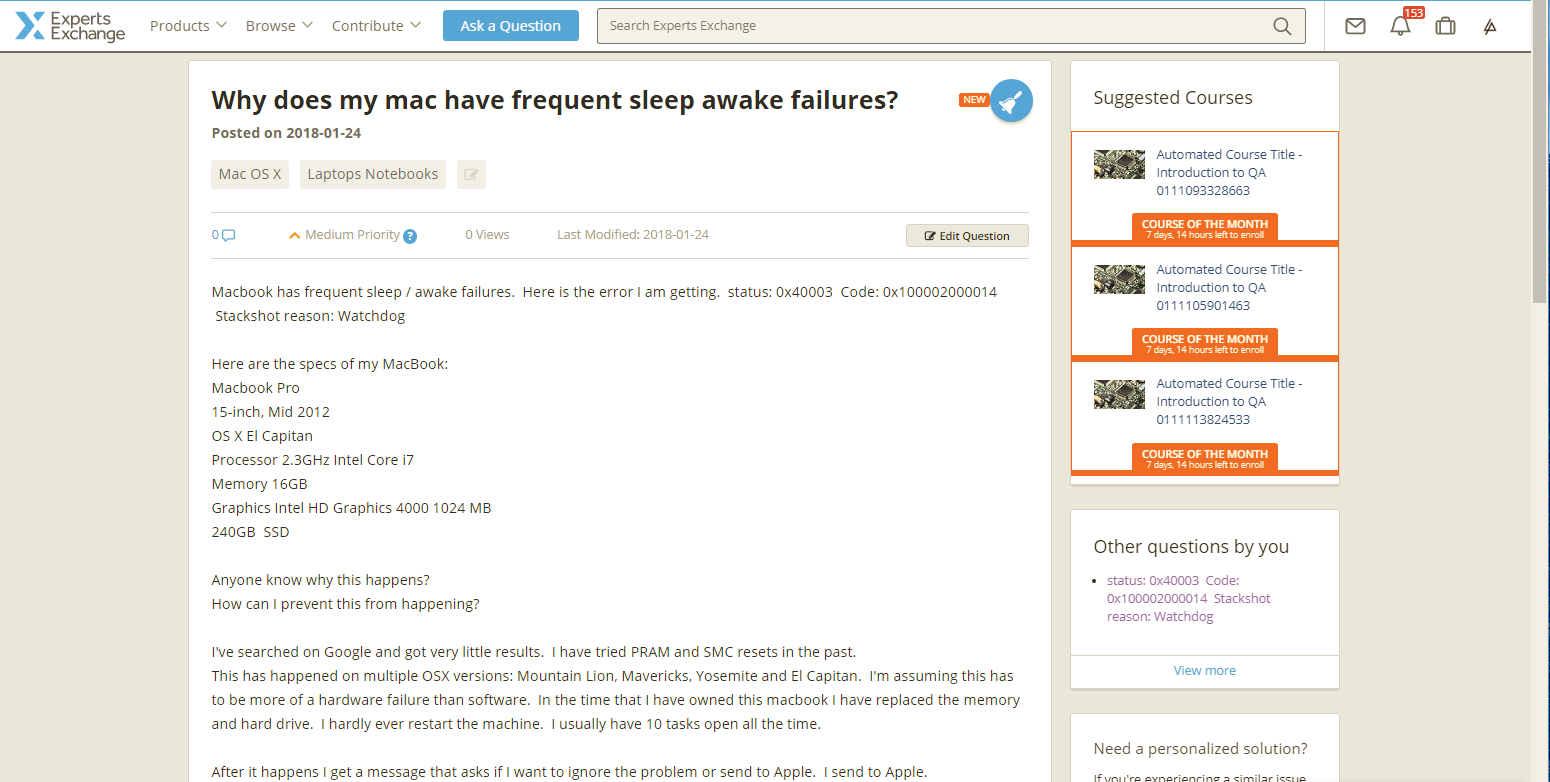 For more information on how to ask a good question please see this support article - http://support.experts-exchange.com/customer/portal/articles/756544-how-to-succeed-at-ee-as-an-asker
2) Stay engaged with your question and the experts who are replying.
Getting help is a two way street. Some questions are not going to have magic bullet answers. On the other hand a lot of those questions are easily solved by simply searching Experts Exchange. The expert will sometimes need to ask probing questions to help troubleshoot your issue. Replying to the expert and having a back and forth with them is important to the success of you finding a solution. Help them to help you. Even if you need to reply saying something like "I've tried that and it didn't work." It at least lets the expert know that you're both thinking about the same thing in trying to solve the problem. This also provides them the opportunity to try other solutions with you.
Here is an example of staying engaged with the expert who is trying to help me solve my problem after I have asked my question. Below their comment is a 'Write comment' box. This is where I need to respond to them.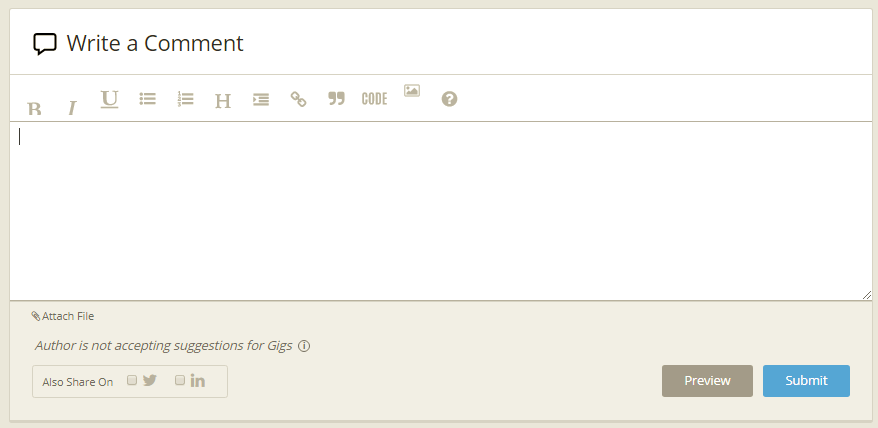 Here is where we have written comments back and forth to each other.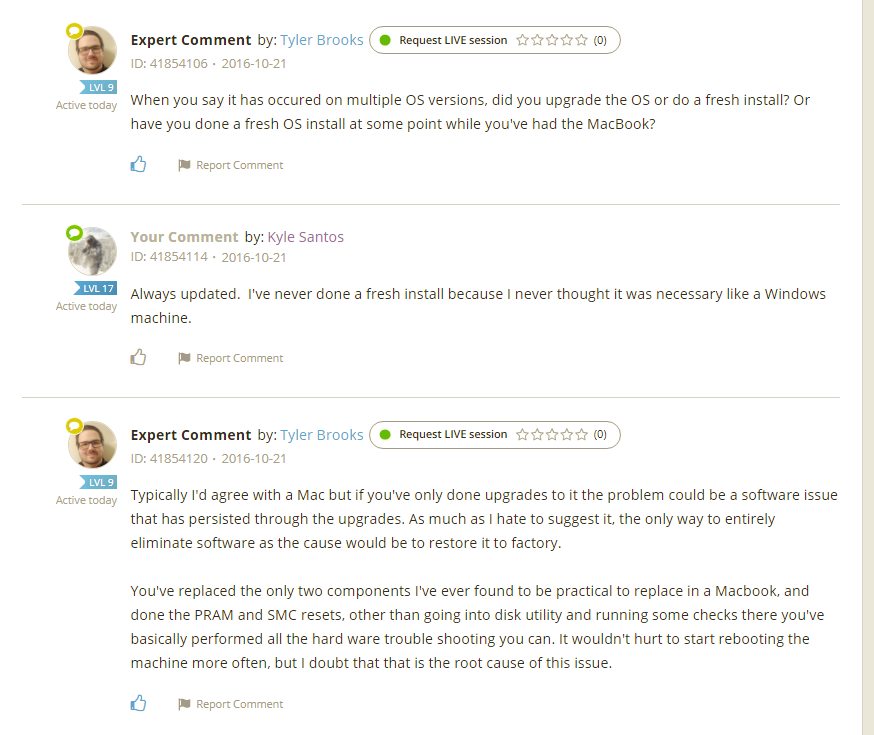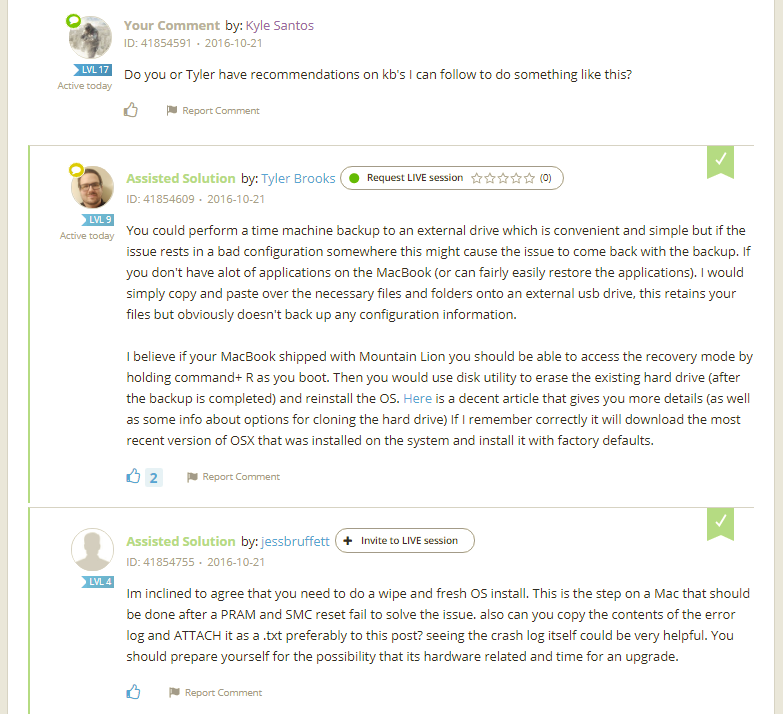 By continuing to engage with the experts, the question is moving towards a resolution.
3) Close your question.
This is the integral piece of the process that establishes that everyone has come to a conclusion on the problem. This is also the best opportunity to show the expert that you appreciated their assistance.
You asked a question. The expert provided an answer. Close your question by accepting a Best Solution and any Assisted Solutions, click Next, leave a parting comment and click the Close Question button. Here are screen shots on how to close a question.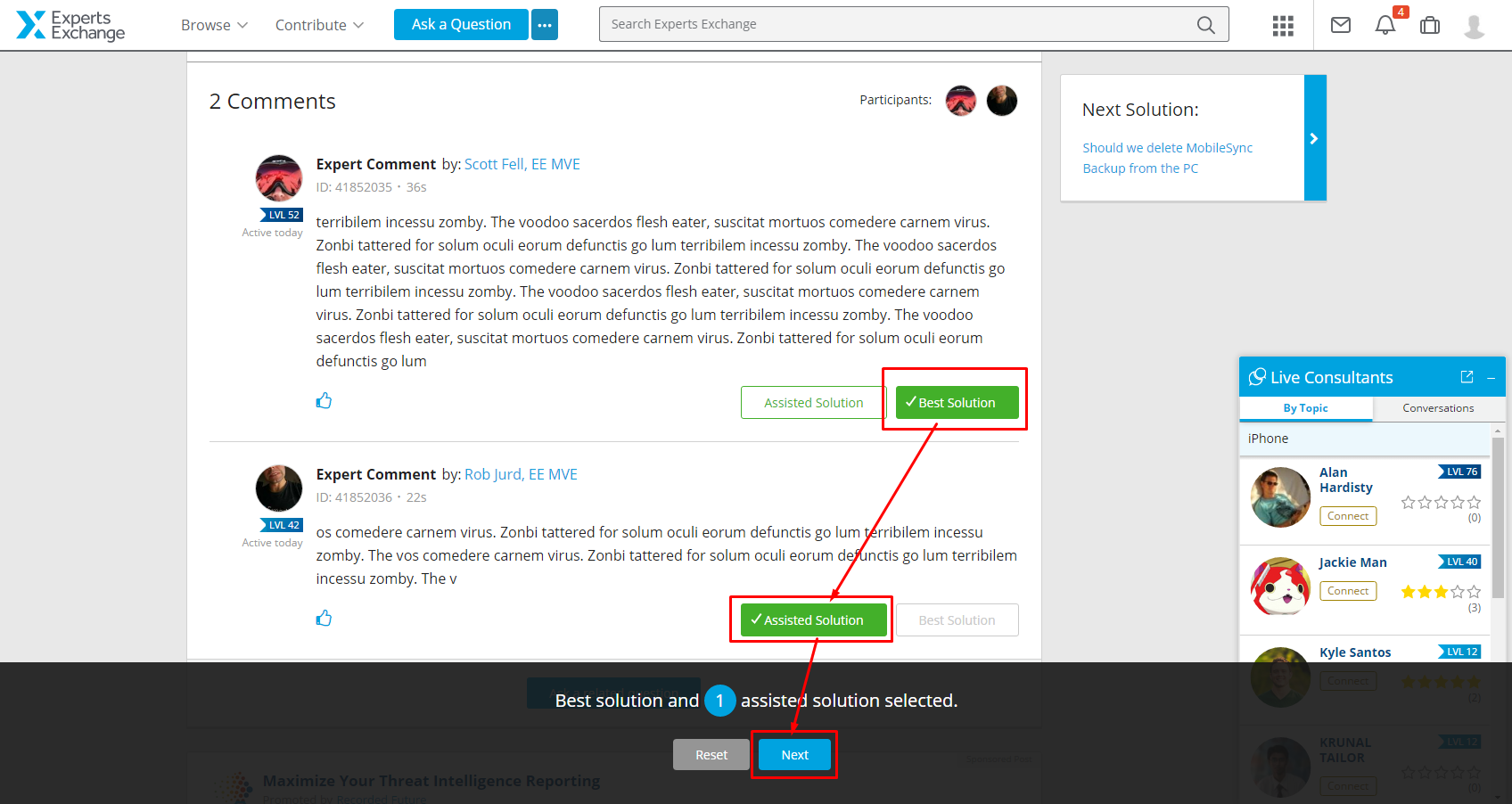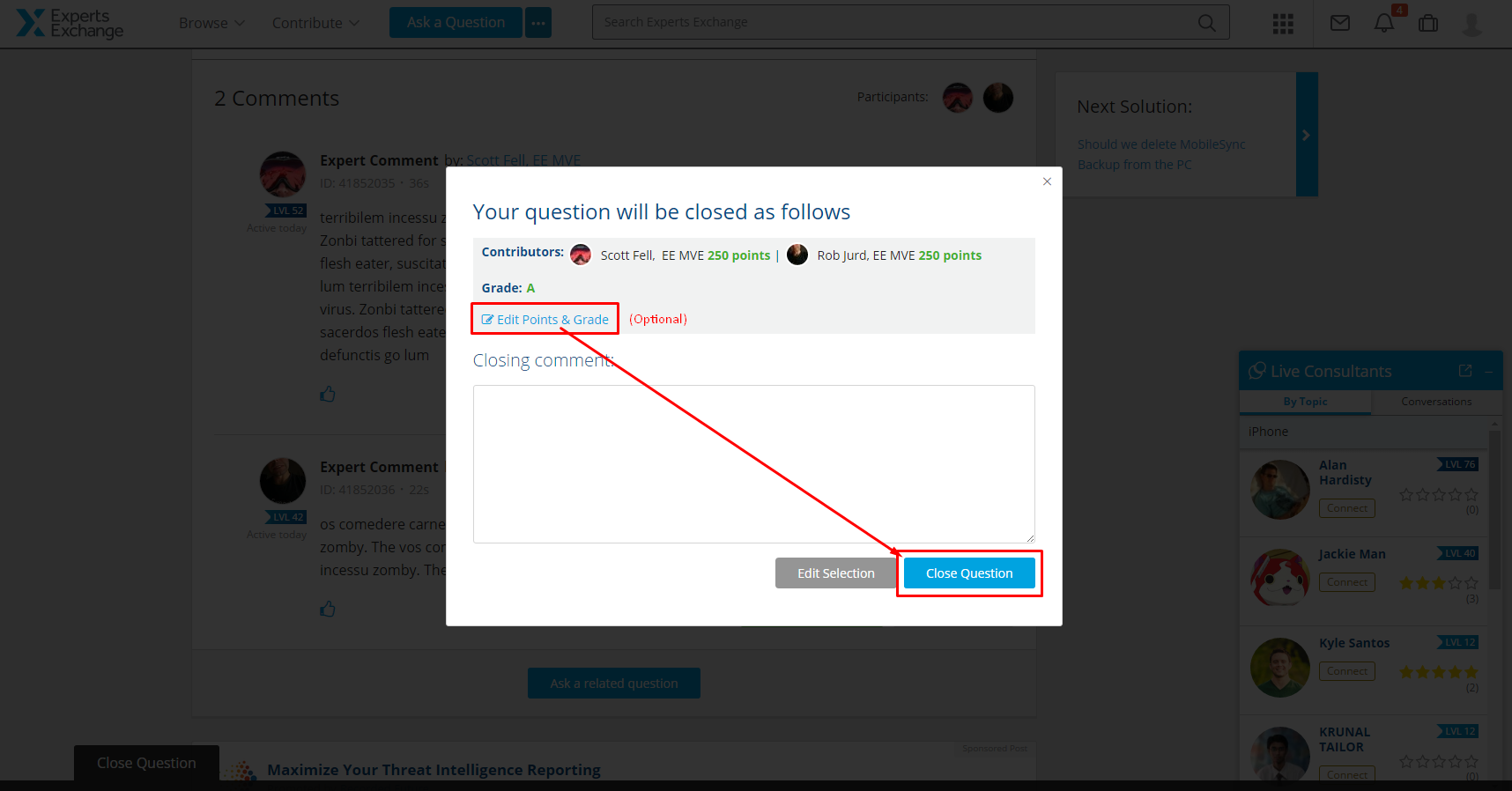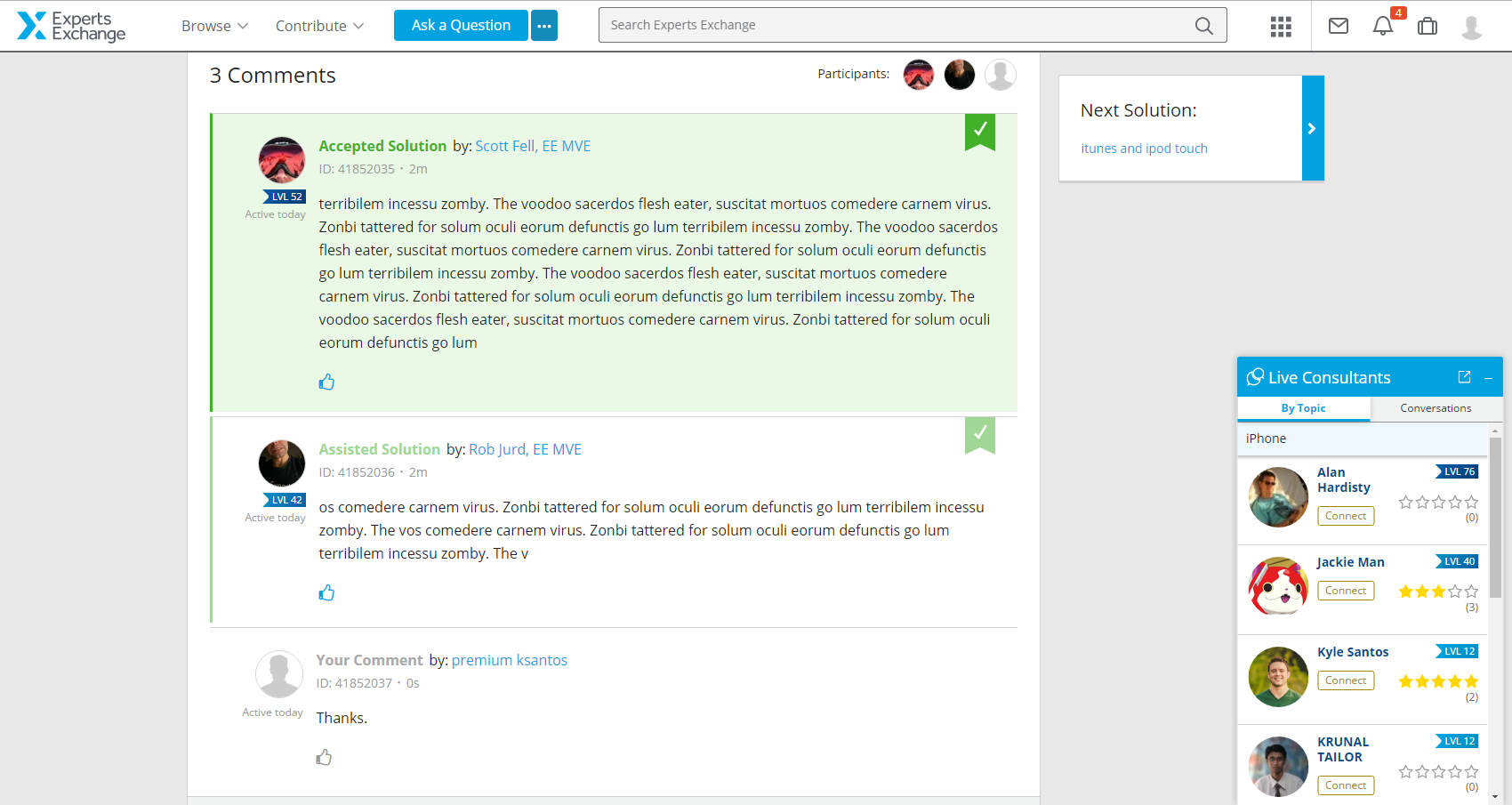 If you ever need help closing your question or have questions on closing processes that don't exactly fit what was discussed above, then please do one or all of the following:
Conclusion
We've talked about three simple ingredients in optimizing your experience in asking questions on Experts Exchange. Let's recap:
1) Ask a good question. Provide as much detail as possible in how the problem happened and what you have tried to solve the problem.
2) Stay engaged with your question. Respond to the experts. Have a back and forth with them to work through the problem.
3) Close your question. You've received a solution and have the opportunity to reward the expert for their help.
If you have any other questions or comments please ask below and I'm happy to assist. If you believe this article was helpful to the community please endorse this article by clicking the Thumbs Up at the bottom left.