Take advantage of one of the most useful technologies available - virtualization!
Virtualization has changed the world of computers and networks in some pretty drastic ways. If you've never played around with it, I'd recommend you do so; it's one of the more useful technologies out there.
The first thing you'll need to do is make sure your computer is configured to run Hyper-V. This is a setting you'll find in your BIOS. Where it's located varies from computer to computer, but it will live somewhere in the CPU settings and will look something like this: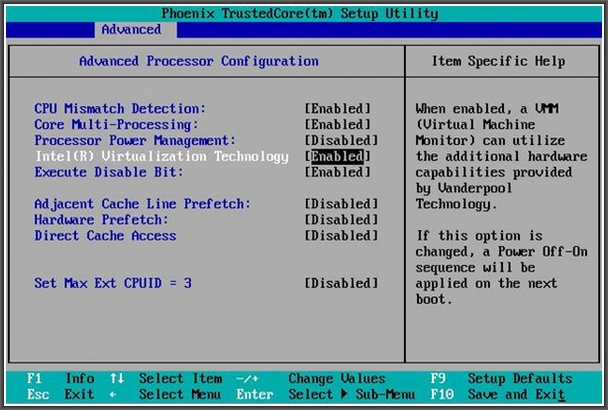 One common mistake that trips people up is rebooting the computer after the BIOS settings are changed. You actually need to power down the computer and then turn it back on.
Installing Hyper-V
Once you're back into the OS (I'm using Windows Server 2016 Standard), go into Server Manager, select the "Manage" menu and then "Add Roles and Features":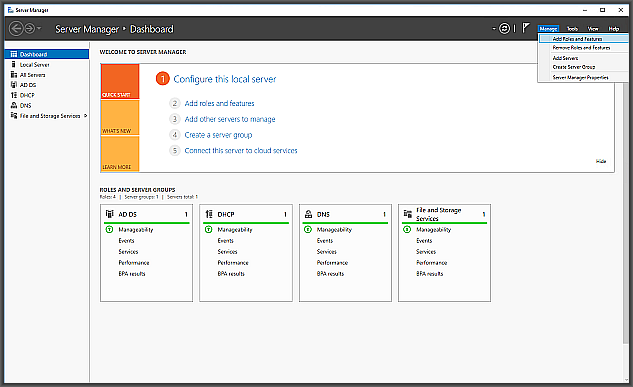 When the wizard launches, just click next:
For the "Select installation type" window, accept the default setting and click "Next":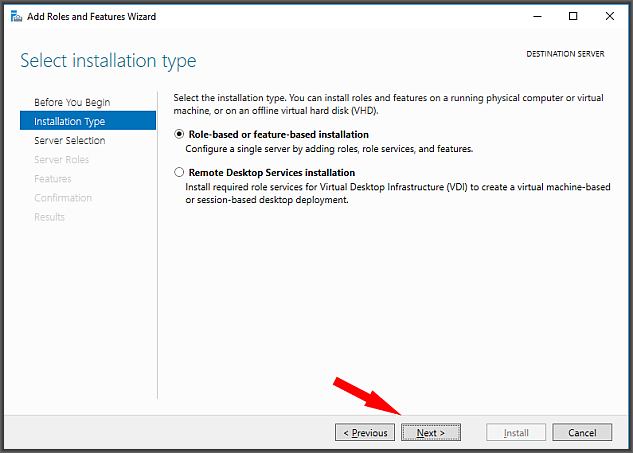 In the "Select destination server" window, accept the default setting and click "Next":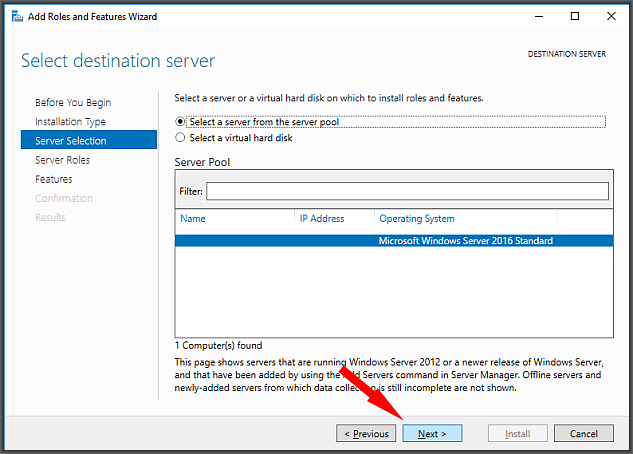 In the "Select server roles" window, select "Hyper-V" and click "Next":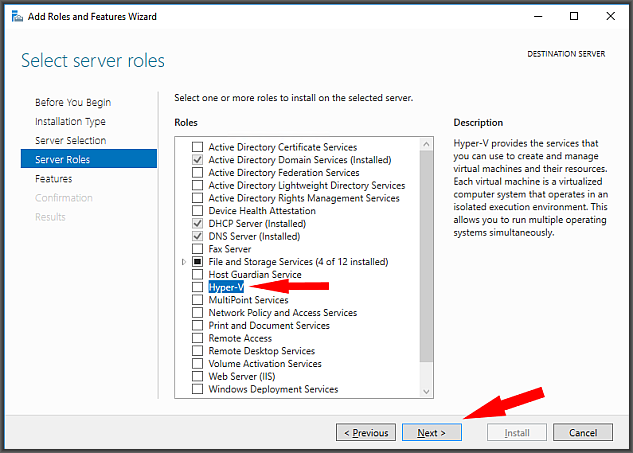 A window will pop up asking if you want to add the features required for Hyper-V. I'm not sure why they ask about this; I mean, if you don't add these features, you won't be able to manage the role.
Make sure the "Include management tools (if applicable)" check box is checked and then click "Add Features":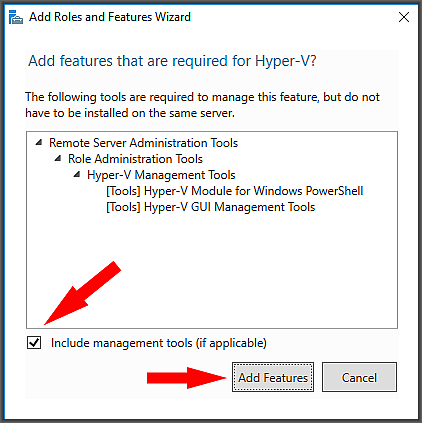 In the "Select features" window, accept the defaults and click "Next":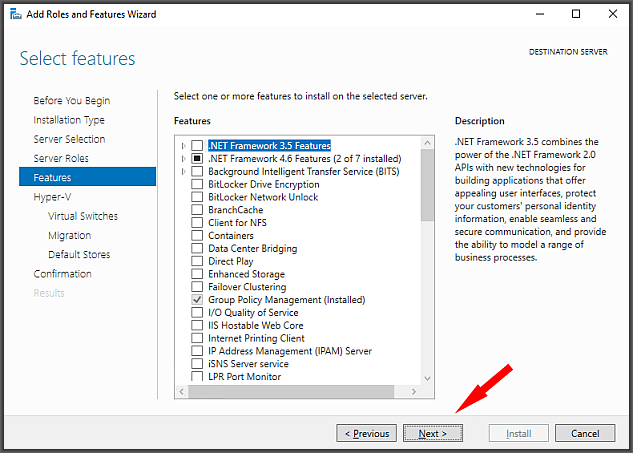 In the "Hyper-V" window, click "Next":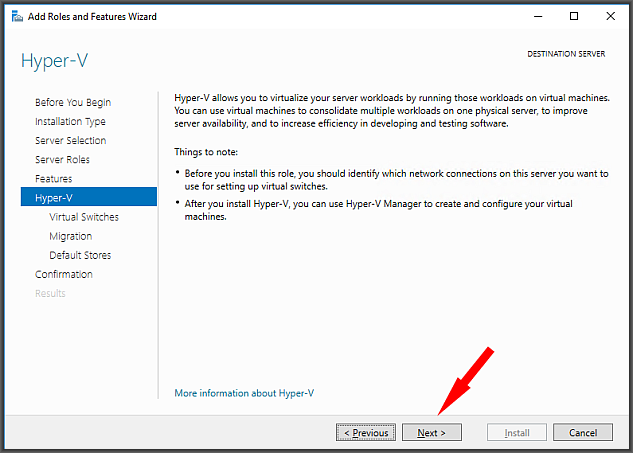 In order for the virtual machines you create to have access to your network and/or the internet, you'll need to select a network adapter on your computer to use for a virtual switch.
If you're going to play around with this stuff, I'd recommend using two NICs in your computer: one dedicated to Hyper-V and one dedicated to your computer. If you only have one, that's okay, too.
In the "Create Virtual Switches" window, select the appropriate network adapter and click "Next":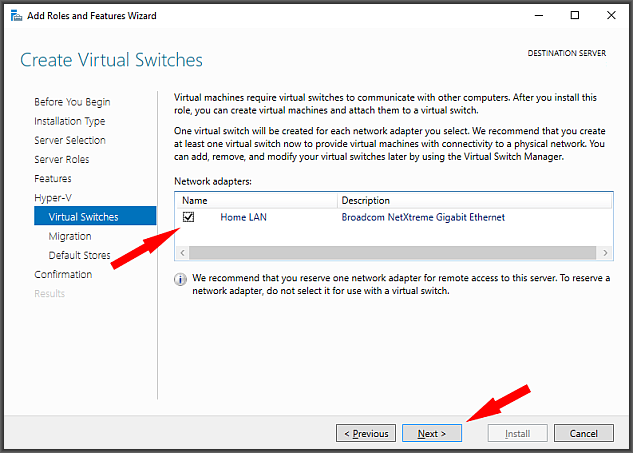 In the "Virtual Machine Migration" window, accept the defaults and click "Next":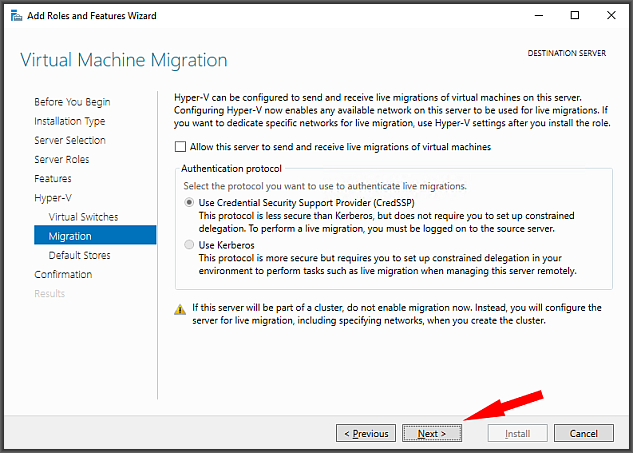 The next window allows you to select where to store your virtual machines and virtual hard drives. I generally like to create a folder somewhere specifically for storing these, but that's up to you.
Either browse to a different location or accept the default settings and click "Next":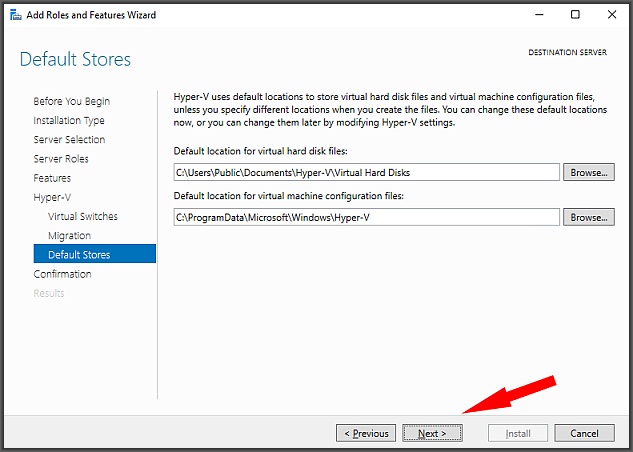 On the "Confirm installation selections" window, click "Install":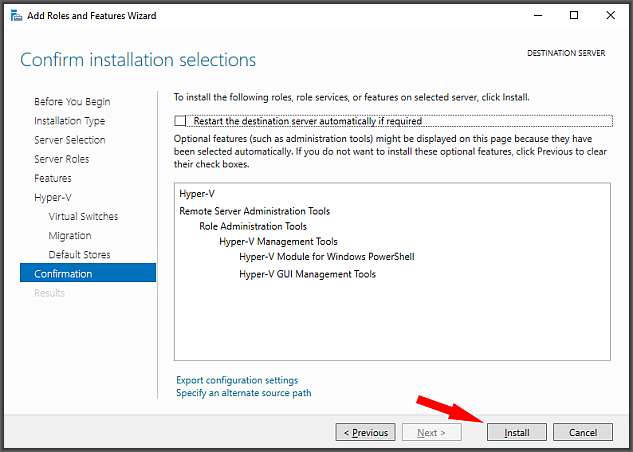 At this point, the Hyper-V role and features will be installed and you'll have to reboot the server. Once it's back up, you're ready to create a virtual machine.
If you found this article to be useful, please give me a thumbs up!