Many times while working on a computer regardless of any Operating System, lag and crashes seem to creep in, hindering your working speed. Sometimes, it can also cause your work to be lost unexpectedly and as a result, you are unable to meet your deadlines. This article aims to reinforce importance of maintaining your computer by the help of softwares both included and excluded from Windows OS.
1. Disk Cleanup
The Disk Cleanup tool in Windows helps you to toss out all those old unneeded temporary files, all the trash in the recycle bin, and many other bits and pieces that are no longer needed. The amount of space freed up on your hard disc improves the performance of your computer. This tool identifies files that you can safely delete, and then enables you to choose which identified files you want to delete.
Aim of Disk Cleanup
Remove temporary Internet files
Remove downloaded Program Files (ActiveX/Java)
Empty Recycle Bin
Remove Archived System Reports
Remove Optional Windows Components
Remove files by installations (especially those which make use of .msi technology)
Remove unused restore points and shadow copied created by System Restore
*Temporary files take out the most disk space because the browser caches every page for faster access at a later time.
Ways to access Disk Cleanup:
1) Start > All Programs > Accessories > System Tools > Disk Cleanup
2) Start > Type "cleanmgr.exe" in the search box
If you prefer a detailed breakdown of the files that are to be deleted, CCleaner offers an alternative to Disk Cleanup. It can be downloaded at:
CCleaner download link (CNET)
Aim of Disk Defragmenter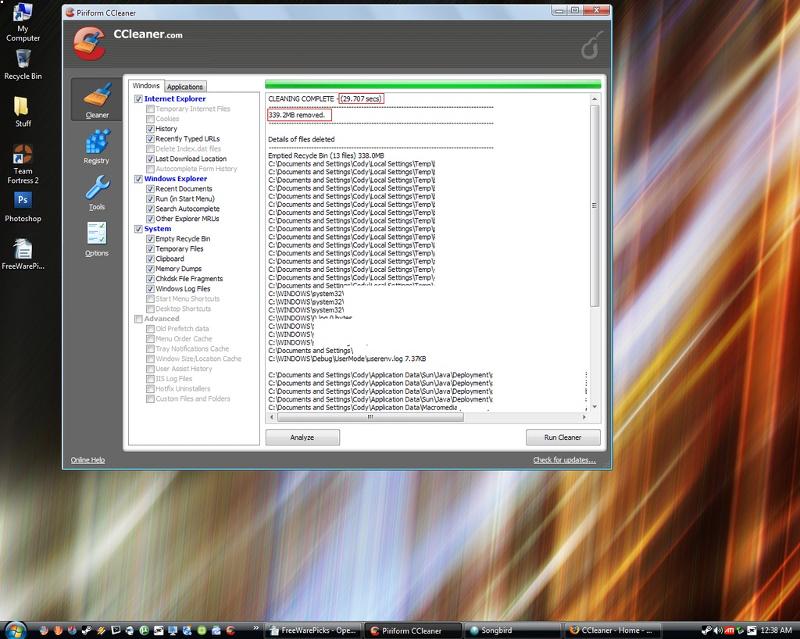 2. Disk Defragmenter
Over time, files on your computer are moved around the hard drive due to the creation and deletion of files. Eventually, the problem of disk fragmentation will arise and will slow the overall performance of your system. When files are fragmented, the computer must search the hard disk when the file is opened to piece it back together. The response time generated by the application can be significantly longer.
When to run Disk Defragmenter:
It is recommended to run Disk Defragmenter on a weekly or at most on a monthly basis. There are exceptions, however;
When you add a large number of files

Your free hard disk space totals to 15% or less

You installed a new program or a new version of Windows

Ways to access Disk Defragmenter:
1) Start > All Programs > Accessories > System Tools> Disk Defragmenter
2) Start > Type "Disk Defragmenter" in the search box
3) Start > CMD (run in admin mode) > defrag.exe /syntax (This is console based and recommended for experienced users)
*For those who find that the lack of a GUI (Graphic User Interface) irritating because you can't see the layout of the hard drive, I would suggest you try either of...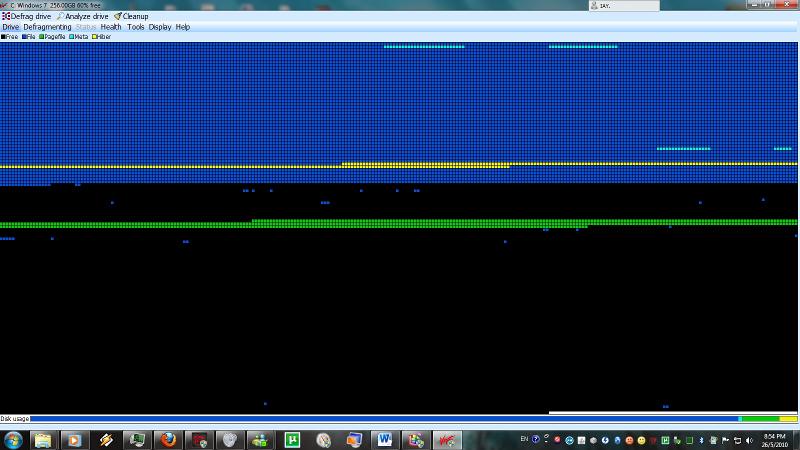 3. Check Disk Utility
In addition to running Disk Cleanup and Disk Defragmenter to optimize the performance of your computer, you can check the integrity of the files stored on your hard disk by running the Error Checking Utility. As you use your hard drive, it can develop bad sectors. Bad sectors slow down hard disk performance and sometimes make data writing (such as file saving) difficult, or in extreme cases impossible. The Error Checking Utility scans the hard drive for bad sectors, and scans for file system errors to see whether certain files or folders are misplaced.
Aim of Check Disk Utility:
To diagnose integrity of core Windows files
To correct and recover bad sectors (especially Master File Table (MFT) errors)
Ways to access Check Disk Utility:
1) Start > Computer > Right-click drive for checking > Properties > Tools > Error-checking > Check Now > Check box as desired
2) Start > CMD (run in admin mode) > chkdsk /syntax (This is console based and recommended for experienced users)
4. Viruses & Spyware
Are windows occasionally popping up or programs starting independently? Is your hard drive constantly spinning? These and other problems may be caused by viruses or spyware. Viruses may create unwanted programs in the background and you won't even realize it. It uses your computer's CPU and hardware and acts as a host to constantly spread its infection to other users on your network or the internet. Spyware collects personal information without letting you know and without asking for permission. From the Web sites you visit to usernames and passwords, spyware can put you and your confidential information at risk. In addition to privacy concerns, spyware can hamper your computer's performance. To combat spyware, you might want to consider using the following anti-spyware/anti-virus softwares:
Microsoft Security Essentials (Free)

Norton (Paid)

AVG (Free or paid)

Avira Personal (Free)

McAfee (Paid)

ESET Nod32 (Paid)

Kaspersky (Paid)

5. Readyboost
If you're using Windows 7 or Windows Vista, you can use ReadyBoost to speed up your system. It is a new concept in adding memory to a system, it allows you to use non-volatile flash memory—like a USB flash drive or a memory card—to improve performance without having to add additional memory.
Aim of Readyboost:
Increases total Virtual Memory available to CPU

Increases overall system performance and easing burden of RAM

Accessing Readyboost:
Start > Computer > Drive to be used for Readyboost > Properties > Readyboost
*Only applicable to flash drives and flash memory only
6. Windows Updates
One of the best things you can do to protect your PC is also one of the easiest: Make sure you are set up to get automatic updates from Microsoft. If you use Windows and other Microsoft software, such as Microsoft Office or Windows Live Essentials, then you should use the Microsoft Update service. You'll also get notices about new Microsoft software that you can download for free.
Aim of Windows Updates:
Keep your computer up-to-date

Many updates improve the reliability and performance of the system

Ways to access Windows Updates:
1) Start > All Programs > Windows Updates
2) Start > Control Panel > Windows Updates
3)
Windows Update Website (XP and earlier)
7. Uninstall programs
Even a brand new computer has programs that you never use and don't need. If you don't use a program, uninstall it. This goes for pre-installed software, trial software you decided not to purchase, or software that you've replaced with an updated version. Many unwanted programs run in the background upon startup whether you are using them or not. They take up disc space and memory. If you don't need the program, uninstall it. One warning: If you don't recognize a program name or know what it does, don't uninstall it until you've checked to see if it's software essential to running your PC.
Aims of uninstalling programs:
Frees up disk space

Reduces number of programs at startup

Reduces number of services running in Windows

Improves overall boot-up and shutdown times

Ways to access Programs and Features
1) Start > Control Panel > Programs and Features
2) Start > Control Panel > Programs and Features > Turn Windows Features on or off (Only enabling and disabling of components)
8. Adjust Visual Effects
The more intense your Windows visual effects, the more your graphic card has to work and graphic cards need to use RAM to render effects on the display. Adjusting the visual effects of Windows can significantly increase the amount of RAM available for use on other processes.
Aim of Adjusting Visual Effects:
Frees up more RAM

Speeds up loading of files, folders and applications

Access the Adjusting Visual Effects options:
Computer > System Properties > Advanced System Settings > Advanced > Performance > Visual Effects > "Any option whichever suits you" > Apply
9. Startup Programs and Services
Startup programs and services can severely affect your performance especially during startup, when many programs use your RAM to load each respective program and/or services. It will take a while to allow the computer to fully load for your usage. To decrease the amount of startup programs and services, we need to access MSCONFIG.exe or services.msc (These components are highly sensitive to changes, proceed at own risk) for services and MSCONFIG.exe or Windows Defender for startup programs
Aim of Disabling Startup Programs and Services:
Decreases overall boot-up and shutdown time

Reduces number of services in the background at any one time

Reduces amount of RAM dedicated to startup programs

Ways to Disable Services:
1) Start > Type "Services.msc" in the search box > Disable non-essential Services (Novice)
2) Start > Control Panel > Administrative Tools > Services > Disable non-essential Services (Novice)
3) Start > Type "MSCONFIG.exe" in the search box > Services > Disable non-essential services (Experienced)
*Gentle note when disabling services:
1) Do NOT disable Bluetooth Support Service as this will render it impossible to access Devices and Printers and the inability to detect Bluetooth devices.
2) For those who have Adobe Creative Suites installed, do not disable FLEXnet Licensing Service, it will render programs from the creative suite inaccessible with the error code 148:3
Ways to Disable Startup Programs
1) Start > Control Panel > Windows Defender (Novice)
2) Start > Type "MSCONFIG.exe" in the search box > Startup > Disable non-essential Programs (Experienced)
10. Tweak your computer
There are many hidden features in Windows that you can't enable or disable. To name a few: Autologon (usually because password needed for Remote Desktop Connection and that's it), legal notice (Used in companies or government agencies to prevent unauthorized access), Internet browser behaviour etc. You can customise Windows Features and web browsers to suit your style. Unfortunately, these programs are not included in any version of Windows and have to be purchased through a vendor.
Aims of tweaking your computer:
To modify the presentation of Windows to your likings

Improves ease of usage

Improves performance in all areas of Windows

Programs that support tweaking of Windows:
Tuneup Utilities (Common)

Auslogics Tweak Manager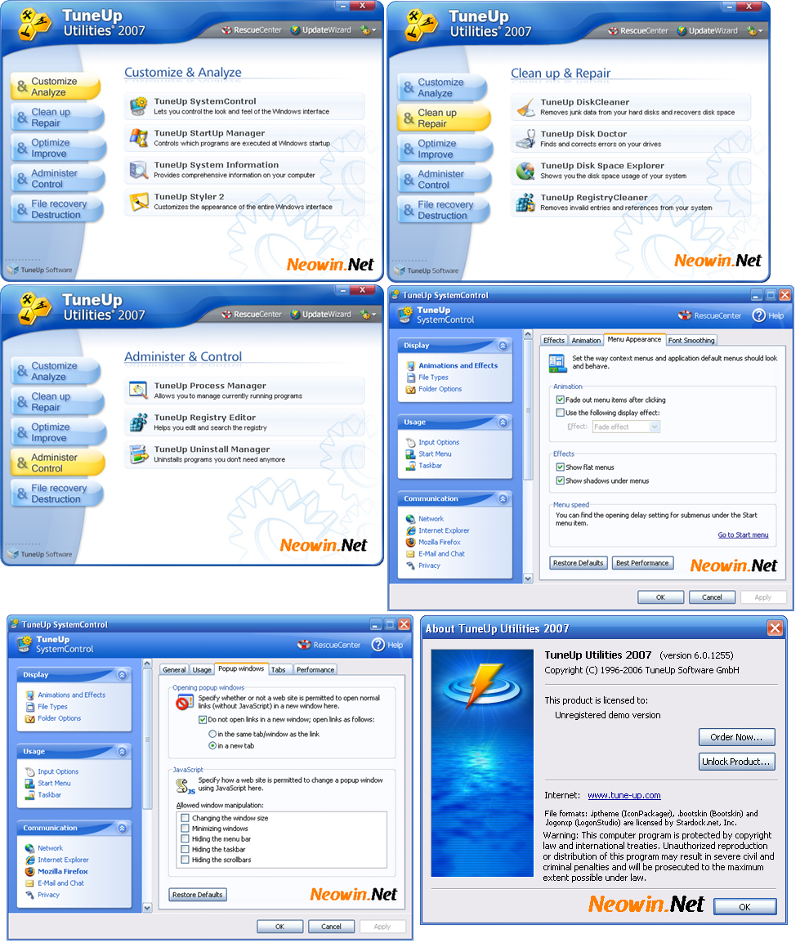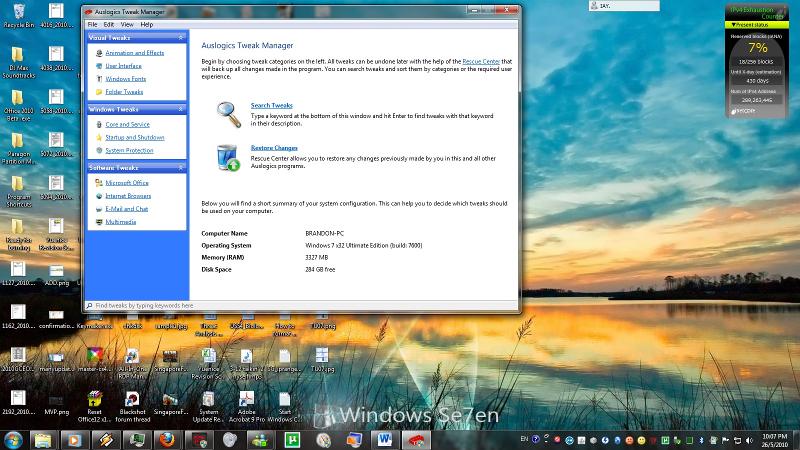 I hope that this article has helped you in some way in improving your computer(s) performance. Below these few lines, please click on the blue box which states "Yes" if you found this article useful or the red box which states "No" if you thought that it is not useful. Please also leave comments so that I can improve on this article. Thank you for reading this article.
I would also like to thank Ron Doyle and Microsoft for providing extensive information for this article, full list of these best practices can be found at
10 Ways to speed up your PC
5 Ways to Speed up your PC
*The percentage of increased performance resulting from the execution of these best practices varies from computer to computer and the duration between the executions. However, if it is your first time running these programs, be it just installing a new copy of Windows or after a long period of time, the estimated percentage in increased performance is 3-20%. And again, the percentage varies accordingly to the hardware installed in each computer.
-Brandon