This tutorial summarizes the causes behind"an unknown error prevented access to the PST File". It also suggests the various solutions to fix the problem.
PST files are crucial for Microsoft Outlook to work properly. Due to the file corruption, the program may not work properly. Usually, the latter problem is also followed by "an unknown error prevented access to the PST File" error which might be a disaster if users do not have backups. Seeing this message on the screen means that needed data cannot be restored.
Backing up PST files, as well as other data, is important. However, not everyone sees the necessity to make copies in case something bad happens. Typically, Outlook users rely on Inbox Repair tool (ScanPST.exe); however, it does not always help.
If the built-in repair tool fails to Fix PST file, there's still a chance to retrieve needed information using PST Repair software. You can find numerous tools in the market; and hopefully, they can help. If not... Well it be the hard life lesson why you should backup!
Description of the "An unknown error prevented access to the PST File" error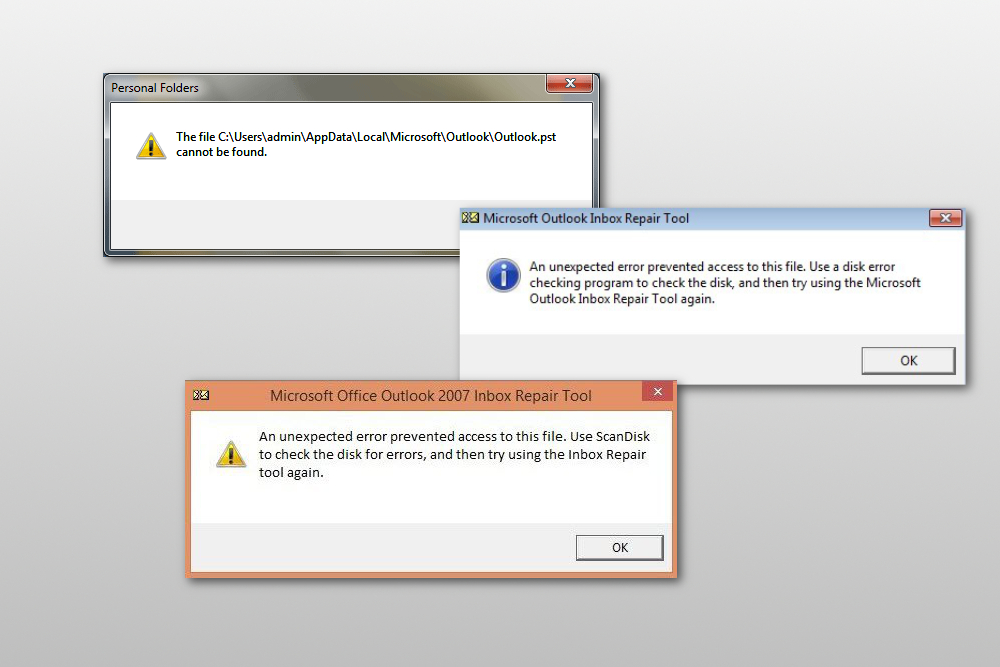 Examples of PST file error.
When Outlook's free built-in PST Repair software fails to restore corrupted files, users can receive an error messages saying:
"An unknown error prevented access to the PST File"
These error message warn about Outlook PST corruption related issues. However, once your PST file gets corrupt. Users cannot access to their Outlook. Therefore, users who do not have backups of PST files might experience an unpleasant data loss.
Reasons why the PST file error might occur
There are many reasons why PST repair process via ScanPST.exe cannot be completed. However, most of the time these issues due to:
the size of the file is bigger than 2 GB;

a user wants to restore password protected or encrypted file;

Inbox repair tool might be unable to detect the issue of the corruption

High level of corruption in PST File
Keep in mind that Microsoft Outlook Inbox repair tool can help to solve only minor PST file corruption cases. For instance, header corruption. Though, if you want to repair severely corrupted file, Inbox repair tool won't be able to perform this task. Thus, if you receive this error, you should try other file recovery options or professional PST Repair tools.
Fix "An unknown error prevented access to the PST File" error
Below you can find three different methods that can be used to fix this error. Please try them as listed. We have arranged them based on the difficulty level.
Method 1. Run Check Disk in Drive Properties
Go to Start and access Computer.
Find the drive where the Outlook program is installed and right-click on it. Choose Properties.
In the appeared Properties window, open Tools tab and click Check now… button.
In the delivered dialog box, mark both entries under Check disk options.
Click Start and run Check Disk process.
Method 2. Run ScanDisk Utility program
In the Windows search box enter cmd.
Right-click the Command Prompt program in the search results list and choose Run as Administrator.
Type this command and click Enter:
chkdsk: <drivename >/

Follow the instructions provided in the Command Prompt window.
Once the scan is over, and hopefully, all the problems are fixed, you should run ScanPST.exe again. However, if you receive the same error again, it means that the file is severely damaged, and there's no way to recover it.
Recommended solution: Stellar Phoenix Outlook PST Repair to fix corrupted Outlook files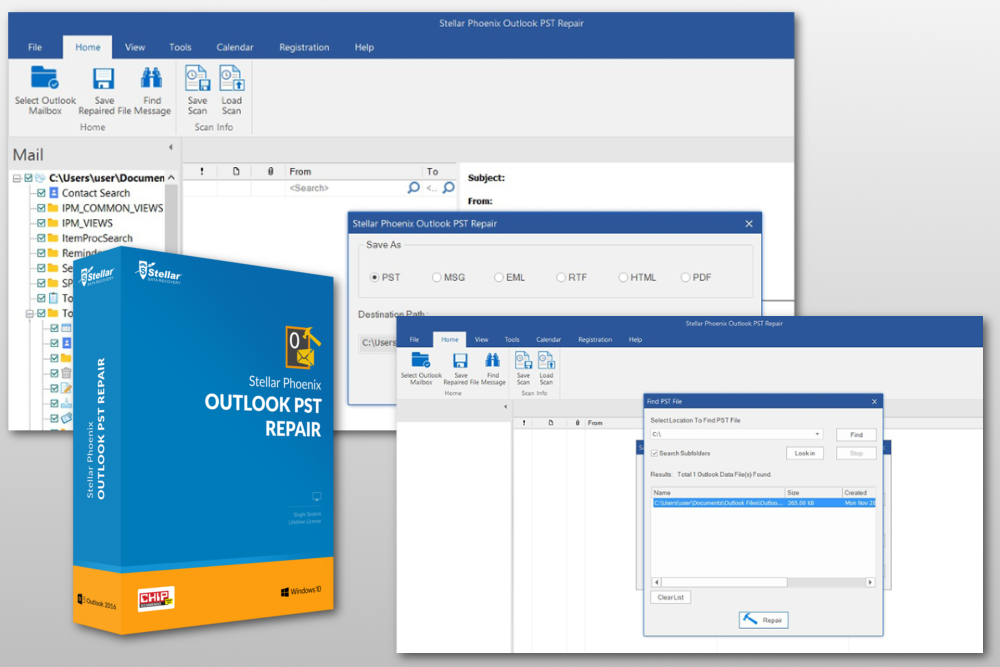 File recovery with Stellar-Phoenix Outlook PST Repair software.
If none of the above-mentioned methods helped you to fix "an unknown error prevented access to the PST File" issue, you have the only one chance left – PST Repair software. However, we are aware that many third-party tools out there that promise to restore PST files. Unfortunately, not all of them do what is promised. Thus, we want to save you from failure and offer one tool to try out - Stellar Phoenix Outlook PST Repair
Restoring missing PST files with Stellar Phoenix PST Repair
Once you download, install, and register the program, you can select and repair needed PST files.
Repair corrupt PST file
Open the program, select the PST File using Browse or Find
Click Repair button and wait until the scan is over.
After the scan check the preview click Save Repaired File button.
In the Browse choose the location where you want to save recovered PST file and click Ok

Import it to the Microsoft Outlook and use it.
Conclusions:
As you can see, receiving "An unknown error prevented access to the PST File" error has many solutions. It's not a critical problem that cannot be fixed. If Windows failed to solve the problem, you could rely on professional tools like Stellar Phoenix Outlook PST Repair.