Apart from its culture, demographics, and beliefs, Indian infrastructure is also quite complex, especially because of the challenge of overpopulation that stares us right in the eye. Due to this, it has been quite difficult to anticipate the traffic behavior, directions, local businesses, and many other things, with accuracy. When Google Maps was launched in India, it certainly helped, but also showed us that we need a better solution. Something that is indigenous, so that it knows the country inside out. Hence, MapMyIndia.
A mobile apps development company that works in sync with ISRO's Bhuvan satellite - MapMyIndia recently launched its navigation and positioning app, created exclusively for India, and is already giving tough competition to Google Maps. It provides accurate information even for daily commuters. In fact, it has taken it a step further by including many live features that are extremely helpful, especially when you are in a country like India where traffic situations and even addresses change every now and then. So let's take a look at what features it brings together to create something that is messing with the Google 'bear'.
IoT Tracking
A big leap ahead for India with this IoT solution, the app uses its own IoT devices to track and collect information from different points through sensors. Making the best use of IoT technology, the app has been instilled with the ability to create real-time alerts for users and commuters. In case of a traffic jams, IoT sensors take note of the situation and suggest short and alternative routes to mitigate the traffic.
Voice-guidance
Matching shoulders with Google, the app also provides a voice navigation facility with turn-by-turn navigation support, which is expected to decrease the rate of road accidents that happen due to the lack of hands-free GPS systems.
Floating button for Reporting Issues
Apart from the data collection via the IoT system, there is a manual way of reporting issues i.e via people. Road damaged? Broken transport? Traffic jam in your area? Just take a picture and upload it to the relevant section in the app. Good thing is that the app has covered almost all kinds of issues that occur, including map issues, traffic issues, connectivity issues, and areas with specific access.
Tailored for India
Compared to Google Maps, MapMyIndia focuses on much more detail and list small businesses, facilities, shopping centers, and even personal addresses. However, because the app is still quite new to the market in terms of reach, it is still under the data collection phase, during which you may not find many small addresses in the app. But that is only for now because the database is constantly growing.
Detailed Information
Another reason why the app has great usability in India is that it provides complete information about a particular thing that you look for on the map. Apart from the address and direction, you also get a contact number, email, website and opening hours. Also, with the help of worldview, not only you can get details about a place, you can also see what people think of this place, based on the number of likes it has garnered.
Analytics
Some people just want more information about everything, including trips, so just an odometer and tachometer is not enough for them. MapMyIndia comes with trip analytics that allows info savvy people to track more. You can track the time of trip completion, estimated time of arrival, remaining distance, remaining time of arrival, and much more; on-the-go.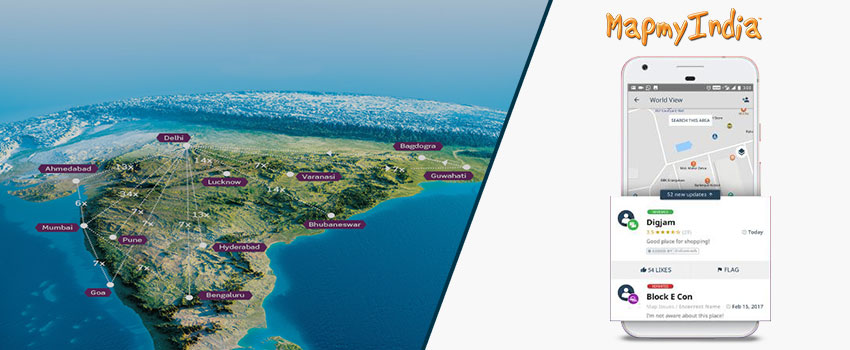 MapMyIndia has created something that is perfectly tailored to the ever-changing maps of India. However, one of the things that the application clearly lacks is user experience. The touch buttons and screens reflect subliminal efforts on the designing side.
To learn more about me, please visit my Experts Exchange Profile page.