Salesforce partner relationship management can help you build trust and streamline interactions with partners.
Using partners' help is a sophisticated and cost-effective way to expand your company's reach into overseas markets and boost revenue. And Salesforce Sales Cloud Partner relationship management (PRM) is an excellent way to create mutually beneficial communication between you and channel partners.
Difference between CRM and PRM
Both CRM and PRM systems are based on the idea of relationship management. Still, they're used to manage different groups of people. CRM apps, such as Salesforce Sales Cloud, helps your internal sales teams to manage interactions with potential and current customers.
In turn, a PRM system extends your CRM functionality by helping your channel managers to establish effective partner relationships and solve specific partner needs, such as educating, preventing channel conflicts, and creating visibility for both you and your partners. Sales Cloud PRM helps you create a partner ecosystem empowered with the information, tools, and resources your partners need.
Questionnaire before Salesforce PRM implementation
Before setting up a Salesforce partner relationship management system, businesses should answer the following questions:
What is the ratio between indirect and direct sales force?
What types of partners do you work with (e.g., resellers, distributors, agents, etc)?
Do you message differently to each type of partner?
What are the objectives, challenges, and participation benefits for each type of partner in your program?
How are your channel territories broken out?
How are channel managers currently tracking partners' sales and marketing activities?
Where do channel managers currently keep their channel forecasts?
Answering these questions will help you define whether you need and how to use all of the following;
Salesforce PRM components and features:
leads, opportunities, accounts, and contacts sharing between partners
partner account management
partner recruitment, onboarding, and support
lead distribution
deal registration
content library
partner analytics
marketing development fund management.
Understanding partner relationship management in Salesforce
Salesforce PRM is a standalone solution that extends your CRM platform and provides a common place for partners and channel managers where they can assign and share leads, opportunities, and accounts, as well as publish content records.
Dashboards reflect channels' performance so that you can see how much revenue each of them is bringing in. A leads tab reflects prospects that have been assigned directly to the partner or to a general queue. The queue allows channel managers to make leads available to their partners on a first-come-first-served basis as well as prevent multiple partners from working on the same lead.
Besides, Salesforce allows you to set up custom rules that define lead assignment rules or limit the number of leads each partner can get. Opportunities tab represents the deals sourced or nurtured by your partners whereas accounts store information about all types of partners you deal with, including resellers, distributors, agents, etc.
Channel managers can also use Salesforce PRM platform to publish useful content for partners, such as copies of sales tools, price lists, or product information. Apart from these possibilities, you can also track partner budgets and fund claims if you run joint marketing programs, create rebate programs, and more.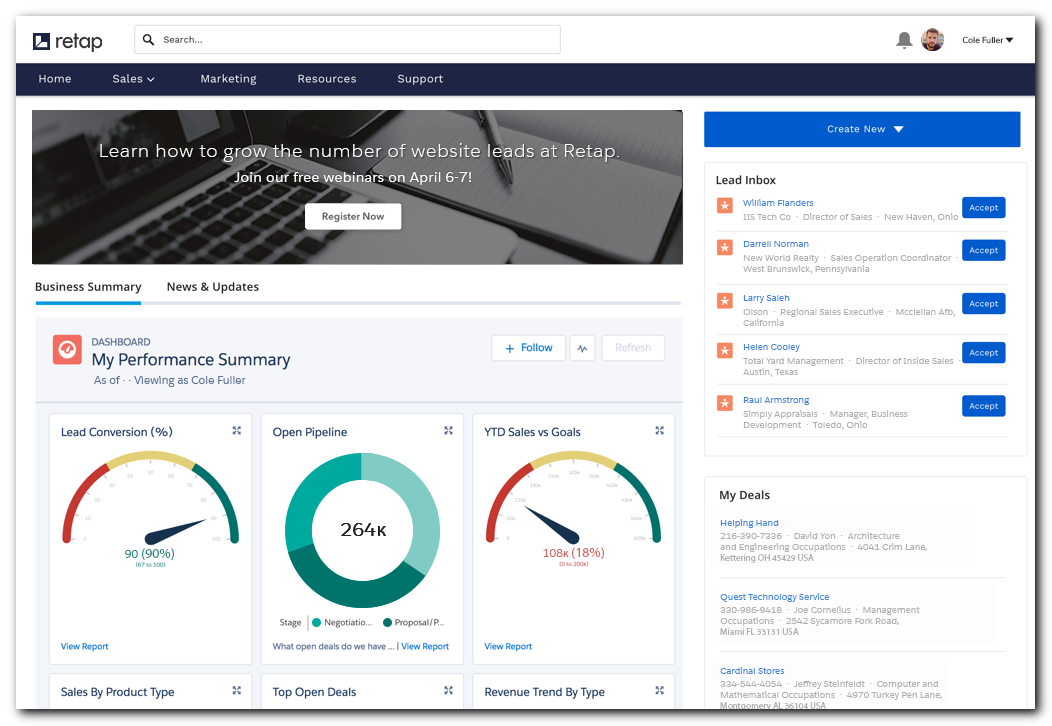 Salesforce-to-Salesforce or Partner community?
In case most of your partners already use Salesforce, you have an amazing alternative to Salesforce partner relationship management – Salesforce-to-Salesforce functionality. This feature allows sharing lead and opportunity records in real time.
When considering the alternatives, think about the partner processes you want to track. If your partner processes are mostly focused on the lead growth and opportunity management, you can opt for Salesforce-to-Salesforce functionality.
In case you focus on establishing personalized partner communications and distributing promotional, educational or sales content, you may want to lean more towards a specialized partner community. In case you have doubts which solution is the most suitable one in your particular case, you can ask Salesforce consultants.
Best practices for successful partner relationship management in Salesforce
Since your partners may also deal with other companies including your competitors, you should strive hard to win your partners' mindshare and time. That is why you should focus on the partner experience first so that your partner PRM system works for your partners' productivity and better sales results.
Regardless the solution you choose to work with your partners, you should apply the best practices to keep your relationships as productive as possible. That's why ScienceSoft has prepared the following list of tips to enhance your partner relationship management in Salesforce:
Suggest useful content
When your partner registers a deal, you can show partners not only their deal registration number but also some relevant content (e.g., case studies, sales guides, etc.) that may help to close the deal.
Besides, other information materials should be easily visible to partners through a custom 'News & Updates' tab or a special widget on the home page. You can also show recommended content to help your partners learn about other educational materials they may not be aware of.
Keep your forms simple
Partners are not your full-time employees, so you shouldn't expect them to fill in and update your PRM solution as thoroughly as your internal team does. Thus, to encourage your partners to fill in the forms, ask only for data you'll need early in the sales cycle. For example, in case a partner is registering a deal, ask no more than the company's name and location, title and contact name of the prospect and products for selling.
Work on leads before sending to partners
The best practice is to score leads (or at least mark them as cold/warm/hot) and prequalify them before sending. You can learn how to use lead scoring to tell your partners when it's time to reach out as well as apply Salesforce lead management tips to create a suitable set of lead qualifications criteria. This approach will nurture your partner relationship and increase your external sales teams' productivity.
Monitor the progress
For successful partner relationship management, you should track the partner's lead qualification, conversion, and opportunity development. This practice will help you define the best-performing partners so that you could later route the highest-value leads to them.
Send leads to individual sales reps
Offering leads just to your partner company means longer lead-response time. That is why it's better to use Salesforce workflows and APEX code to create custom rules that will automatically distribute leads based on, say, the partner's territory and personal productivity.
Define the process of lead and deal acceptance
Nothing can anger a partner more than instant rejections from your company's sales reps. That's why you should ensure your PRM system contains documents describing the rules of engagement and deal qualification for partners so that the partner knows what to expect. In case you sales reps reject or accept a partner's input, make sure they send explanatory and thanking emails for partners.
On the final note
The ultimate goal of a Salesforce partner relationship management system is to build trust between your company and partners, improve the coherency of your communication as well as improve complexities that slow down your interactions with partners. By properly configuring Salesforce, you're much more likely to achieve these goals.
To learn more about me, please visit my Experts Exchange Profile page.