Shared Hosting enables many websites to use a single server, and since the cost of maintaining the server is amortized over many customers, it is the most economical option for hosting.
Shared Hosting is a kind of Web Hosting Service that enables multiple websites to share a single physical web server and its resources among the hosted websites. Most of the small business websites use Shared Hosting to keep their website running at a lower cost. As far as Shared Hosting is concerned, the service provider offers space for multiple websites, with each having a unique domain name, from a single web server. It is the most economical option for hosting, as the overall cost of server maintenance is over many customers.
What are some of the features that make Shared Hosting the best choice?
Web Hosting Plans with good resources.

Fastest and optimized Web Hosting environment.

A decade of proof in Web Hosting

Responsive Technical Hosting support.
Now, let us focus on the extreme benefits of Shared Hosting. They are as follows:
1.Easy Setup
A shared hosting provider makes it very easy and convenient for a website to set up, accept the traffic, and start taking the orders. Those who want to dive in online marketing, and have very less technical knowledge can use shared hosting to get started with their business.
2.Simple cPanel
Share Hosting comes with not only user-friendly control panels, but also possess one-click installation features.
3.Affordability
One of the colossal edges of shared web hosting is that it is very cheap. The service provider can save on the resources that enable them to lower the costs charged to the clients.
4.Friendly
If you are a novice in the field of web hosting, the shared hosting companies can provide you with simple solutions that can make your websites easy to access in a matter of few minutes. Even if you have a basic knowledge of internet and computer, but not inclined towards the technical things, then the shared web hosting would prove to be a silver lining for you.
5.No Technical Skills
The most basic form of managed hosting is the shared hosting because it is the service provider who is looking after your server maintenance, hardware, and even other essential things in the data center.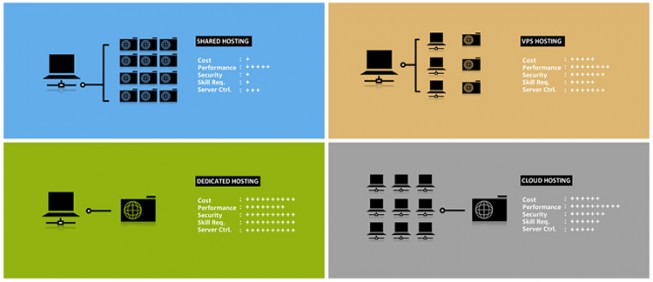 Image source- www.nuve.com.au
With the help of Shared Hosting, you can get your website running in a matter of few minutes at as low as $3-10 a month. Since all the shared hosting providers offer managed shared hosting, you don't need to have any prior language in programming to get around your shared hosting account.All you have to do is to browse through the control panel of your shared hosting account and make yourself familiar with its whereabouts. If your website is a new one and you expect little to medium traffic, then the shared web hosting is an end to your search.