Using Granular Exchange Recovery Software to recover specific items from corrupt Exchange mailboxes. With Granular recovery techniques, repair exchange mailbox and then move single items objects stored in Exchange EDB Files such as emails, contacts, calendar, task, and attachment details.
Granular Exchange Recovery Technique to Restore Specific / Single Items
Microsoft Exchange Server is a platform deployed on the Windows Server operating system for use within a business or larger enterprise. It is developed by Microsoft and widely used as a Mail Server, Contact Manager, and Calendaring software. The database of the entire mailboxes is stored in two types of EDB file formats that are public and private, according to the different versions of Exchange Server.
Different reasons occur and result in the corruption of Exchange EDB File. To recover information, various manual techniques are used, but these ways may not be helpful when a user needs to recover back few specific items into Exchange Mailboxes again.
To recover particular or specific items stored in mailboxes and fix the corruption issues, the granular level Exchange recovery method is used. Now, the question arises what is Granular Level Recovery? Thus, this article will explain granular exchange recovery and will provide a perfect solution for using granular level recovery to restore specific items from a mailbox.
What is Granular Level Recovery In Exchange?
At the time of the Recovery process of data from a corrupt Exchange mailbox, when a user tries to extract only the specific items, not the entire data to save storage space, time and resources. Then it can be referred as Granular Level Recovery. Here, granular means small or specific levels. It is very helpful for users as it saves efforts and resources needed during the recovery process.
Pros of Using Granular Level Recovery
Save Space after recovering large mailboxes data files completely.
Junk items are not included in recovered data.
Save Time and avoid Lengthy Manual to save user efforts.
Only the Desired Specific Items Recovered
Reasons Behind the Need for Granular Recovery
Time-consuming and lengthy recovery process
A large amount of storage required to store Database again
Junk items present in Recovered data.
Data accidentally deleted at the time of recovery
To avoid all these types of situation it is always recommended a user performs granular level recovery via a trouble-free solution that is SysTools Exchange Recovery Tool. Software designed in such a way that an Exchange user can easily not only repair a corrupt Exchange Database EDB File of Version (Tool Support latest Exchange version 2016 and all below versions). A user can download the software .exe file from the link below in order to try the demo versions of the Granular Recovery Tool and follow the complete guide to recover single specific item details of different mailboxes.
Perform Granular Level Recovery via SysTools Exchange Recovery Tool
Launch Software

Install Exchange Repair Mailbox software on your local machine to "Start" the process of recovery of specific items from Exchange EDB File
Add Exchange Database File

Click on "Add File" option to Select the Dismounted EDB File. Exchange Granular Recovery Tool offers various features before recovering specific items from Exchange mailboxes, which are given below: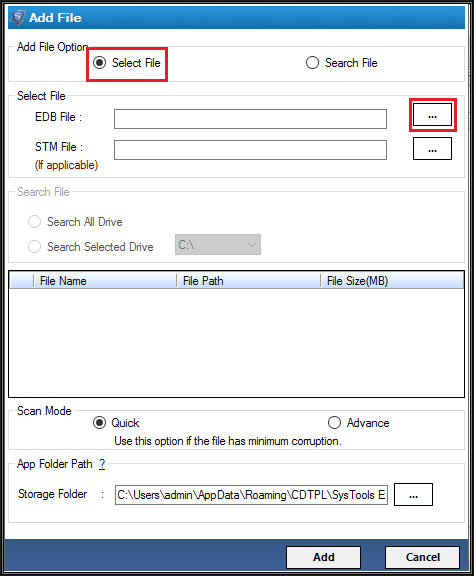 Select File: Click on the option to "Browse and Select" to add a file to the tool.
Search File: In this Option, the software will automatically search the "EDB File" stored within in the local system. Note: With Granular Recovery Tool, a user can search EDB File in all the drives or specific drives according to thier need.
Scan Mode: To avoid any kind of corruption issues in Exchange Mailbox file, Tool offers 2 Scanning Modes: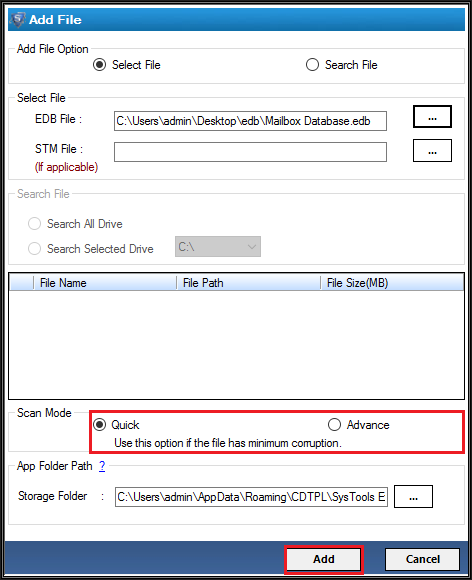 Quick Mode: To avoid any kind of small or minimum corruption issue, Check the "Radio" button on the "Quick Mode'.
Advance Mode: For Highly Corrupted Exchange EDB mailboxes file, a user can select the mode to perform the granular level of recovery.
Items In Hierarchy Order: After selecting the appropriate option click on "Add" option to Continue the process of recovery. Granular Exchange Recovery Tool Display the Mailboxes of User stored in EDB File in Hierarchy Order of the "Right Pane" of tool Window.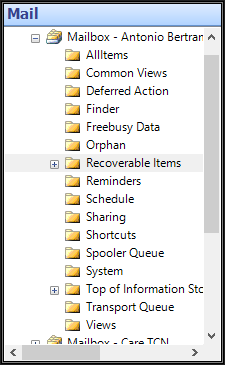 Preview Specific Items: Select the Mailboxes Folder of the user to preview the recovered specific items of "Inbox, Sent Box, Junk email, sent items" and other Details. Tool Displays meta-details such as "From, Subject, To, sent" and other details of each email file stored in user mailboxes.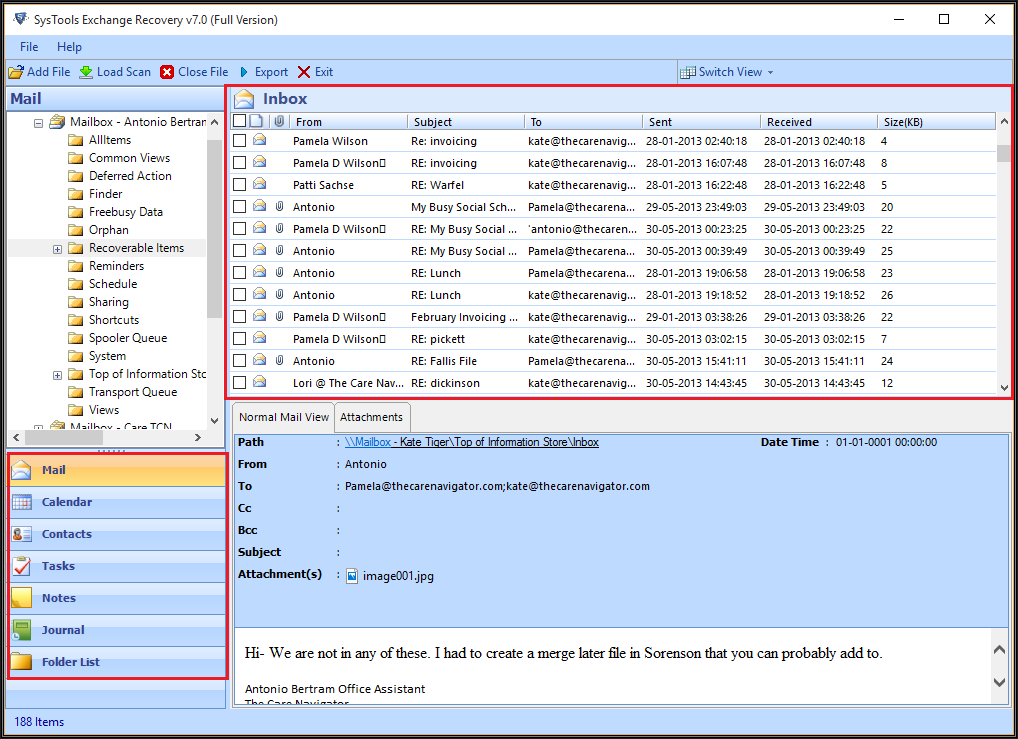 View Calendar Details: Click on Calendar Section to View Specific items stored in Calendar Section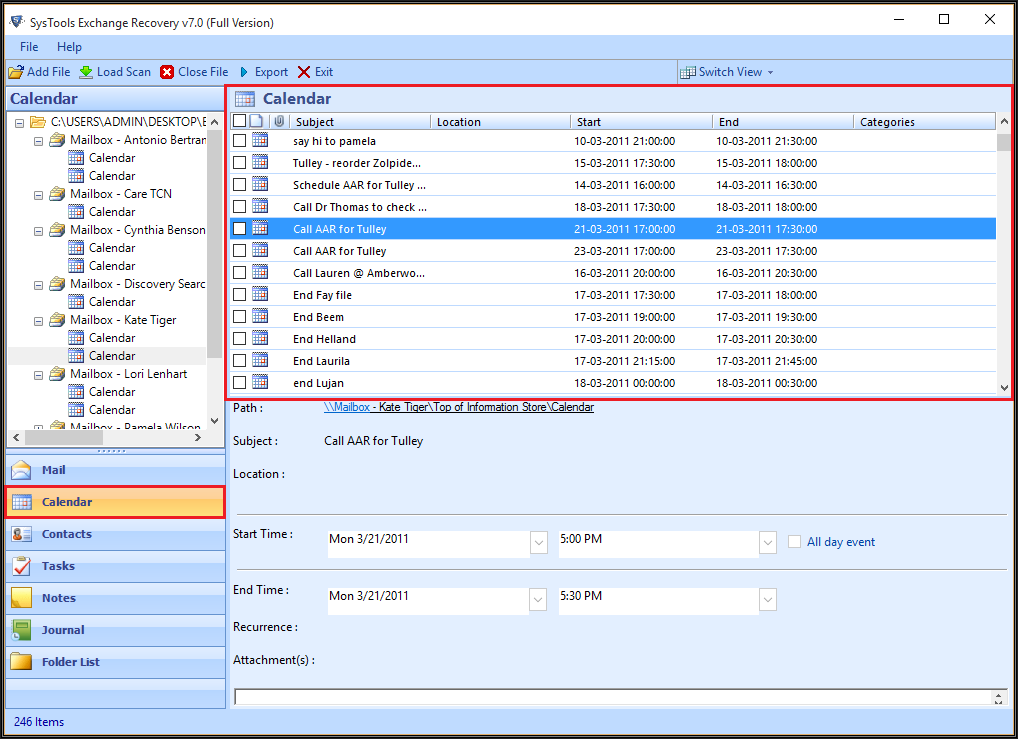 View Desired Contact Details: To View Contacts details of the specific user, select the Contacts Section and check the desired user to view its contact. Granular Exchange Recovery software displays user Personal details, Contacts Details and other information related to it.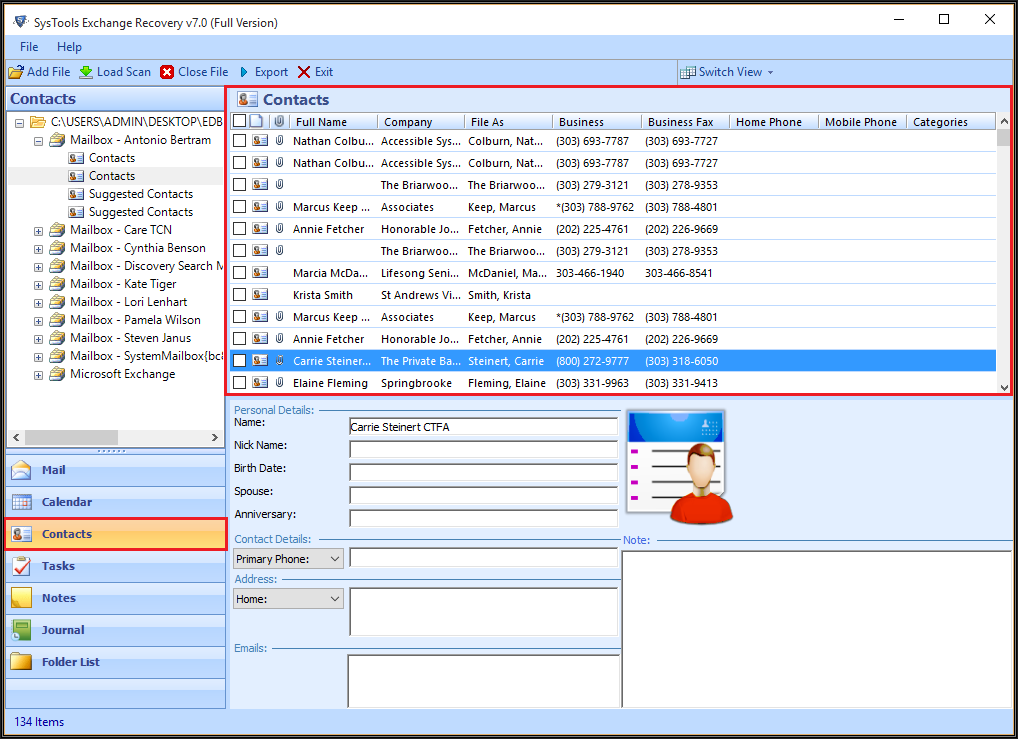 Export Single Items File: After recovering specific items of different sections of mailboxes such as "Mail, Calendar, Contacts, Tasks, Notes, Journal" section, Click on "Export" option to move data into a different file format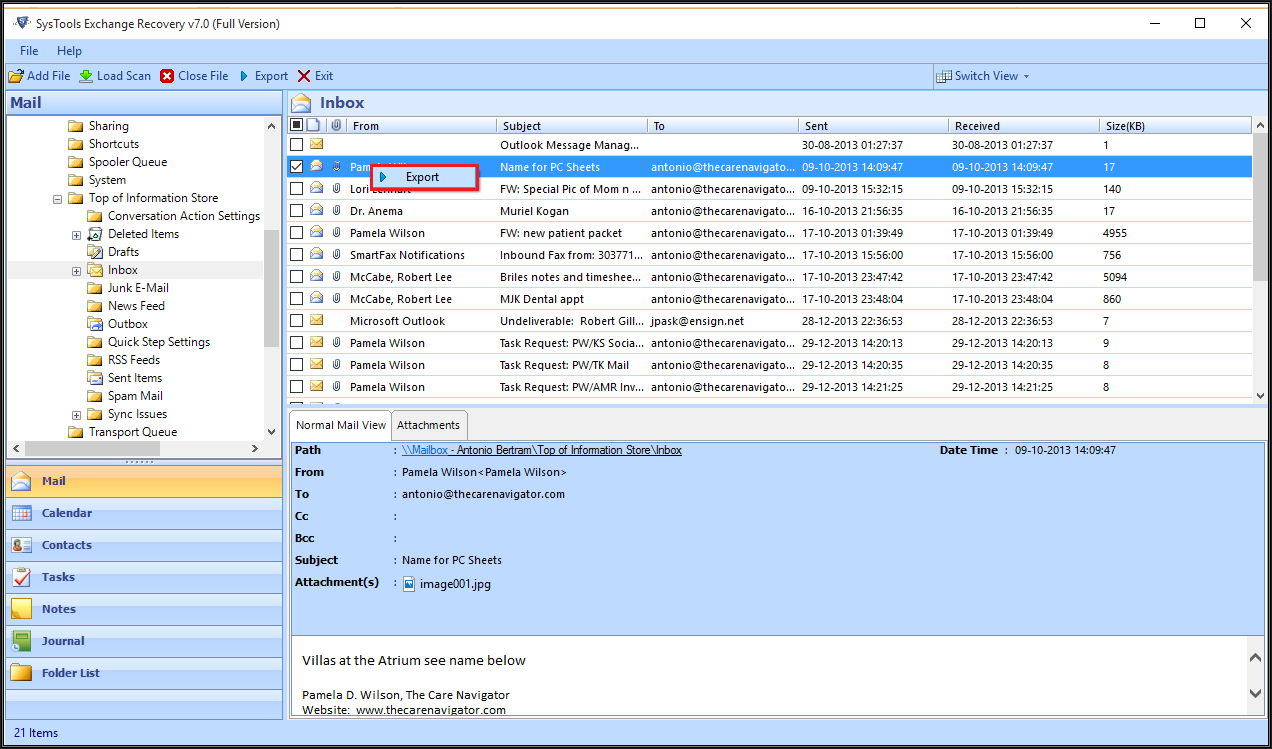 Export Data In Different File Format: Granular Exchange Recovery tool offers various option to export recovered exchange mailboxes data into Outlook PST, / EML / MSG / PDF / HTML formats. A user can also export the recovered specific items and export into Live Exchange Server and Office 365 account without moving complete mailboxes details of large file size.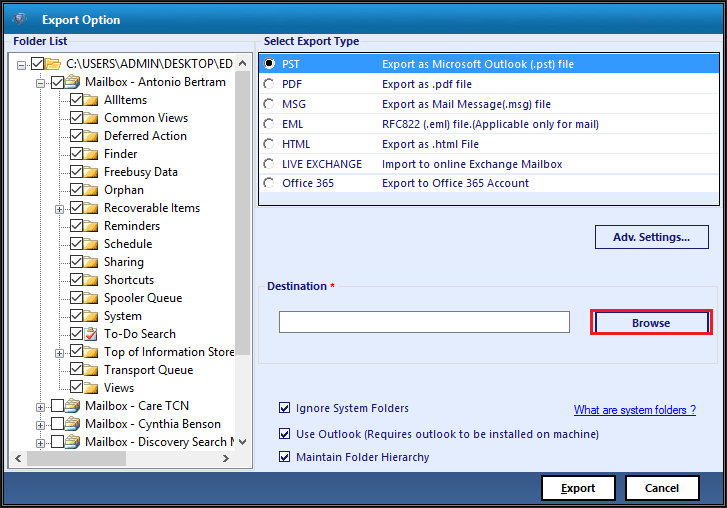 Create Report: After Completing the Export Process, Software displays details of items count with the exported path. Save them into CSV format for later use and reference.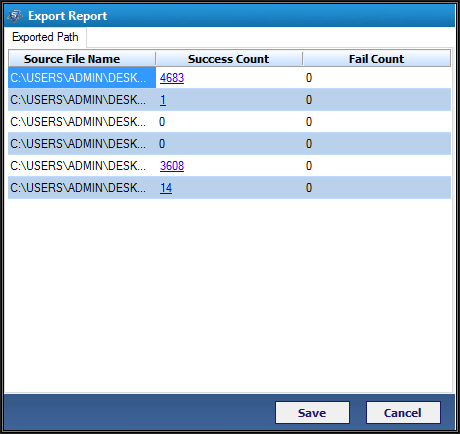 Conclusion
Since various Mailbox items such as emails, contacts, and tasks are present in the database of Exchange. If a user wants to recover individual mailbox items or specific objects from a mailbox of the different section then it can be done by via SysTools Exchange Granular Recovery Tool.
It requires Less space and is also not a time-consuming process. It can be also used to extract accidentally deleted data or to recover deleted mailbox data from corrupted or damaged EDB file. This tool has many features and designed in a user-friendly way. Just with a few clicks, a user can perform granular level recovery to restore specific items via Exchange Recovery Tool.