Nowadays Bates Stamping is used in many legal firms, lawyers, etc. because adding bates numbers at header or footer of your documents helps in the unique identification of the pages. Identify best legal Bates Stamp Software and insert Bates numbers to PDF documents effortlessly.
PDF Bates Stamping is the simple approach to add unique identification number on every page of a document. It helps in setting unique stamps in order to set each document apart and allowing them to be clearly identified by all parties involved. Basically, it is used in legal fields, in business and medicines in order to place identifying numbers, dates or other marks on images and documents as they are processed. But, sometimes many users search for legal Bates Stamp Software which helps them to insert bates numbers in PDF documents efficiently.
Now, let us consider a scenario, a person is collaborating on a project and wants to give designated parts of the project to colleagues. But, it would be very difficult for him, to assign what page would respective colleague need to present. Therefore, in such situations, it is better to add page numbers to a PDF file so that it would be convenient for everyone to work on their respective parts of the project. So, in this blog, we discuss the best legal Bates Stamp Software which will help users to perform Bates numbering in easy ways.
How is Bates Stamping Helpful in Legal Process?
PDF Bates Numbering is a feature that legal professionals widely use. Many law firms are using this method for the proper management of their documents. Needless to say, legal documents can contain thousands of pages and indexing those pages with Bates Numbers makes retrieving information out of them an effortless task.
Moreover, applying sequential numbers in the documents makes the task easier to manage & organize the files. Let's take an example; Paralegals can instantly search the document and locate the page containing information from which a lawyer needs to reference, through bates stamping. However, there are two solutions to insert Bates numbers in PDF which are clearly described in next Section.
Legal Bates Stamp Software #1 Adobe Acrobat Pro
Adobe Acrobat Pro enables the user to use Bates Numbering for legal documents. To do this, the user must follow some useful steps:
1- Start Adobe Acrobat Pro application
2- Browse PDF in which you want to insert Bates
3- Click Advanced option & select Document Processing option
4- Choose Number Pages option from Document processing menu
5- Now, Page Numbering dialogue box appears
a) Select the page range & style of page number
b) After that, click OK button, the page range selected by the user will display at the top of the screen, and the first page of the actual document will reflect the number at the top of PDF file
6- Select the Document option
7- Click the Header & Footer option
8- Click on Add button
9- Header and Footer dialogue box will appear
10- From Left Header Text, Centre Header Text, Right Header Text, Left Footer Text, Center Footer text, Right Footer text choose any option for the page number to appear
11- Then, click on Insert Page Number button
12- Use Page Number and Date Format options to customize the date and page number
13- Click on Page Range Options to select from which page the numbering should start

Manual Method Limitations to Insert Bates Numbers in PDF

With this approach users can add page numbers to a PDF but, it is necessary to have the full version of Adobe Acrobat Pro. Moreover, the manual technique requires high technical knowledge to carry out the process in a proper manner.
Legal Bates Stamp Software #2 PDF Bates Numberer

Keeping these limitations in mind, users often go for the professional method i.e. SysTools PDF Bates Numberer which is simple and reliable. It is an easy solution to add Bates Numbering in legal documents without any data loss. This legal Bates Stamp Software also provides the functionality to insert prefix or suffix along with page numbers in an easy manner. Bu using this application, you can insert Bates Numbers into a PDF in four easy steps:

1- Download and Install SysTools Bates Numberer software on your system (.exe file)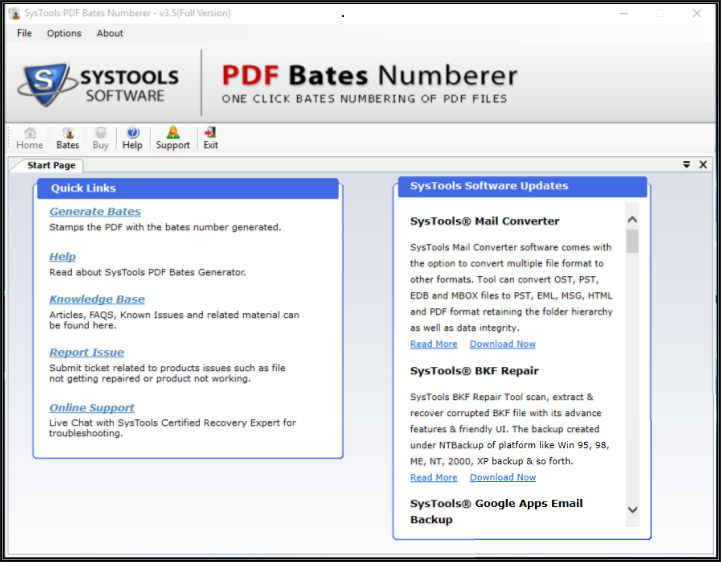 2 - Choose the PDF file in which you want to insert Bates
3 - Now, fill bates number format details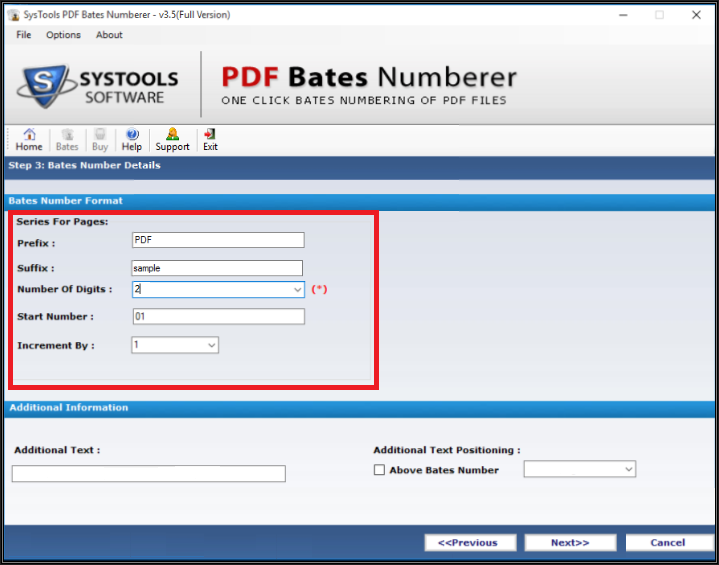 4 - Click Generate button and tool will add bates in PDF


Time to Sum Up

Bates Stamping is very helpful for legal professionals, paralegals, attorneys, etc. Here in this blog, we have discussed both a manual as well as an automated legal Bates Stamp Software solution. But, there are some drawbacks of the manual method. So, it is highly recommended to go for third party tool like PDF Bates Numberer to insert Bates numbers in PDF documents.