This is a Step by Step guide to performing a Non-Destructive Windows 10 repair which answers frequently asked questions as to exactly what is lost, and what is kept. Enjoy...
Introduction
Despite the number of tutorials which can be found on the Internet about this topic, I frequently see the same questions being asked by people who are reluctant to perform a Windows 10 Upgrade Repair process due to not knowing exactly what will be lost, and what will be kept.
Having read and pointed a lot of people to such tutorials myself, I can understand the reason for the questions and that's the purpose of this article.
Here, not only will I explain exactly what was installed on my copy of an activated Windows 10 Professional install before the repair, but I will also lead you through the process, step by step, and later explain exactly what was lost, and what was kept.
We'll also be looking at how to reverse the repair in the (unlikely) event it didn't help and made things worse, as well as how to free up your hard drive space from unnecessary files when all goes well.
Pre-requisites:

You can log into Windows 10 but are having problems so you've been advised to do a non-destructive Windows 10 upgrade repair


Ensure you are logged in using an Administrator enabled account that you created yourself - "not" the built-in Administrator account that i pops disabled in Windows 10 by default.
Note: There are a variety of ways to accomplish the task I'm describing, however, because of past questions, I'm going to assume you don't have your Windows 10 installation media or a suitable ISO, so just follow the steps described below and you will end up with an up to date, latest build of Windows 10 after your repair.
---
On with the show...
This repair is being done on a copy of Windows 10 Professional, 64Bit, but the same will apply to Windows 10 Home Editions as well. Each step of the repair was documented at the time of writing this tutorial.
On my copy of Windows 10, the following 3rd party software was installed for the purpose of this exercise:
Microsoft Office 365
Various saved User Files such as Word, Excel etc in Documents
Google Chrome Browser with a few saved favorites
Mozilla Firefox Browser with a few saved favorites
A few of my favorite plugins in both browsers
Irfanview 64Bit Image Viewer
Malwarebytes Premium
Windows 10 Opening Screen Personalised to my liking
Whilst both Microsoft Defender and Malwarebytes Premium were left active during the following repair, I would recommend permanently disabling any other third party Antivirus you have installed "just in case" until after the upgrade repair has completed, and consider uninstalling first unless you are certain your preferred AV is compatible with the latest release of Windows 10 at the time of repair.
Here's a "Before" Snapshot of my Windows 10 start screen.
Tip! - Click any image to get a full-sized view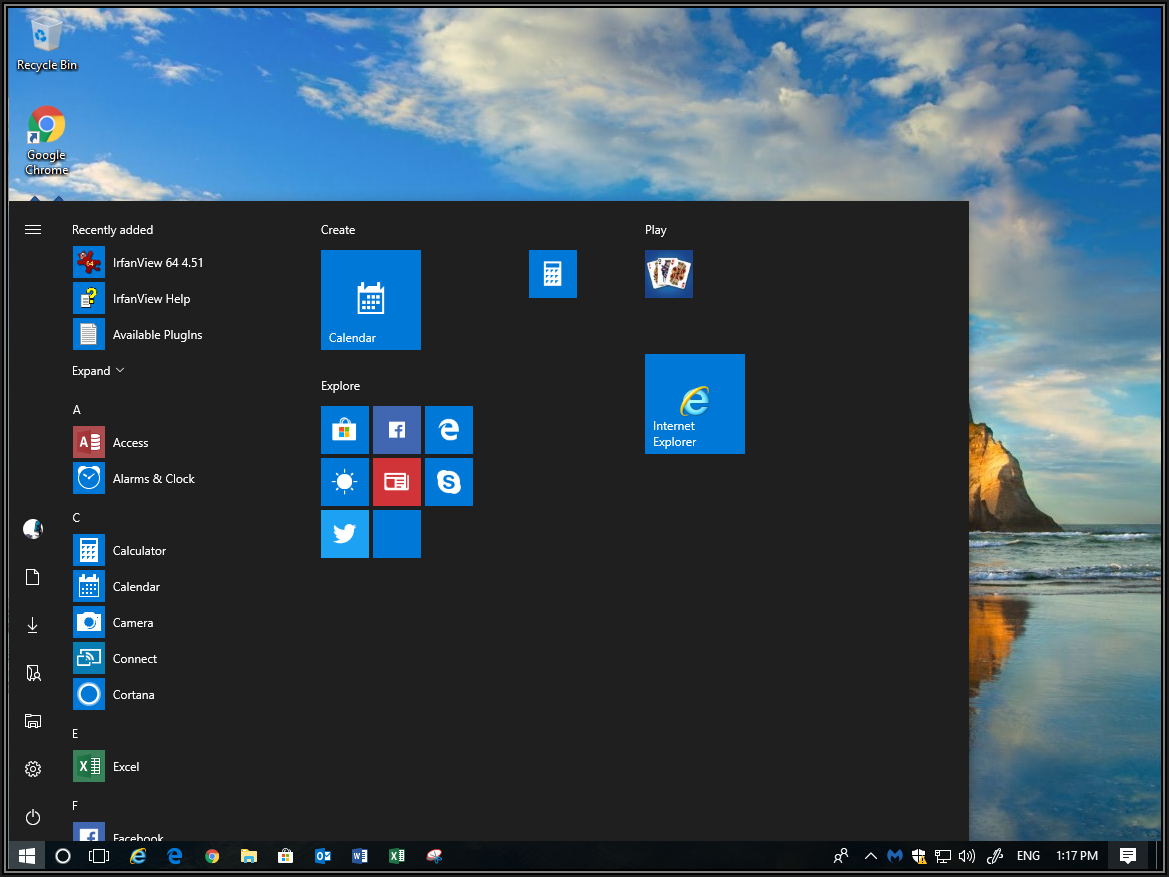 So now let's get on with doing the repair and see exactly what will be kept, and what will be lost.
Note: If you want to just find out the results of the repair, skip down to the "Repair & Upgrade Complete - What did I lose?" heading.
---
Starting your Upgrade Repair of Windows 10
Step 1: Using any working browser, go to Microsoft's "Download Windows 10" Page.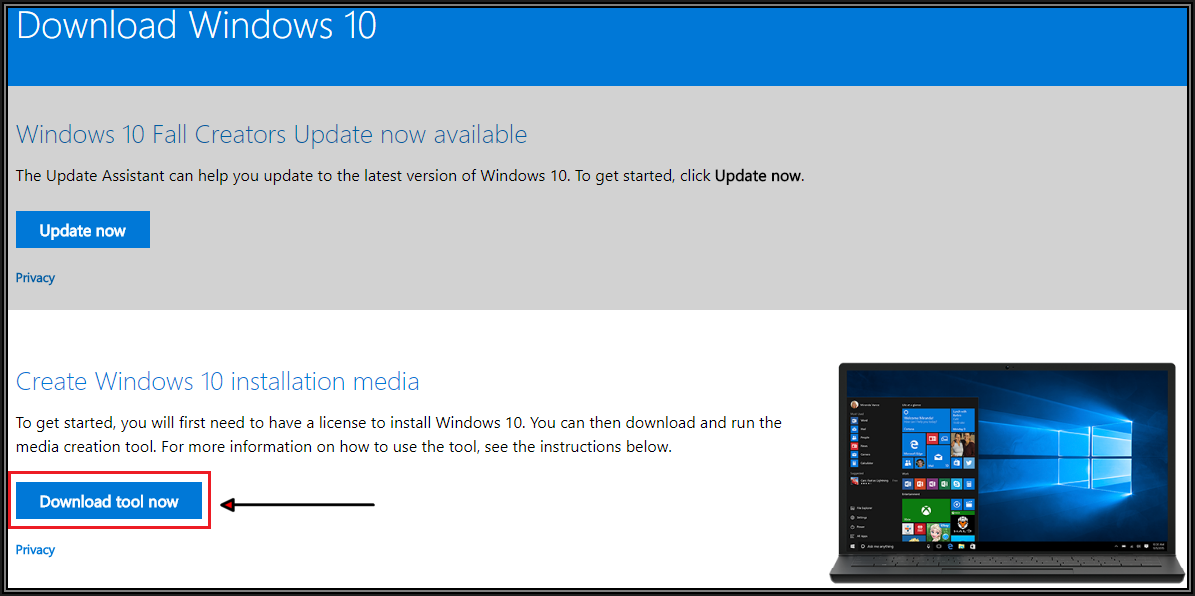 Step 2: Click the Download Tool Now button under "Create Windows 10 installation media" and then Save the MediaCreationTool.exe to any location - in my case, to the Downloads folder. Just remember where you saved it.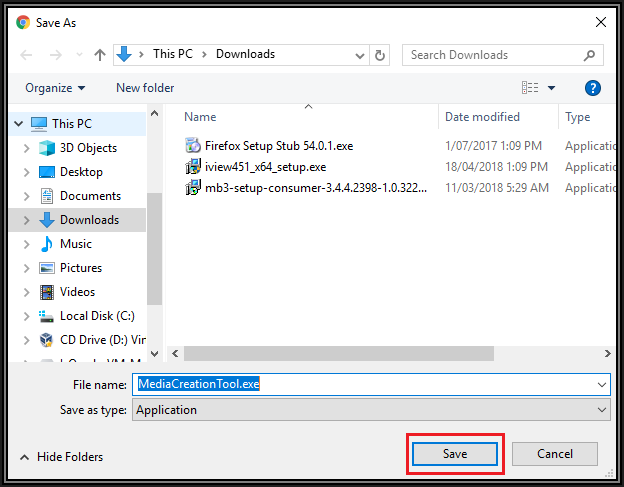 Step 3: Close your Browser, you won't need it anymore and using Windows File Explorer, run the MediaCreationTool.exe file.

Click Yes to the User Account Control prompt, asking if you want to allow this app to make changes to your device.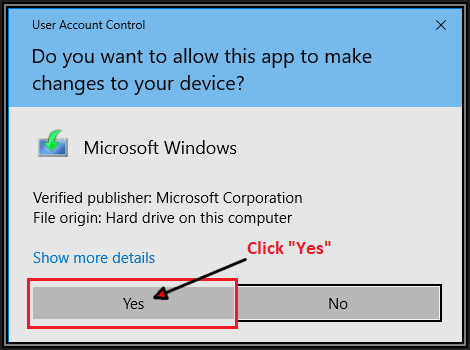 Windows 10 Setup will soon launch with a "Getting a few things ready" window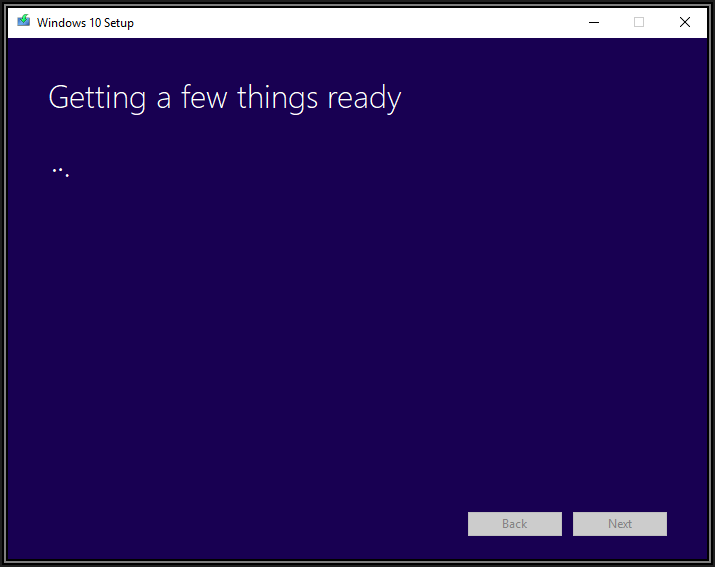 Step 4: Read the Microsoft Software License Terms and if you agree, click the "Accept" button. Note that clicking "Decline" at this point will cancel the entire process and you'll need to start all over again. You must Accept the license terms to be able to continue.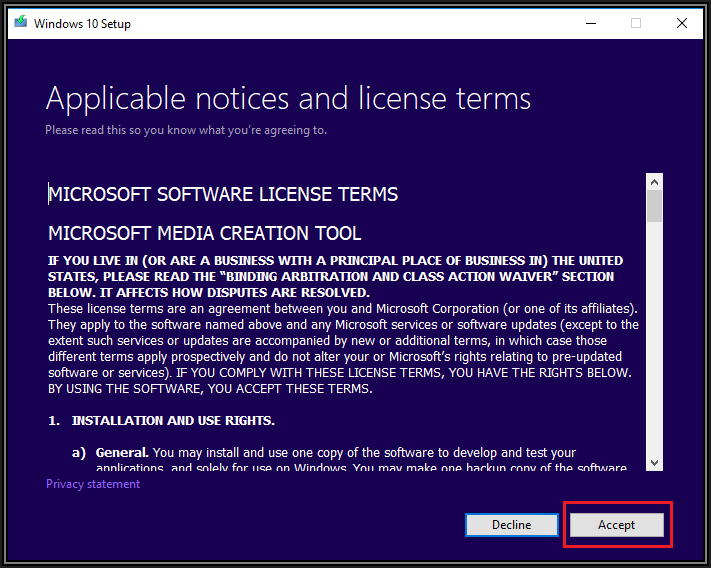 Step 5: The "Getting a few things ready screen will appear for a short while, and then you're going to be asked what you want to do. At this point, we could Create installation media or save an ISO file for later use, but for the purpose of this exercise, we're just going to go with the "Upgrade this PC now" option and then click the Next button.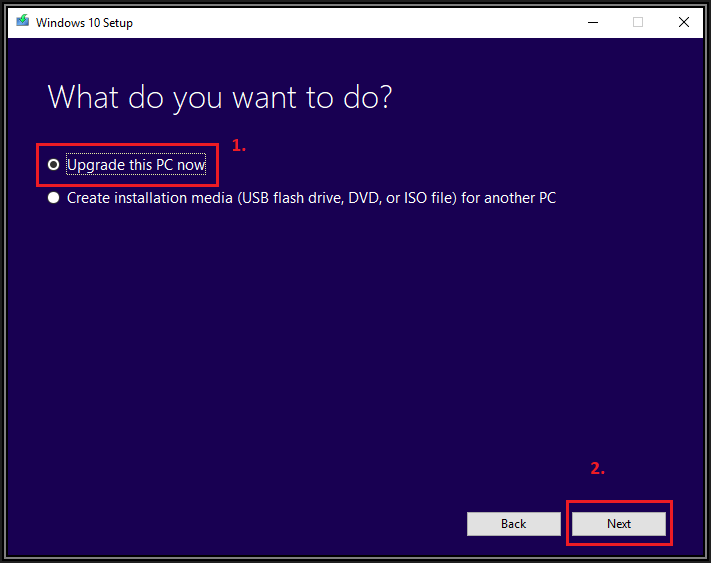 Sidenote: Creating installation media at this point may be a good idea in the event that something goes wrong and you need to restart the entire process again, but it "shouldn't" be necessary. The choice is yours. If you do elect to save an ISO or create a bootable USB or DVD, at this point, simply run setup.exe on the Installation Media you created to restart the process.
Again, the "Getting a few things ready" screen will appear and the Media Creation Tool begins downloading the files it needs.
Be patient! This can take a while depending on how fast your Internet connection is, so go make a cuppa, browse the web, read some emails, take the dog for a walk, whatever you like while you wait.
I recommend just leaving your PC alone though, or you could end up just slowing the process down by taking CPU time away from the download and setup process. A variety of screens will automatically appear and then disappear. For example:
If it looks like nothing is happening, wait until you're presented with the following screen. Those pesky License Terms will be presented again so click on the Accept button.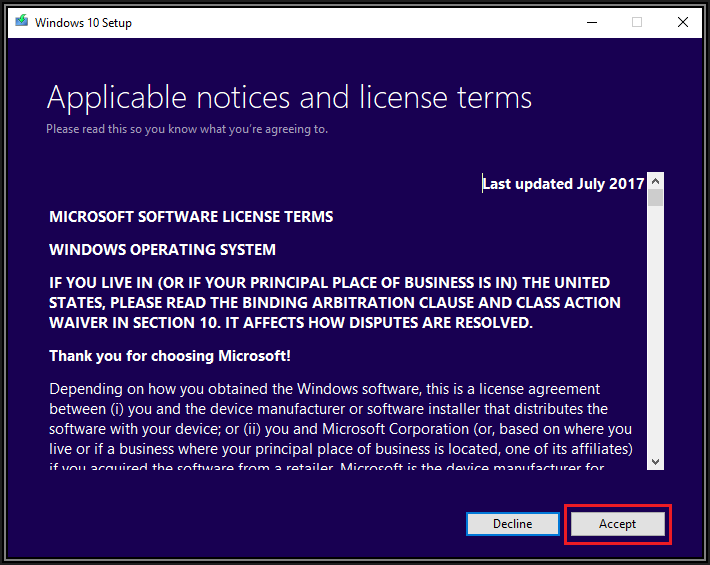 Windows will check for updates again, so a gentle reminder that patience is key here. I've read of people restarting their machines because they thought the whole thing was taking too long and just end up in a bigger mess than they started with. Don't make that mistake and wait. It takes a long time because this is similar to installing Windows 10 for the first time.
Whilst it is a time-consuming process, it "should" help repair many Windows issues such as updates not working or other Windows file system issues you may be encountering, and the entire process is reversible.
As long as you don't interrupt it, you will end up with a fully up to date and repaired copy of your Windows 10 installation.
After setup has downloaded all its updates, you'll end up with the following screen.
Here's a very important step!
Step 6: Windows will default to selecting the "Keep personal files and apps" option as per the screenshot below. If you get that result, all is well and you can skip down to Step 7 now.
If "Keep personal files and apps" is not ticked as shown below, then seek further help or cancel the upgrade repair completely.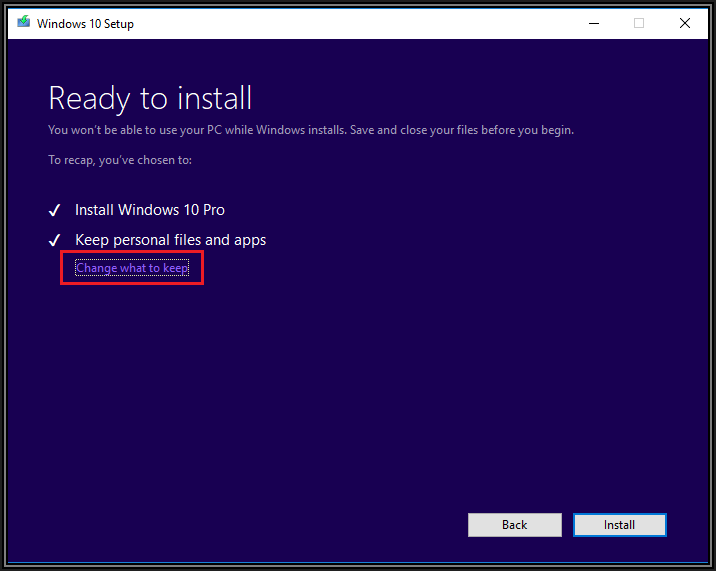 Curious what the above "Change what to keep" option allows you to change? Then check out the next screenshot.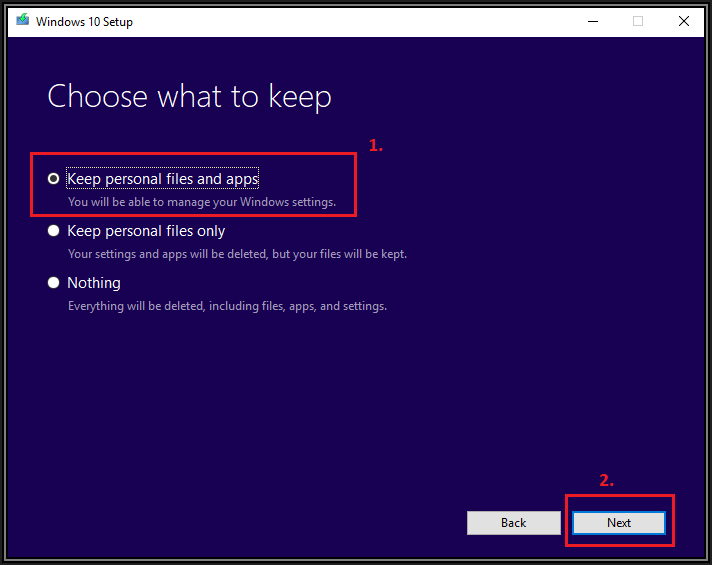 As shown above, don't select "Keep personal files only" or "Nothing" unless you're prepared to reinstall all of your third-party programs, or just want a totally fresh install of Windows 10 with everything else deleted. Leave things as they are shown above (1.) and then click Next (2.)
Windows will go off and check for updates yet again and tell you it's "Making sure you're ready to install", and "Making sure your PC has enough space". That's what you want.
Step 7: This screen is critical for not losing apps and data. Again, make sure "Keep personal files and apps" is ticked, then go ahead and click the Install button.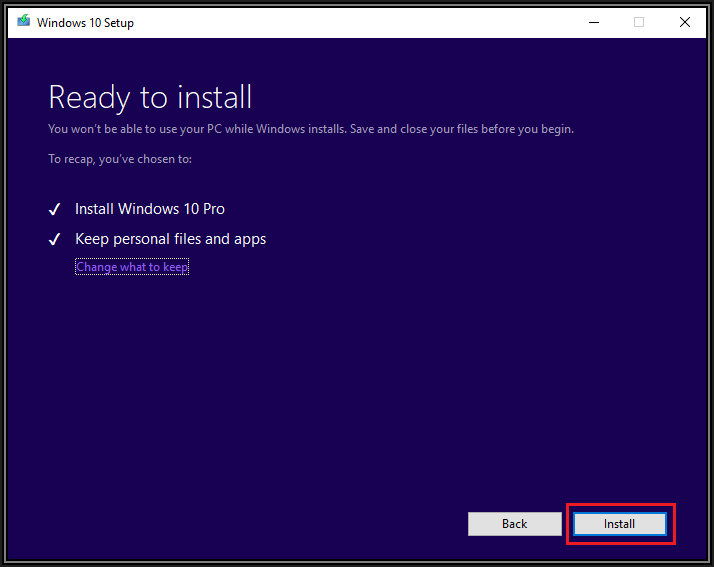 Windows will now begin its repair and upgrade reinstall process. Note the warning that your PC will restart several times. That's to be expected.

Note: Ensure you do not have any bootable media in your DVD drive or USB ports during this process. Windows will restart itself a few times. You're now on the home stretch.
Sidenote: Where it says "This will take a while", believe it because it's not kidding. Time for another cuppa, but do watch your caffeine consumption levels! Everything best in moderation right? :)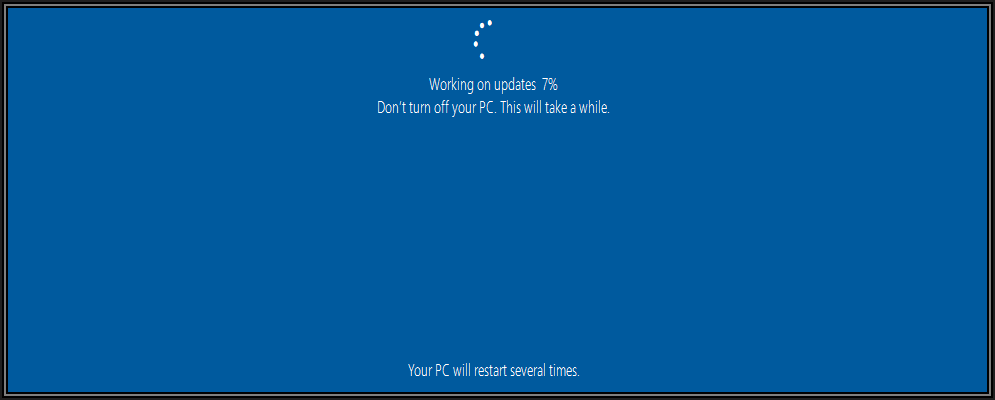 Eventually, after the final restart, and assuming you were using a Microsoft connected profile, you will be presented with your Windows 10 login screen. Log in using the same administrator account and password you started the repair with. You'll get a "Hi" and a notification that there are yet some more updates to apply that might take several minutes.
Note: If you started this repair using a "Local" administrator account without a password, Windows 10 will just log in on its own as always once the repair has finished.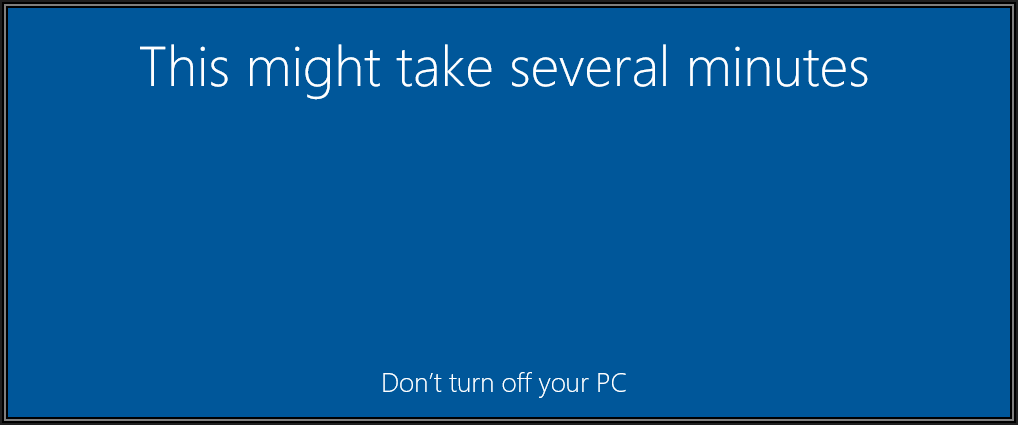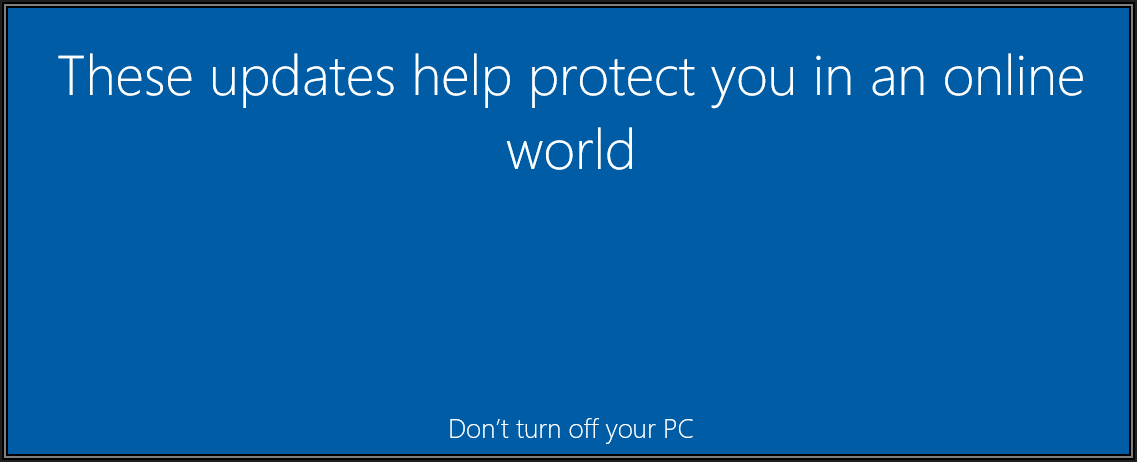 So, now we're done and back into our familiar Windows 10 GUI.
Let's have a look around to see what's changed. The initial opening screen after logging in was identical to before I started the repair. I was asked if I wanted to Save to OneDrive again (that's from my Office365 subscription) but I chose to "Ask me Later"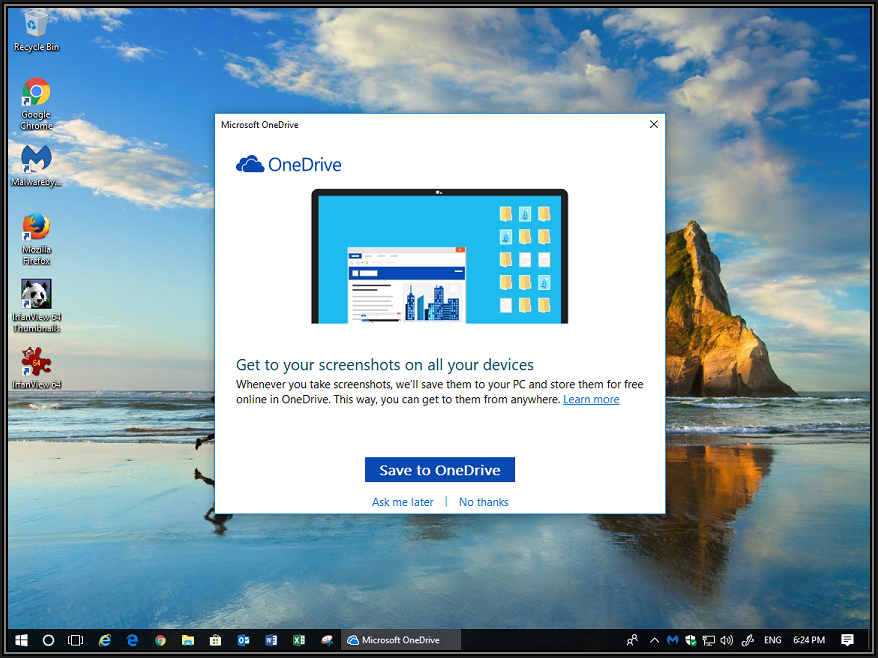 ---
Repair & Upgrade Complete - What did I lose?
At first glance, nothing!
Everything looked the same. Let's go through the list I made before we started.
Microsoft Office 365 - No worries there. Even previously opened file history was left intact
Various User Files - All still there and fine
Google Chrome - My favorites etc. were all preserved
Mozilla Firefox - Same a Chrome, no issues
A few of my favorite plugins in both browsers - None of those lost and working as expected
Irfanview 64Bit Image Viewer - Present and working fine
Malwarebytes Premium - Working and fully up to date, just like before the install
Windows 10 Opening Screen Personalised to my liking - Nothing changed, exactly the same as before the repair
I checked for Windows updates and found the install to be fully up to date.
I did have to re-activate Windows 10 with Microsoft's servers, but that was just as easy as when I activated if for the first time. A couple of clicks and it was done.
So the answer to the question so often asked... What will I lose?
Well, from my experience, absolutely nothing, except maybe some problems you were experiencing before the repair.
Expected Changes:
If you had the built-in Windows 10 Administrator account enabled before you started, it will now be deactivated again. I highly recommend you leave it deactivated and create your own secondary Administrator account. I always discourage use of the built-in administrator account unless enabling is absolutely necessary to perform some type of repair, and then disabling it again as soon as it's no longer needed
Any System Services that you may have altered to start up in a different way to their defaults will now have been reset to startup as per their Windows 10 defaults
For Administrators - If you had RSAT (Remote Server Administration Tools) installed, they will now have been uninstalled
Windows 10 will need to be reactivated again
All in all - An excellent result!
What I "did" lose, however, was considerable hard disk space. Why?
The repair created the following folders under C:\ in case I wanted to reverse the repair.
Windows.old
C:\$Windows.~BT
Total Hard Drive space taken in my case was approximately 22 GB and that was taken up by the "Windows.old" folder, which contains a copy of the previous version of Windows before the upgrade repair was performed, just in case I want to reverse the whole thing.
Now before we go on to reclaiming that space, let's look at how to reverse the repair in the (unlikely) event that things didn't go as smoothly for you as they did for me, and you ended up worse off.
---
The repair made it worse than before - Now what?
Note: I personally do not recommend doing this step and it should only be done if you are indeed in a worse position than when you started. That's going to be highly unlikely. With that said, if you want to reverse the entire upgrade repair, the simple steps to do so are explained below.
1. Press your Windows Key on your keyboard and type Recovery Options and hit your Enter key.
2. Click the "Get started" button under "Go back to the previous version of Windows 10" as shown below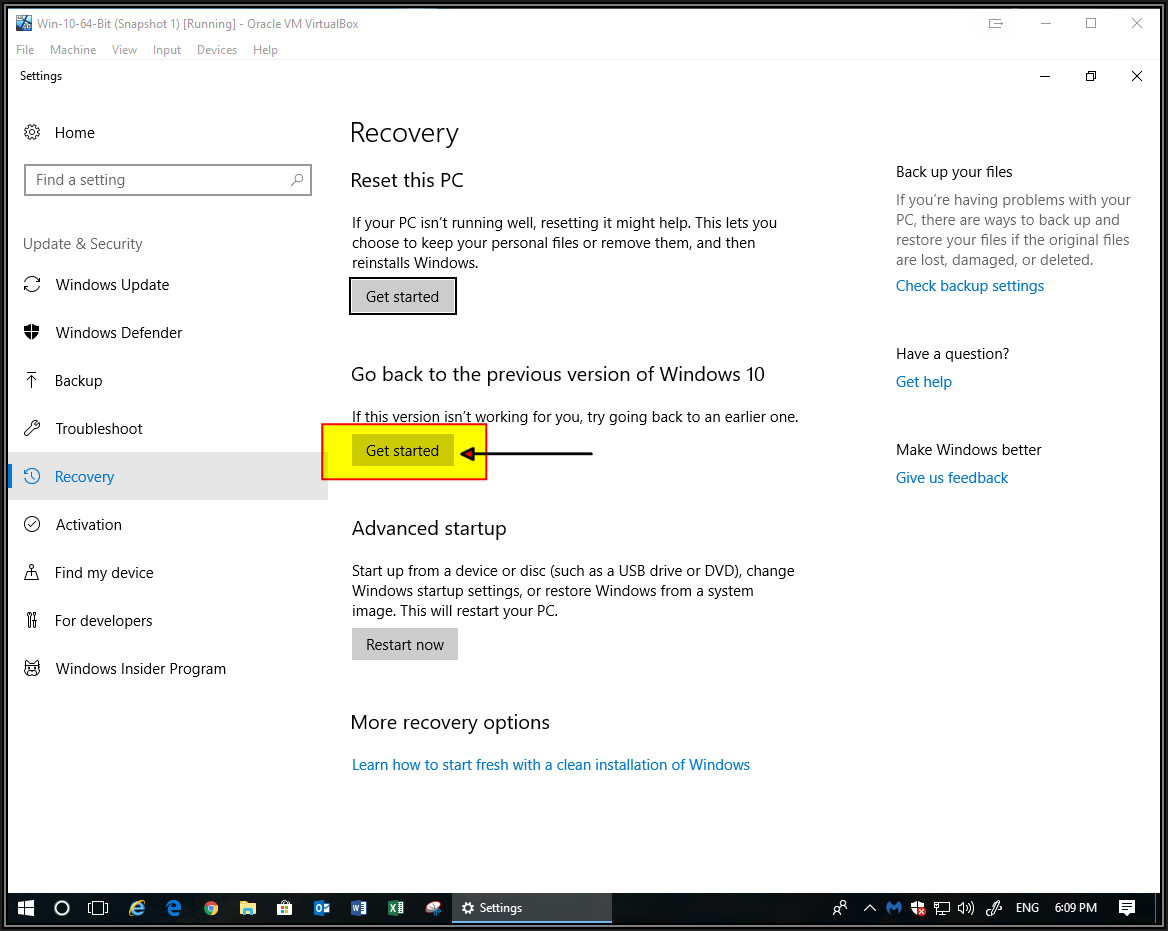 Windows brings up the "Go back to earlier build screen...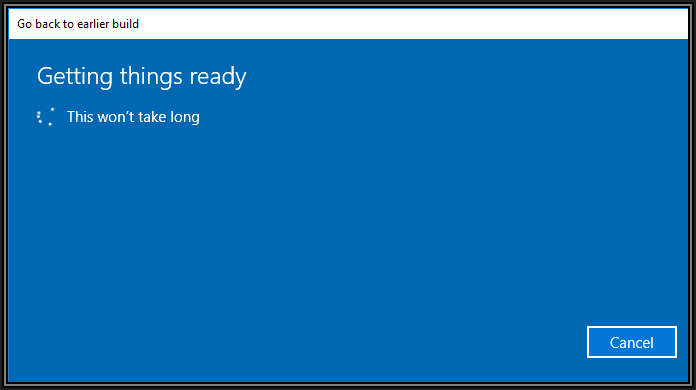 Here is where you are asked to give a reason for "Why are you going back?" Click on one of the reasons, or "For another reason" and fill out the "Tell us more" box to tell Microsoft why you are reversing the upgrade repair you just did.
I've put in a fake reason in the screenshot below for the purpose of this exercise.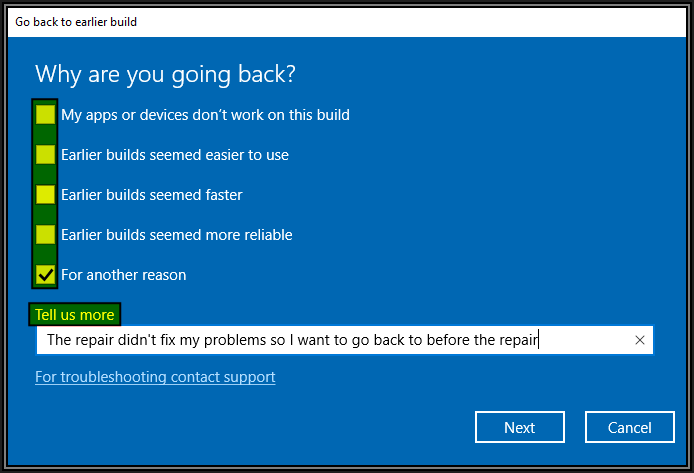 At this point, I clicked "Cancel" because I didn't want to reverse the repair.
If you are certain you want to, then click the "Next" button and follow the prompts and instructions that follow on your screen. Windows will reverse everything it just did and return you back to where you started. It will take a while, so again, be patient!
Note: The "Go back to a previous version of Windows" option won't be available forever. If you make too many changes to the upgraded repair install, then that option will eventually disappear and will no longer be available to you. It will also self-destruct in a months time, or perhaps in as little as 10 days. See this old news article for more info.
---
How to Regain your Hard Disk Space after an Upgrade Repair
If all has gone to plan (and even if the repair didn't fix "your" specific problem) you are still in my opinion, in a better position than you were before you started. For one thing, we now know that Windows 10 is fully up to date and patched. That's a good thing!
But we've lost quite a bit of Hard Drive space, and that's a bad thing!
Here's how to get that space back
By following this tutorial, you will be logged in with an Administrator account, so you "could" just delete that folder using File Explorer, but I don't recommend doing it that way.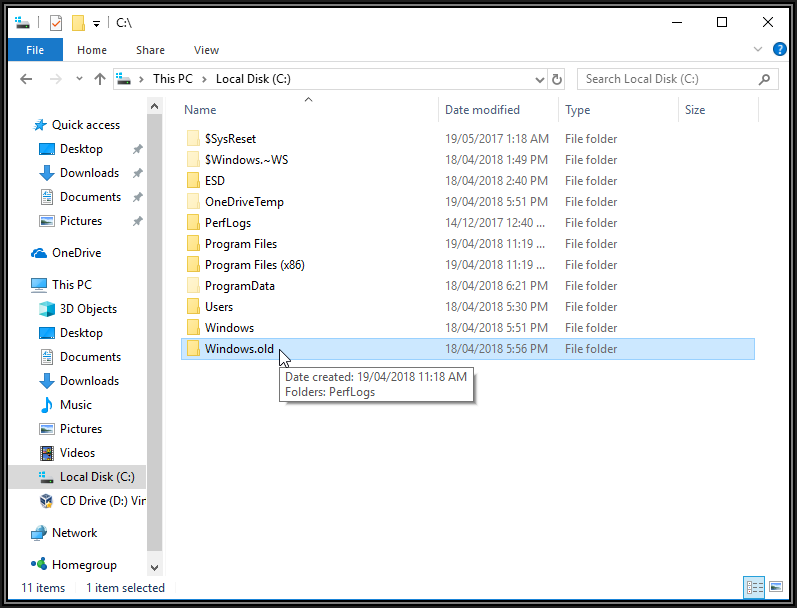 Rather, perform the following steps and we'll do a clean up of other system junk we never look at or use at the same time:
1. Press your Windows Key and type "Disk Cleanup"
2. Then click the "Disk Cleanup Desktop app" that appears as best match as shown below.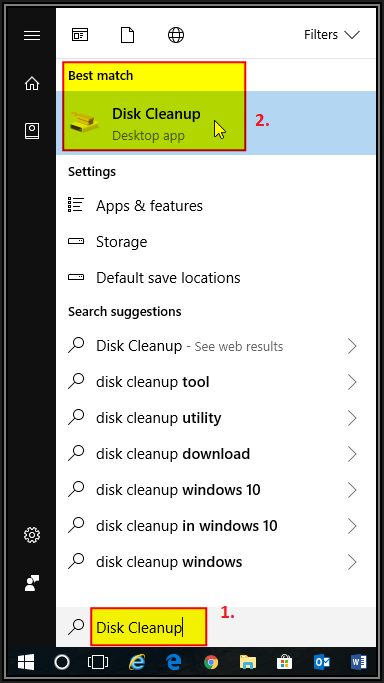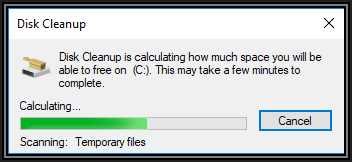 3. Once the Disk Cleanup app has completed it's calculations, the following screen will appear. Note that in the example below, I can only clean up 22.5 MB of space. That's not what we want, so click on the "Clean up system files" button as shown below.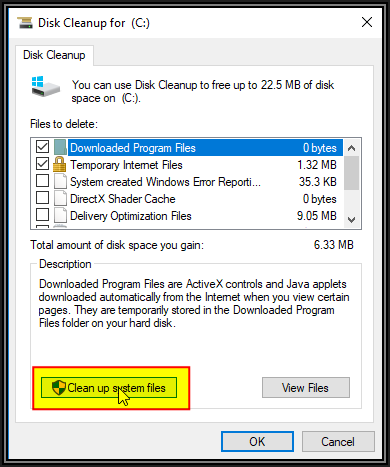 Windows will again start calculating how much space you will be able to free up on your C: drive, (it will take longer to do so this time) but we'll have a lot more cleaning options available to us, such as "Previous Windows Installation(s)" and more.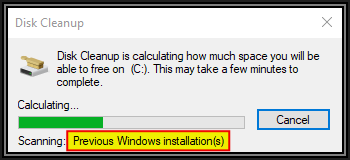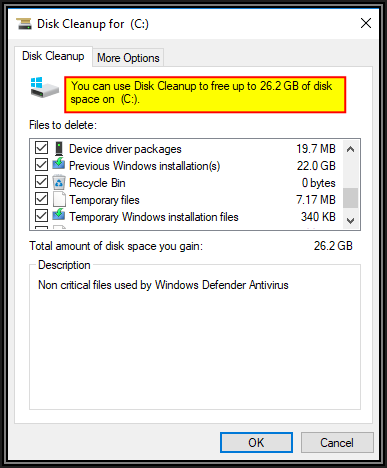 Note now that I can reclaim up to 26.2 GB of space. Now that's more like it!
4. Scroll up and down in your window above and tick what you want to permanently delete.
If you only wanted to get rid of the previous version of Windows installation(s), then just tick that. I personally tick everything when I perform this step on a well functioning system. But before you click OK, click on the "More Options" tab.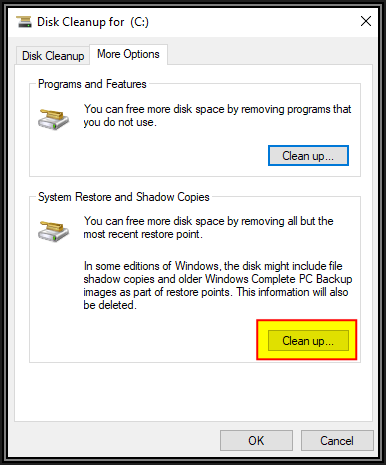 Click the "Clean up..." button under the "System Restore and Shadow Copies" category on this tab to also delete any Shadow Copies that Windows may have saved, as well as all System Restore points except for the most recently saved one. Then when you're ready for another caffeine fix, click the OK button to tell Windows to go ahead and do its stuff.
You'll be prompted to make sure you want to permanently delete these files. If you're sure, then click the "Delete Files" button.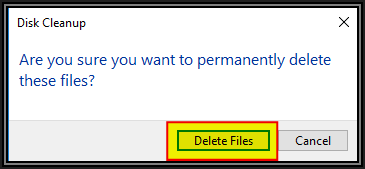 If you're removing the previous installation of Windows (Ie: Windows.old) then you'll get yet another prompt to make sure that you're sure! If you're sure, then go ahead and click the "Yes" button.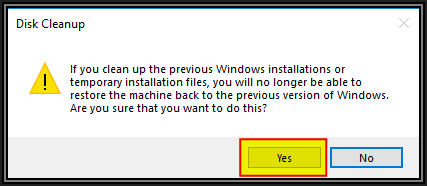 Now it's time to go make another cuppa as this takes a little while to complete :)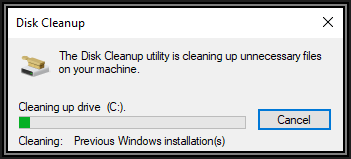 Once it's finished, that's all you need to do. The above window disappears and you've reclaimed all the hard drive space the upgrade repair install stole and more.
Note that (obviously) you'll also no longer have the option to "Go back to a previous version of Windows 10" anymore. You will, however, have considerably more hard drive space on your C: drive now, and hopefully a much more stable installation of Windows 10.
Conclusion
The purpose of this article was to explain what a lot of tutorials I've seen on the web fail to go into. What happens during, and more importantly "after" a Windows 10 Non-Destructive Repair Upgrade. I hope I've achieved that for you and that this article helps you out.
Every step described in this tutorial was tested and documented during the writing of this article on a Windows 10 Professional (64bit) installation.
However, should you need further help any of this process, I encourage you to use the free "Ask a Question" feature at Experts Exchange. I monitor questions asked about this topic and will be glad to help you further if necessary. You are also welcome to leave any comments you may have below.
If you found this article useful, please do endorse it by clicking the Thumbs Up button below. It provides me with positive feedback and helps me out.
Author: © Andrew Leniart
This article has been optimised with Alternate Text on images to assist blind readers.