Get to Know about Lotus Notes email migration to Office 365 in detail. Explore the article for better Lotus Notes to Office 365 migration techniques to transfer all data items to the O365 domain.
The tech world is seeing an inclination towards Office 365 in recent times; as many organizations are switching to O365. By introducing useful and well-timed services, Office 365 is attracting users of other clients like Lotus Notes. The migration between email clients gives rise to many other related tasks. One of them is Lotus Notes to Office 365 file migration. Organizations value their data more than anything else, so all data migration is necessary during email client switching. This is a mandatory process related to IBM Notes to O365 client migration. This post will describe Domino to Office 365 migration by implementing different approaches.
How to Perform Lotus Notes Application to Office 365 Migration
The point of discussion here is Lotus Notes data transfer to Office 365 Suite. This export process can be conducted using two different methods. Both the methods will be depicted in the subsequent sections.
Manual Solution to IBM Notes to O365 Import
People who are interested in exporting IBM Notes data into Office 365 can use an IMAP connector to transfer manually. The complete process can be divided into four main sections. Before initiating the manual technique, it is strongly recommended to create a backup of the IBM Notes mailbox. This backup will help users at the time of data loss caused by an accident during the migration process. After Lotus email backup is done, users can start performing the manual migration.
Part 1: Creating New Mailboxes
To begin with, create a new mailbox in Lotus Notes email. If there are multiple users, one separate mailbox needs to be created for each of the users.
Part 2: Enabling IMAP TCP/IP Port for all Notes Users
Follow these steps to enable the IMAP TCP/ IP Port:
First of all, open Domino Administrator situated within IBM Notes.
Now, click on the tab named "Configuration."
At this point, users have to open the server document that can execute IMAP service.
Click on Ports>> Internet Ports and finally click on the Mail tab.
Navigate to IMAP column and Enable "TCP/IP port status."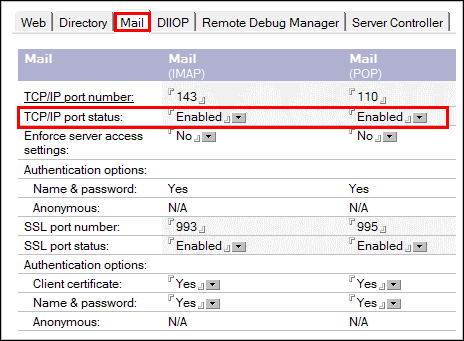 Click on Save button once the changes are done.
Part 3: Synchronize Lotus Notes with Office 365 using IMAP Connector
In this last stage, users need to synchronize IBM Notes with Lotus Notes. Once the "TCP/IP port status" is enabled, there should be no problem in synchronizing. Then, all Lotus Notes folders can be exported to Office 365.
Drawbacks Faced during Manual IBM Lotus to O365 Conversion
Users have reported facing certain drawbacks while performing the manual Lotus Notes export. Most commonly reported issues are listed here.
Lotus mailbox with maximum 1 GB file size can be migrated using IMAP Connector.
Any type of Firewall or proxy prohibits Lotus Notes from connecting to the Internet.
Disabled IBM Lotus Notes email client denies IMAP connection.
Only online items of Lotus email is possible to transfer to Office 365.
Once IMAP connector stops calendar migration, it has to be performed manually.
There are chances of data loss in this process so creating the backup is a must.
Automated Solution to Lotus Notes to Office 365 File Transfer
These limitations can be avoided simply by switching from a manual method to the automated method. SysTools Lotus Notes to Office 365 Migration tool is the ideal application to migrate NSF files from Lotus Notes to the cloud i.e O365. Check out the useful characteristics of this utility:
Complete mailbox migration from Lotus Notes to O365
Simultaneously exports numerous Lotus Notes files into Office 365
Credentials of O365 Admin Account is essential for the process
Both single and multiple NSF file exports are possible by this tool
Allows Contact Group transfer from IBM Notes to MS Office 365
Migration machine requires the installation of 9.0.1 or any lower version of Notes
Suggestion from the Experts
Relevant experts suggest using the cited program instead of trying the manual method. The manual method includes certain disadvantages that may end up wasting time and effort of the users without producing their desired results. Using the mentioned tool will assure a smooth and smart migration from Lotus Notes to Office 365.