Lotus Notes is the most prominent choice of all users due to its advance email management. It provides email features along with contact management, appointments, task, calendar etc. Many users rely on its service to carry out electronic communication.
Lotus Notes Mail Conversion Utility to Migrate NSF to Exchange
It maintains the mailbox in its proprietary file format, NSF. IBM Notes work with Domino Server, which is responsible for its maintenance. However, there are certain issues that can hamper the task while using a Lotus Notes application. As a result, many users want to migrate Lotus Notes data to another email client, i.e., Exchange, Office 365, or Outlook. According to observation, MS Exchange has become the choice of most of the end users for email migration. In this blog, we will discuss Lotus Notes to Exchange migration using the Lotus Notes Mail Conversion Utility without any data loss. A third party tool, SysTools Mail Migration Wizard is also discussed to carry out migration effortlessly.
Some Basic Reasons Why Users Want to Migrate NSF to Exchange
A number of reasons have been noticed, which makes the user carry out the migration between email clients. Some of the major causes to switch from Lotus Notes include:
Lotus Notes suffers so much because of poor synchronization with Domino server. It may cause inconsistency in email service and diminishes its performance too.
It does not have the user-friendly interface as compared to other email applications. Even a novice user has become fail to understand its layout.
It is a desktop-based application, but sometimes users may lose their crucial data. Thus, they prefer Exchange server due to which it supports cloud platform.
Lotus Notes Mail Conversion Utility – Efficient Solution
When a user tries to import data from NSF to Exchange Server, it seems to be very difficult to perform. Even though there are several issues associated with NSF database file Notes, for example, it can only be accessed within a Lotus Notes application. Due to which everyone wants to switch towards some other email client for better experience and avail all benefits of web-based application i.e. Exchange server. There are so many ways by which users can transfer Lotus Notes NSF to Exchange environment. But, some professional measures will not provide precise results due to lack of technical skills or knowledge. There occurs the need of DominoMail Conversion Utility so that users can perform migration without any issues.
Thus, it is highly recommended to opt for a reliable solution to convert Lotus Notes NSF files to MS Exchange server without any data loss. The Mail Migration Wizard is one of the best programs to perform migration from Domino server to MS Exchange. You can easily download this software and follow the given steps to perform data conversion. Before this, first, we will discuss its amazing features.
Noteworthy Features of Lotus Notes Mail Conversion Utility
Lotus Domino to Exchange Server Migration
The Domino Mail Conversion Utility allows users to export Domino data to Exchange server 2010, 2013, 2016. Before doing the migration, users need to know some pre-requisites i.e., the Live Domino Server environment is must during conversion, Exchange Server environment is required for performing batch migration and mailbox mapping option is available for saving data from Domino Server to Live MS Exchange.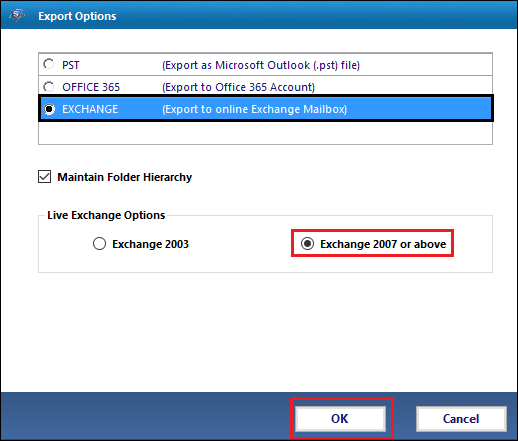 Capable to Migrate Bulk Domino Mailboxes
Lotus Notes Mail Conversion Utility helps to export multiple Lotus Notes NSF files into Exchange Server 2010, 2013, 2016. It offers the step-by-step operation to convert NSF to Exchange in batch. It has a simple user interface that makes the tool easy to transfer all NSF items in bulk.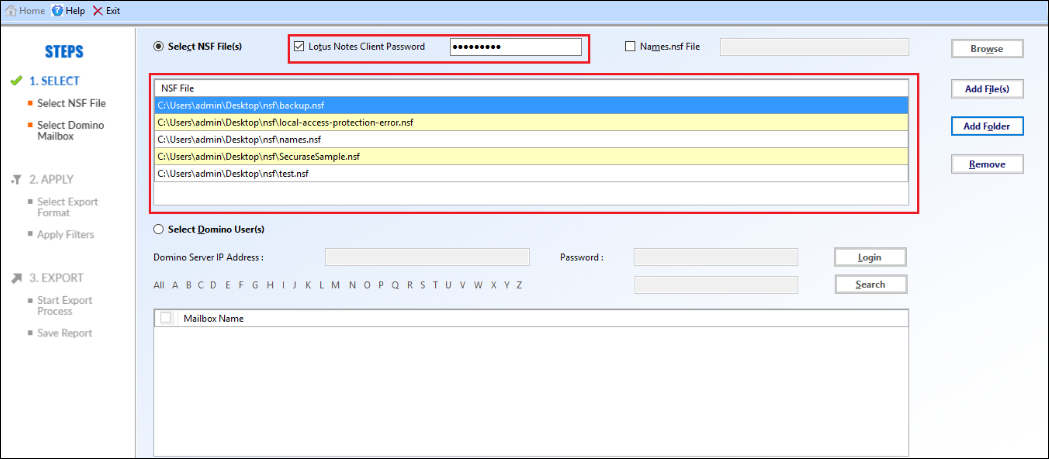 Allows to Export Selective NSF Database
The Domino Mail Conversion Utility offers various filters to migrate limited amount of data and also save a lot of time. With email filters, users can set a date range to transfer emails within a certain period of time. Using calendar filters, users can export a calendar with all attributes within a particular date range.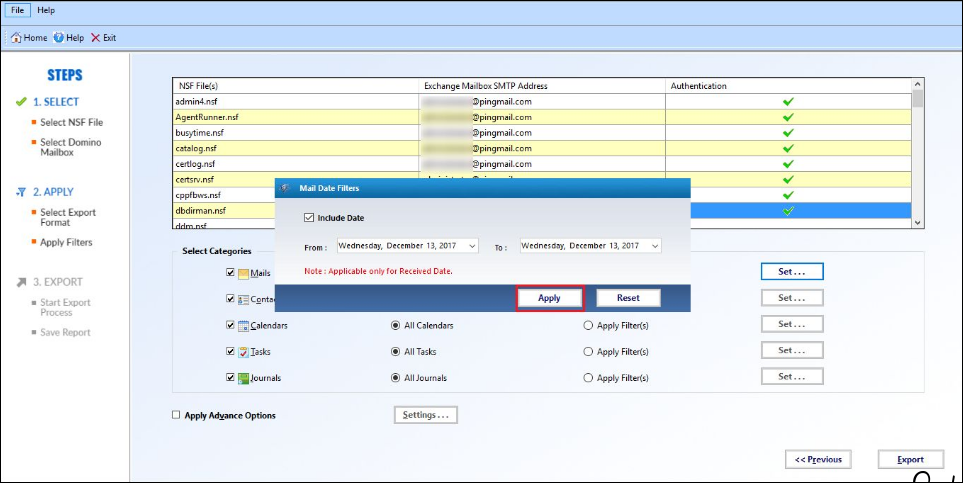 Option to Exclude Duplicate Contacts
There are few contacts which can be stored more than once in NSF database file which you do not want to export. In such cases, SysTools Mail Migration Wizard helps a user to remove duplication contacts from a specific file during migration from NSF to Exchange server. This feature helps a user to exclude contacts which are saved in Lotus Notes NSF file.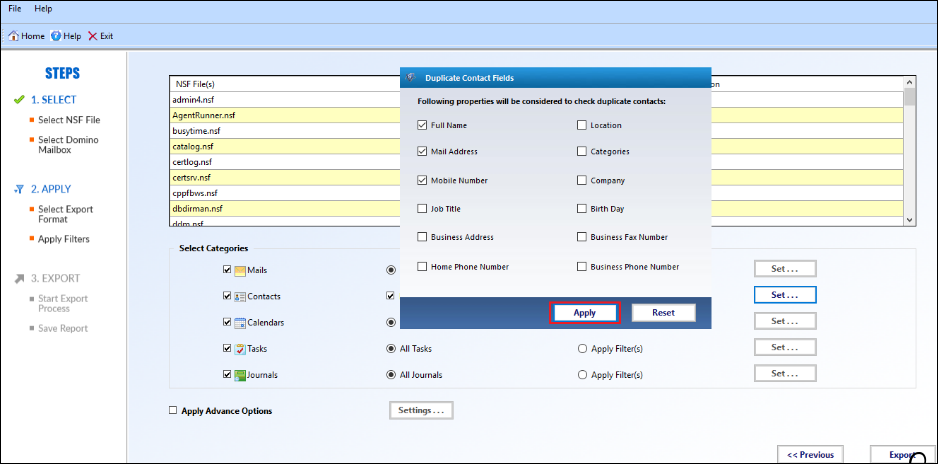 Supports Mapping names.nsf File
Lotus Notes Mail Conversion Utility is an advanced utility that permits a user to Map CN Values with the help of browsed Names.nsf File. This will capable enough to export IBM Lotus Notes supported CN Values into SMTP Format, which are supported in other email client applications.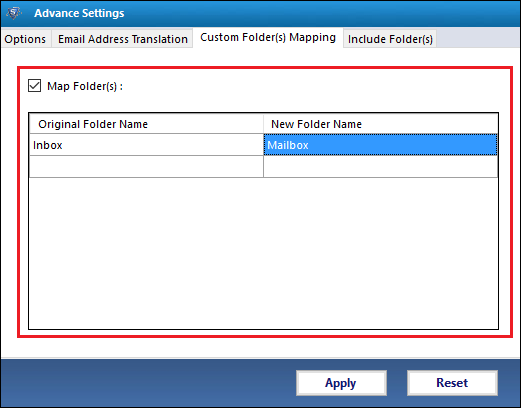 Steps of Domino Mail Conversion Utility
Launch Mail Migration Wizard on your local machine.
Then, click on Add Folder button to add more than one.nsf files in a single-folder to the system.
Browse and select a particular folder that needs to be added to the software and press OK button.
Now, click on radio button corresponding to MS Exchange. Next, enable the checkbox in order to retain the folder hierarchy for export process.
Choose the exchange versions as per your requirement and press ok button.
Provide the SMTP email Address and Password and select the version for MS Exchange.
Click on Submit button. Then, you have to provide a list of addresses in which the data can be migrated.
After that, click on Mails radio button and then, choose apply filter radio button. Hit on Set button.
Then, click on Apply Advance Settings >>Settings button.
By default, you can map the Lotus Notes created folder with the O365 default name of the folder.
Next, click on Export button to begin the migration process.
Once the Export process is completed, click on Save Report button.
Final Words
As we know, there are so many approaches to performing data conversion but all of them are not always successful. Thus, we have suggested one of the best solutions extract data from NSF to Exchange using Lotus Notes Mail Conversion Utility. Furthermore, we have explained the complete working steps of this software. Along with this, we have covered the most useful features of the tool in an absolute manner.